Easy Vegan Coconut Curry Ramen
Published on Mar 21, 2018
by
Kristina Stosek
Prep Time:

10 minutes
Cook Time:

25 minutes
Serves:

4
​This post may contain affiliate links, please see our
privacy policy
for details
This gluten-free noodle dish is a quick and flavourful Easy Vegan Coconut Curry Ramen. Ramen is a Japanese noodle soup dish becoming very popular in Northern America.
In this gluten-free ramen recipe, the broth is miso-based and is flavoured with onion, garlic, ginger, turmeric and curry paste. With added coconut milk, the broth is rich and delicious.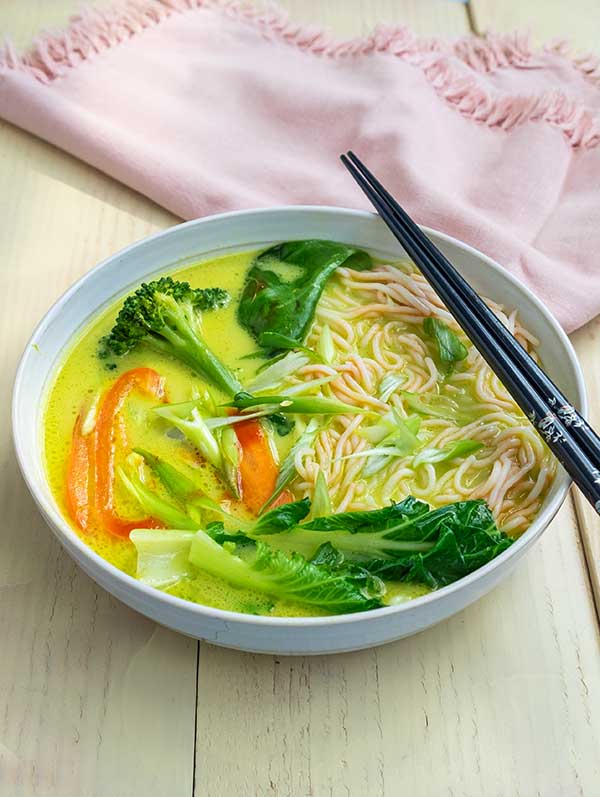 more than just ramen in a broth
Several vegetables will complement the tasty coconut curry miso broth. Our favourites are mushrooms, Napa cabbage, carrots, zucchini, green onions, red or yellow bell pepper, leeks, snow peas and halved cherry tomatoes. The vegetables should be thinly sliced because they are virtually just heated in the hot broth.
How to serve ramen?
To serve, divide hot gluten-free noodles between bowls and top with hot curry broth and vegetables. This gluten-free, vegan ramen is warming, making the soup perfect for chilly days.
We love this gluten-free curry ramen because the soup is super easy to prepare, making this a hot, nutritious meal whenever you need it.
Can I make it with meat?
This ramen is a vegan recipe. However, if you are not following a plant-based diet, use chicken broth, and you can add a soft-boiled egg, thinly sliced chicken or pork.
If you are using raw meat, add it to the soup simultaneously as you add the broth. If you use leftover cooked shredded chicken or pork, add these at the same time as the vegetables.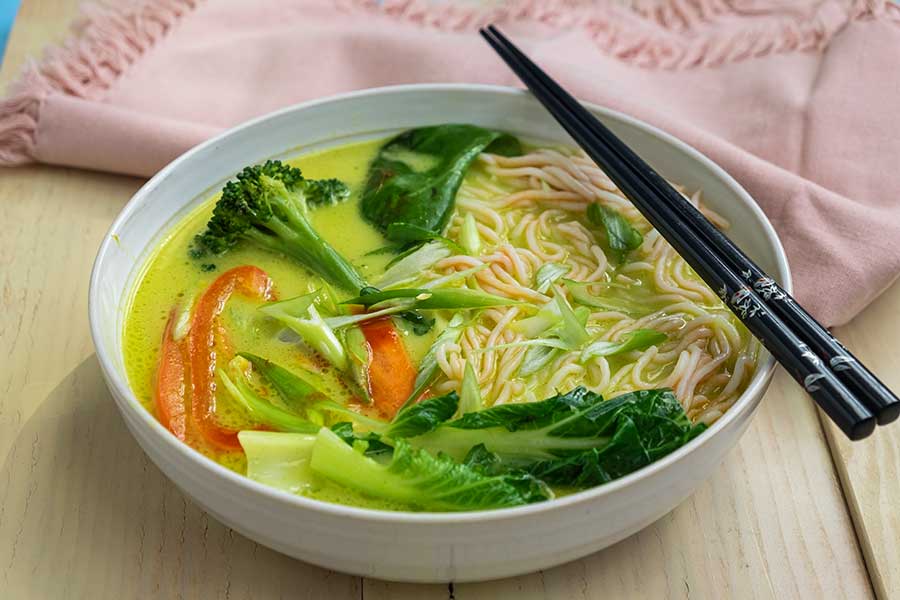 Do you like spicy soups?
Not a problem. Before adding the broth with the vegetables to the noodles, add some gluten-free Sriracha sauce to the bowl.
ramen toppings
Ramen is often served with toppings. The classics are fresh bean sprouts and thinly sliced green onions.
If you like Japanese food, please check out our gluten-free Japanese recipes.
Let's Connect!
Be sure to FOLLOW US on FACEBOOK and PINTEREST.
Many thanks!
Kristina xx
Easy Vegan Coconut Curry Ramen
Published on Mar 21, 2018
by
Kristina Stosek
Instructions
1.

Sauté onions and garlic in coconut and sesame oil until translucent. About 4 - 5 minutes

2.

Stir in curry paste, ginger and turmeric until onions are well coated. About 1 minute

3.

Add broth, coconut milk and rice vinegar. Cover and simmer for 20 minutes. Strain the broth after if you wish

4.

Just before serving transfer 1 cup of hot broth into a bowl and whisk with miso paste. Add miso mixture back to the broth with desired vegetables. Bring to boil and remove from the heat.

5.

Divide noodles between 4 bowls and top with hot broth and vegetables

6.

Note: I added the vegetables to the broth just long enough so they are heated through, but you can also add them raw as a topping