Easy Vegan Coconut Curry Ramen
Prep Time
10 Minutes
Difficulty
Beginner
Cook Time
25 Minutes
Serves
4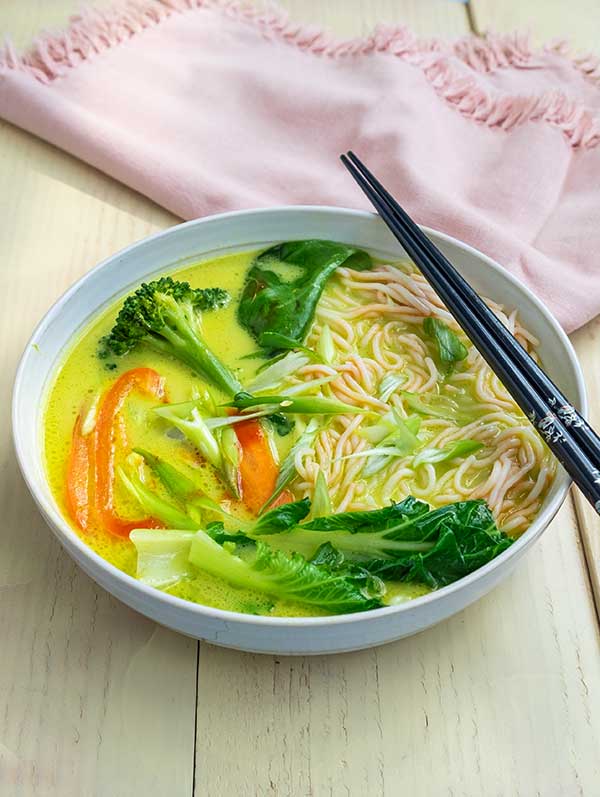 Average Rating: 5 | Rated By: 4 users
Ramen is a Japanese noodle soup dish that is becoming very popular in Northern America. In this easy gluten-free recipe, I added coconut curry flavour making the broth rich and tasty. Ramen can be served just in a broth, but also with vegetables, soft boiled eggs, pork or chicken slices. This recipe is a quick version of the delicious soup keeping the flavours intense and delicious.
To flavour the broth, I used garlic, ginger, turmeric, green curry paste, coconut milk, miso and rice vinegar. The recipe is super easy! The best part, by adding your favourite vegetables you can make your version of this tasty Japanese noodle dish. Ramen is all about the rich broth. To spice the soup up, I added spicy Sriracha
If you like Japanese food, please check out these gluten-free Japanese recipes
Ingredients
1 Tbsp. Coconut oil
1 large onion, halved and thinly sliced
4 garlic cloves, thinly sliced
1 Tbsp. minced fresh ginger
1 tsp. GF ground turmeric
Vegetables: any of these work well in the coconut curry; mushrooms, Napa cabbage, carrots, zucchini, green onions, red or yellow bell pepper, leeks, snow peas, soft boiled eggs, halved cherry tomatoes. All the vegetables should be thinly sliced except for snow peas
4 cups cooked gluten-free noodles of choice (ramen, rice, buckwheat, zucchini)
Instructions
Sauté onions and garlic in coconut and sesame oil until translucent. About 4 - 5 minutes
Stir in curry paste, ginger and turmeric until onions are well coated. About 1 minute
Add broth, coconut milk and rice vinegar. Cover and simmer for 20 minutes. Strain the broth after if you wish
Just before serving transfer 1 cup of broth into a bowl and whisk with miso paste. Add miso mixture back to the broth with desired vegetables. Bring to boil and remove from the heat.
Divide noodles between 4 bowls and top with hot broth and vegetables
Note: I added the vegetables to the broth just long enough so they are heated through, but you can also add them raw as a topping
Similar Recipes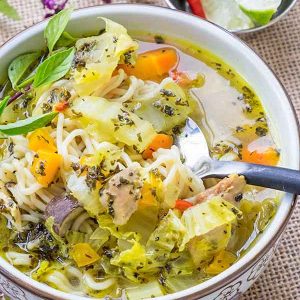 Chicken Ramen Soup with Basil and Lime
Chicken Ramen Soup with Basil and Lime is a magical food. In this ramen recipe, Vietnamese Pho meets classic chicken soup. The soup is light and nourishing, filled with healthy veggies cooked to tender-crisp with juicy chicken. I added gluten-free ramen noodles keeping the soup gluten-free. ♥ Nourishing chicken ramen soup for comfort. This nourishing […] Read More
Prep Time
15 Minutes
Difficulty
Easy
Cook Time
15 Minutes
Serves
4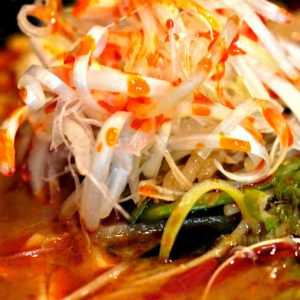 Easy Spicy Chicken Ramen Soup
This is a hearty noodle soup served in Japan often as a main course. Ramen is a staple noodle in Japanese cuisine. This is an easy beginner gluten free ramen soup recipe. Add as much or as little spice as you like Read More
Prep Time
15 Minutes
Difficulty
Moderate
Cook Time
10 Minutes
Serves
4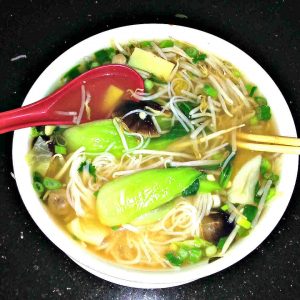 Gluten-Free Vietnamese Pho Soup Recipe
A simple version of Gluten-Free Vietnamese pho. This Vietnamese soup is made with fresh ingredients keeping the soup healthy and flavourful all at the same time. Classic pho broth is a slowly simmered soup using beef bones and a selection of aromatic spices. Paired with rice noodles, sometimes chicken slices and fresh veggies this soup […] Read More
Prep Time
15 Minutes
Difficulty
Easy
Cook Time
30 Minutes
Serves
4