4 – Ingredient Gluten-Free Cheese Buns
Prep Time
10 Minutes
Difficulty
Easy
Cook Time
35 Minutes
Serves
6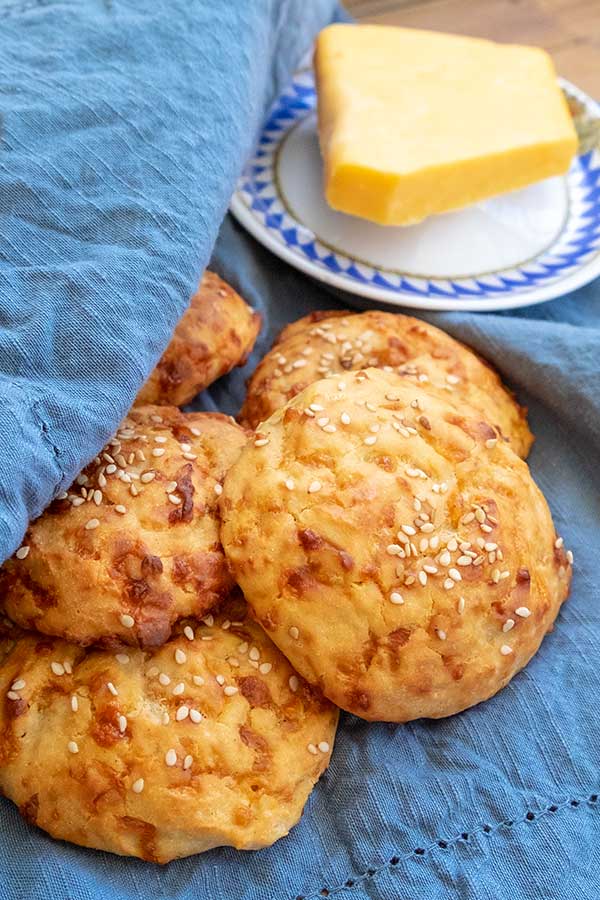 Average Rating: 5 | Rated By: 9 users
4 – Ingredient Gluten-Free Cheese Buns – who said gluten-free baking has to be complicated? These buns have a sourdough texture and are slightly crusty on the outside. The best part, this gluten-free bun recipe is easy enough for even novice bakers.
ways to serve cheese buns
These gluten-free cheese buns make a tasty addition to breakfast and brunch, or serve them with warming soups and stews.
I often grill them on a barbecue when the hot weather hits and serve them with sliders, like these turkey burgers. What I love about these gluten-free buns, they toast well.
During the cold winter months, I make them into garlic rolls. Slice the buns in half and generously spread garlic butter on each side. Pop them under a grill for about a minute, and the gluten-free cheese buns become delicious fresh garlic bread. 
gluten-free cheese buns using only four ingredients
Sounds too good to be true? It's true 🙂
the recipe details
To start, you only need one flour. I used Bob's Red Mill baking flour and found that the flour worked beautifully. The only thing to remember is that the gluten-free flour blend must include xanthan gum.
Next, you will need plain, thick Greek yogurt, cheddar cheese and baking soda. That's it for special ingredients. I omitted salt from my list of special ingredients. That's because everyone has salt in the pantry. 
gluten-free cheese buns recipe details
Since we have only four ingredients, this gluten-free bun recipe can't be that complicated, and it isn't. In fact, the recipe is super easy.
First, mix the flour, baking soda and cheese. Then, add the yogurt and mix until a sticky dough forms. That is all it takes to make the dough. 
I used a large cookie scoop to shape the buns. You can also use a large spoon or an ice cream scoop. This way, you don't even have to touch the dough and get messy hands. Another two recipes you may enjoy is Gluten-Free Parker House Rolls or Easy Gluten-Free Butter Rolls.
Spoon the dough onto a baking sheet in even mounds. If you like, you can sprinkle the tops with sesame seeds. I love sesame seeds and use them often on rolls, bread or buns. The seeds add a nice flavour to savoury baked goods. Or I may use poppy seeds. They work well too.
baking temperature
The baking time is about 35 minutes. The oven temperature starts at 400 Fahrenheit, and then the temperature is reduced until the buns finish baking. There is nothing complicated about this gluten-free recipe.
If you are not that into baking, you must try to make these gluten-free cheese buns. This recipe is probably one of the easiest ones I have on the blog. And if you are a novice baker, this is an excellent gluten-free recipe to start baking. Enjoy!
Let's Connect!
Be sure to FOLLOW US on FACEBOOK and PINTEREST.
Many thanks!
Kristina xx
Ingredients
1 tsp. Baking soda
1/4 tsp. Pure sea salt
1 cup shredded cheddar cheese
1 cup plain full-fat thick Greek yogurt
Optional topping: 1 tablespoon of sesame seeds
*As an Amazon Associate and member of other affiliate programs, I earn from qualifying purchases. Please check out my sponsorship and disclosure policy page for more details
Instructions
Preheat oven to 400 F and line a baking pan with parchment paper
In a small bowl mix flour, baking soda and salt. Add cheese and stir to combine
Add yogurt and mix forming a dough
Using an ice cream scoop or a large spoon, scoop out 6 balls and place on a prepared baking pan about 1 1/2-inches apart. Sprinkle with sesame seeds if you wish
Bake for 15 minutes, then reduce heat to 375 and bake for 20 more minutes.
Remove from the oven and cool on the baking sheet
Note: this recipe makes 6 small buns or 4 large ones. If you choose to make the large buns bake them for 10 minutes longer. The buns should be golden brown colour
Similar Recipes
Easy Gluten-Free Hot Dog Buns
Homemade Gluten-Free Hot Dog Buns made easy! The hot dog buns are soft and delicious and perfect for hot dogs, sausages or make them into buns for your favourite burgers. This gluten-free dough is versatile and can be shaped into rolls or buns of any shape or size.  Why are homemade gluten-free hot dog buns […] Read More
Prep Time
20 + Minutes
Difficulty
Easy
Cook Time
15 Minutes
Serves
6
Homemade Gluten-Free Hamburger Buns
Light with a soft crumb Homemade Gluten-Free Hamburger Buns Recipe. With each bite, you will enjoy the softest, tastiest burger bun, after all, grilled burgers are only as good as their buns. The temperatures are slowly rising, so why not dust off the barbecue. This means burgers and healthy salads, especially potato salads. But let's face it, […] Read More
Prep Time
10 + Minutes
Difficulty
Easy
Cook Time
25 Minutes
Serves
6
Gluten-Free Potato Pan Rolls
Where to start? These Gluten-Free Potato Pan Rolls are soo good…pillowy, airy, and delicious. The rolls are perfect! And, you can't tell that they are gluten-free. I came about making these gluten-free potato pan rolls when I was invited to a dinner party. The hostess asked me to make gluten-free dinner rolls because one of […] Read More
Prep Time
20 Minutes
Difficulty
Easy
Cook Time
30 Minutes
Serves
6 - 8 rolls