4 – Ingredient Gluten-Free Cheese Buns
Published on May 08, 2018
by
Kristina Stosek
Prep Time:

10 minutes
Cook Time:

35 minutes
Serves:

6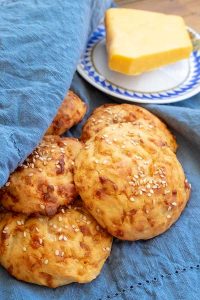 ​This post may contain affiliate links, please see our
privacy policy
for details
Check out this easy recipe for "4-Ingredient Gluten-Free Cheese Buns." Whether you're a novice baker or a seasoned chef, you can't mess up this gluten free cheese bun recipe.
These buns are cheesy, with a tender crumb, and take only about ten minutes of hands-on time to whip up. With just 4 basic pantry ingredients plus salt, you'll be amazed at how tasty these cheese buns are.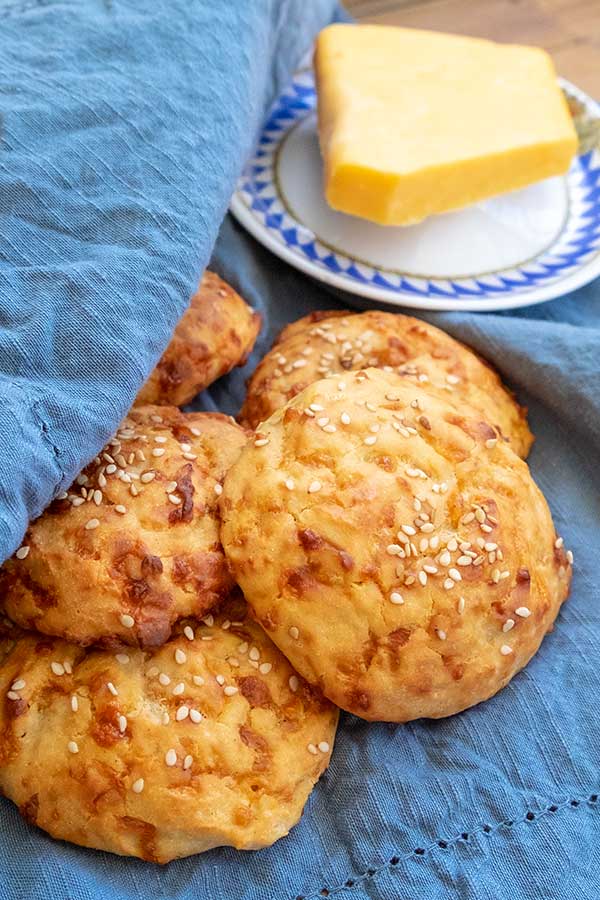 Serving suggestions for gluten free cheese buns
These 4 – ingredient gluten-free cheese buns make a tasty addition to breakfast and brunch or serve them with warming soups and stews.
During barbecue season, place them on the grill to add crispness. These cheesy buns toast exceptionally well and serve them with sliders, like these gluten free turkey burgers.
Or, slice the buns in half and generously spread with garlic butter. Pop them under a grill for about a minute, and they turn into delicious fresh garlic bread with a hint of cheese. YUM!
gluten free all-purpose flour blend vs. gluten free baking flour blend
Both gluten-free all-purpose flour blends and gluten-free baking flour blends are designed to replace traditional wheat flour in recipes for individuals who need to avoid gluten due to celiac disease, gluten sensitivity, or wheat allergies. However, there might be slight differences between these two types of blends.
Gluten Free All-Purpose Flour Blend:
This blend is meant to mimic the versatility of traditional all-purpose wheat flour. It can be used as a direct 1:1 replacement for wheat flour in most recipes, whether you're making cookies, pancakes, or muffins.
Gluten free all-purpose flour blends typically consist of a combination of flour and starches such as rice flour, potato starch, tapioca starch, and possibly a binding agent like xanthan gum or guar gum. The goal is to create a flour mixture that can perform similarly to wheat flour in various recipes without compromising texture or taste.
Gluten Free Baking Flour Blend:
Gluten free baking flour blends are tailored more specifically for cakes, rolls, buns, bread, and pastries. These blends may contain a different ratio of flours and starches compared to all-purpose blends, aiming to achieve optimal texture and rise in baked goods. They might also include leavening agents or stabilizers to achieve desirable results in specific baked items.
It's important to note that different brands and manufacturers might use slightly different ingredients and ratios in their blends, so the exact composition can vary.
When choosing between these blends, consider the recipes in which you plan to use them and whether the blend's properties align with the desired outcome.
4 – Ingredient Gluten-Free Cheese Buns Recipe Details
Sounds too good to be true? It's true!
To start, I used a basic gluten free baking flour blend such as the Bob's Red Mill baking flour and found that the flour worked beautifully. The only thing to remember is that the gluten free flour blend must include xanthan gum.
The remaining three special ingredients are plain, thick Greek yogurt, cheddar cheese, and baking soda. I omitted salt from the total ingredient list because it is like water. Every kitchen has both.
You may have noticed that these gluten free cheese buns are topped with sesame seeds. This is optional, but sprinkle a few on each bun if you have some on hand. It makes them extra special.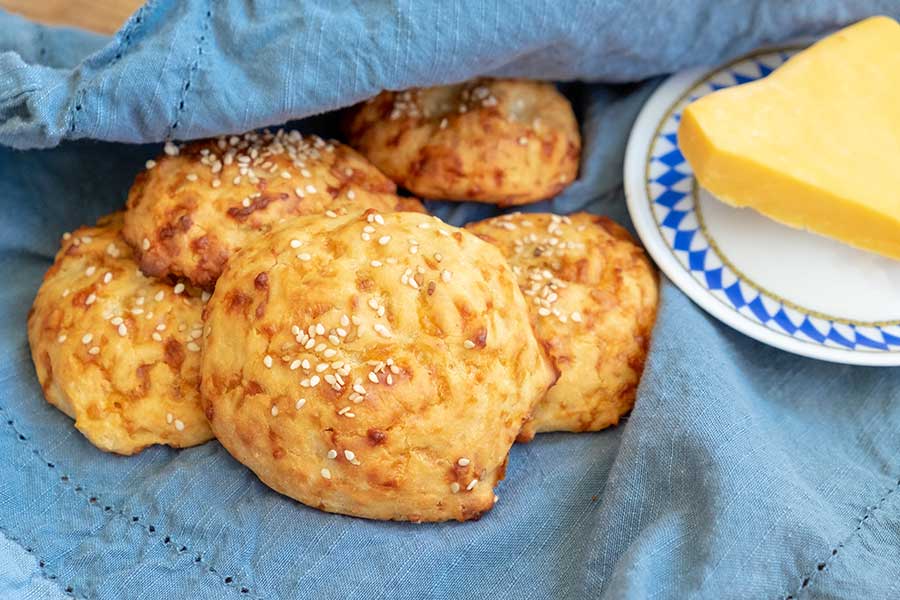 3 step recipe
Since we have only four ingredients, this gluten-free bun recipe is simple and super easy.
1) First, mix the flour, baking soda, and cheese.
2) Then add the yogurt and mix until a sticky dough forms. The bun dough is now ready for shaping.
3) I found that a large cookie scoop worked best to shape the buns. You can also use a large spoon or an ice cream scoop. This way, you don't even have to touch the dough and get messy hands.
Spoon the dough onto a baking sheet in even mounds. If you like, you can sprinkle the tops with sesame seeds. I love sesame seeds and use them often on rolls, bread, or buns. The seeds add a nice flavor to savory baked goods. Or I may use poppy seeds. They work well too.
If you are looking for similar recipes, you may enjoy Gluten-Free Parker House Rolls and Easy Gluten-Free Butter Rolls.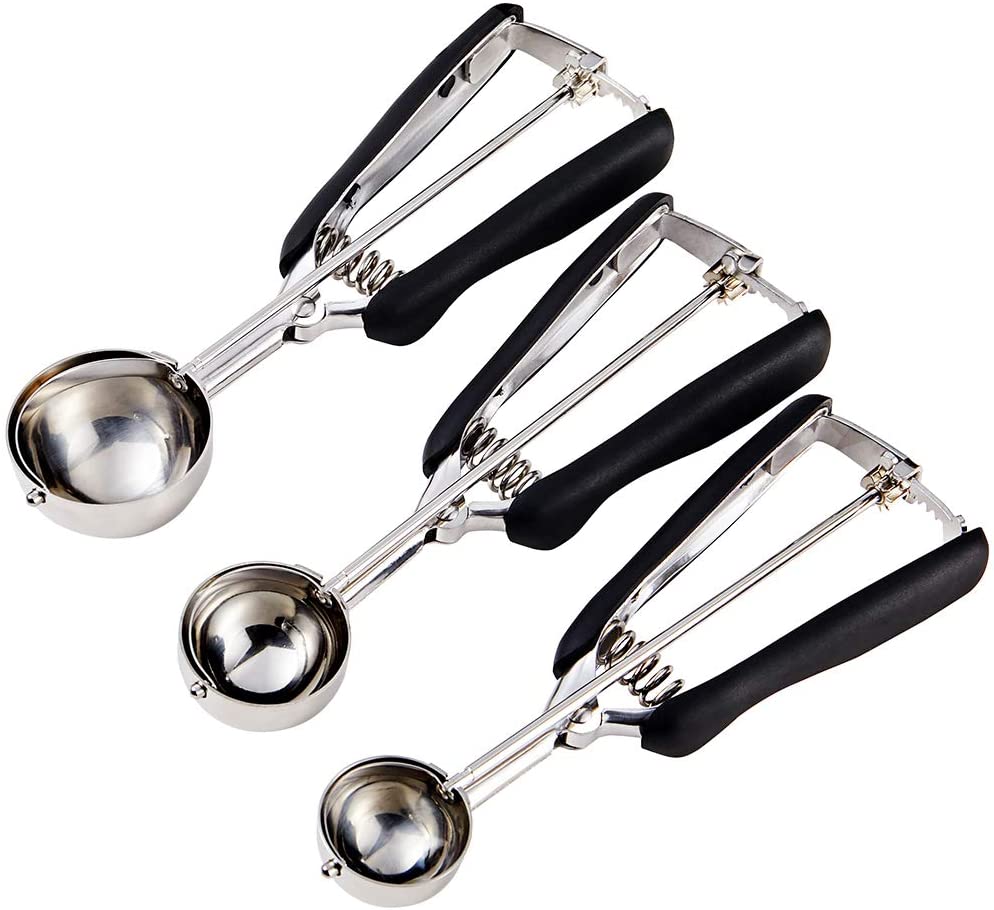 Baking temperature for 4 – Ingredient Gluten-Free Cheese Buns
The baking time is about 35 minutes. The oven temperature starts at 400 Fahrenheit, and then the temperature is reduced until the buns finish baking. There is nothing complicated about this simple recipe.
If you are not that into baking, you must try to make these gluten-free cheese buns. This recipe for buns is one of the easiest ones I have on the blog. And if you are a novice baker, this is an excellent start to your gluten-free baking journey. Enjoy!
Let's Connect!
Be sure to FOLLOW US on FACEBOOK and PINTEREST. And don't forget to sign up for our newsletter, the form is at the bottom of this page. We always have something new and exciting for you!
Many thanks!
Kristina xx
4 – Ingredient Gluten-Free Cheese Buns
Published on May 08, 2018
by
Kristina Stosek
Instructions
1.

Preheat oven to 400 F and line a baking sheet with parchment paper

2.

In a small bowl whisk flour with baking soda and salt. Add cheese and stir to combine

3.

Add yogurt and mix to form a dough. The dough will be very sticky

4.

Using an ice cream scoop or a large spoon, scoop out 6 balls and place on the prepared baking sheet, about 1 1/2-inches apart. Sprinkle with sesame seeds if you wish

5.

Bake for 15 minutes, then reduce the oven temperature to 375 F and continue baking for 20 more minutes

6.

Remove from the oven and cool on the baking sheet

7.

Note: this recipe makes 6 small buns or 4 large ones. If you choose to make the large buns bake them for 10 minutes longer or until golden brown
Leave a Comment
Kristina
Sharon, I have not tried this recipe with dairy-free ingredients. Sorry, I don't know if this simple cheese bun will work using them.
Can you use non-dairy yogurt? Also, I would have to substitute Manchego for the cheddar since I cannot do dairy.
Kristina
By changing up the ingredients the texture would not be the same, sorry Anne.
Mine were bit chewy; & burnt on top. I didn't have yogurt, used DF cream cheese & a little DF sour cream.
Kristina
Mary, the baking flour has less protein, this keeps the cheese buns softer
Comment--what is the difference in the flour? That is in the all purpose and baking flours? Also just wanted to say I'm scrolling through the pages of all your recipes, and forgot what I was looking for in the first place! There a lot I want to try!