4 – Ingredient Gluten-Free Cheese Buns
Prep Time
10 Minutes
Difficulty
Easy
Cook Time
35 Minutes
Serves
6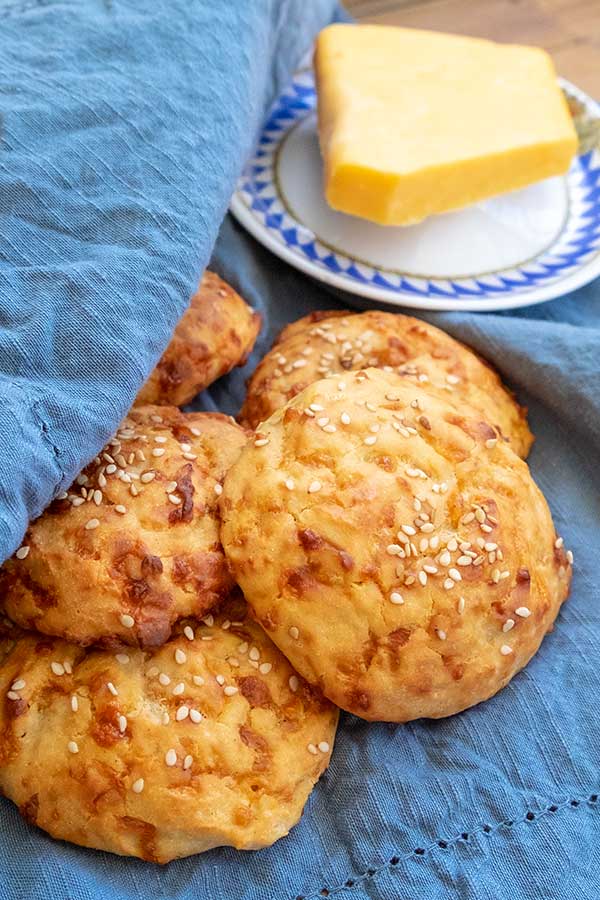 Average Rating: 5 | Rated By: 7 users
4 – Ingredient Gluten-Free Cheese Buns – who said gluten-free baking has to be complicated? These buns have a sourdough texture on the inside and are slightly crusty on the outside. They are amazingly easy to make and are a special addition to breakfast, brunch or with warming soups and stews. In the summer I lightly grill them on the barbecue and serve them with sliders. These buns also toast well.
♥

Gluten-free buns with only four ingredients, how is that possible?

To make these buns you will need a gluten-free baking flour. I used Bob's Red Mill baking flour and the flour worked beautifully. Then, you will need a thick plain Greek yogurt, cheddar cheese and baking soda. That's it, except for the salt. I did not include salt in my total list of ingredients because everyone has salt at home. To make the gluten-free cheese buns is super easy. Mix the flour, baking soda and cheese, then add the yogurt. Mix until a dough forms and using a large spoon or an ice cream scoop, spoon out the dough on to a baking sheet. I sprinkled the buns with sesame seeds, mostly because I have a full bag of them, and they add a little more flavour. But the sesame seeds are optional. I hope you like them as much as my family does. Enjoy!
Ingredients
1 tsp. Baking soda
1/4 tsp. Pure sea salt
1 cup shredded cheddar cheese
1 cup plain full-fat thick Greek yogurt
Optional topping: 1 tablespoon of sesame seeds
*As an Amazon Associate and member of other affiliate programs, I earn from qualifying purchases. Please check out my sponsorship and disclosure policy page for more details
Instructions
Preheat oven to 400 F and line a baking pan with parchment paper
In a small bowl mix flour, baking soda and salt. Add cheese and stir to combine
Add yogurt and mix forming a dough
Using an ice cream scoop or a large spoon, scoop out 6 balls and place on a prepared baking pan about 1 1/2-inches apart. Sprinkle with sesame seeds if you wish
Bake for 15 minutes, then reduce heat to 375 and bake for 20 more minutes.
Remove from the oven and cool on the baking sheet
Note: this recipe makes 6 small buns or 4 large ones. If you choose to make the large buns bake them for 10 minutes longer. The buns should be golden brown
Similar Recipes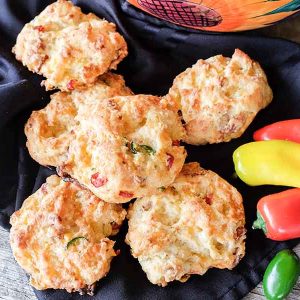 Gluten-Free Mexican Cheese Biscuits
Enjoy these easy to make gluten-free Mexican biscuits for breakfast, snack or with your favourite soup. The scrumptious tender cheese rolls are lightly flavoured with cumin and garlic, a little bacon and spiced with jalapeño peppers. When it comes to making cheese biscuits, it doesn't get any easier than this recipe Read More
Prep Time
10 Minutes
Difficulty
Easy
Cook Time
20 Minutes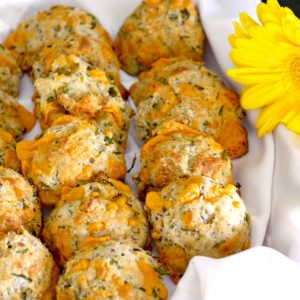 Gluten Free Mini Cheese Scones
There is something about mini scones, you can snack on them or have them instead of bread. These cheesy scones have a subtle savoury flavour with melted cheese and just enough chives to make them scrumptious. Read More
Prep Time
20 Minutes
Difficulty
Easy
Cook Time
20 Minutes
Serves
16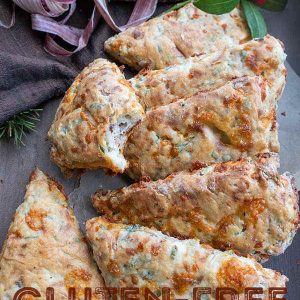 Gluten Free Rustic Bacon And Cheese Scones
Savoury Gluten Free Rustic Bacon and Cheese Scones are always a big hit at our house. When it comes to gluten free baking, there is nothing simpler to make than gluten free scones. In this recipe, the three basic ingredients are bacon, cheddar cheese and green onions. The incredibly cheesy scones have just the right […] Read More
Prep Time
15 Minutes
Difficulty
Easy
Cook Time
15 Minutes
Serves
12