Gluten-Free Skillet Cheese Lasagna Roll Ups
Published on Jul 19, 2021
by
Kristina Stosek
Prep Time:

20 minutes
Cook Time:

40 minutes
Serves:

4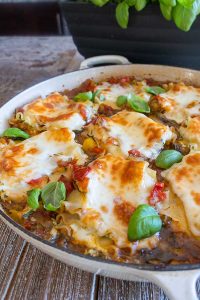 ​This post may contain affiliate links, please see our
privacy policy
for details
These Gluten-Free Skillet Cheese Lasagna Roll Ups are a lighter version of lasagna using only fresh ingredients.
What is Gluten-Free Skillet Cheese Lasagna Roll Ups Dish?
Lasagna noodles rolled up with cheese and spinach, then baked in a sauce made with fresh tomatoes, bell pepper, zucchini and garlic. This is an easy gluten-free weeknight meal oozing with fresh veggies.
Think classic lasagna on a lighter note. This cheese lasagna roll ups dish is a light family dinner recipe without compromising the flavour. This gluten-free, vegetarian pasta dish is fresh tasting and satisfying.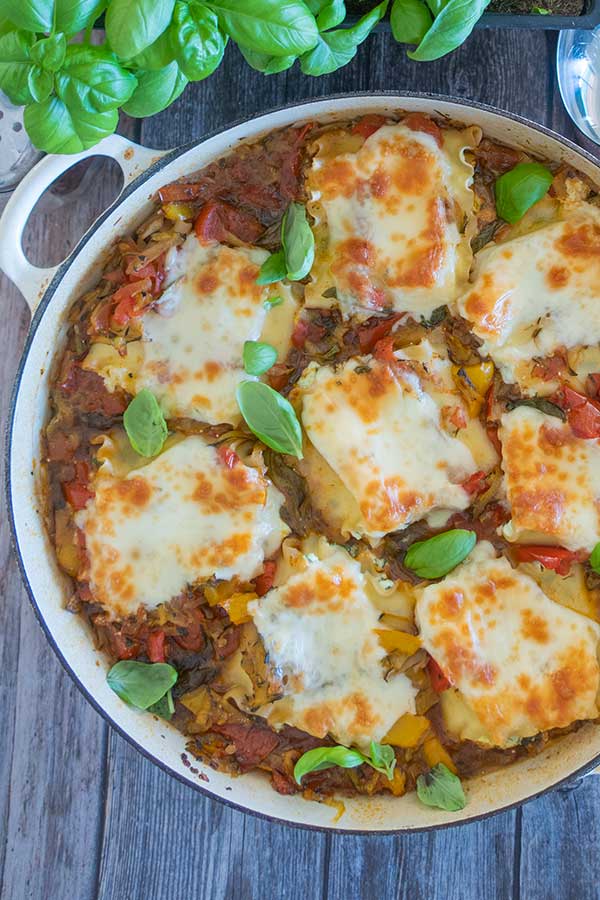 this Italian-style pasta recipe is all about fresh ingredients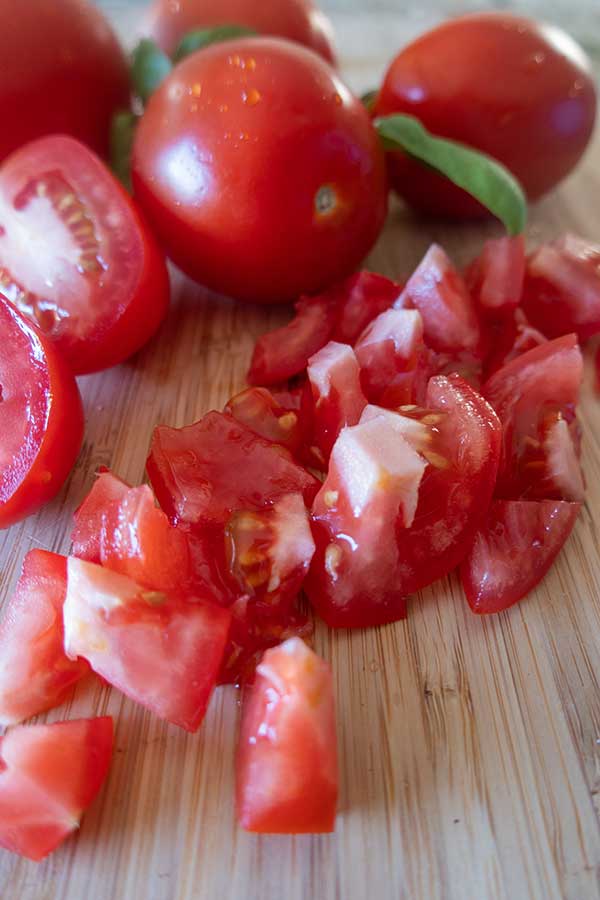 ingredients you will need to make skillet lasagna
You will need gluten-free lasagna noodles, fresh tomatoes, bell pepper, zucchini, garlic, cheese, broth, herbs and spices and a splash of olive oil. Easy to find ingredients and a great way to use up fresh vegetables.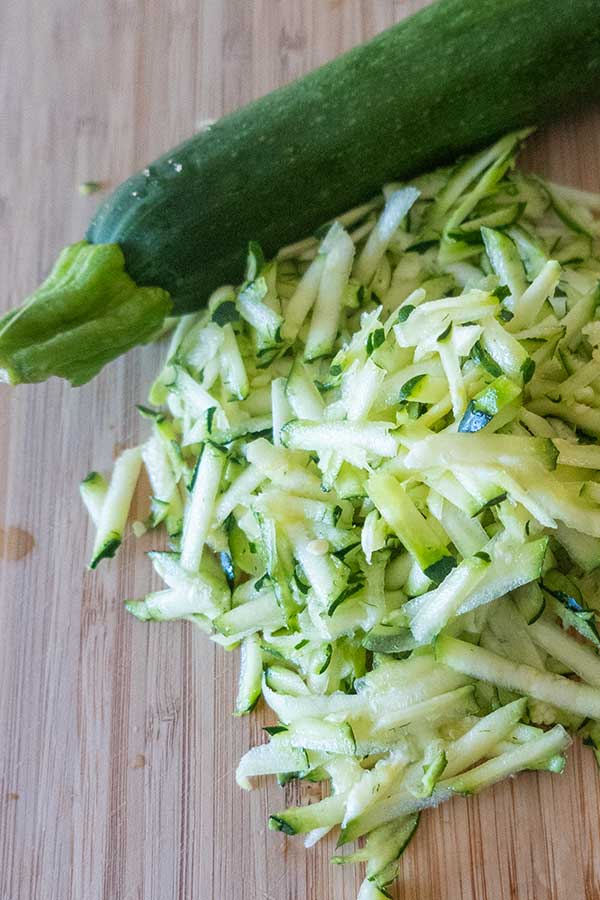 Gluten-Free Skillet Cheese Lasagna Roll Ups Recipe Details
Every Italian dish is all about the sauce, and this lasagna recipe is no exception.
the fresh vegetable sauce
Start with the sauce. Chop fresh tomatoes and bell pepper, and grate the zucchini. Sauté the vegetables in olive oil with garlic, herbs and spices before adding the tomatoes and broth.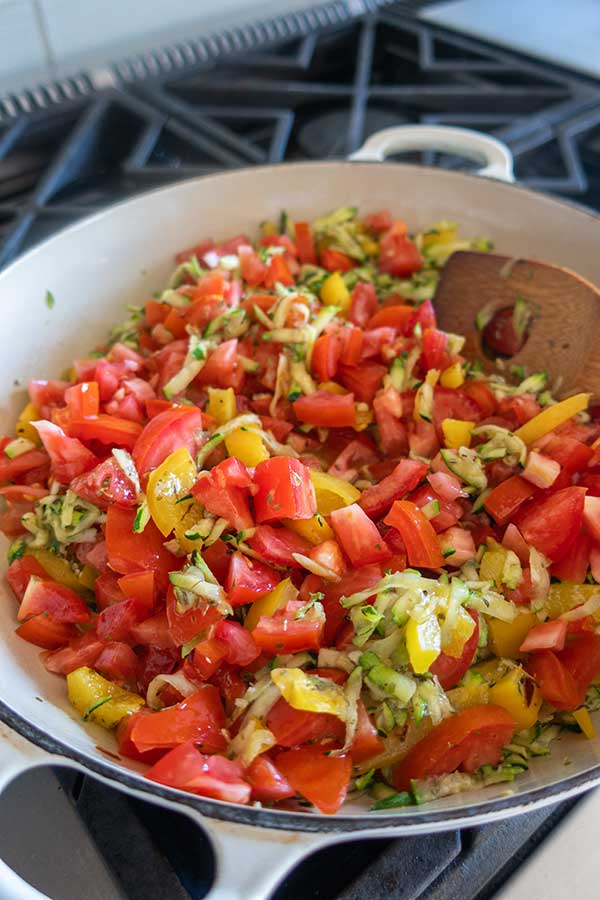 the gluten free lasagna noodles and filling
Cook the noodles until al dente. While the gluten-free noodles are cooking, make the cheese filling—mix ricotta with another good melting cheese of your choice.
Add chopped fresh spinach, a hint of fresh garlic, nutmeg and fresh basil. The cheese filling is perfect for the lasagna roll ups.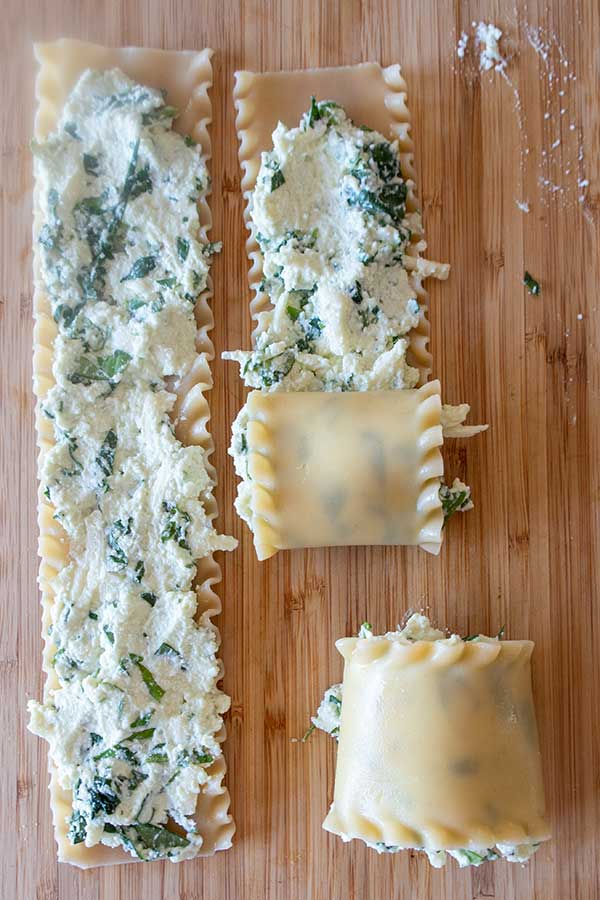 assembling the cheese lasagna roll ups
Spoon the cheese mixture down the length of the noodles. Roll into a coil and place each seam-side down in the sauce. The noodles roll super easily, and the rolls hold their shape. Spoon some sauce over the top and add extra cheese.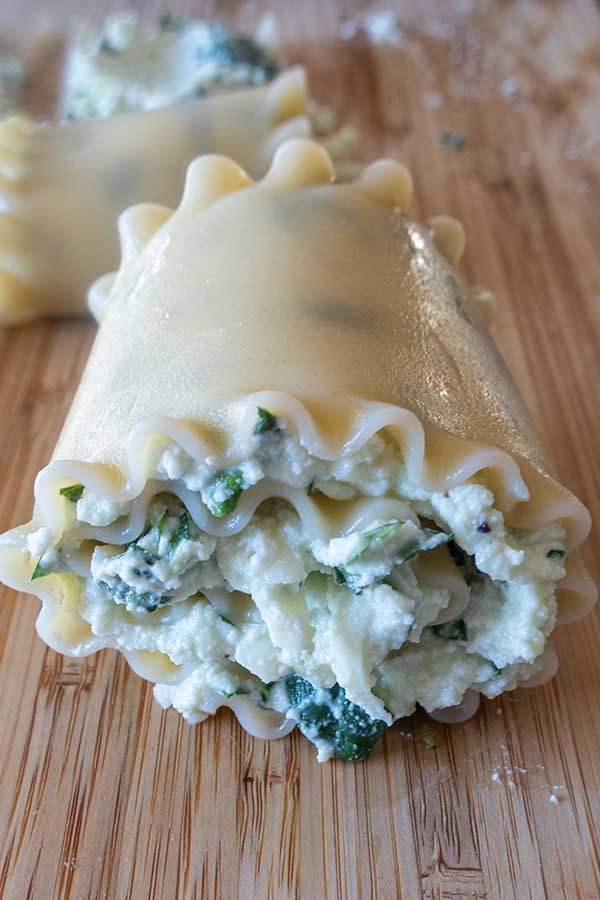 That's it! A simple gluten-free skillet lasagna dinner recipe. The lasagna rolls are super flavourful, filled with tasty cheese and spinach filling. The fresh veggie sauce is light, healthy and takes minutes to whip up.
Whatwe love about this lasagna-inspired recipe is you don't need canned tomatoes. The sauce is chunky and fresh tasting.
The herbs such as oregano, basil, bay leaf and a pinch of red pepper flakes for spiciness make everything super tasty.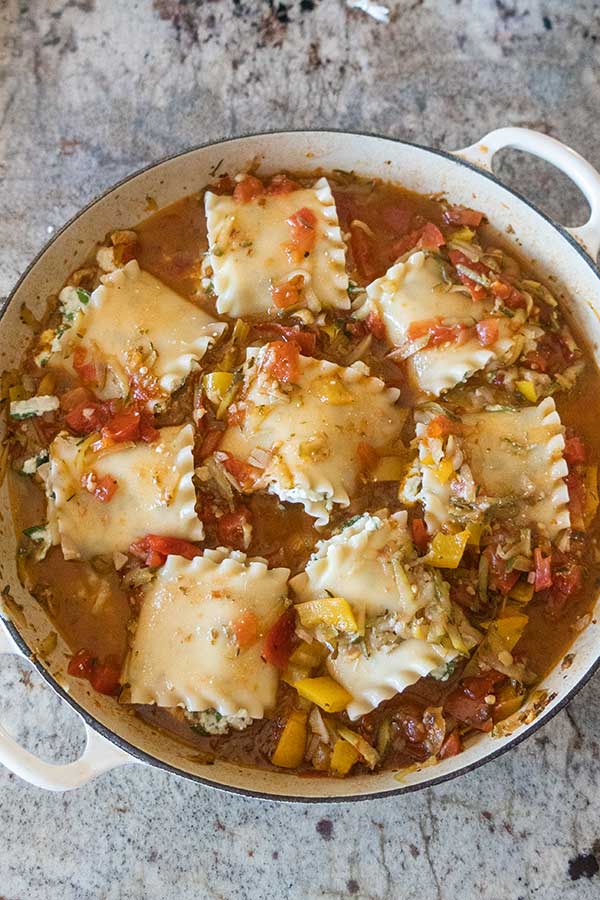 These cheese lasagna rolls may seem complicated to make, but they are super easy to assemble. The best part, there is no layering of noodles, cheese and sauce, and the lasagna is made in one skillet. Sauce and all!
This lighter version of gluten-free lasagna is a perfect summer dinner recipe and a great way to use fresh tomatoes and zucchini.
The only other thing I would add to these cheese lasagna rolls is a side of our Gluten-Free Homemade Italian bread. YUM!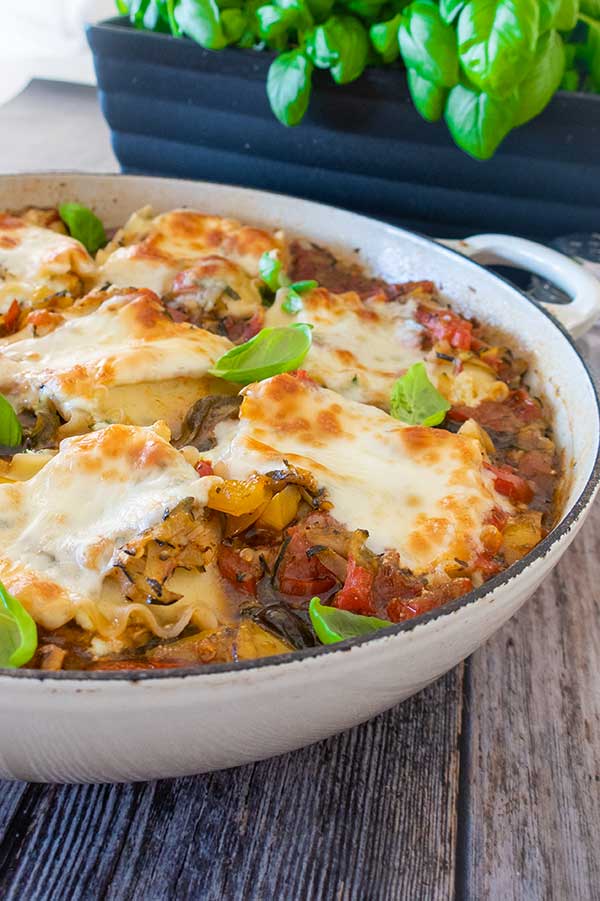 Can I add meat to the sauce?
No problem. Sauté one pound of ground beef, chicken or Italian sausage meat with the veggies and spices before adding the tomatoes. Then follow the same directions with the cheese lasagna roll ups.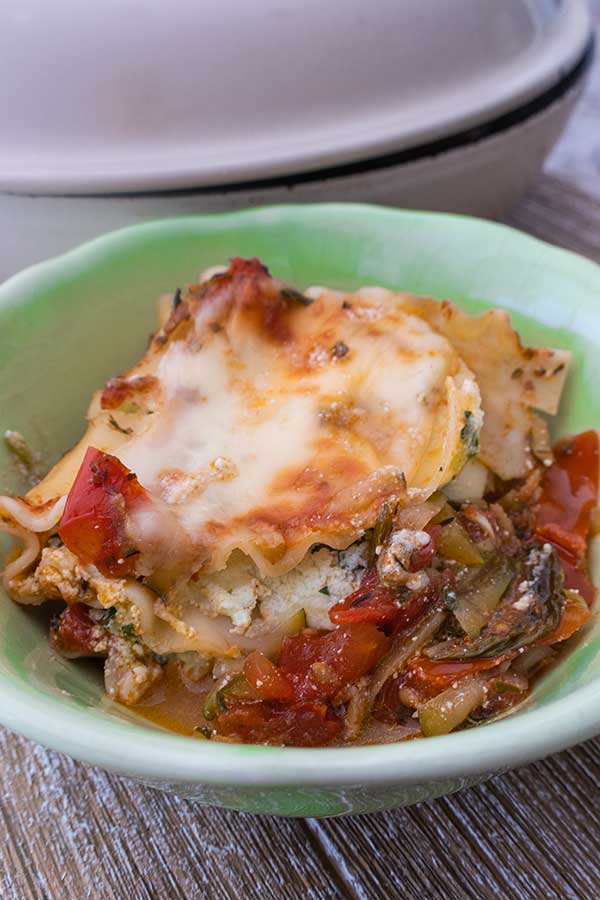 Are you looking for simple gluten-free skillet dinner recipes? Check out our Italian pasta bakes such as the One Skillet Gluten-Free Alfredo Basil Pasta Dinner or one of our favorites, the Gluten-Free Chicken Cordon Bleu Pasta.
Let's Connect!
Be sure to FOLLOW US on FACEBOOK and PINTEREST.
Many thanks!
Kristina xx
Gluten-Free Skillet Cheese Lasagna Roll Ups
Published on Jul 19, 2021
by
Kristina Stosek
Instructions
1.

Heat the olive oil in a large, oven-safe skillet. Add garlic and bell pepper. Cook until the pepper starts to soften, about 5 minutes. Add zucchini, oregano, bay leaf, red pepper flakes and season with salt. Cook for 3 minutes, stirring frequently

2.

Add tomatoes and 1 cup of broth. Cover and cook over medium heat for 10 minutes

3.

Whisk the remaining 1/2 cup of broth with tapioca flour and add to the sauce. Cook until the sauce starts to boil. Remove from the heat

4.

While the sauce is cooking, bring a large pot of salted water to a boil and cook the pasta until al dente. Drain and rinse with cold water.

5.

In a medium bowl, combine the ricotta, 1 1/2 cups of cheese, spinach, basil, garlic, nutmeg and season with salt.

6.

To assemble, spoon about 3 tablespoons of the cheese mixture down the length of the noodle. Roll into a coil and place each seam-side down in the skillet. Repeat with remaining noodles. Spoon some sauce over each roll and top with a slice of cheese or sprinkle with shredded cheese

7.

Bake for 15 - 20 minutes until the cheese has melted and is golden on top. Cool for 10 minutes before serving. Top with fresh basil if desired