Gluten-Free Cranberry Honey Bread
Published on Dec 13, 2019
by
Kristina Stosek
Prep Time:

10 minutes
Cook Time:

70 minutes
Serves:

8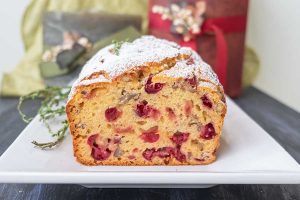 ​This post may contain affiliate links, please see our
privacy policy
for details
The BEST Gluten-Free Cranberry Honey Bread…for your holiday baking. Where shall I start? Beautiful, moist, fresh cranberries, dates, pecans and honey, makes for the most delicious holiday bread. In this recipe I am using my favourite ingredient, fresh cranberries,
What make this cranberry honey bread so delicious?
A festive cranberry honey bread with dates to add sweetness and balance the tart cranberries. Cranberries are super tart, so I added a few dates to cut back on the sweetener. The dates compliment the cranberries perfectly.
In addition, this recipe includes pecans. The nuts add crunchy texture and earthy rich flavor.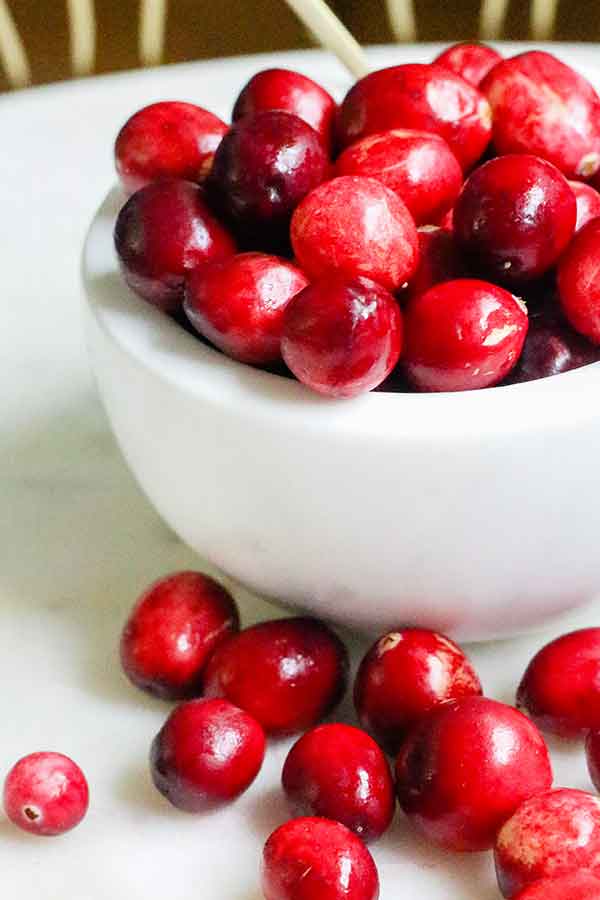 an easy gluten-free holiday bread recipe
Not only this gluten-free cranberry honey bread is simple to make, but it is also delicious and festive. During the holiday season, it is all about beautiful food that tastes good. One of my holidays favourite ingredients is fresh cranberries.
Every year it has been a tradition in my home to make gluten-free Christmas cake, but this year I changed the tradition and made this amazing – that's right amazing cranberry honey bread.
Trust me on this…it is the BEST bread for Christmas morning. Festive, delicious and utterly incredible, it doesn't get any better than this holiday bread.
cranberry honey bread serving suggestion
This cranberry honey bread can be served at room temperature, or it is even better cold straight from the fridge. You will LOVE it!
So what is cranberry honey bread?
First, it is holiday season, so in my home, anything goes 🙂 This recipe is pretty simple. First, you mix fresh cranberries, dates and pecans with honey and a sprinkle of cinnamon. For the batter, I wanted to make it simple because it is such a busy time of year, so I used a gluten-free flour blend, making it with fewer ingredients.
The bread itself is made with gluten-free flour blend, light olive oil or avocado oil, eggs, vanilla, lemon juice, lemon zest and only honey as a sweetener. Once the batter is done, fold in the delicious cranberry mixture and bake.
Doesn't this sound exceptional? Because the bread has so much fruit, it takes a little longer to bake than your typical gluten-free bread recipe. But believe me, it is well worth it. Enjoy and happy holidays.
Gluten-Free Cranberry Honey Bread
Published on Dec 13, 2019
by
Kristina Stosek
Instructions
1.

Preheat oven to 350 F and line a 9x5-inch loaf pan with parchment paper

2.

Place cranberries, pecans, dates, cinnamon and 2 tablespoons of honey in a bowl and mix to combine. Set aside

3.

Using a large bowl whisk together on medium-high speed, olive oil, 2/3 cup honey, eggs, milk, lemon juice, lemon zest, vanilla and salt until creamy. About 1 minute

4.

Add flour and baking powder and mix to combine

5.

Fold in cranberry mixture and transfer batter into prepared loaf pan

6.

Bake for 50 minutes, then loosely cover with foil and bake for 20 more minutes. This stops the bread from browning too much

7.

Cool fully in the loaf pan
Leave a Comment
Kristina
that is wonderful Monique, yes you can use frozen but defrost them first
We love this bread and its deliciousness and simplicity! We can't do nuts unfortunately, so I leave them out but the result is still amazing. Question: I can't get fresh cranberries right now. Will frozen ones work?