Lemon Cranberry Meringue Cake – Gluten Free
Published on Sep 29, 2023
by
Kristina Stosek
Prep Time:

30 minutes
Cook Time:

60 minutes
Serves:

6 - 8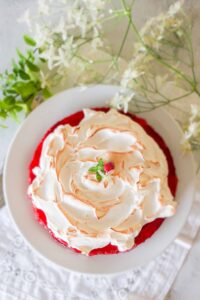 ​This post may contain affiliate links, please see our
privacy policy
for details
This is a festive Gluten Free Lemon Cranberry Meringue Cake to celebrate the holiday season. The three layers of zesty lemon pudding cake, cranberry gelee, and vanilla meringue nestled on a buttery almond crust make this dessert unforgettable. Every bite is filled with melt in your mouth deliciousness with a zing of holiday spirit.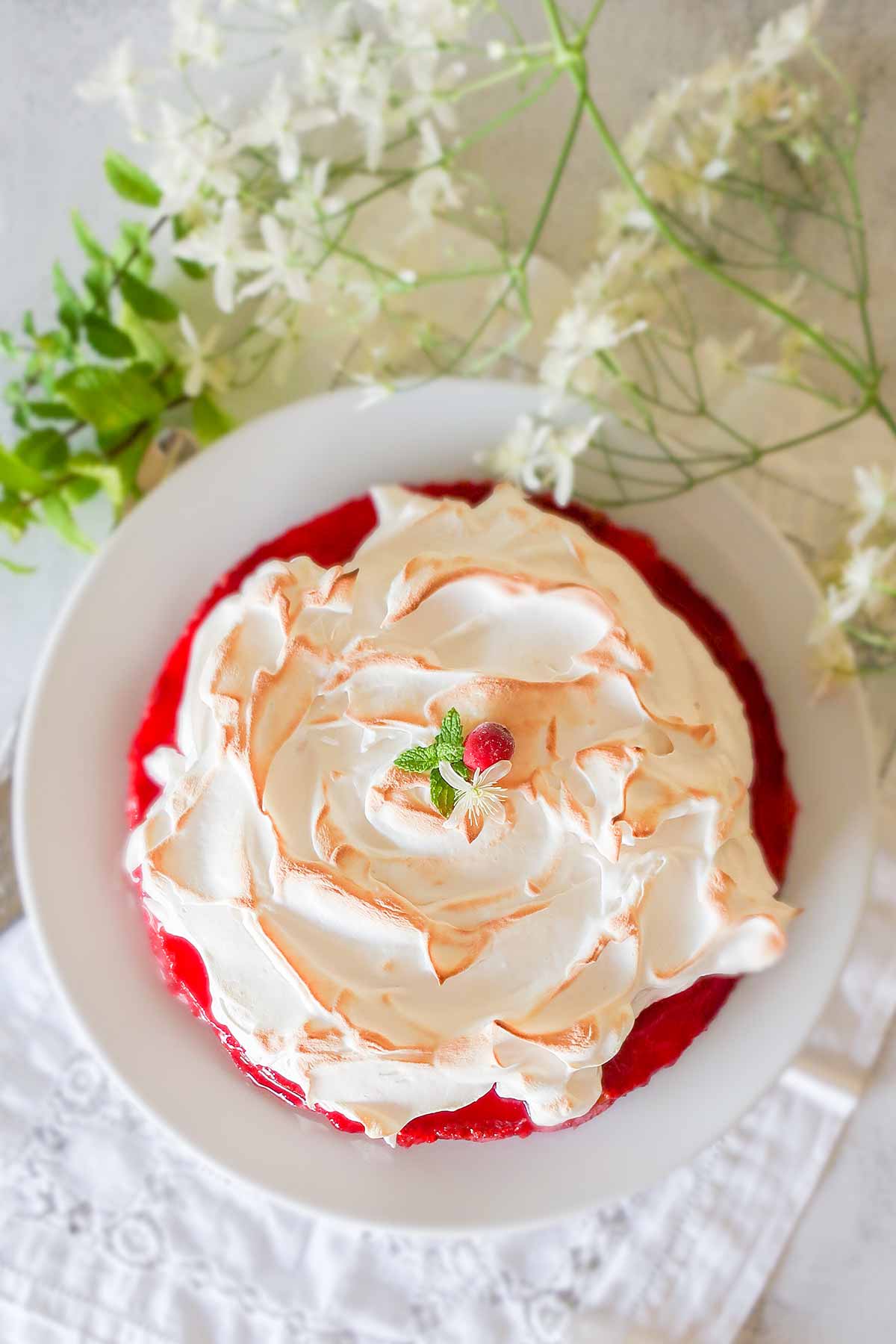 What is Gluten Free Lemon Cranberry Meringue Cake?
This gluten free dessert has four layers: a buttery almond crust, light lemon pudding cake, a gelee made from fresh cranberries, and a vanilla meringue topping. The texture is a moist melt in your mouth dessert.
Easy step by step recipe details
Even though this special gluten free dessert has four layers, the recipe is easy. It just takes a little longer to make. For this recipe, you will need an electric mixer. PLEASE READ THE INSTRUCTIONS FROM START TO FINISH before you start.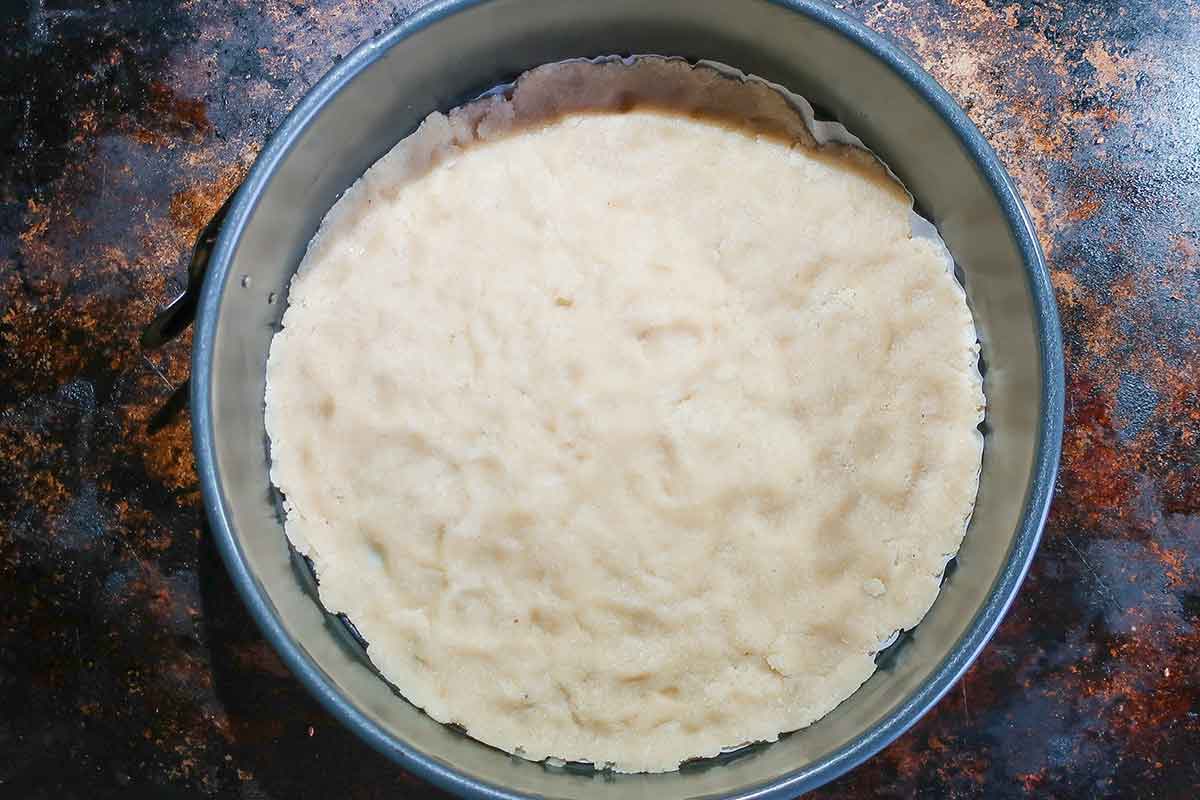 STEP ONE
MAKE THE CRUST
The crust has four ingredients: almond flour, gluten free flour blend, sweetener, and butter, plus water and salt. To make the crust, mix everything in a bowl and press into a prepared springform pan. Then, par-bake the crust for 10 minutes. Done!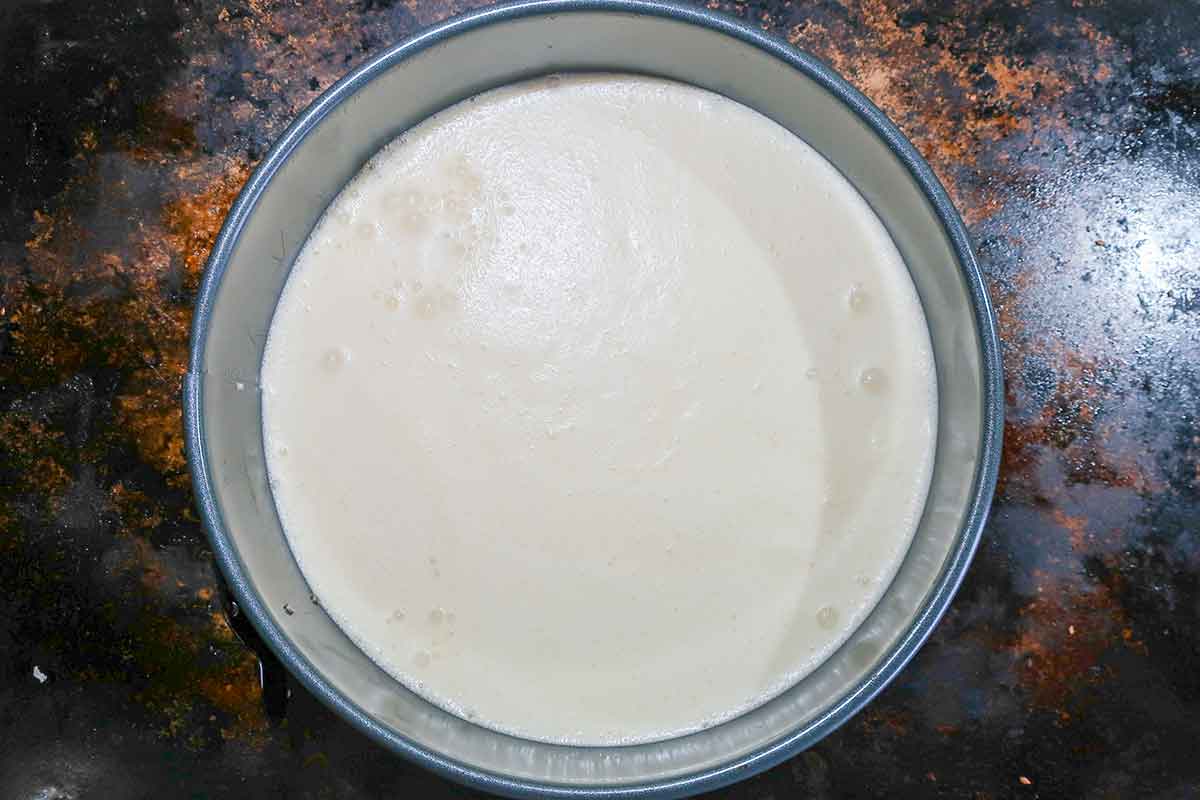 STEP TWO
MAKE THE LEMON CAKE
This layer has eggs, sugar, fresh lemon juice, butter, and rice flour. To make the second layer, beat the eggs with sugar, add the remaining cake ingredients, and whisk to combine. The mixture will be very thin but don't worry. It sets after baking into pudding-like texture. Pour the mixture over the par-baked crust and bake until the center no longer wiggles.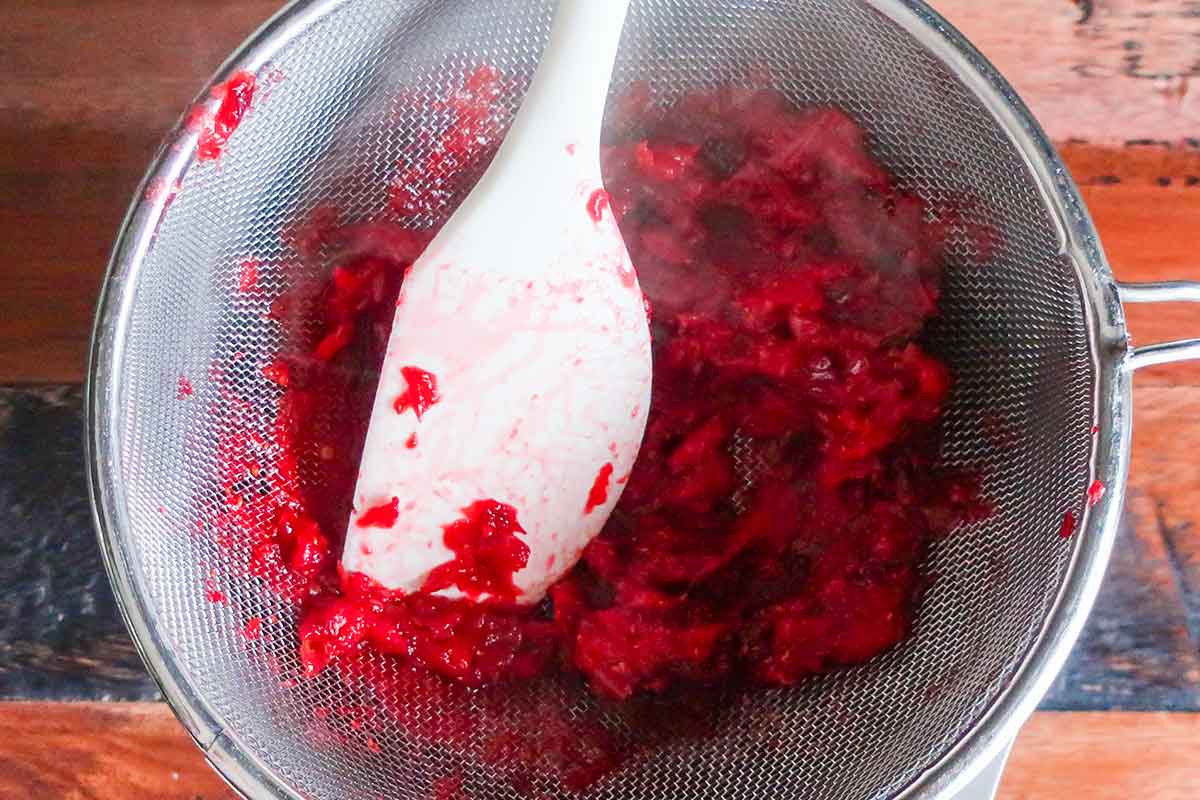 STEP THREE
MAKE THE CRANBERRY GELEE
The gelee is super simple. Boil all the ingredients for two minutes, then press the mixture through a fine mesh. The cranberry gelee is ready to spread over cooled pudding cake to chill.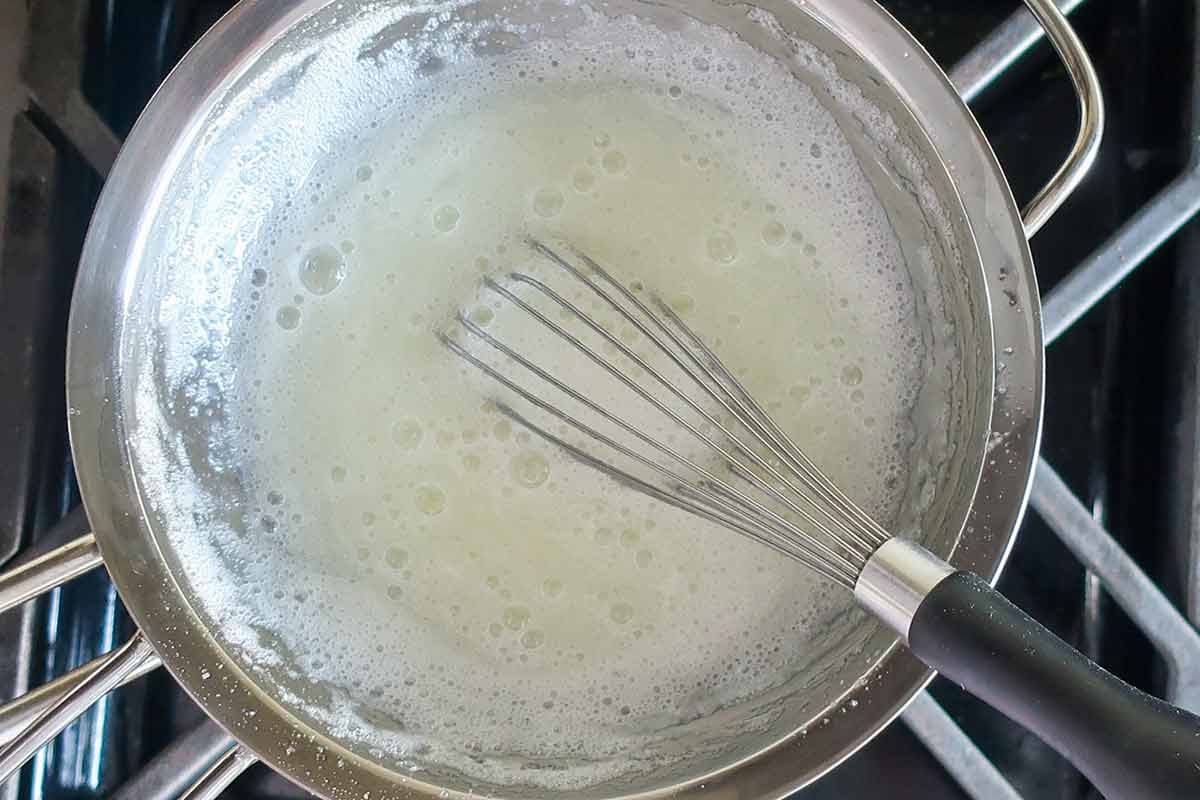 STEP FOUR
MAKE THE VANILLA MERINGUE
The meringue is made with egg whites, sugar, vanilla, and cream of tartar. As we know, we shouldn't eat raw eggs. This is why the egg whites are first heated with sugar and then whipped until stiff peaks form. The mixture is spread over the cranberry gelee and browned with a torch or an oven broiler.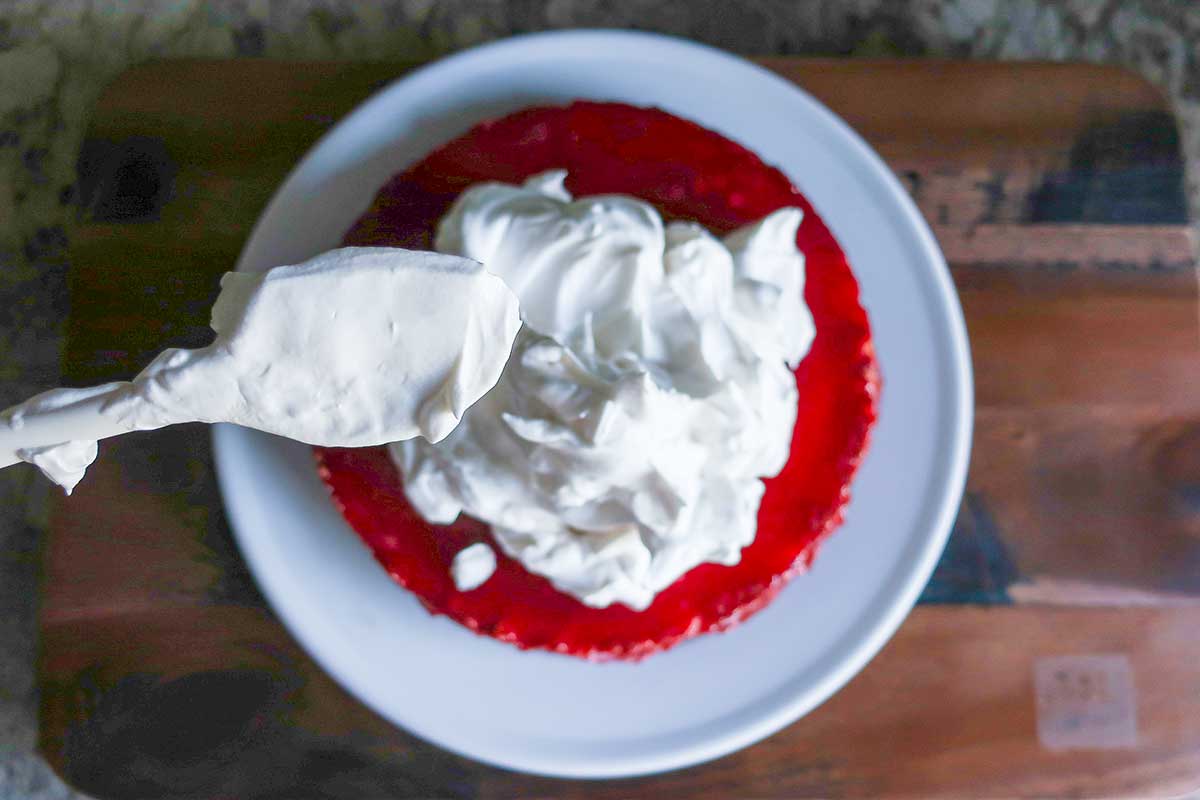 Yes, there are four steps to this gluten free holiday dessert. However, they are simple but take a little extra time.
Helpful tips for lemon cranberry meringue cake recipe
Can I use frozen cranberries in this cake?
You can use fresh or frozen cranberries depending on your preference and availability. If using frozen cranberries, there's no need to thaw them before making the gelee.
Can I use other nuts for the crust?
You can use fine ground nuts such as walnuts, pecans, pistachios, or macadamians.
What's the key to achieving a fluffy meringue topping?
It's important to use clean mixing bowls and beaters and beat until stiff peaks form to achieve a fluffy meringue. Properly whipped egg whites will create a stable meringue. It takes 8 minutes to whip these egg whites.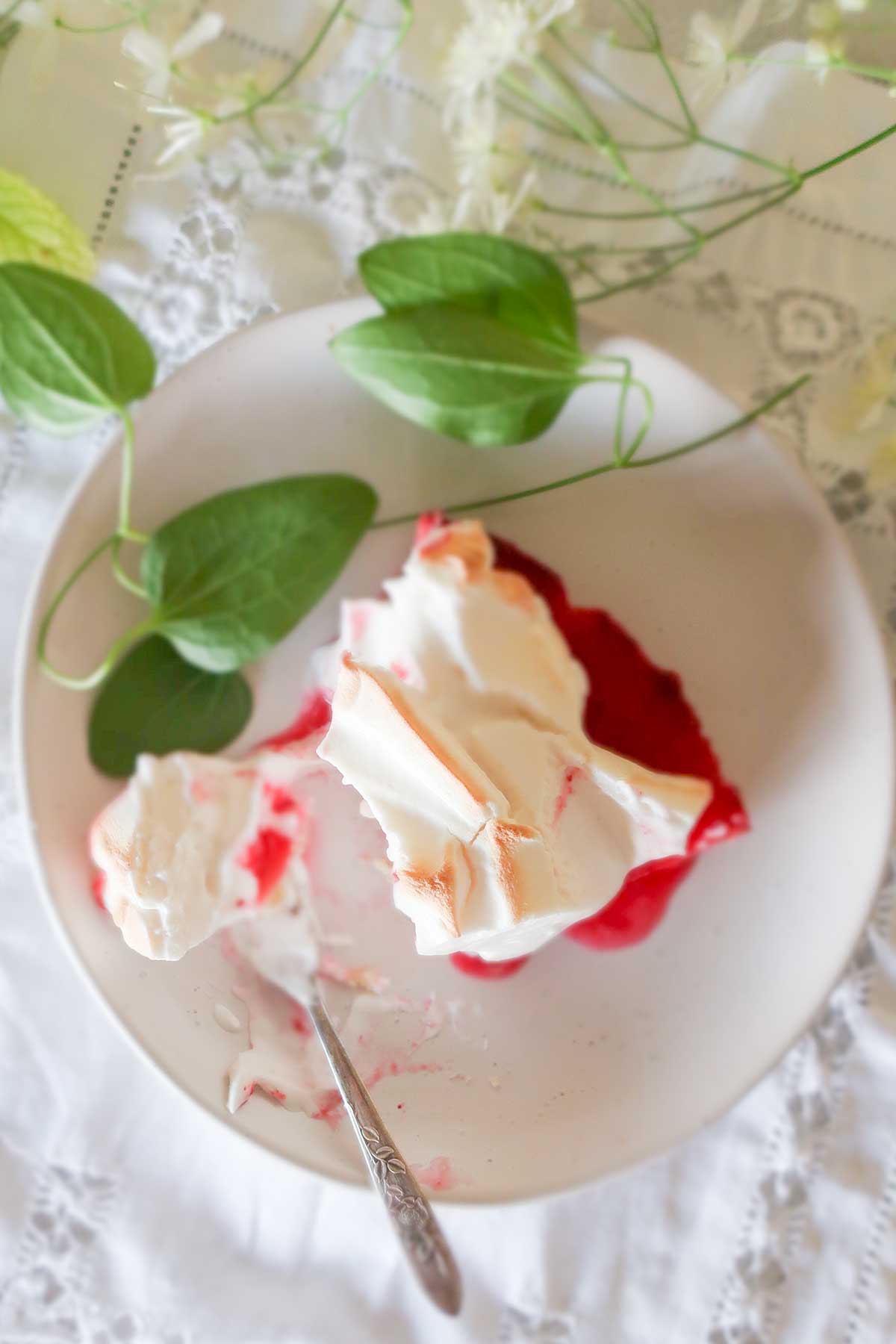 Why add salt and cream of tartar to meringue?
Adding a pinch of salt and a small amount of cream of tartar to meringue can be beneficial for achieving a stable and well-textured meringue. Here's why:
Salt: Salt enhances the flavor of the meringue by balancing the sweetness. It can help stabilize the meringue foam by strengthening the protein structure of the egg whites. A pinch of salt is generally sufficient; too much salt can negatively affect the taste and texture of the meringue.
Cream of Tartar: Cream of tartar is an acidic powder (potassium bitartrate) that helps stabilize the meringue by increasing its acidity. It helps create a more voluminous and stable meringue with a smoother texture. Cream of tartar also prevents the sugar in the meringue from crystallizing, which can lead to a grainy texture.
When making meringue, it's common to add a pinch of salt and a small amount of cream of tartar to the egg whites before whipping them. However, if you don't have cream of tartar on hand, you can use white vinegar or lemon juice as an acid substitute.
Just add a few drops of either to the egg whites before whipping. These acid components perform a similar role to the cream of tartar in stabilizing the meringue. For the leftover egg yolks, make Gluten-Free Mushroom Carbonara With Brie.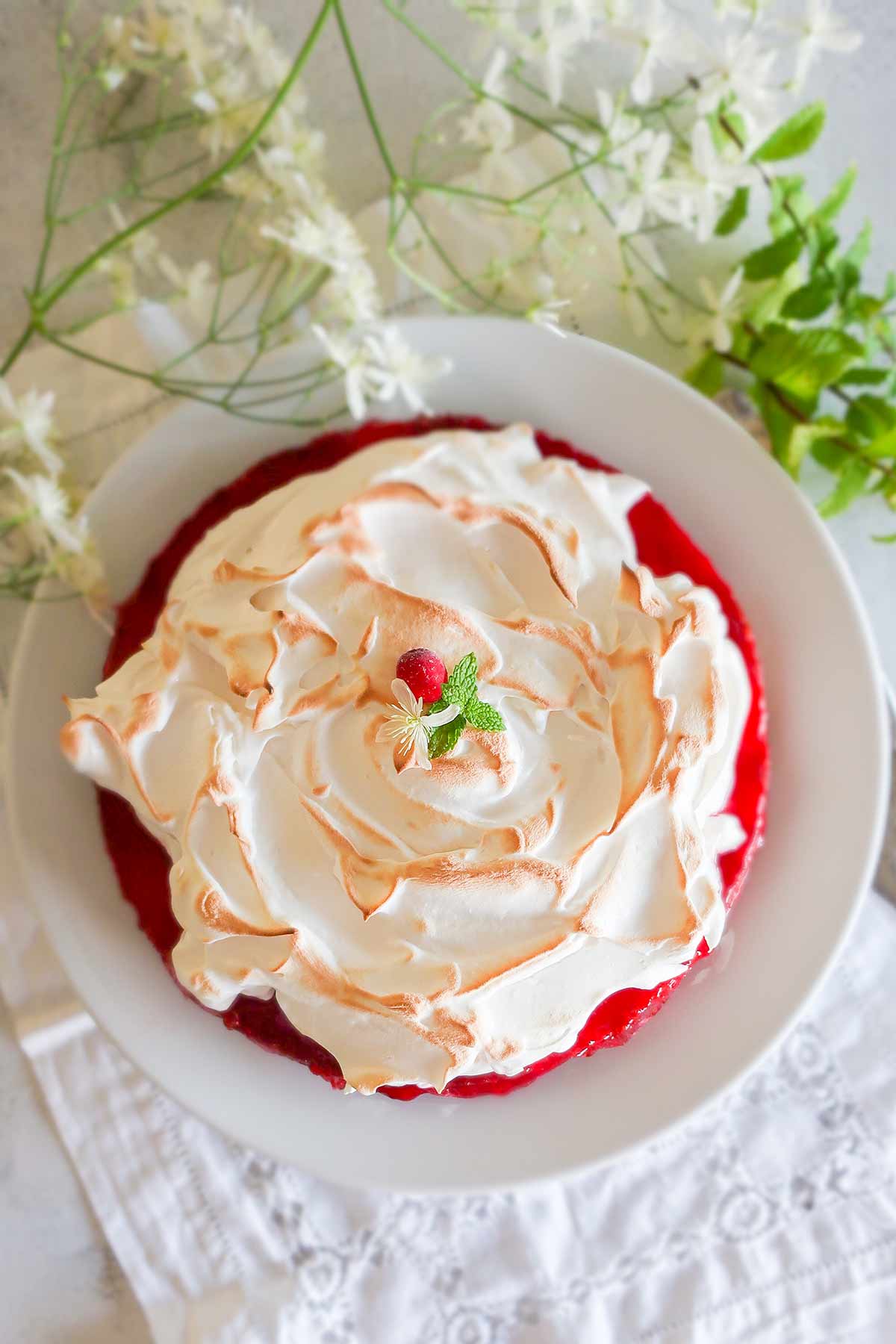 Can I make gluten free lemon cranberry meringue cake in advance?
Yes, you can prepare this dessert in advance. You can bake and assemble it a day ahead and then store it in the refrigerator. However, it is best to add the meringue topping and brown the day of serving to maintain its texture and freshness.
What can you use to brown a meringue if you don't have a torch?
If you don't have a kitchen cooking torch to brown a meringue topping, you can still achieve that desirable golden brown color using your oven's broiler setting. Here's how to do it:
Preheat the Broiler: Move your oven rack to the top position, about 8 inches from the broiler element. Turn on your oven's broiler and set it to high. Preheat for a few minutes until it's very hot.
Broil the Meringue: Place your dessert on the top rack under the broiler. Keep a close eye on it because the broiler works quickly, and the meringue can rapidly brown. It should only a few seconds to achieve the desired golden brown color. Rotate the dessert if necessary to ensure even browning.
Remember that the broiler can be quite intense, so monitoring the process closely is essential to prevent burning.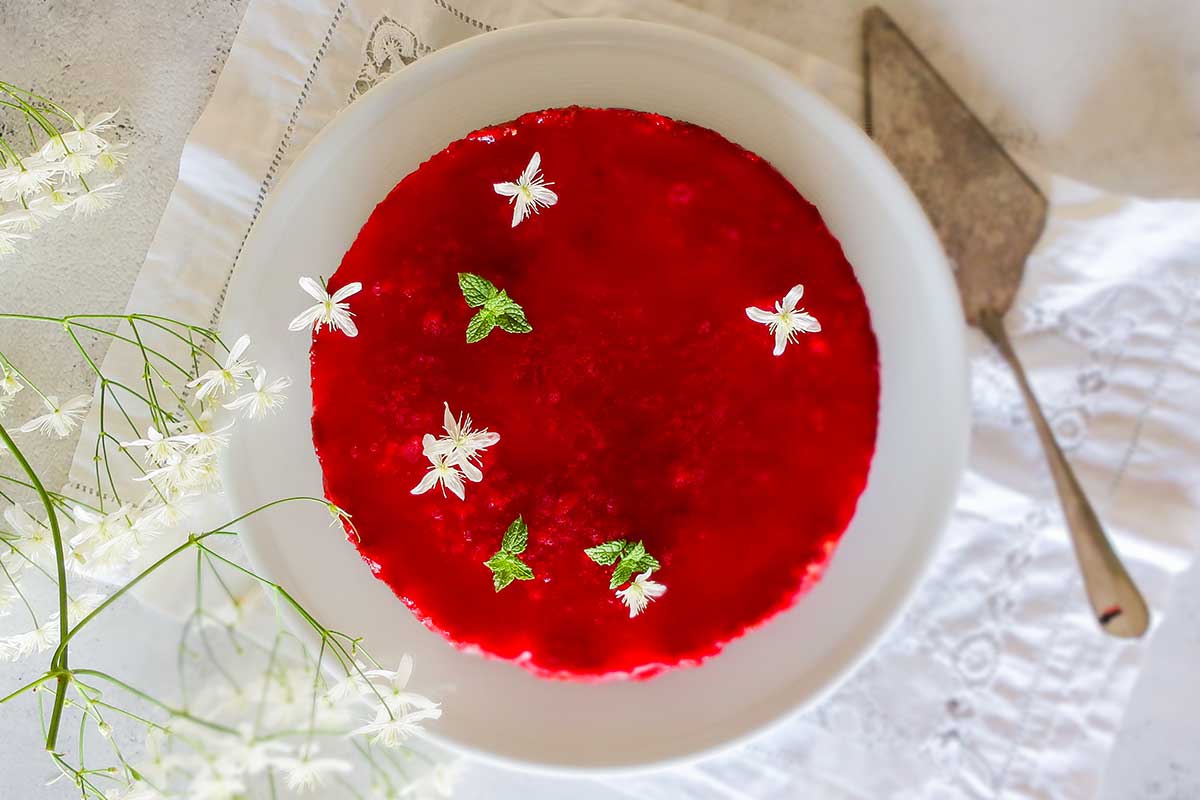 Can I make the lemon cranberry meringue dessert without the meringue?
By omitting the meringue topping, you'll have a delightful lemon cranberry cake with a balance of tartness from the lemon and cranberries and the sweet, buttery almond crust.
Toppings
You can add various toppings if you choose to make this dessert without the meringue. My favorites are fresh berries, whipped cream, vanilla ice cream, fresh mint, and edible flowers.
Storing Meringue Dessert
It is best to store the lemon cranberry meringue cake in the refrigerator. This dessert should not be left at room temperature for more than two hours.
Cover the cake loosely with plastic wrap or foil paper and store it in the refrigerator for up to three days. I do not recommend freezing this dessert because the meringue may deteriorate over time when frozen.
This Gluten Free Lemon Cranberry Meringue Cake is one of those festive recipes that will bring a new, special dessert to your holiday table. I highly recommend trying this holiday cake because it is unbelievably good!
You may also enjoy these gluten free desserts
Let's Connect!
Be sure to FOLLOW US on FACEBOOK or, check us out on PINTEREST. And don't forget to sign up for our newsletter. We always have something new and exciting for you!
Many thanks!
Kristina xx
Lemon Cranberry Meringue Cake – Gluten Free
Published on Sep 29, 2023
by
Kristina Stosek
Instructions
1.

Preheat oven to 350 F and line an 8-inch springform pan with parchment paper including the sides

2.

For the crust; In a medium bowl, mix crust ingredients and firmly press the mixture onto the bottom of the pan

3.

Bake for 10 minutes, remove from the oven, and set aside to cool

4.

For the lemon cake layer; In a mixing bowl, beat eggs with sugar for 2 minutes. Add remaining cake ingredients and mix until smooth. (The mixture will be very thin.)

5.

Pour the mixture into a partially baked crust and bake at 350 F until the center does no longer wiggle and has a light golden brown color. About 40 - 45 minutes

6.

Remove from the oven and cool to room temperature

7.

For the cranberry gelee; Whisk sugar, tapioca starch, lemon zest, and water in a saucepan. Add cranberries, bring to a boil and cook for 2 minutes.

8.

Press through a fine mesh sieve and pour over the cooled lemon cake in the pan. (Discard solids) Using a spatula, gently spread to the edges. Chill and allow to set for up to 24 hours

9.

For the vanilla meringue; Set a heatproof bowl over simmering water (not in the water). Beat eggwhites and sugar until the mixture is hot and the sugar has dissolved

10.

Transfer to a mixer bowl and whisk on low speed until foamy. Add vanilla cream of tartar and salt, increase speed to high, and whisk until stiff peaks form, it takes about 8 minutes

11.

Spoon the meringue onto the center of the cake, spreading lightly and leaving a 1/2-inch border between the meringue and the edge. Wave a kitchen torch over the meringue until browned in places. Or preheat the oven using the broil function (see post oh how), then place it under the broiler to brown. Careful not to burn the meringue. It browns very quickly. *If you are using the oven method place the cake in the freezer while you are making the meringue

12.

Remove the cake from the pan and serve chilled