Gluten Free Raisin Lemon Bars
Published on May 02, 2023
by
Kristina Stosek
Prep Time:

10 minutes
Cook Time:

35 minutes
Serves:

9 - 12
​This post may contain affiliate links, please see our
privacy policy
for details
Fresh lemon tasting, extra creamy chilled gluten-free lemon bars, sweet raisins, and a light almond crust hinted with coconut. Hands down, one of our favorite dessert recipes for spring and summer.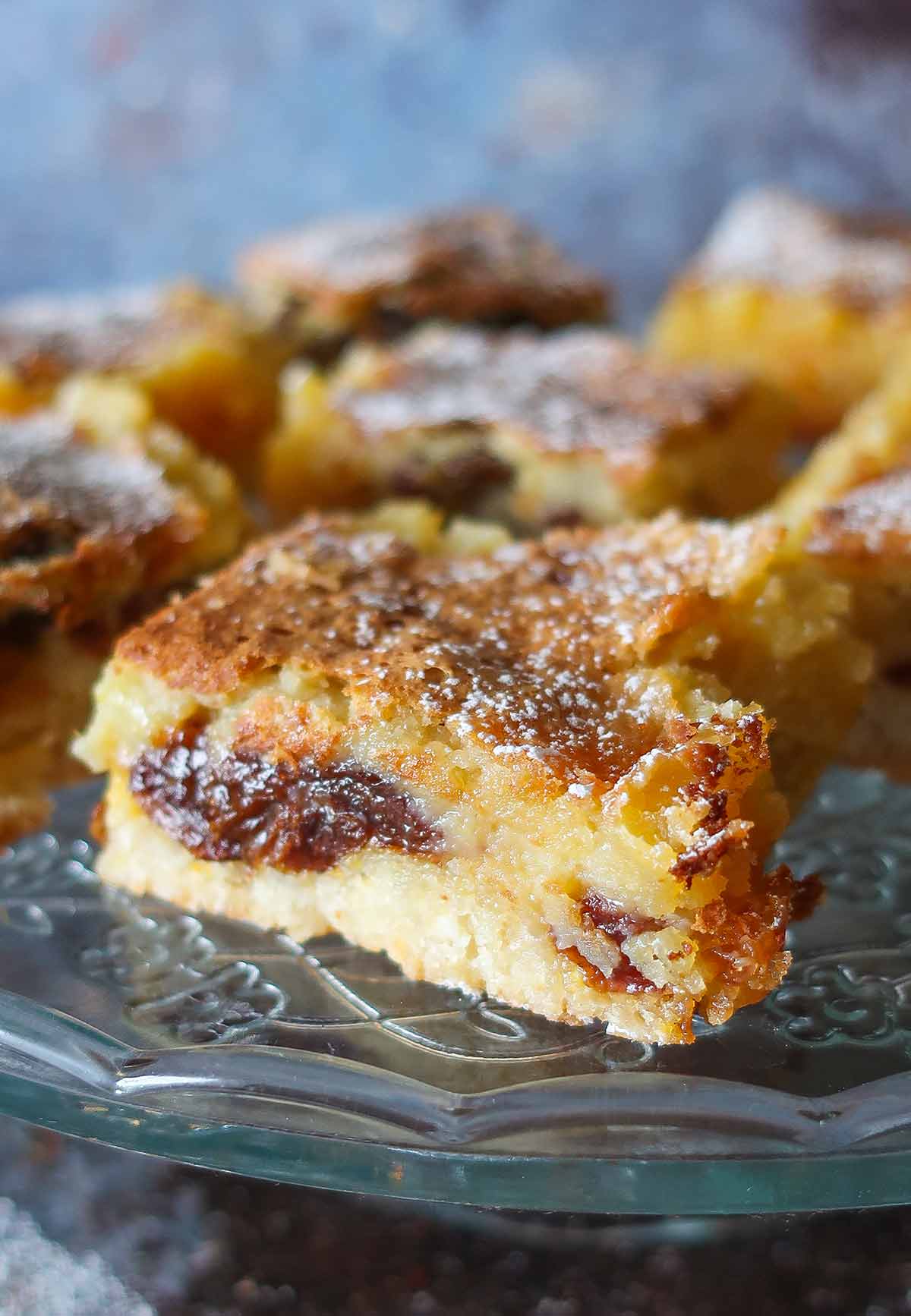 As the sun shines brighter and flowers bloom, it's time to welcome the spring-summer season with a refreshing dessert – lemon bars! These gluten free bars are buttery with the fresh lemon flavor as the star ingredient, and the raisins add extra sweetness giving the bar a perfect sweet and tangy flavor.
The extra light crust is made with almond flour, shredded coconut, and just enough butter to give the crust the perfect melt in your mouth texture. Surprisingly these bars are super simple and easy to make.
Why are lemon bars one of the most popular summer desserts?
Summer is the perfect time for light and refreshing desserts, and lemon bars fit the bill perfectly. But what makes this tangy treat so popular during the warmer months?
For starters, lemon bars are incredibly versatile. They can be served as a sweet end to a picnic lunch or paired with an afternoon tea on the patio.
Another reason they're so beloved is their bright and sunny flavor, perfectly capturing summer's essence. The tartness of fresh lemons and just enough sweetness create a satisfying and refreshing balance.
One of the best things about lemon bars in summer is how easy they are to make! With minimal ingredients needed, anyone can whip up a batch in no time flat. Plus, their cool temperature, when chilled, makes them even more appealing on hot summer days.
All in all, it's clear why lemon bars remain such a favorite summertime treat: they're deliciously simple while still being elegant enough for special occasions – not to mention their irresistible zesty tang!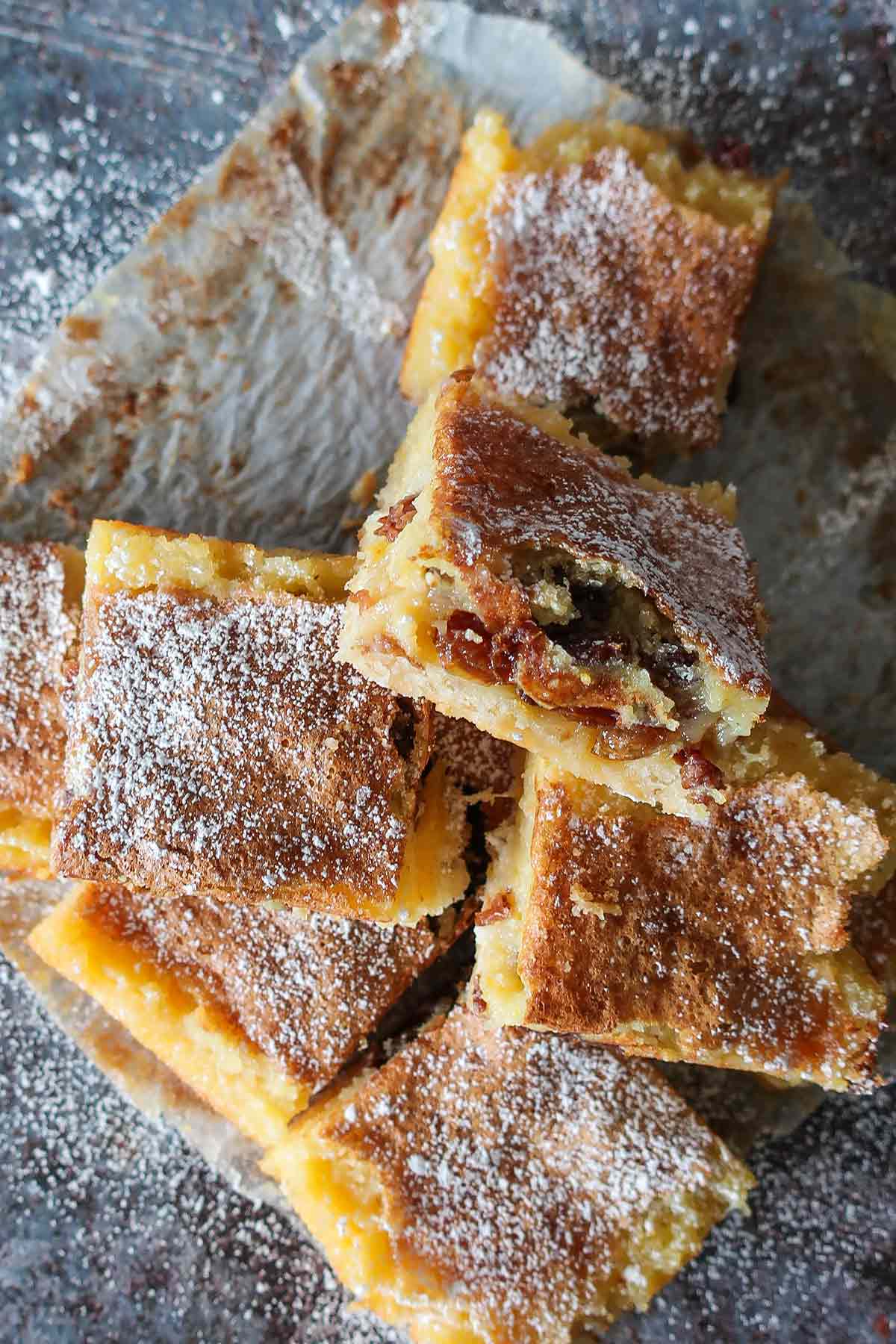 Why are lemon bars chilled?
Serving lemon bars chilled is often recommended, but have you ever wondered why?
Chilling lemon bars help them set properly and give them a firmer texture. When they are cooled, the filling becomes more solid and easier to cut into neat squares without falling apart.
Additionally, chilling the lemon bars can enhance their flavor profile. The cold temperature makes the tartness of the lemons stand out more prominently against the sweetness in each bite.
If you like chilled desserts, you may enjoy these:
fresh lemon juice vs. bottled
One of the main ingredients when making lemon bars is fresh lemon juice. However, some might wonder if they can use bottled lemon juice instead. While both options will work, there are some differences to keep in mind.
Freshly squeezed lemon juice has a bright, tangy flavor that can't be beaten. It also contains more nutrients, like vitamin C, than bottled juice. Plus, squeezing fresh lemons lets you control how much pulp and zest goes into your recipe.
Bottled lemon juice, on the other hand, is convenient and has a longer shelf life than fresh lemons. This makes it ideal for those who don't have access to fresh citrus or want an easier option when baking.
FAQs about gluten free raisin lemon bars
Q: Can you substitute almond flour in the crust for another flour?
A: Yes, you can use certified gluten free oat flour.
Q: How do I prevent my crust from becoming too crumbly?
A: One trick is to add a tablespoon of water or egg yolk to help bind the ingredients together. Also, be sure not to overwork the dough, as this can cause it to become tough and dry.
Q: Can I substitute monk sugar or stevia for sugar in my recipe?
A: While stevia is commonly used as a sugar substitute in many recipes, it may affect the texture and taste of your lemon bars. Sticking with regular sugar or another granulated sweetener like fine-grain coconut sugar is best if you want them to turn out just right.
Q: Can you make lemon bars without raisins?
A: You can make them without raisins or replace them with chopped dates or other dried fruit.
Q: Do I need fresh lemons for this recipe, or can I use bottled juice instead?
A: Freshly squeezed lemon juice will yield the best flavor in your bars, but bottled juice will work if you're short on time or don't have any fresh lemons on hand. However, they will not have that fresh-tasting lemon flavor. Be sure the bottled juice doesn't contain added sugars or preservatives!
Gluten free raisin lemon bars recipe details
Start with the crust.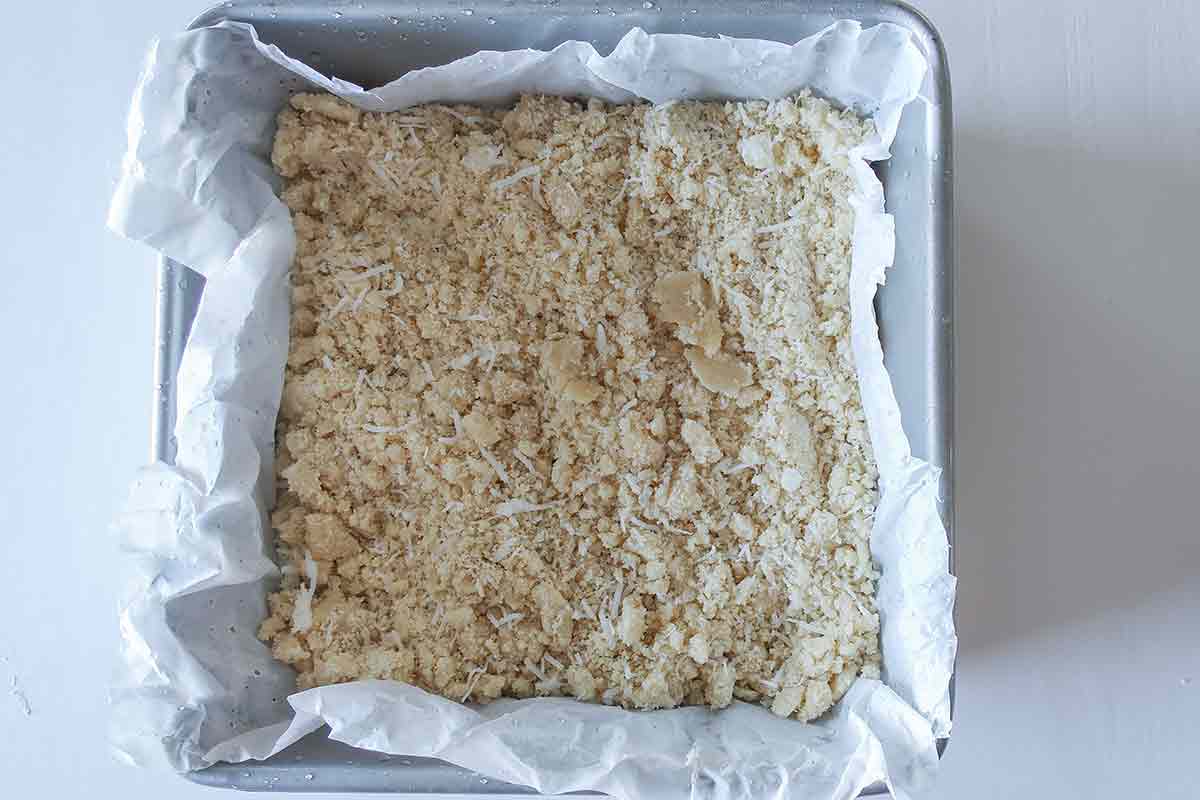 To keep the crust light and melt in your mouth texture, mix the flours, ccoconut, sugar and salt. Add butter and water and, using a fork, mix to combine. The mixture will be crumbly. Typically a crust is pressed down in the pan. Not in this case. Keep it crumbly. By doing this, it will give you a super light crust.
Next, rehydrate the raisins by adding hot water to the bowl of raisins. Then drain the water and scatter the raisins over the crust.
Make the lemon layer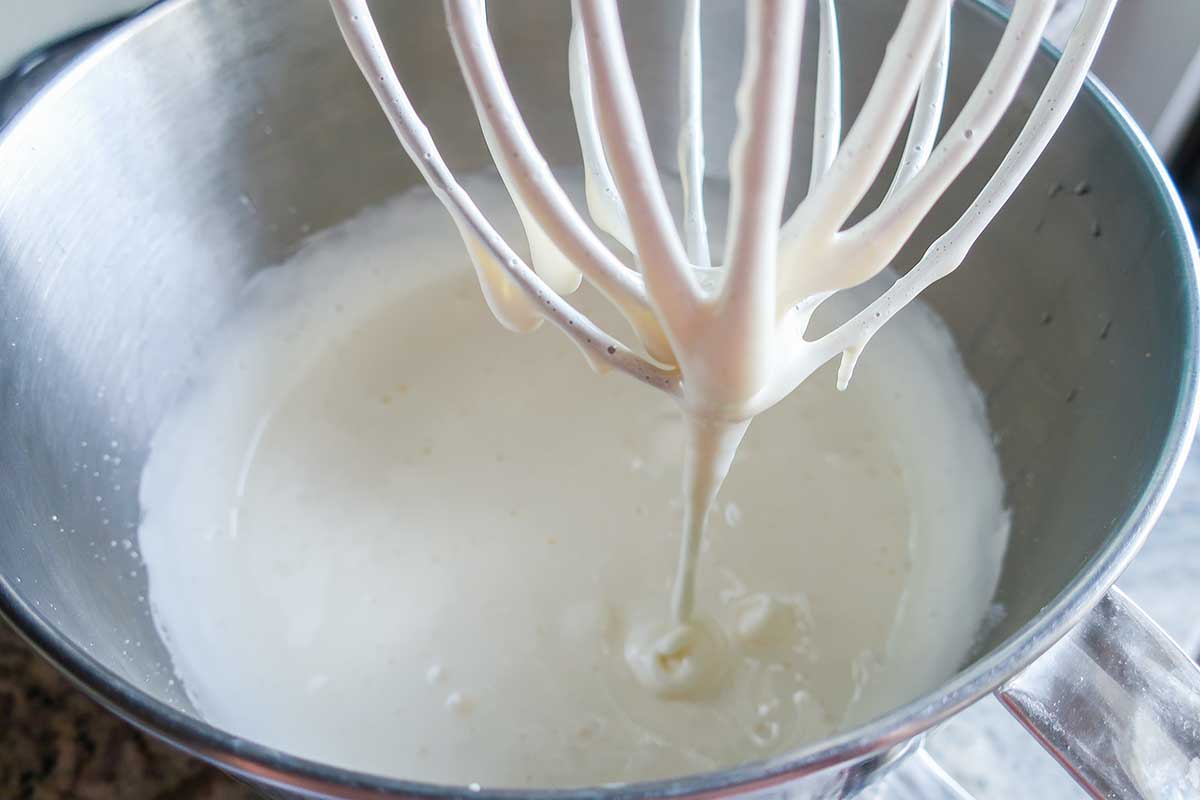 Beat eggs with sugar until fluffy. The eggs should be at room temperature to give you a light custard-like layer. Once the eggs are whipped, add the remaining ingredients, lemon juice, lemon zest, melted butter, and a few spoons of dry ingredients, and whisk until smooth. The custard mixture will be thin.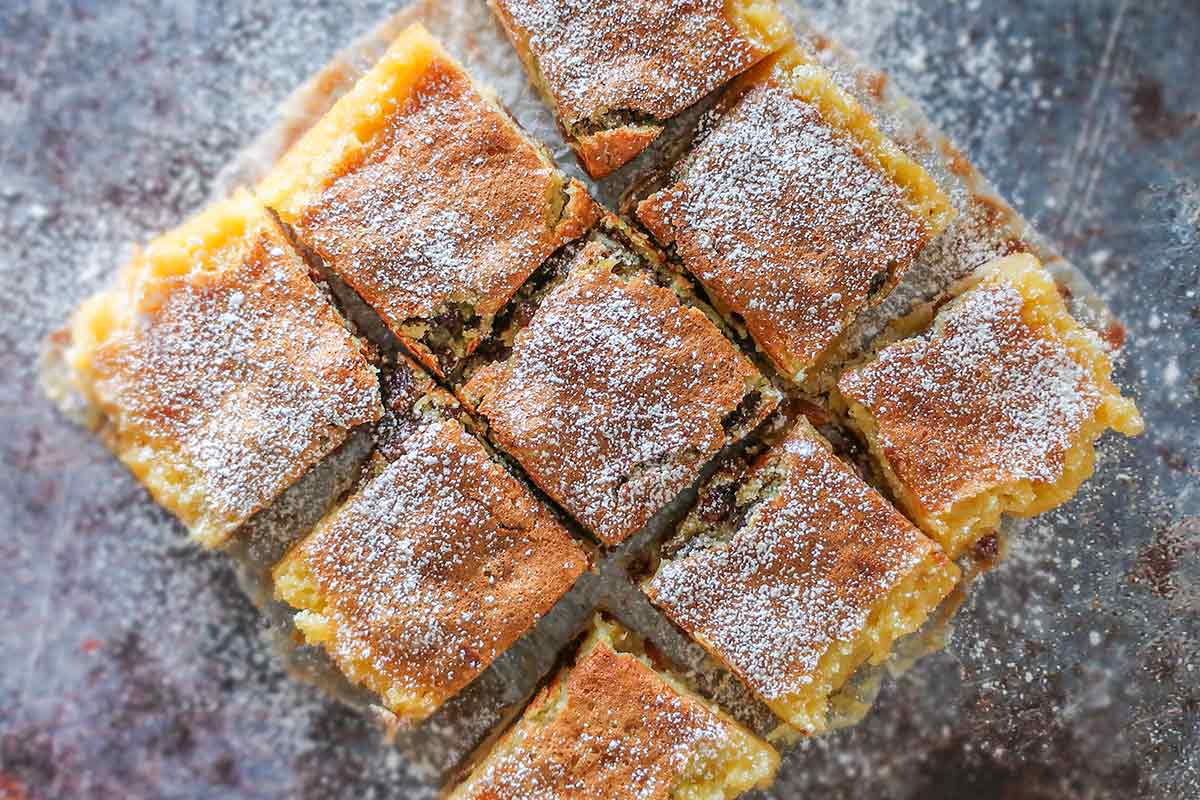 Finally, bake the raisin lemon bars until the middle is no longer wiggly. It takes about 35 to 40 minutes, depending on your oven. The bars will firm up once they are cooled in the refrigerator. Dust them with powdered sugar to make them look pretty.
Can you freeze gluten free lemon bars?
If you find yourself with leftovers or want to prepare them ahead of time, freezing is an option. However, there are a few things to remember when freezing these delicate treats.
First, ensure the bars have thoroughly cooled before freezing them. Place the bars on a cookie sheet and freeze for 10 minutes. Then wrap each bar in plastic wrap before placing them in an airtight container or freezer bag.
When you're ready to enjoy your frozen lemon bars, remove them from the freezer and let them defrost in the fridge overnight. Avoid microwaving the bars, as this will alter their texture.
Freezing gluten free lemon bars is a convenient way to prep ahead without sacrificing flavor.
best way to store raisin lemon bars
It is best to refrigerate them. Line an airtight container with parchment paper and place the bars in a single layer. Then cover them with another sheet of paper and another layer and seal the container. When stacked together or stored improperly, they may stick together. They will keep their freshness for up to 5 days.
how to remove wax from lemons
Removing the wax coating from the skin is crucial when baking with lemon zest. While some people may wash their lemons before use, this method does not effectively remove all the wax. Here are a few easy steps you can follow to ensure your lemon bars are made with wax-free zest:
1. Rinse your lemons under warm water and gently scrub them with a vegetable brush or sponge.
2. Fill a bowl with hot water and add a tablespoon of vinegar.
3. Place the lemons in the bowl for five minutes, stirring occasionally.
4. Remove the lemons from the bowl and dry them with a towel.
5. Use a microplane or zester to remove only the outermost layer of skin – no need to press too hard to get the zest.
By following these simple steps, you can be sure that any wax residue on your lemons won't end up in your gluten free raisin lemon bars!
Is lemon zest healthy?
Lemon zest is the outermost layer of lemon peel, giving various dishes a citrusy and tangy flavor. Adding some freshly grated lemon zest can enhance the taste of any dish while providing numerous health benefits.
As per Medicine Net, lemon zest contains several essential oils rich in antioxidants that help protect our body against harmful free radicals and reduce inflammation.
Moreover, lemon zest is an excellent source of vitamin C and fiber. Vitamin C helps boost immunity, while fiber aids digestion and promotes satiety.
In addition, consuming lemon zest may also have some potential health benefits, such as reducing the risk of heart disease and promoting weight loss.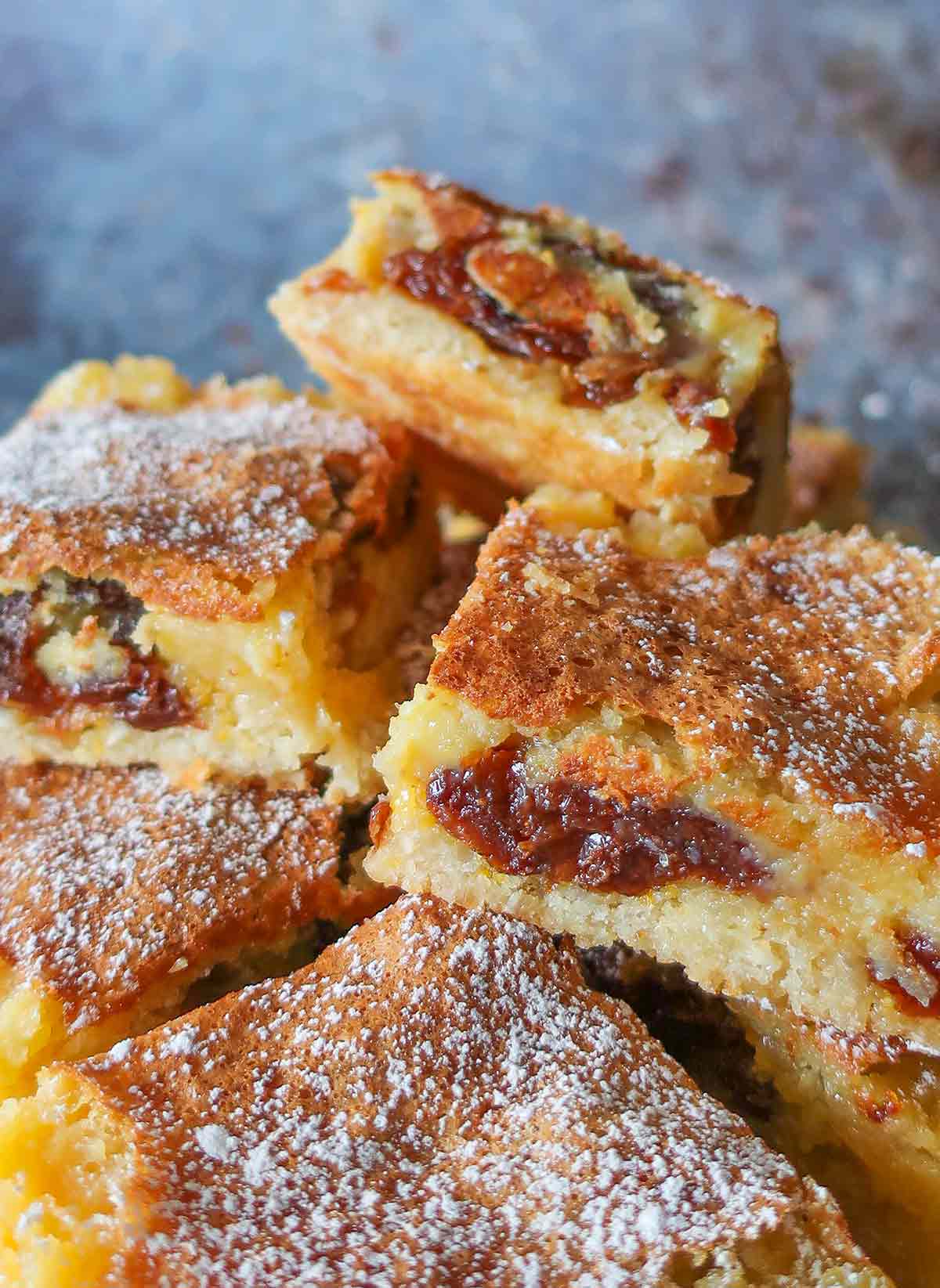 My take on gluten free raisin lemon bars
To summarize, gluten free raisin lemon bars are a perfect dessert for spring and summer. They are easy to make and provide a refreshing burst of citrus flavor, perfect for warm weather. By using fresh lemons, removing the wax from the zest, and storing them properly, you can ensure that your gluten free lemon bars will be delicious and nutritious.
Whether cut into squares or triangles, dusted with powdered sugar, or garnished with fresh berries, they look impressive on any dessert table. With their tangy flavor and buttery crust, these treats are perfect for any occasion, such as Mother's Day, Father's Day, or a Birthday! Enjoy!
Let's Connect!
Be sure to FOLLOW US on FACEBOOK and PINTEREST.
Many thanks!
Kristina xx
Gluten Free Raisin Lemon Bars
Published on May 02, 2023
by
Kristina Stosek
Instructions
1.

Preheat oven to 350 F and line a 9 x 9-inch square baking pan with parchment paper. Spray the paper with cooking oil or brush with melted butter. You can also use an 8 x 8-inch pan.

2.

3.

In a medium bowl, mix flours, ccoconut, sugar and salt. Add butter and water and, using a fork, mix to combine. The mixture will be crumbly

4.

Transfer the mixture evenly over the bottom of the prepared pan. Do not press the mixture down. *see the photo in the post

5.

Place raisins in a small bowl and pour 1 cup of boiling water over the raisins to rehydrate them. Leave for 5 minutes, then drain the water and evenly scatter the raisins over the crust layer. Bake for 10 minutes

6.

- PREPARE THE LEMON LAYER -

7.

In a mixing bowl, beat eggs with sugar until smooth, about 2 minutes. Add remaining ingredients and mix to combine. The mixture will be thin. 

8.

Pour the mixture over the raisins and bake for about 35 minutes until the center is no longer wiggling

9.

Cool at room temperature, then place in the fridge for a minimum of 3 hours or overnight

10.

Cut into squares or triangles and lightly dust with powdered sugar if you wish
Leave a Comment
I love the idea of raisins, it made the lemon bars sweeter without adding extra sugar, what a great idea!