Gluten Free No Bake Raspberry Chocolate Tart
Published on Apr 26, 2017
by
Kristina Stosek
Prep Time:

15 minutes
Cook Time:

7 minutes
Serves:

8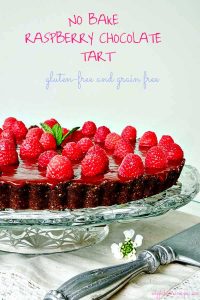 ​This post may contain affiliate links, please see our
privacy policy
for details
This Raspberry Chocolate Tart is gluten free, no-bake, and requires less than 10 ingredients! It's the perfect dessert for special occasions or holiday entertaining.
If you're looking for a delicious and easy dessert recipe, this no-bake. Raspberry Chocolate Tart is one to try.
This gluten-free tart is the perfect mix of sweet and tart flavors, is grain-free, and can be made vegan, making it the perfect choice for those with dietary restrictions.
dessert recipe using only 9 ingredients
This gluten free no-bake raspberry chocolate tart is the perfect dessert for those looking for a recipe without fuss, easy cleanup and don't want to turn the oven on. It is a fail-proof dessert recipe even for novice cooks.
make ahead dessert recipe
The best part about this recipe is that it can be made ahead of time so that you can have more time on the day of your dinner party or holiday celebration for more important things.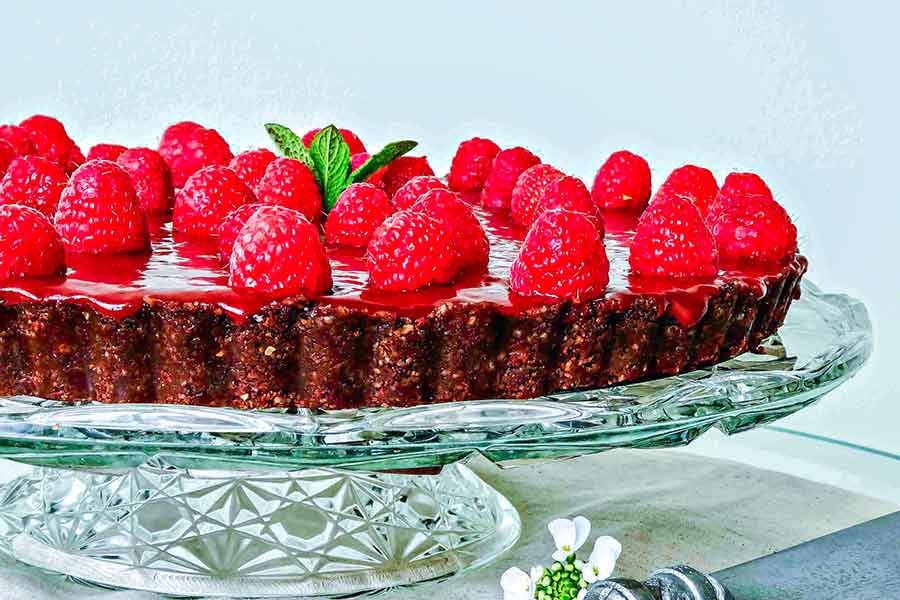 easy no bake dessert
This tart is made with a gluten free nut crust filled with a delicious raspberry chocolate filling. And it is so easy to make!
no bake tart
The crust for this no-bake dessert takes about 3 minutes to make. Simply mix the ingredients for the crust and firmly press into a tart pan with removable bottom.
raspberry and chocolate are the best combinations for filling
When it comes to flavor combinations, few can compare to the classic pairing of raspberry and chocolate. The tartness of the berries complements the sweetness of the chocolate perfectly, making for a delicious treat that's hard to resist.
Another tart you may enjoy is the Gluten-Free French Lemon Tart or the Maple Caramel Apple Tart.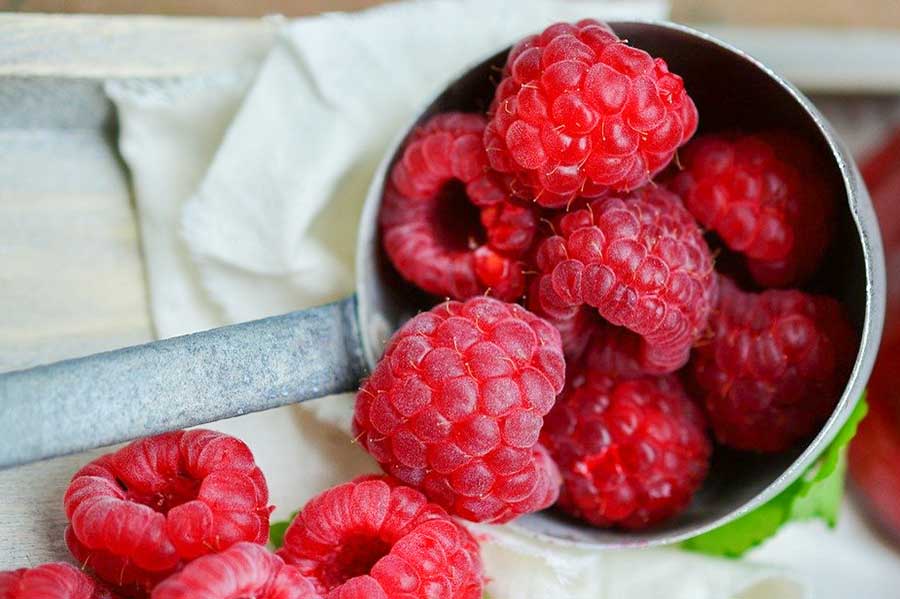 Chef's notes on ingredients:
There are only 9 ingredients in this gluten-free no-bake raspberry chocolate tart, and they are all simple and easy to find in local supermarkets.
nut flour – almond, hazelnut or walnut
pure cocoa powder
butter or coconut oil for a vegan recipe
maple syrup or honey for a vegan recipe
fresh raspberries, you can use frozen, but defrost them first
tapioca starch, or you can use corn starch or potato starch
dark chocolate chips or chocolate bar. For a vegan recipe, use dairy-free chocolate chips
whipping cream or coconut cream for a vegan recipe
if you want to decorate the dessert, use fresh raspberries, mint and whipped cream of choice
tools you will need
10-inch tart pan with removable bottom
saucepan
bowl
spatula
measuring cups
measuring spoons
plastic wrap
How long will no bake dessert keep?
The no-bake raspberry chocolate tart should last up to 7 days in the fridge. The key to ensuring it stays fresh is wrapping it with cling wrap so it doesn't dry out.
If you are going to freeze the tart, wrap it with cling wrap and place it in a freezer bag. The dessert should keep for up to 2 months when frozen.
serving suggestions
You can top your no-bake raspberry chocolate tart in many different ways. You can use whipped cream, fresh berries, chocolate shavings, fresh mint or even a drizzle of chocolate ganache. And always serve it chilled or even frozen.
Gluten Free No Bake Raspberry Chocolate Tart
Published on Apr 26, 2017
by
Kristina Stosek
Instructions
1.

Lightly grease a 10-inch tart pan with a removable bottom with butter or coconut oil

2.

In a medium bowl combine almond flour, cocoa powder, coconut oil/butter and maple syrup. Firmly press the mixture into the tart pan. Set aside

3.

Toss raspberries with sugar and tapioca, then place in a saucepan and cook over medium heat until the sauce starts to bubble and thicken. About 5 minutes. You can also use fresh raspberries

4.

Remove sauce from the stove add chocolate and stir until chocolate is completely melted. Add cream and stir to combine

5.

Pour the filling into prepared crust, top with raspberries and cover with plastic wrap. Refrigerate overnight

6.
Leave a Comment
Kristina
no, I would not use garbanzo bean flour. Since this is a no bake cake it has to have the nut flour. The only other option you may try is coconut flour. But, coconut flour is very absorbent so you would have to use less, maybe only 1 1/3 cups. But to be honest, I have not tried to make it with coconut flour so I don't know if it will work. sorry
Will garbanzo bean (chick pea) flour work, or is it too fine? I am allergic to nuts, but can use seed or bean flours.