Maple Caramel Apple Tart {Gluten-Free}
Prep Time
20 Minutes
Difficulty
Easy
Cook Time
70 Minutes
Serves
6 - 8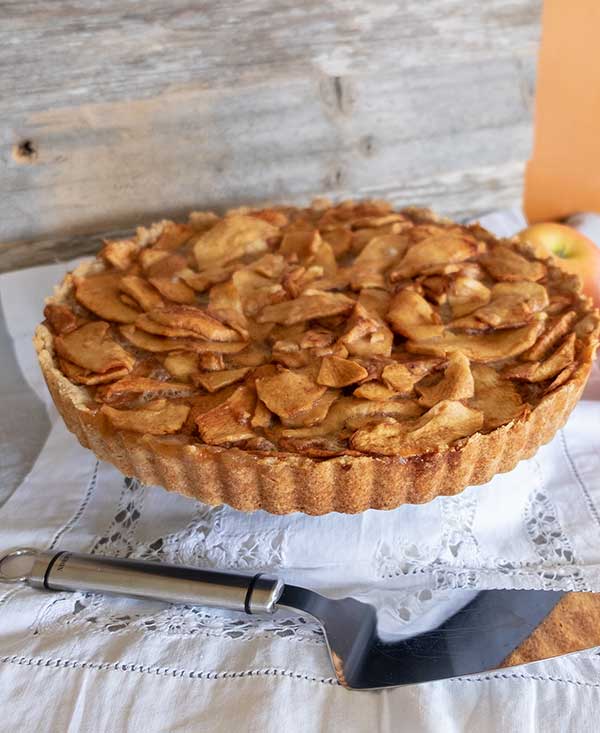 Be the first to rate this recipe.
If you love dessert made with apples, I promise you this gluten-free maple caramel apple tart will not disappoint! I know the tart may look complicated to make, but it is simple, and the maple buttery caramel sauce outshines any apple tart or pie. In this stunning dessert, the apples are baked in a silky maple caramel sauce, and the crust is light and buttery. Honestly, you will love this heavenly dessert. Next time you are thinking of making gluten-free apple pie, please make this maple caramel apple tart. This dessert is a winner all the way. Vegan option included
Ingredients
1 cup almond flour
1/2 white rice flour
2 Tbsp. coconut sugar or sweetener of choice
⅓ cup cold salted butter, cubed
2 - 3 Tbsp. Ice water
4 large Honeycrisp, Granny Smith or Braeburn apples
2 Tbsp. Fresh lemon juice
2 tsp. GF ground cinnamon
3 tablespoons tapioca or arrowroot starch/flour
1/2 cup raisins (optional)
MAPLE CARAMEL SAUCE
2 Tbsp. Salted butter
1/4 cup cream
1 tsp. pure vanilla extract
Note: for vegan option substitute earth balance butter for butter and coconut cream for cream
Instructions
To make the maple caramel sauce, pour maple syrup in a heavy bottom saucepan. Bring to boil over medium heat and cook for 5 minutes. Stir often to reduce bubbles
Stir in butter until melted then slowly add the cream, stirring constantly. Cook for 3 more minutes. Remove from the heat and stir in vanilla. Set aside
CRUST
Using a food processor, combine almond flour, sweet sorghum flour, rice flour, and coconut sugar. Add butter and pulse until blended, the butter should be about the size of a small pea. Add water one tablespoon at a time until the dough is moist and should stick together if you pinch it. I used three tablespoons
Press dough into a 9-inch tart pan including along the sides. Refrigerate until ready to use
Preheat oven to 375 F
Peel, core and thinly slice the apples
Using a large bowl toss apples with lemon juice, cinnamon and tapioca/arrowroot. In that order.
Fan the apples in a circular pattern, this way you can fit them all in. If you are using raisins, sprinkle them after the first layer of apples. You should have 2 layers of fanned apples. Pour maple caramel sauce evenly over the apples
Bake for 40 minutes, then reduce heat to 325 F and loosely cover the tart with foil. Bake for 20 - 25 more minutes until the apples are tender
Cool completely before removing the sides. Serve with extra caramel sauce, ice cream or whipped cream. Enjoy!
Similar Recipes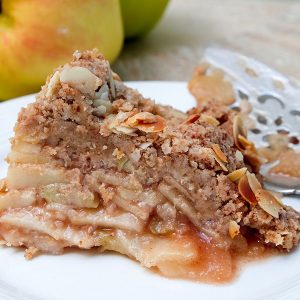 Gluten Free Apple Pie Without a Crust
This gluten free apple pie is a true classic, but without the added crust, how wonderful. The greatest effort goes into making the crust, but with this pie, there is not crust, making it an easy recipe. Now imagine loads of delicious apples combined with cinnamon and oats. Spectacular! This scrumptious apple pie recipe should […] Read More
Prep Time
15 Minutes
Difficulty
Easy
Cook Time
65 Minutes
Serves
6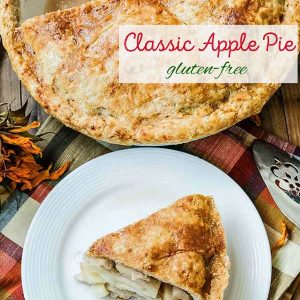 Gluten Free Classic Apple Pie
Apple pie is the ultimate home baked treat. The smell of freshly baked apples with a hint of cinnamon cooling in the kitchen will bring back many wonderful memories from your childhood. When it comes to gluten-free apple pie, the crust is important, it has to be tender and flaky. In this easy to make […] Read More
Prep Time
20 Minutes
Difficulty
Moderate
Cook Time
60 Minutes
Serves
8-inch pie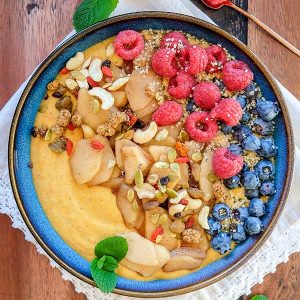 Pumpkin Pie With Cinnamon Apple Swirl Yogurt Bowl (Vegan, Gluten-Free)
Let's talk about healthy food. One of my favourite breakfasts is a yogurt bowl packed with fruit, seeds and nuts. Don't get me wrong, I do spoil myself on the weekends with some gluten-free biscuits or gluten-free chocolate chip zucchini muffins. I believe life is all about balance and during my work week it is […] Read More
Prep Time
10 Minutes
Difficulty
Easy
Cook Time
5 Minutes
Serves
4