Gluten Free Old-Fashioned Berry Coffee Cake
Published on Feb 26, 2023
by
Kristina Stosek
Prep Time:

10 minutes
Cook Time:

55 minutes
Serves:

12. pc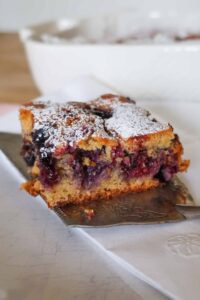 ​This post may contain affiliate links, please see our
privacy policy
for details
This is the VERY BEST old-fashioned berry coffee cake made without gluten and dairy. Each bite is filled with a light, tender, moist pillowy cake studded with cinnamon-hinted berries. The gluten free coffee cake takes only ten minutes to whip up, making this an exceptionally easy recipe.
Where did coffee cake originate?
It has been documented that Germany created this old-world coffee cake in the early 1800s. The cake was initially called Kaffee kuchen and served with coffee at breakfast or during afternoon Kaffee Haus visits. This version of berry coffee cake tastes like the classic except without gluten and dairy.
What is Gluten Free Old-Fashioned Berry Coffee Cake?
Old-fashioned berry coffee cake is made with a simple quickbread vanilla batter, topped with various berries hinted with cinnamon, baked until golden brown and dusted with powdered sugar. The cake is light, moist, not overly sweet and tastes like the traditional German coffee cake.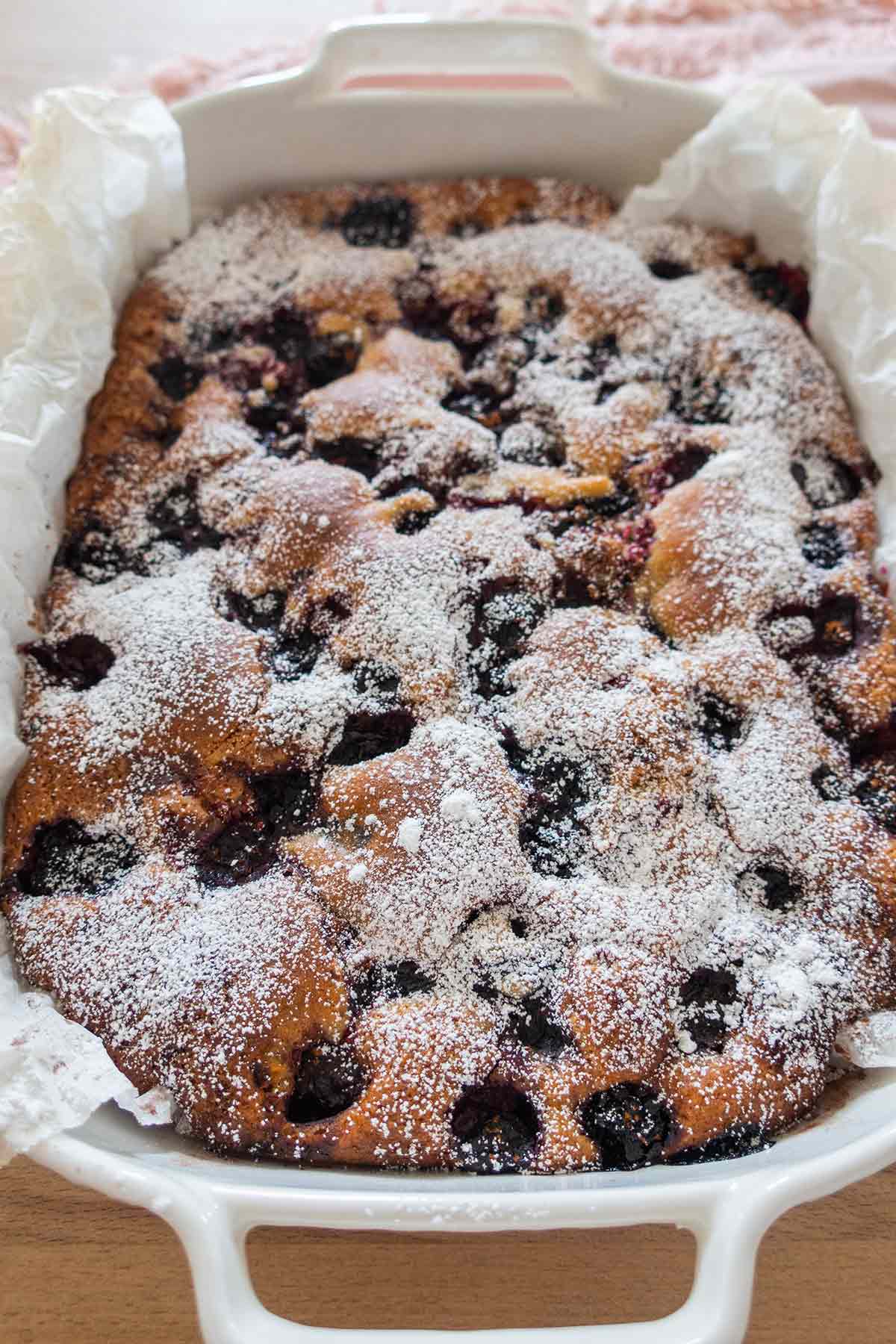 Are coffee cakes healthier than cakes?
It all depends. If you add fruit, a nutrient fiber-rich flour, cut back on sweeteners and eliminate saturated fats, the answer is yes. This gluten free berry coffee cake recipe is all those things, so yes, this is a healthier version of a cake. And it doesn't need dairy.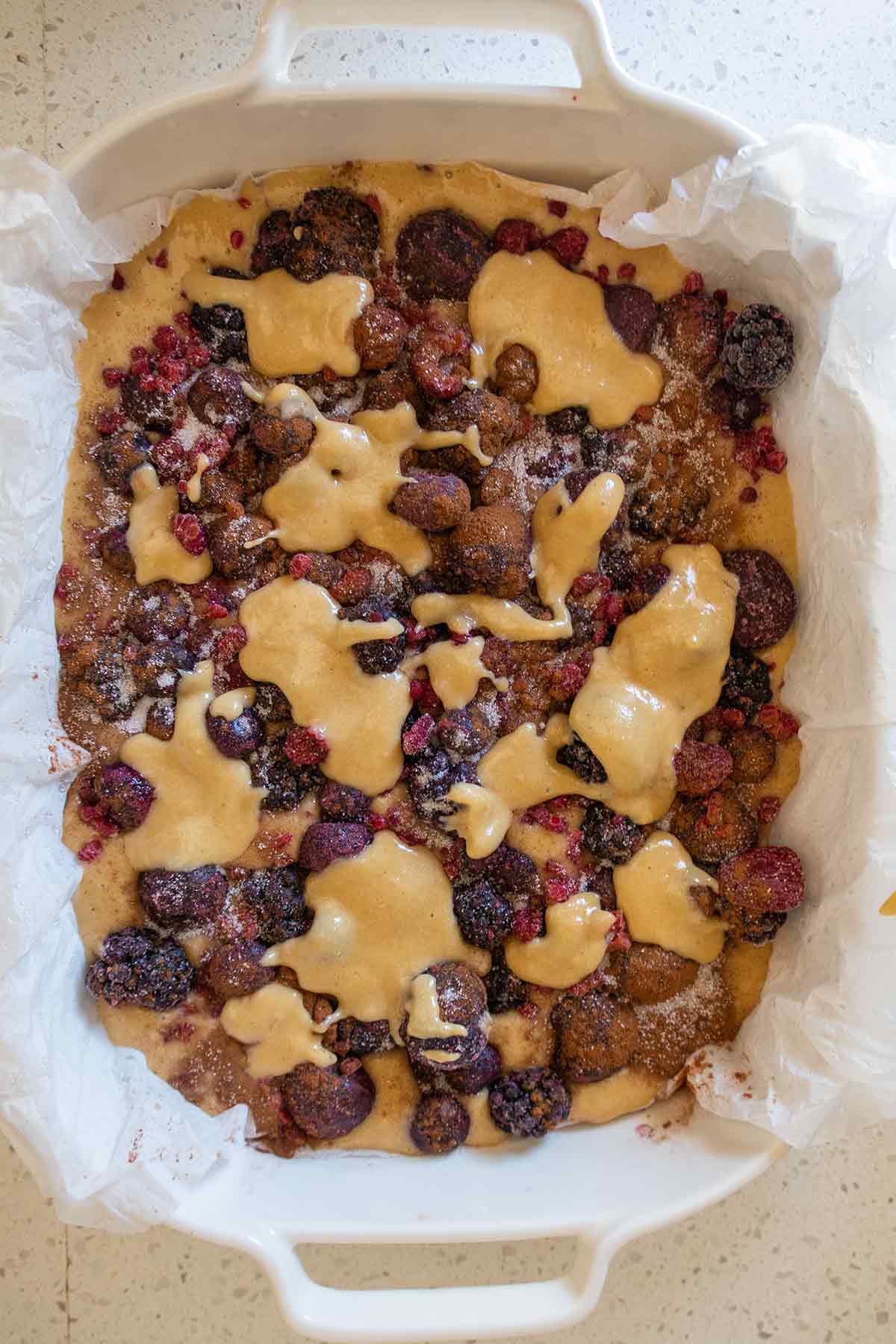 4 Tips for best gluten free berry coffee cake
Refrain from overmixing the batter, or the cake will become dense and heavy.
Be sure the cake is fully baked. Coffee cakes made with frozen fruit take longer to bake. The cake colour should be golden brown and pass the toothpick test.
All wet ingredients must be at room temperature. This will give you a light, pillowy cake.
Do not mix the berries into the batter; they will sink to the bottom and make the cake soggy.
Do I have to use frozen berries?
Absolutely not. You can use fresh berries, especially when they are in season, such as blackberries, blueberries, strawberries, raspberries and pitted cherries. However, the fresh berries must be firm. In addition, you may need to reduce the baking time by about five minutes when using fresh fruit.
Love coffee cakes? Check out our 3 favorite gluten free coffee cake recipes!
substitutions
Let's start with the mix-ins. This gluten free coffee cake is made with various berries. The berries add flavor and keep the cake moist. However, you can also use chopped apples, pears, pineapple, and nuts.
For the flour, this cake recipe includes almond flour. The flour adds moisture, creating a perfect melt-in-your-mouth crumb. However, some of you may have an allergy to nuts and can't use almond flour. The one flour I feel comfortable using in this coffee cake recipe is certified gluten free oat flour. The texture will be a little drier but still delicious.
Eggs play a big part in this gluten free coffee cake. The eggs keep the cake light and pillowy. However, if you have to replace them, use flax or chia eggs. The cake will be denser and not as light.
In this coffee cake, we used brown sugar. The brown sugar is lightly flavored with molasses and adds flavor. You can use coconut sugar, granulated sugar, pure maple syrup or agave if you wish. Add two extra tablespoons of flour if you use maple syrup or agave.
So go ahead and experiment until you find your perfect combination.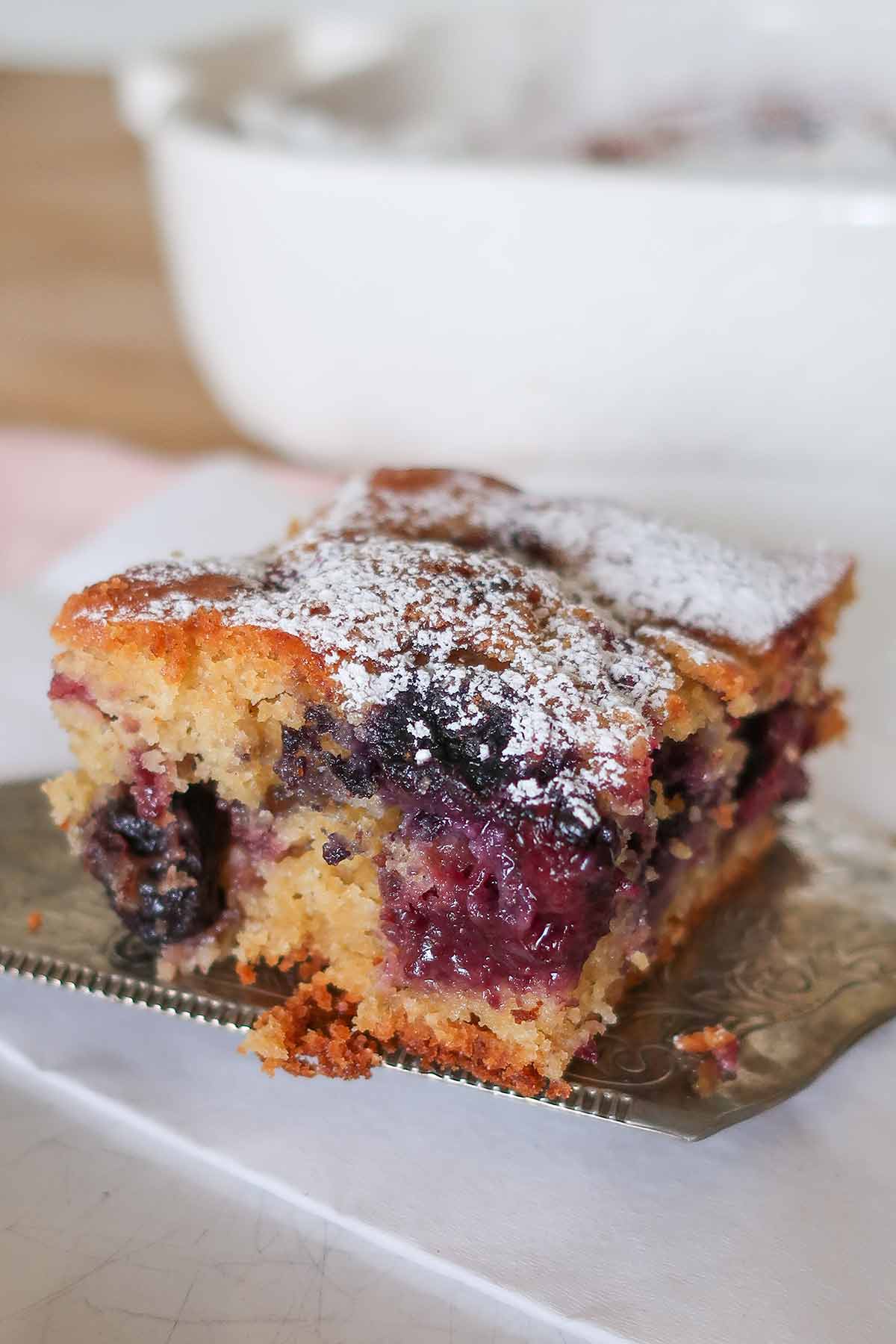 serving ideas
-Serve for breakfast or brunch with coffee or tea
-Enjoy as an afternoon sweet treat
-A la mode with vanilla ice cream for dessert
-Cut into small squares and drizzle with cinnamon glaze. Like we used on the Gluten-Free Apple Fritter Bread, and serve as a dessert at your next party
Storing gluten free berry coffee cake
Store this gluten free coffee cake covered with a clean kitchen towel at room temperature for up to two days. Or store it in an airtight container in the refrigerator. It will keep fresh for up to 4 days.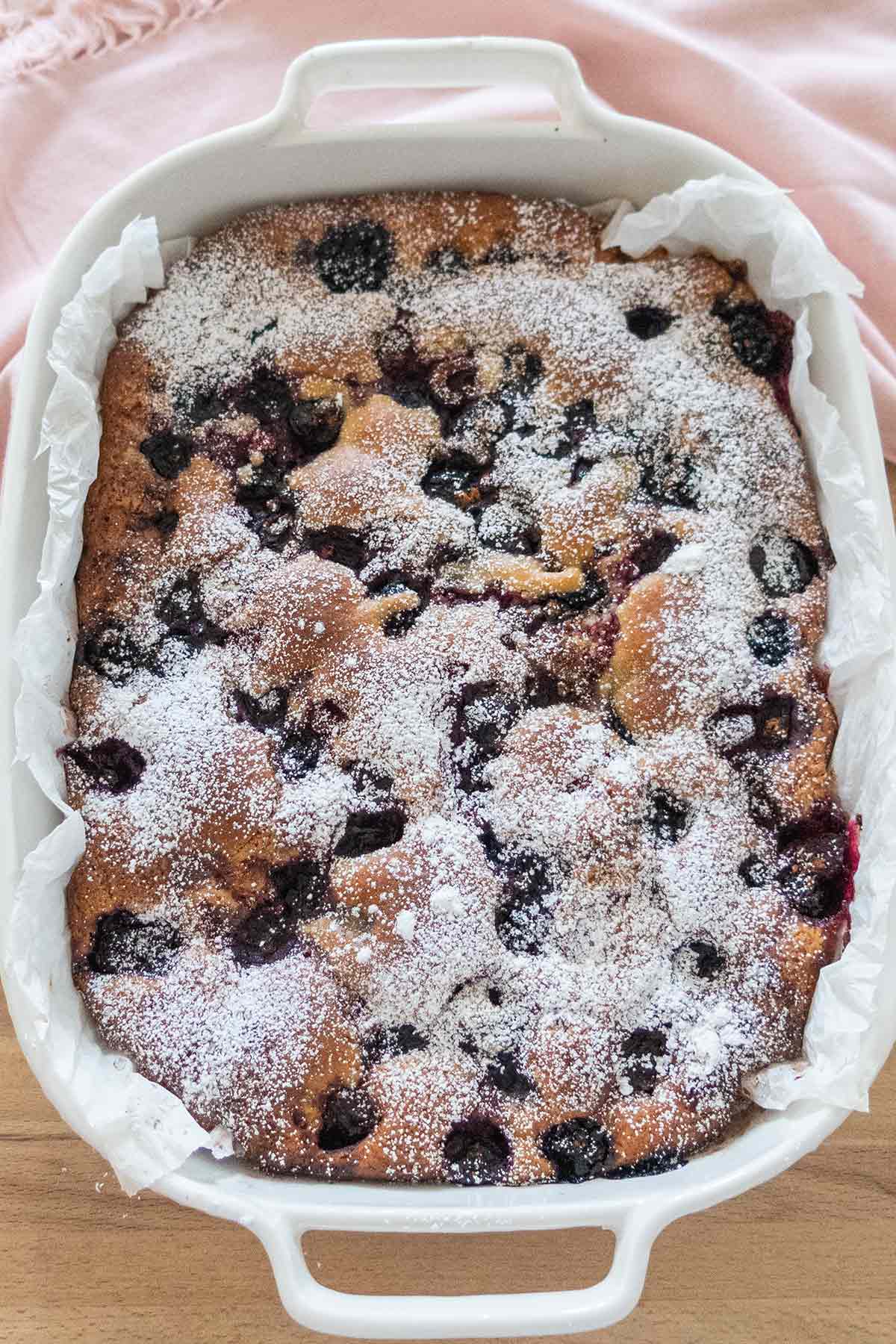 the takeaways
This gluten free old-fashioned berry coffee cake is the perfect way to start your morning, or enjoy it as a delicious treat later in the day. You will need only ten ingredients plus berries and ten minutes of hands-on.
This recipe is not to be missed and is one of our top recommended coffee cakes because it is insanely delicious and tastes just like omas.
Gluten Free Old-Fashioned Berry Coffee Cake
Published on Feb 26, 2023
by
Kristina Stosek
Instructions
1.

Preheat oven to 350 F and line an 8 by 12 inch baking pan with parchment paper. Or, spray with cooking oil

2.

In a large bowl, whisk flours, baking powder and salt

3.

In a separate bowl, using an electric mixer or a whisk, cream eggs with sugar. Add olive oil and mix. Add milk, vanilla and lemon zest and mix to combine

4.

Make a well in the center of the dry ingredients and pour in the wet mixture. Using a spatula, mix until just combined and you no longer see dry ingredients. Do not overmix

5.

Spread 3/4 of the batter into the prepared baking pan and evenly top with berries. Dust the berries with cinnamon and 2 tablespoons of sugar. Then using a spoon, dollop the remaining batter over the berries

6.

Bake for 50 - 60 minutes. The cake should be golden brown and pass the toothpick test. Cool in the pan before slicing and dust with powdered sugar if you wish
Leave a Comment
Kristina
Lupe, it means the pan has measurements of 8 x 12-inches
What's a 12-inch baking pan? Thank you.