Raspberry Chia Coffee Cake – Gluten-Free, Grain-Free
Published on Apr 17, 2020
by
Kristina Stosek
Prep Time:

15 minutes
Cook Time:

40 minutes
Serves:

8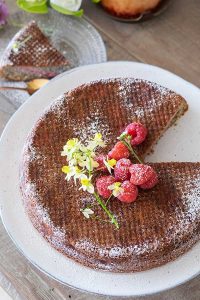 ​This post may contain affiliate links, please see our
privacy policy
for details
This healthy Raspberry Chia Coffee Cake is a nutrient-packed sweet treat made without grains, dairy or refined sugar. The gluten-free coffee cake provides a healthy dose of fiber and a chock-full of protein.
For extra deliciousness, I used raspberries, adding a zesty flavour to this extra moist coffee cake.
However, you can change it up using your favourite berry or a combination of berries. For a larger berry such as strawberry, slice it into smaller pieces.
Let's talk about the nutrient-packed ingredients,
Chia seed is one of my favourite seeds to use in baking. First, chia seeds are very tiny, so you can add them to just about anything. But despite that, they provide an abundance of antioxidants, fiber, iron and are an excellent source of omega-3 fatty acids.
For the flours, I only used almond flour and coconut flour. Almond flour is super high in protein, fiber and very low in carbs.
For the coconut flour, this is another one of my favourite flours because it is protein and fibre-rich and again, low in carbs.
Coconut flour provides a beautiful texture in low carb baking and makes desserts particularly satisfying. I want to mention; even though I used coconut flour in this chia coffee cake, it does not taste like coconut.
heart healthy olive oil,
To make this sweet treat extra moist, I used olive oil. Olive oil, in my opinion, is magical, I could virtually drink it, but the olive oil has to be of excellent quality. You may have noticed that many of my dessert and muffin recipes are made with olive oil and not butter.
The reasons I use olive oil are, this mildly flavoured oil is rich in healthy monounsaturated fats, has strong anti-inflammatory properties and has large amounts of antioxidants.
Sometimes I switch it up and use avocado oil. And the best part, olive oil is super easy to use in recipes, it is liquid and blends well.
So, if all of the above didn't persuade you that this is a healthy coffee cake, then enjoy it for what it is → a super moist, incredibly tasty coffee cake.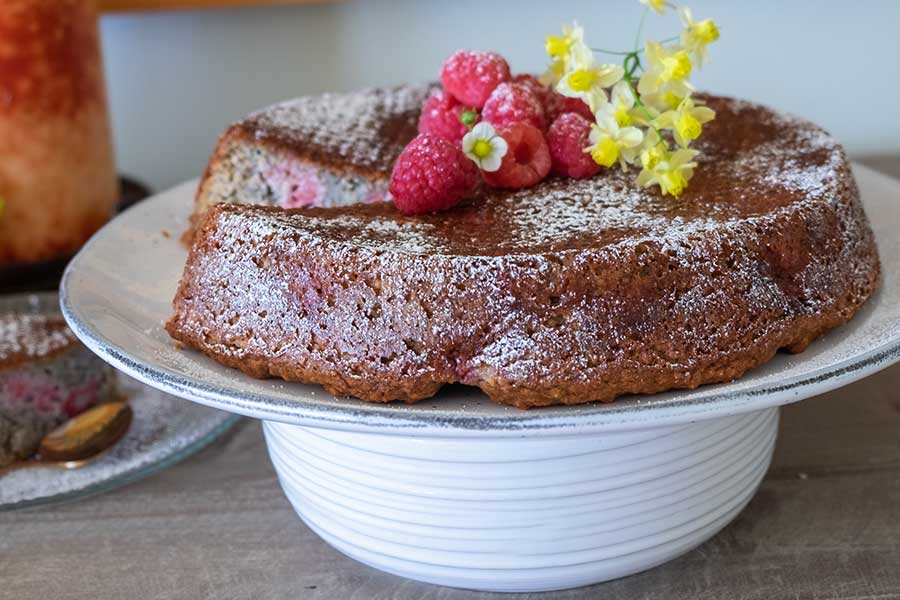 serving recommendation,
I recommend serving this coffee cake chilled because it tastes almost like pudding when chilled…sooo good! But it is also perfect at room temperature.
This raspberry chia coffee cake will keep up to five days when refrigerated. If you want to turn it into an extraordinary dessert, add fresh berries, vanilla bean ice cream or whipped cream. YUM 🙂
For inspirations on how to add chia to your diet, visit our gluten-free recipes made with chia seeds
Raspberry Chia Coffee Cake – Gluten-Free, Grain-Free
Published on Apr 17, 2020
by
Kristina Stosek
Instructions
1.

Soak chia seeds in milk for 15 minutes (no longer)

2.

Preheat oven to 350 F and spray an 8-inch round cake pan with cooking oil

3.

In a large bowl whisk together almond flour, coconut flour, baking soda, baking powder and salt

4.

In a separate bowl, whisk the egg whites until they are stiff, set aside

5.

Add sugar, oil, egg yolks, lemon juice and vanilla to chia mixture and mix until combined

6.

Add the wet mixture to dry ingredients and using a spatula mix until everything is incorporated. Fold in egg whites half at a time until combined. Do not over mix. Carefully fold in raspberries

7.

Transfer batter to prepared pan and bake for 40 minutes until the cake passes the toothpick test. Cool in the pan

8.

Using a sharp knife loosen the edges. Place a large plate over the pan and flip the cake on to the plate

9.

Sprinkle with powdered sugar if you wish