Vegan Apple Streusel Cake – Gluten Free
Published on Aug 01, 2022
by
Kristina Stosek
Prep Time:

20 minutes
Cook Time:

50 minutes
Serves:

8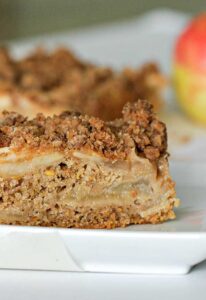 ​This post may contain affiliate links, please see our
privacy policy
for details
This vegan coffee cake is one of the easiest gluten-free apple streusel cake recipes! Moist with a perfect crumb, layered with apples, flavourful, and covered with a sweet streusel topping. It's the perfect dessert for every season.
An Easy Vegan Apple Streusel Cake Recipe.
To make this vegan apple cake, you'll need a few simple ingredients: gluten-free flour, olive oil, flax egg, dairy-free milk, apples, cinnamon, a sweetener, lemon juice and vanilla.
The streusel topping is made with sorghum flour, coconut oil, cinnamon and a sweetener.
This cake is best served fresh and warm out of the oven. Serve it with a scoop of ice cream or a dollop of whipped cream for an extra special treat.
What is streusel?
Streusel is a topping made typically from flour, sugar, and butter that is crumbled over the top of baked goods. It can be made with different types of flour and sometimes oats and adds a sweet and crunchy element to cakes, pies, and other desserts.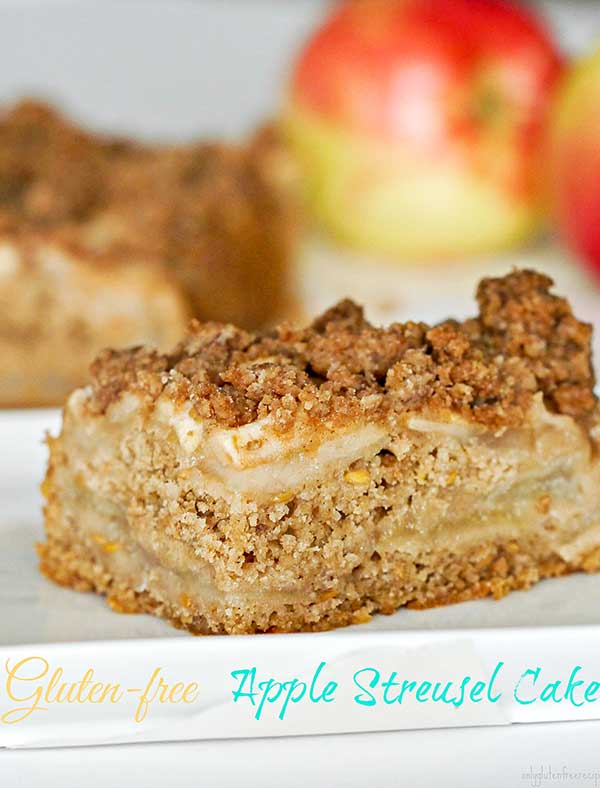 Why is this apple streusel cake healthier than other cakes?
When it comes to plant based-cakes, most people think of a dessert loaded with sugar, fat and calories. But this apple streusel cake is a healthier option, thanks to its gluten-free status, lack of refined sugar and plenty of healthy apples.
This cake is made with sorghum flour, almond meal, and, if you choose to, coconut sugar. So it has a lower glycemic index than cakes made with white flour and refined sugar.
Plus, it's packed with fiber and protein from almond meal, sorghum flour and apples. And, because I used olive oil and coconut oil in this recipe, it's also lower in saturated fat.
So if you're looking for a healthier option for your next cake craving, give this gluten-free, vegan apple streusel cake a try!
What other fruit is good for streusel cake?
While apples are the traditional fruit used in a streusel cake recipe, you can also use other fruits to create a delicious and unique cake. For example, try using pears, peaches, or berries in the recipe for a new twist on an old favourite.
Why is apple coffee cake so popular?
Apple coffee cake is a popular choice for many people wanting a cake with fruit. The moist cake, sweet apples and crunchy streusel topping make it a delicious and indulgent option. It's also relatively easy to make, which is another bonus!
Which apple is best for coffee cakes?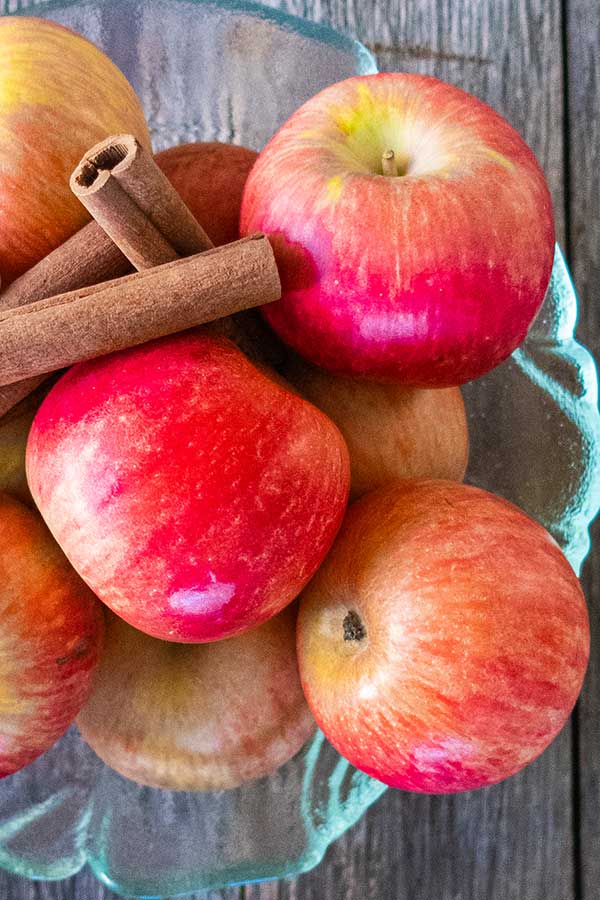 There are many different types of apples, and they all have different flavours and textures. So, which one is the best for coffee cake?
Well, it depends on what you like. If you want a sweeter cake, go for a Honeycrisp or golden delicious apple. If you prefer a tart apple, then go for a granny smith. And if you want something in between, go for a fuji apple.
It all comes down to personal preference. But whatever type of apple you choose, make sure it is fresh and ripe for the best results. One of our favourite apple cake recipes is the gluten free German apple cake.
Is streusel coffee cake served warm?
There's nothing quite like a warm, streusel-topped coffee cake. This gluten-free, vegan version is just as delicious as the original, and it's perfect for those mornings when you need a little something extra to get going. You may also enjoy our Gluten-Free Maple Caramel Apple Tart.
Which spices are best for apple cakes?
When it comes to baking an apple cake, there are a few different spices that can be used to give the cake flavour. Cinnamon is the most common spice in apple cakes, but nutmeg and allspice are also great options.
Combining these spices will give your cake a well-rounded flavour that perfectly complements the apples.
Do you have to peel apples before baking?
If you're making a gluten-free apple streusel cake, you might wonder if you need to peel the apples. The answer is that it depends on the type of apples you use.
If you're using softer apples, like Macintosh or Red Delicious, you probably don't need to peel them. However, if you're using a firmer apple, like Granny Smith, you might want to peel them because the apple skin remains firm.
How long will coffee cake keep?
This gluten-free apple streusel cake is the perfect everyday dessert! It's easy to make and can be stored in the fridge for up to a week. If it's coffee cake you are searching for, please check out our list of gluten-free coffee cakes to get you inspired.
How to store apple streusel cake?
The best way to store this cake is in an airtight container. You can keep it at room temperature for up to 3 days or in the refrigerator for up to 1 week. If you want to freeze the cake, wrap it tightly in plastic or aluminum foil, which will be good for up to 3 months.
I hope you better understand what it takes to make a gluten-free apple streusel cake. This cake is not only delicious but also relatively easy to make. Another one of my favourites is the Gluten-Free and Dairy-Free Coconut Pineapple Cake.
This vegan apple streusel cake is also great for entertaining because you can make it ahead of time. Or, serve it with a cup of coffee or tea in the morning, and you'll be ready to tackle the day.
Let's Connect!
Be sure to FOLLOW US on FACEBOOK and PINTEREST.
Many thanks!
Kristina xx
Vegan Apple Streusel Cake – Gluten Free
Published on Aug 01, 2022
by
Kristina Stosek
Instructions
1.

Preheat oven to 350 F (180 C). Line an 8-inch square cake pan with parchment paper

2.

Mix flax seed and water in a medium-size bowl and rest for 20 minutes. It will become a gel-like mixture

3.

In a large bowl mix together sorghum flour, almond meal, tapioca starch, sugar, baking powder, cinnamon and salt

4.

In a separate bowl, whisk together olive oil, coconut milk, vanilla, lemon juice and zest and flaxseed mixture

5.

Add wet ingredients to dry and mix until smooth

6.

Scoop half the batter in into prepared cake pan and smooth out evenly. Add half the apple slices and lightly press into the batter

7.

Top evenly with remaining batter and then remaining apple slices

8.

Mix the streusel ingredients until you get a sandy texture and spread over top of the cake

9.

Bake for 45 - 50 minutes and then cool in the pan
Leave a Comment
absolutely delicious and super easy to make!
Kristina
Virginia the almond flour should read 177 ml, thank you for pointing this out
Hi I'm just about to make this cake but noticed that the almond flour amount is 3/4 cup (60ml) 3/4 cup is 188ml so now I don't know which is the correct amount: 60 or 188ml? Would appreciate it if you could clear this up as I'm longing to try the recipe. Looks delicious and uses lectin free flours so even better! Thanks