No Bake Lemon Coconut Bars – gluten free, vegan
Published on Jul 25, 2022
by
Kristina Stosek
Prep Time:

10 minutes
Cook Time:

minutes
Serves:

12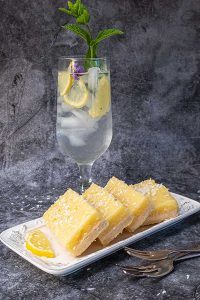 ​This post may contain affiliate links, please see our
privacy policy
for details
It is not very often that I get this excited about one of my recipes! This gluten-free Lemon Coconut Bar is delightfully zesty, refreshingly cold and tastes almost like lemon-coconut ice cream.
If you don't feel like baking, please try this dessert recipe. You will be pleasantly surprised.
Need more no bake desserts? Some of our other favourite summer desserts are the Gluten-Free No Bake Cashew Butter Tart with Pineapples, or the Gluten-Free No Bake Raspberry Chocolate Tart.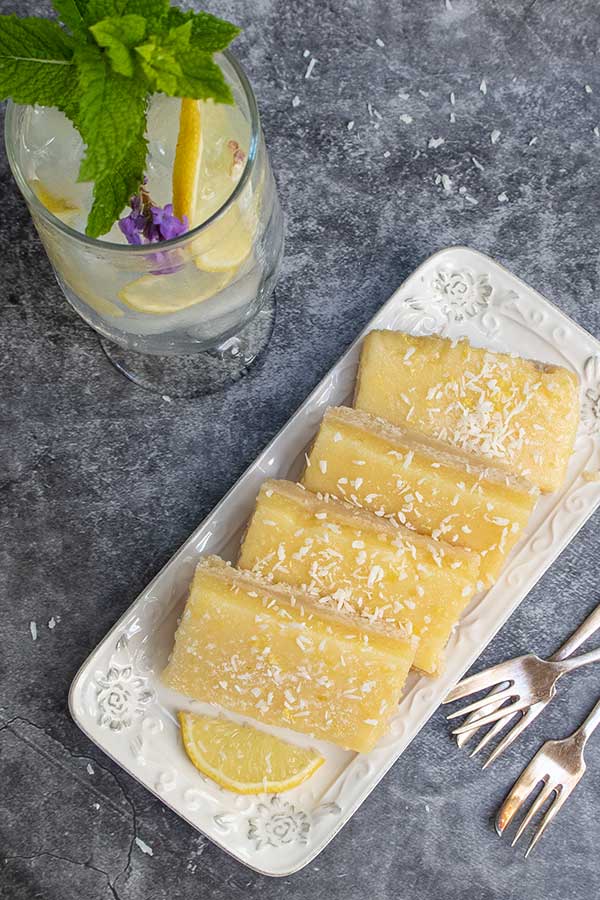 Healthy-ish No Bake Lemon Coconut Bar
Since this lemon coconut bar is healthy-ish, you don't have to feel guilty when you have it as a snack. The healthy ingredients that make up this bar are oats, coconut, fresh lemon juice and nuts.
So if you're looking for something sweet and healthy-ish this summer, you are in luck! Or, you may like the Gluten-Free Strawberry Icebox Cake?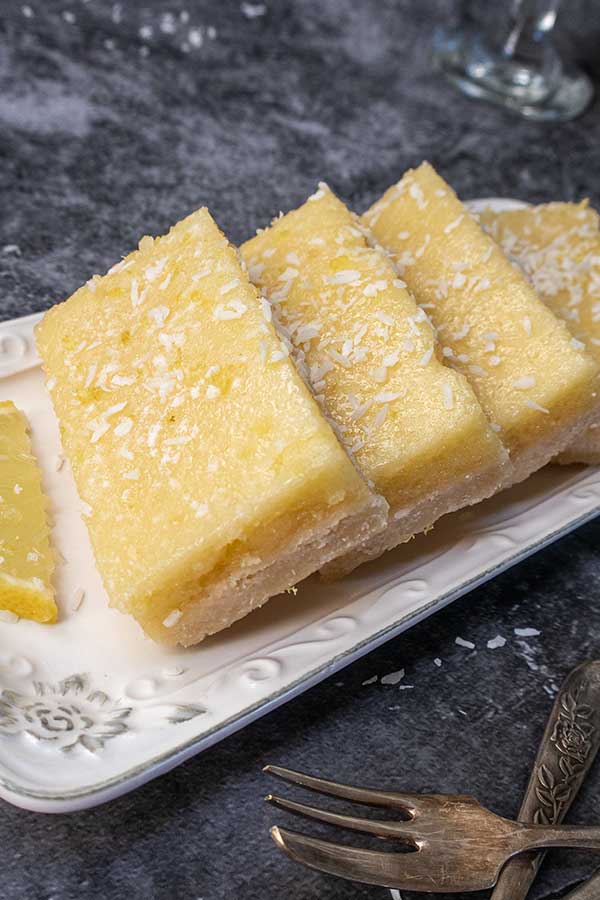 chilled summer gluten-free dessert
These no bake lemon coconut bars are the perfect summer dessert! The oat and nut crust is topped with a lemon coconut creamy layer, and the dessert is frozen.
Plus, this easy recipe is by far the most popular no bake vegan dessert this summer because chilled desserts are always a huge hit during hot summer months.
no dairy and no eggs in this no bake dessert
Another reason these lemon coconut bars are loved because they have no dairy or eggs. The two allergens that many people are sensitive to.
Plus, they're gluten-free and so easy to make…you'll definitely want to make them again and again.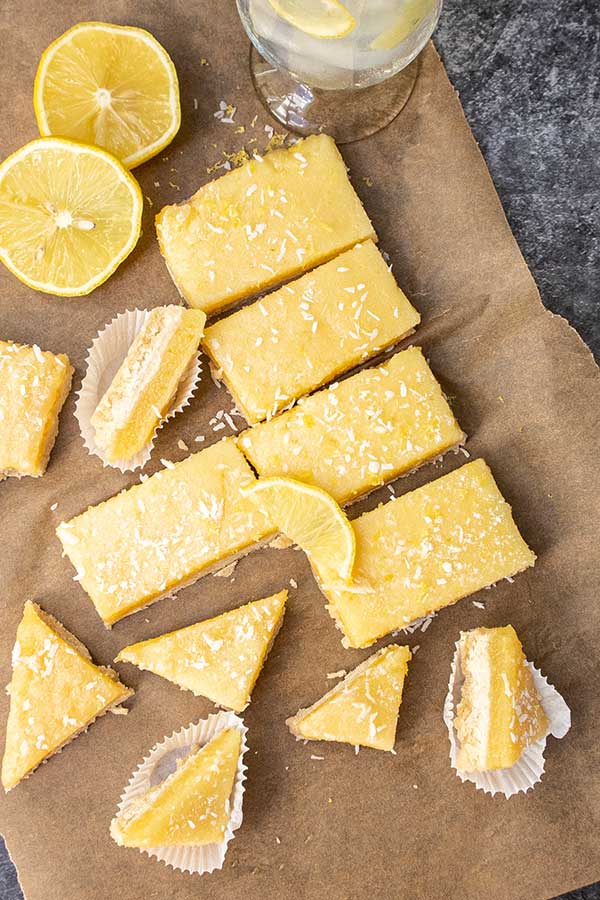 What is the best serving size?
Once the bars firm up, the only decision you need to make is the size of the bars. I have two recommendations.
One cut them into eight to twelve bars for an after-dinner dessert or a snack. Or, cut them into sixteen small squares and serve them at summer barbeques as refreshing small chilled dessert.
However, you can cut them into any shape you like. For example, I often cut this dessert into triangles and serve it with a dollop of whipped cream as a taster after dinner.
How long will they keep?
These lemon coconut bars keep well because they are frozen in an airtight container. They will keep for up to six weeks when frozen.
My preference is to bring them to room temperature for 10 minutes before serving.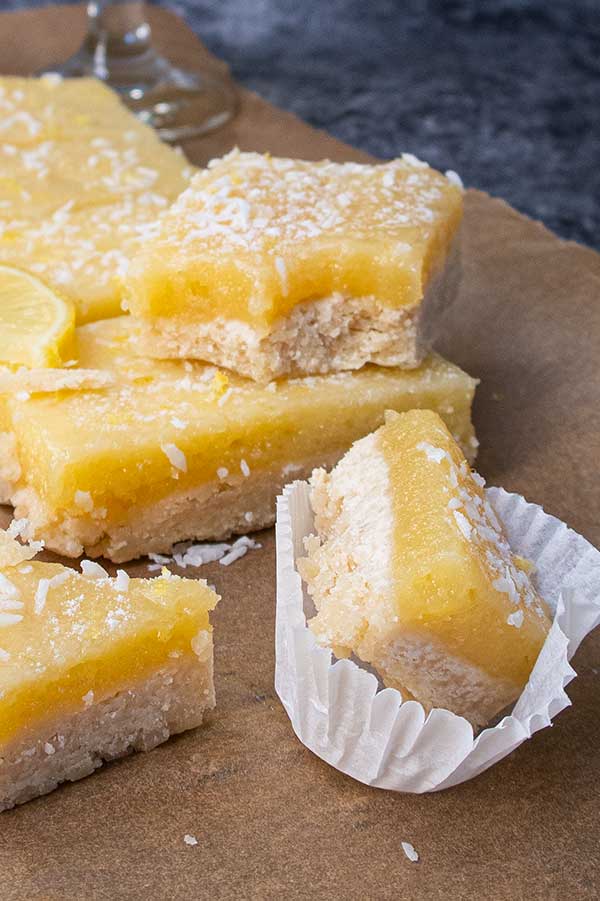 Love lemon desserts?
I have to say that I absolutely love these lemon coconut bars! With the added coconut, the lemon bar became very tasty.
The lemon and coconut go hand in hand exceptionally well, giving these gluten-free bars a flavour that shouts summer!
To make these bars, you will need only 9 ingredients:
Certified gluten free oats or oat flour
Almond flour
Nut butter of choice
Dairy-free condensed milk
Fresh lemon juice with zest
Vanilla
Coconut oil
Shredded coconut
Lemon extract (optional, but adds extra lemony flavour)
to make them;
The crust is pressed into a pan and frozen. Then, it is topped with the lemon coconut layer and is fully frozen. Done!
tips;
Once the dessert is almost frozen, I cut it into shapes. Then I place them into an airtight container and freeze them.
I wanted them to have a beautiful yellow lemon colour, so I added a couple of drops of vegan, gluten-free yellow food colour to the cream layer.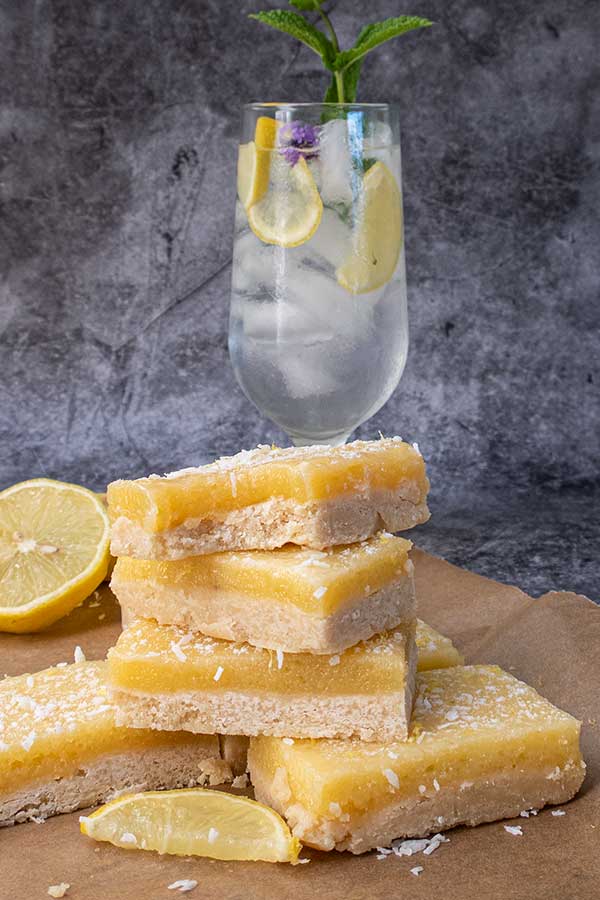 I promise you this gluten-free, vegan dessert will surely be a hit with everyone this summer! It's plant-based, oozing with fresh lemon flavour, pretty, and you need only nine ingredients.
The best part, this no bake summer dessert recipe is super easy to make, and you don't even have to turn the oven or stove on.
And since this is a frozen dessert, it is exceptionally refreshing.
Let's Connect!
Be sure to FOLLOW US on FACEBOOK and PINTEREST.
Many thanks!
Kristina xx
No Bake Lemon Coconut Bars – gluten free, vegan
Published on Jul 25, 2022
by
Kristina Stosek
Instructions
1.

2.

Place rolled oats into a food processor and process until a flour texture forms, or use oat flour

3.

To the food processor, add almond flour, nut butter, 3 tablespoons of condensed milk, vanilla and a pinch of sea salt. Blend until everything comes together, scraping sides as needed

4.

Press dough evenly onto the bottom of an 8x8-inch pan lined with parchment paper and place in the freezer while you prepare the cream layer

5.

THE LEMON COCONUT CREAM LAYER

6.

In a medium bowl whisk everything until blended. Pour over the base and sprinkle with extra shredded coconut. Freeze for a minimum of 3 hours

7.

Cut into 12 bars and serve frozen, enjoy!

8.

Note; I like to bring the bars to room temperature for 10 minutes before serving
Leave a Comment
Kristina
Mary, the oats are an important ingredient in this recipe, so my answer would be no, otherwise the crust will crumble
Hi,can I leave out the oats