No Bake Lemon Coconut Bars (vegan, gluten-free)
Prep Time
10 Minutes
Difficulty
Easy
Serves
12 bars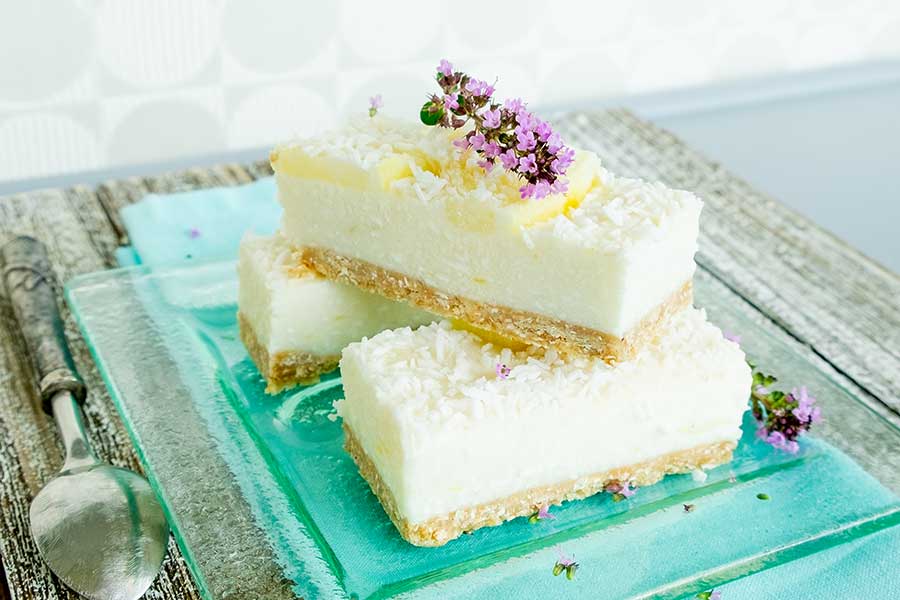 Average Rating: 5 | Rated By: 14 users
It is not very often that I get this excited about one of my recipes! During hot summer months, the last thing I want to do is bake in a hot kitchen. As we currently have a heat wave, I developed a gluten-free dessert recipe that will keep you cool and can be whipped up in minutes. This gluten-free lemon coconut bar is delightfully zesty, refreshingly cold and tastes almost like coconut ice cream. A must try dessert for this summer!
Ingredients
FOR THE BASE
3/4 cup certified gluten-free rolled oats
1 cup almond flour
1/3 cup unsweetened cashew or almond butter
3 Tbsp. dairy-free sweetened condensed milk
1 tsp. pure vanilla extract
FOR THE CREAM LAYER
1 cup unsweetened shredded coconut flakes plus some for topping
1/4 cup fresh lemon juice
Zest of 1 large lemon (1 Tbsp.)
Note: you can substitute certified GF oat flour for rolled oats
*As an Amazon Associate and member of other affiliate programs, I earn from qualifying purchases. Please check out my sponsorship and disclosure policy page for more details
Instructions
BASE
Place rolled oats into a food processor and process until a flour texture forms, or use oat flour
Add almond flour, cashew/almond butter, condensed milk and vanilla. Blend until everything comes together, scraping sides as needed
Press dough evenly onto the bottom of an 8x8-inch pan lined with parchment paper and place in the freezer while you prepare the cream layer
CREAM LAYER
In a medium bowl mix everything together until blended. Pour over the base and sprinkle with shredded coconut. Freeze for a minimum of 3 hours
Cut into 12 bars and serve frozen, enjoy!
Similar Recipes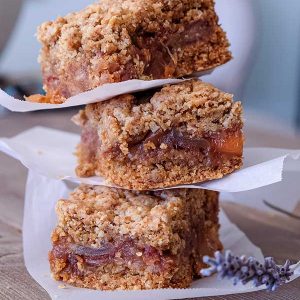 Gluten Free Date Bars
This is a recipe for a very uncomplicated healthy, wholesome Gluten-Free Date Bar – made mostly with dates, oats, almond flour, fresh lemon juice, vanilla, coconut sugar, and butter or coconut oil. The date bar is rich, moist and sweetened mostly with dates. This recipe makes 16 bars, so don't worry, there is plenty to […] Read More
Prep Time
15 Minutes
Difficulty
Easy
Cook Time
35 Minutes
Serves
16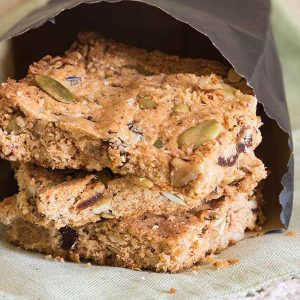 Gluten-Free Paleo Breakfast Bar
You will love this gluten-free paleo breakfast bar, it is delicious, quick and easy to prepare and packed with healthy nutrients, fiber and protein.This healthy bar is made with walnuts, pumpkin seeds, coconut and dates and is tasty to the last crumb. But don't stop at breakfast, this bar is wonderful as an anytime snack. Did I […] Read More
Prep Time
10 Minutes
Difficulty
Beginner
Cook Time
20 Minutes
Serves
10 - 12 bars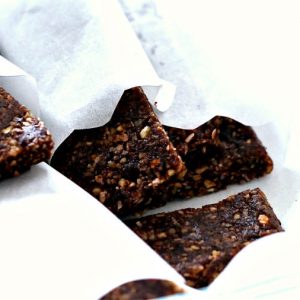 Award Winning Gluten Free Raw Power Bar
This is truly one of the best gluten free raw power bars. The healthy bar is made with hazelnuts, walnuts, medjool dates, crystallized ginger, flax, cocoa and more. The nutrient dense bar has no added sweetener. Start your day with this tasty bar or enjoy as a snack before a workout. Enjoy! Read More
Prep Time
15 Minutes
Difficulty
Easy
Serves
10