Strawberry Icebox Cake – Gluten Free
Published on Jul 30, 2022
by
Kristina Stosek
Prep Time:

25 minutes
Cook Time:

25 minutes
Serves:

8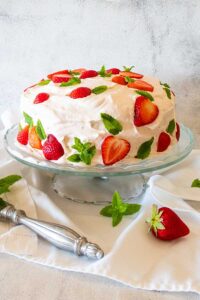 ​This post may contain affiliate links, please see our
privacy policy
for details
If you're looking for a delicious, chilled, gluten-free dessert, look no further than this strawberry icebox cake! Made with fresh strawberries and a fluffy strawberry cream nestled between, four layers of delicious cake will satisfy your sweet tooth every time.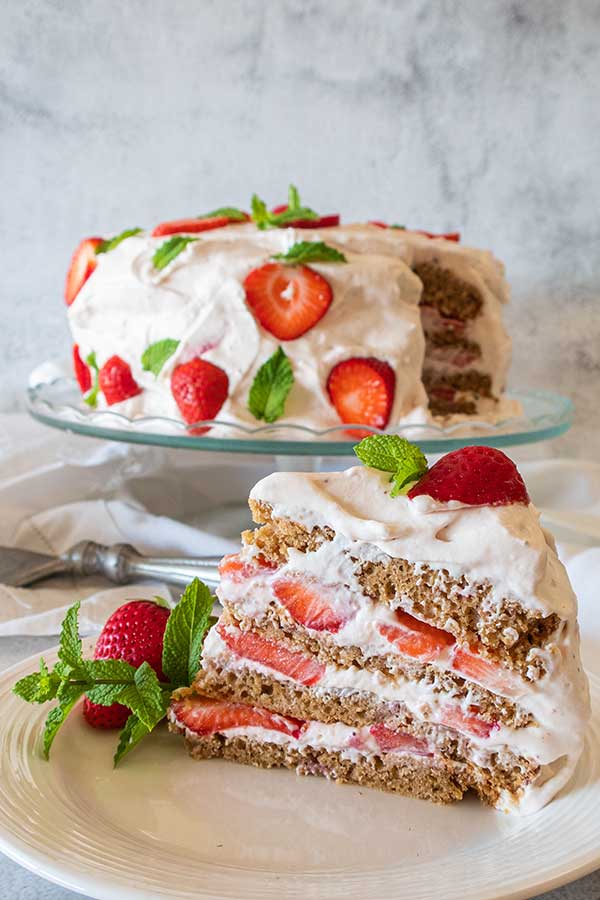 What is an icebox cake?
Icebox cake is a type of cake that is made by layering thin wafers or cookies with a creamy filling.
I replaced the wafers with thin layers of gluten-free strawberry cake in this recipe. The dessert is then chilled in the refrigerator until the flavours have melded together.
Is icebox cake frozen?
No, icebox cake is not frozen. It is a layered cake that is refrigerated for a few hours before serving.
How long will the cake keep?
Assuming you're referring to this recipe, we've found that ours is still delicious up to 4 days after assembling.
Can you freeze this summer dessert?
If you have leftovers, you can extend your cake's life by storing it in an airtight container and keeping it frozen. It will keep for up to 2 months.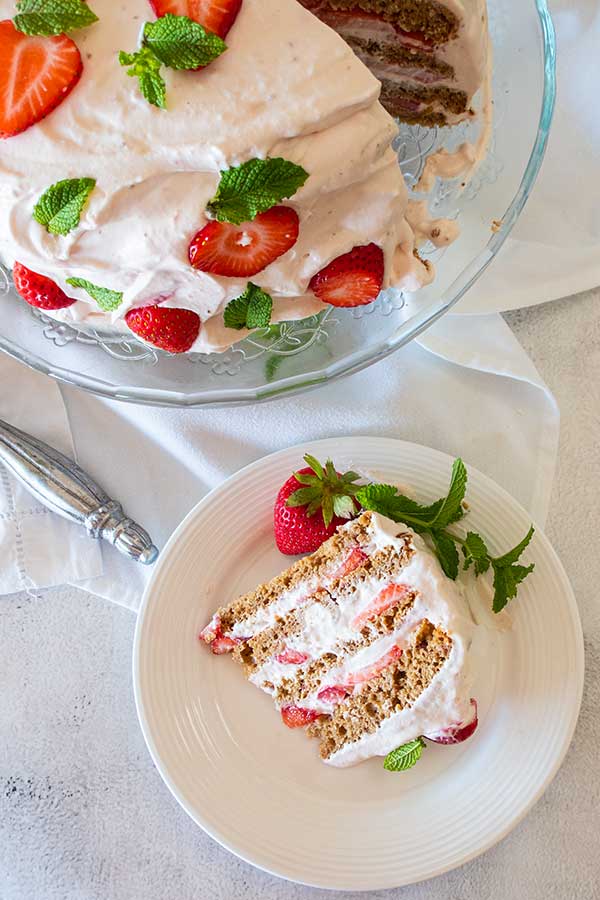 icebox cake with fresh strawberries
Need a fresh-tasting and easy-to-make dessert for summer? Look no further than this gluten-free Strawberry Icebox Cake!
Made with fresh strawberries and a simple strawberry cream filling, this cake is sure to be a hit with your family and friends.
The hardest part about this cake is waiting for it to chill in the fridge overnight! But trust me, it's worth the wait.
When you're ready to serve, simply slice and enjoy! This cake is best served cold, so always keep it in the refrigerator.
icebox cake made from scratch and gluten-free
If you're looking for a delicious, made-from-scratch, and gluten-free strawberry icebox cake recipe, you've come to the right place! This easy recipe comes together quickly and is made entirely from scratch.
How to assemble the cake?
When it's time to assemble this cake, start by spreading the cream over a cake layer for the bottom.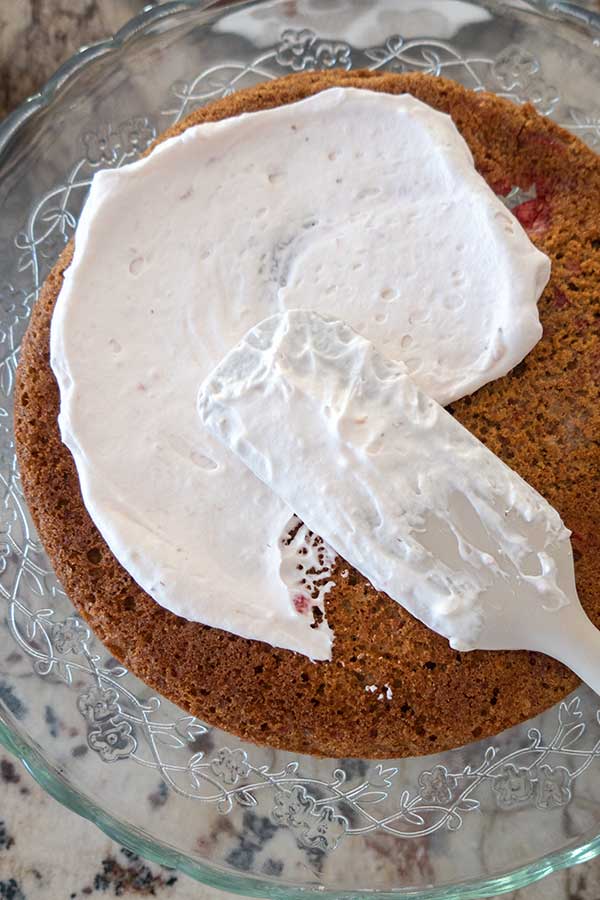 Next, top with a layer of sliced strawberries and repeat these layers until you reach the top of the cake. Be sure to save some strawberries for topping the cake when it's finished!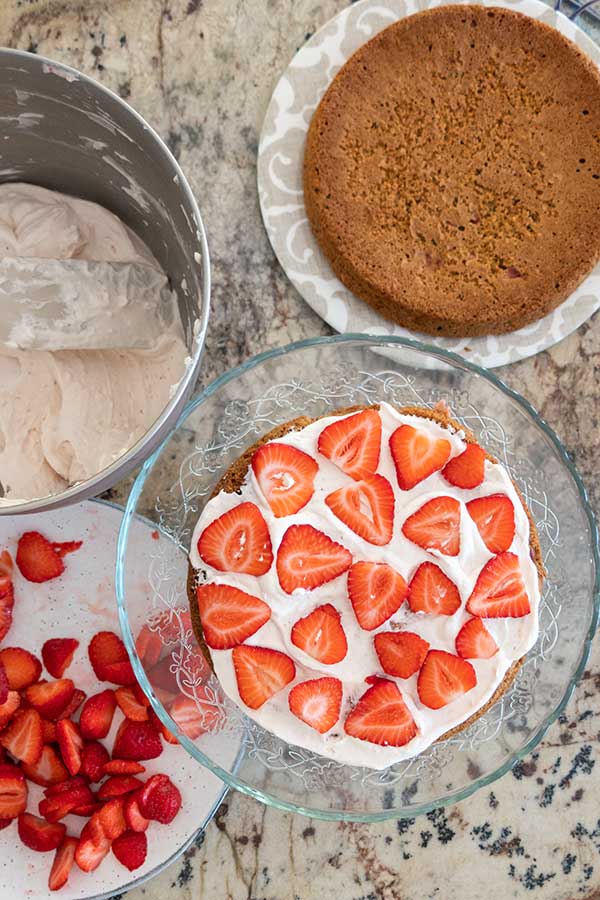 Place the cake in the fridge and let it chill for at least 4, but it is perfectly set when you chill the strawberry dessert overnight.
Why is icebox cake so popular?
There are a few reasons why icebox cake has become so popular in recent years. First, it's a refreshingly cold dessert, which means that it's perfect for summertime.
The layered cake is versatile and can be made with various flavours and ingredients. If your favourite berry is a strawberry, then you must check out our complete list of gluten-free strawberry recipes!
And lastly, it's a gluten-free dessert, perfect for those who are celiac or have gluten sensitivities.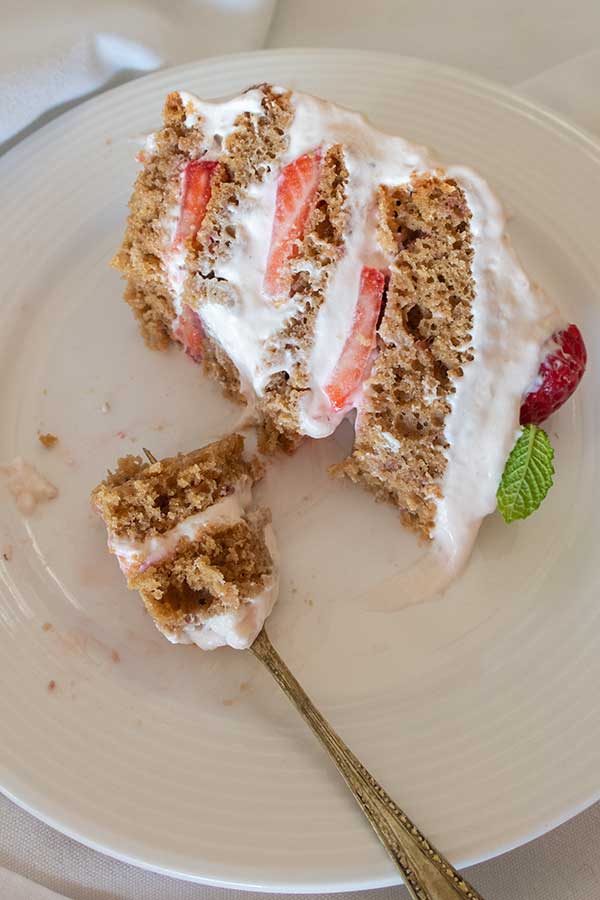 Is icebox cake vintage?
Icebox cake is a classic dessert that has been around for decades. It's a simple cake perfect for summertime or any time you want a light and refreshing dessert.
While it's not clear exactly when or where icebox cake originated, it's safe to say it's a vintage dessert.
If you've never had icebox cake, you're in for a treat! The cake is deliciously moist and creamy, with fresh strawberries throughout.
Who invented icebox cake?
Invented in the early 1900s, the icebox cake was a way to make a dessert without having to turn on the oven. However, finding gluten-free wafers or cookies is not always easy and they are costly.
This is why I created a simple gluten-free cake batter with strawberries to create layers for this icebox cake.
dessert for birthdays
Have a cookout with family and friends to celebrate someone's Birthday?
This creamy strawberry dessert is perfect. It's easy to decorate with candles and tastes much better than a cake with heavy butter cream.
And what's a cookout without an icebox cake for dessert, right?
What I love about this gluten-free dessert is it's easy to make ahead of time, and it's always a hit with kids and adults alike. So everyone can enjoy it!
Using fresh strawberries when they are in season
There's something special about eating strawberries when they're in season. They're so sweet and juicy, and they make you feel happy.
This strawberry icebox cake is the perfect way to enjoy fresh strawberries. If you can't find fresh strawberries, you can use other berries.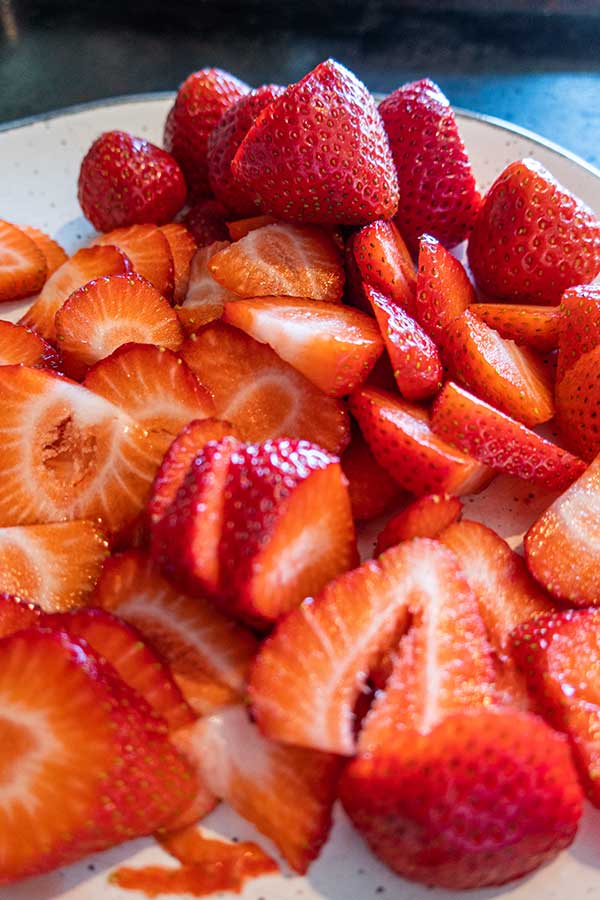 how to choose perfectly sweet strawberries
Organic strawberries are healthy and are one of the most popular fruits, and for a good reason! They're sweet, delicious, and perfect for a summer treat. But how do you know which ones to choose for your icebox cake?
1. Look for bright, red strawberries.
The colour indicates how ripe the berry is, so you'll want to choose nice deep red strawberries. Avoid green or white berries, as they won't be as sweet.
2. Smell the berries before you buy them.
You should be able to smell the sweetness of the strawberry before you even take a bite. They probably won't taste as good if they don't smell sweet.
3. Make sure the berries are firm.
When you press on a strawberry, it should be slightly firm to the touch. It may be overripe and not fresh tasting if it's too soft.
Can you use frozen strawberries?
I would not recommend using frozen strawberries for the icebox recipe. The cake is all about tasting fresh strawberries. Frozen ones tend to be too soft and not as flavourful.
What other fruit is good for icebox cake
Here are some ideas:
-Raspberries: Raspberries add a tart and juicy flavour to the cake.
-Blueberries: Blueberries are a perfect complement to the sweetness of the cake
-Blackberries: Blackberries add a deep, rich flavour to the cake.
-Peaches: Peaches add a touch of sweetness and warmth to the cake.
This strawberry dessert is a summertime classic. The icebox cake is easy to put together and can be made ahead of time, making it perfect for entertaining. And the best part, the chilled dessert is insanely delicious!
Let's Connect!
Be sure to FOLLOW US on FACEBOOK and PINTEREST.
Many thanks!
Kristina xx
Strawberry Icebox Cake – Gluten Free
Published on Jul 30, 2022
by
Kristina Stosek
Instructions
1.

2.

In a medium bowl, whisk together flour, baking powder, baking soda and salt

3.

Using a stand mixer on high speed, cream coconut sugar, olive oil, eggs and vanilla. Scraping sides if needed

4.

Place 1/2 pound of strawberries in a blender and blend until almost smooth. Pour strawberry sauce into the egg mixture and mix until combined

5.

Add dry ingredients into the wet mixture, and using a spatula, mix until you no longer see flour. Do not over mix the batter

6.

Divide the batter evenly into prepared pans, and tap the pans a few times to have an even layer of batter. Bake for 25 minutes until the cake passes the toothpick test.

7.

Leave the cake in the pan for 10 minutes, then invert onto a cooling rack to cool

8.

9.

In a stand mixer, beat the cream cheese with powdered sugar, scraping sides as needed

10.

Blend 1 cup of sliced strawberries with vanilla in a blender until smooth. Add to cream cheese and mix to combine

11.

Add heavy cream to cream cheese mixture and beat over medium speed until stiff peaks form

12.

13.

Using a serrated knife, carefully cut the cake across. This will give you 4 round cakes

14.

Place a cake layer on a cake platter and spread 1/4 of the cream over the top. Top with 1/3 of sliced strawberries, then repeat with the remaining layers finishing with cream.

15.

Spread extra cream over the sides and decorate with sliced strawberries

16.

Refrigerate the cake for a minimum of four hours or preferably overnight. Serve chilled
Leave a Comment
Best gluten free dessert I have ever tasted, Kristina you are a genius
OMG, I made this icebox cake today it is soooo good! Thank you for the recipe :-)