Apple Pie Bread – (Gluten-Free, Vegan)
Published on Sep 22, 2018
by
Kristina Stosek
Prep Time:

10 minutes
Cook Time:

45 minutes
Serves:

8 slices
​This post may contain affiliate links, please see our
privacy policy
for details
Meet one of my favourite gluten-free snacks, the Gluten-Free Apple Pie Bread! I am so excited about this gluten-free, vegan apple pie bread recipe. Moist and delicious and tastes like an apple pie. Honestly, it is soo good!
Cooking and baking can be therapeutic and may also help to bust stress, and it does for me. Making treats for the holiday season or weekend brunch is very satisfying.
Visiting friends and family over coffee or tea while sharing tempting treats is also a great way to stay in touch. Baking together as a family activity or for someone else is a beautiful way to connect, be active in the kitchen, talk, laugh and share stories.
serving apple pie bread
This Gluten-Free Apple Pie Bread can be served for breakfast, brunch or as a snack and will not disappoint. And, all your cravings for an apple pie will be fulfilled.
This recipe is about the fresh apples that make this gluten-free bread taste extraordinary. Cinnamon, nutmeg, and cardamom are the extra spices that make this loaf even more special.
Occasions like Easter, Thanksgiving or a weekend brunch wouldn't be the same without a special sweet bread.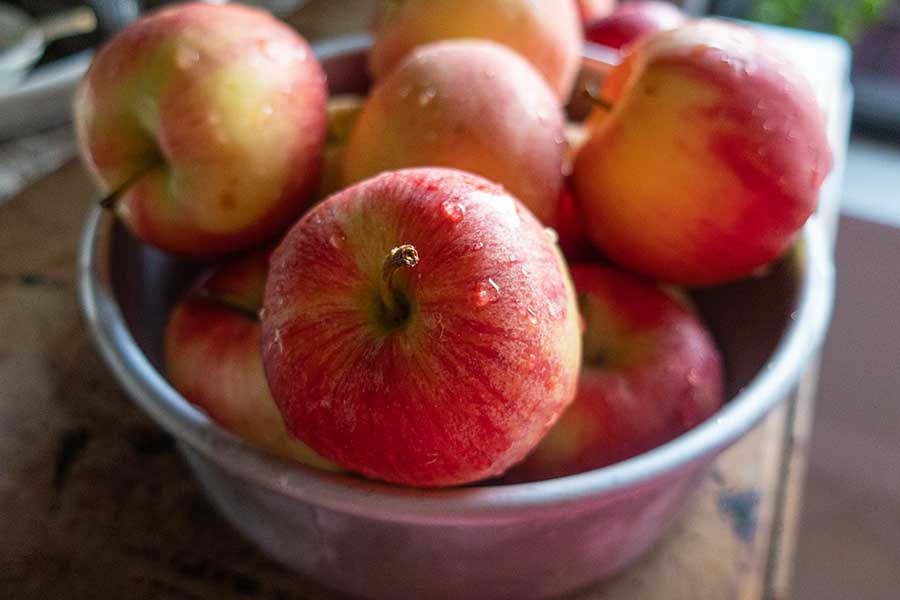 apple pie — the healthier version
Mouth-watering desserts are exceptional and are loved by all. Usually, we make cakes for birthdays, festivals, and other occasions. But you can't always indulge in rich desserts, or you may choose not to. So, I created this fabulous recipe for insanely delicious apple pie bread.
This gluten-free apple pie bread is a real treat. It is moist and the apples are a definite highlight. The spices give it an apple pie quality, so much so that it tastes like you're eating an apple pie.
It may seem like I say this with a bit of bias because, for me, anything with apples and cinnamon tastes amazing!
Beyond my love for apples, I love this gluten-free apple pie bread. And I promise this gluten-free sweet bread will not disappoint. This sweet apple pie bread recipe is a healthier twist on the classic apple pie.
Not only it is gluten-free, but also an excellent fit for anyone following a plant-based diet. It comes together in no time with simple ingredients, and the result is, moist, flavorful loaf bursting with apples and warming spices.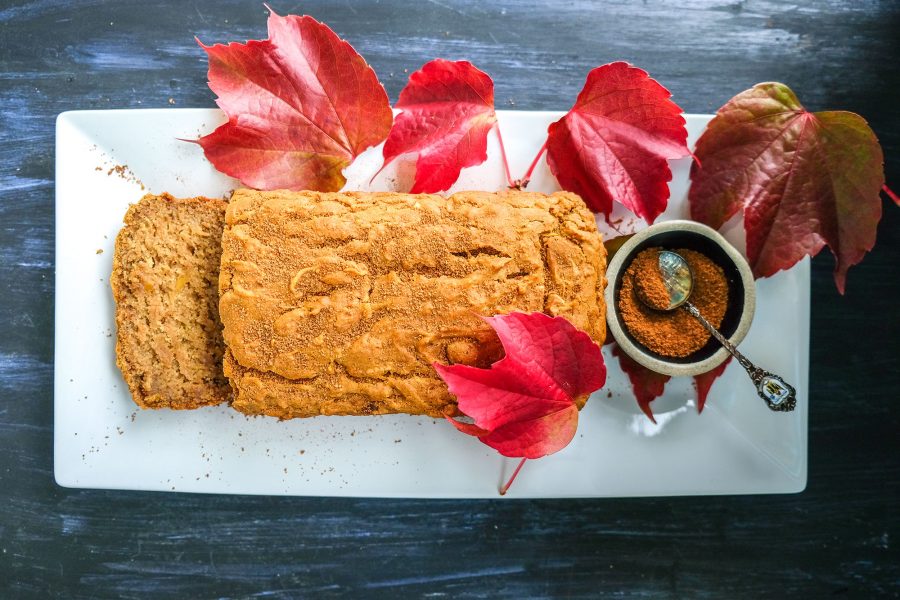 a gluten-free sweet bread
Who doesn't love the aroma of freshly baked apple pie? By using gluten-free and vegan-friendly ingredients, this is a healthier sweet loaf without sacrificing taste.
This gluten-free apple pie bread is a favourite for my family and something we will make again and again. If you like sweet bread, check out our complete list of gluten-free sweet loaves.
The apples, butter, cinnamon, and vanilla counterbalance each other perfectly for nothing but deliciousness. For extra sweetness and flavour, I topped the loaf with brown sugar and cinnamon.
What I love about this gluten-free apple pie bread recipe, it's super easy to put together. As a bonus, the bread also toasts beautifully. You can serve it as is or enjoy it with some butter or maple syrup.
Did I mention the kids love it too! After all, apples and cinnamon are meant to be together.
Let's Connect!
Be sure to FOLLOW US on FACEBOOK and PINTEREST.
Many thanks!
Kristina xx
Apple Pie Bread – (Gluten-Free, Vegan)
Published on Sep 22, 2018
by
Kristina Stosek
Instructions
1.

Preheat oven to 350 F and line a loaf pan with parchment paper

2.

In a large bowl whisk together flours, baking powder, baking soda and salt

3.

In a medium bowl mix vegan butter, maple syrup, cinnamon, nutmeg and cardamom

4.

Add grated apples, milk and vanilla and mix

5.

Add wet mixture into dry ingredients and mix to combine. Transfer batter into prepared loaf pan and sprinkle with cinnamon sugar topping. Bake for 45 minutes, until the bread passes the toothpick test. Cool before slicing