Vegan Gluten Free Carrot Cake
Published on Nov 10, 2022
by
Kristina Stosek
Prep Time:

15 minutes
Cook Time:

45 minutes
Serves:

12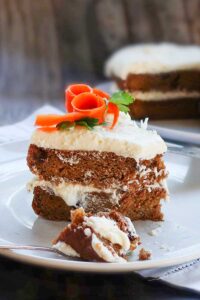 ​This post may contain affiliate links, please see our
privacy policy
for details
This carrot cake is vegan and gluten free, making it the perfect treat for those with dietary restrictions. The cake is moist and fluffy, with a deliciously rich buttercream coconut frosting. With the grated carrots, grated pears, raisins, and spices, it's full of flavour. This plant-based cake is sure to be a hit with everyone, regardless of their dietary preferences!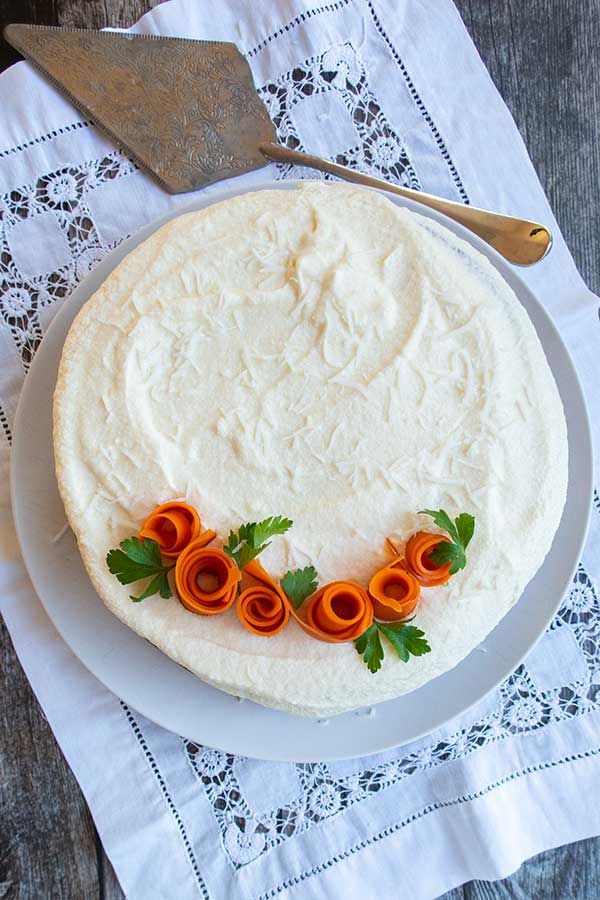 vegan carrot cake for every occasion
A vegan gluten free carrot cake is the perfect dessert for every occasion and is a must-have recipe in your repertoire! Moist and flavorful, filled with fresh carrots pears and some raisins. You'll love the fluffy frosting and the hint of warm spices throughout this healthier vegan dessert.
Carrot cake is one of the most popular desserts for holidays such as Thanksgiving, Easter or Christmas, right after pumpkin pie. This dessert is also very popular as a Birthday Cake.
A vegan and gluten free dessert is also an excellent option for those with dietary restrictions, as it accommodates many diets.
How to prepare carrots for the best carrot cake?
The most important tip is to make sure your carrots are finely grated. You can do this with a food processor, box grater, or mandoline.
The smaller the pieces, the more evenly they will cook and the better they will blend into the cake batter and keep the vegan cake moist.
Give the carrots a good wash first. If they're organic, you can scrub them with a vegetable brush under running water. Otherwise, peel them to remove any dirt or pesticide residue.
Once your carrots are prepped, add them to the dry ingredients with the raisins and mix everything well before adding wet ingredients. This will help distribute the carrots evenly throughout the batter.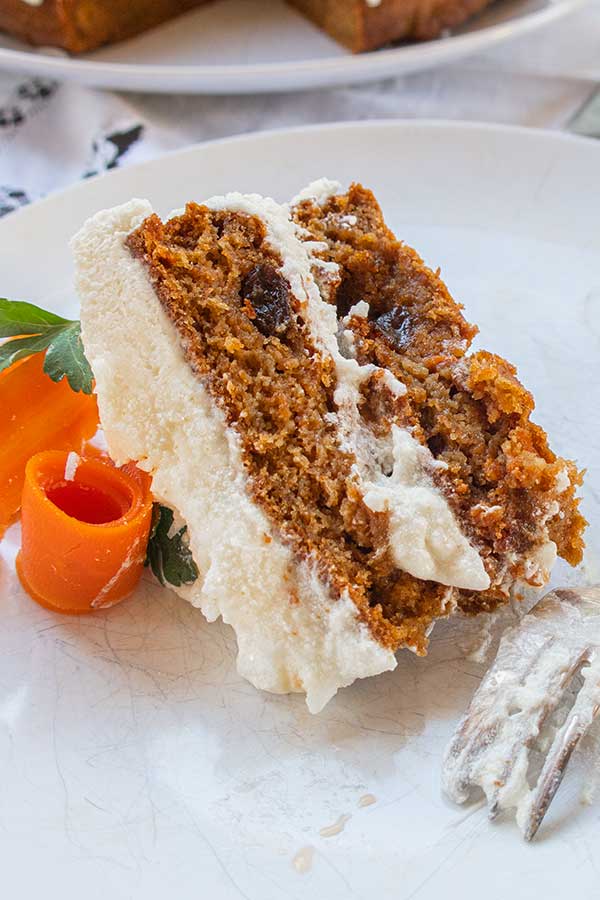 Maple syrup vs coconut sugar for vegan carrot cake?
There are a few key things to consider when deciding whether to use maple syrup or coconut sugar in your gluten free vegan carrot cake recipe.
The first is the sweetness level you desire. Maple syrup is going to be much sweeter than coconut sugar.
The second is the flavor. Maple syrup will add a touch of maple flavor to your cake, while coconut sugar keeps the flavor more neutral.
And finally, consider the texture. Coconut sugar will make your cake denser, while maple syrup will make it lighter with a tender crumb.
So, which should you use? It all depends on your personal preference! Go for the maple syrup if you want a sweeter cake with a subtle maple flavor.
a

lmond flour vs oat flour in gluten free carrot cake recipe
There are a few different options for flour in a vegan carrot cake recipe. Almond flour and oat flour are both excellent gluten-free options.
But if you're looking for a nut-free option, oat flour is the way to go. Each flour has its unique flavor and texture, so it's up to you which one you choose.
If you want a cake with a little more density, go with certified gluten free oat flour. On the other hand, almond flour is the way to go if you're looking for an extra moist cake.
Why add lemon juice to carrot cake?
Lemon juice is a great addition to most cakes because it adds a tart and tangy flavor. It also helps to moisten the cake and keep it from drying out.
Lemon juice is also a good source of vitamin C, an essential nutrient for keeping the immune system strong.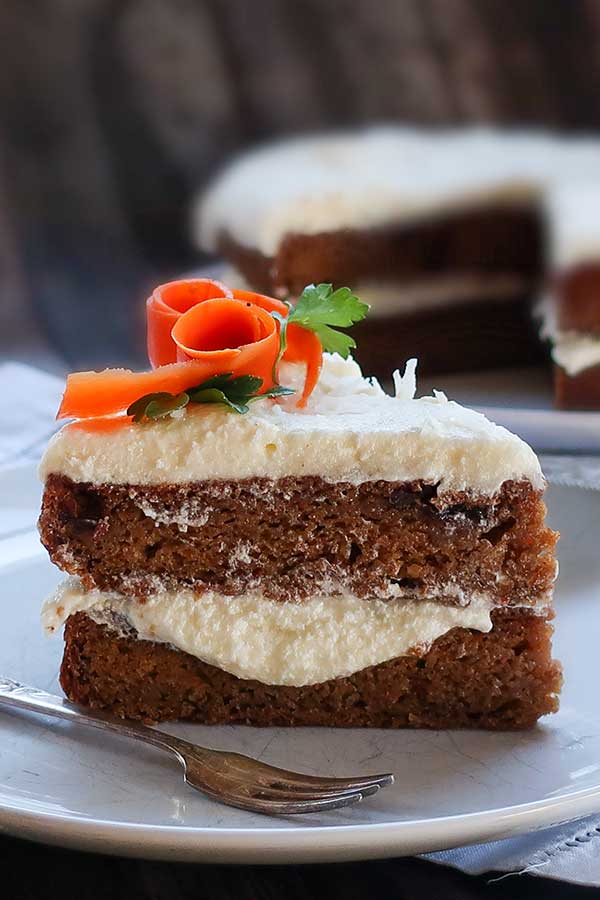 1 cake pan vs 2 cake pans or 3 cake pans for carrot cake
The question is, are you making a cake with layers or just a cake topped with frosting? So here are the pros and cons of both methods.
Using one cake pan will take longer to bake and may not be as tall as if you had used two pans. Also, you will have to cut the cake into rounds if you make cake layers.
If you use two or three cake pans, the cake will cook faster and be taller. And you don't have to cut the cake into even rounds if you are making a layered carrot cake, which can be tricky.
Ultimately, the decision of which method to use is up to you. If you want a faster bake time and taller carrot cake, use two or three cake pans. I prefer this method.
You can also use a 9 x 13″ baking pan and make a vegan gluten free carrot snacking cake. Be sure to adjust the baking time according to the size of pan you use. The toothpick inserted in the middle should come out clean and the top of the cake deep golden brown color.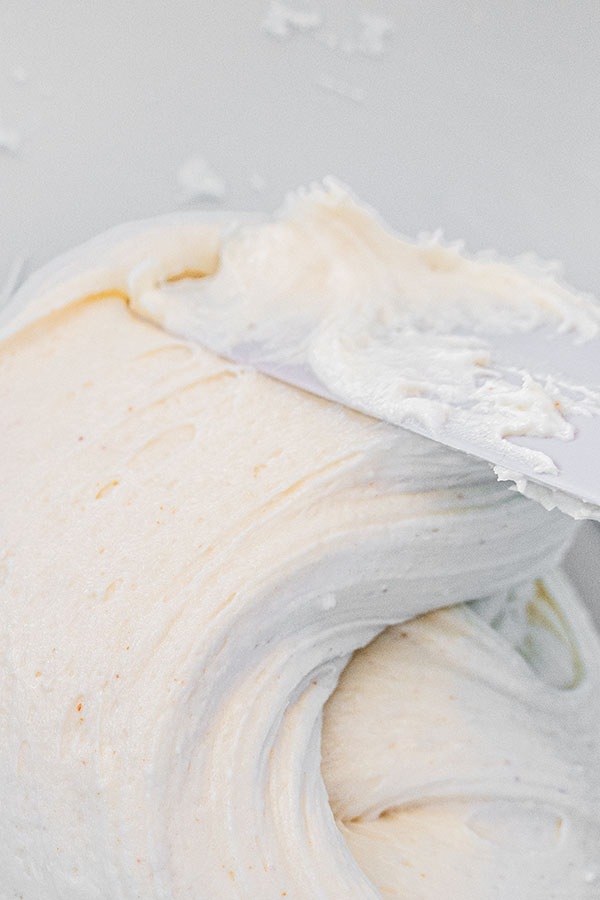 2 vegan frosting recipes for carrot cake
There are a few different ways to go about it when it comes to frosting a carrot cake. You can go the traditional route and use cream cheese frosting, or get a little creative and try the vegan coconut frosting.
Vegan Cream Cheese Frosting Recipe
1 cup vegan cream cheese, softened
1/4 cup unsalted vegan butter, softened
1 tsp. vanilla extract
3 – 4 cups powdered sugar
2 Tbsp. plant-based milk
1 Tbsp. Fresh lemon juice
In a large bowl, cream the cheese and butter until light and fluffy. Mix in the vanilla extract, then gradually add in the powdered sugar and milk until the desired consistency is reached. Finally, add the lemon juice at the end.
Vegan Coconut Buttercream Frosting Recipe
3/4 cup unsalted vegan butter, softened

3 – 4 cups powdered sugar

4 Tbsp. coconut milk or plant-based milk
2 Tbsp. fresh lemon juice
1/4 – 1/2 cup grated coconut
Beat butter until creamy. Then gradually add in the powdered sugar alternating with milk until the desired consistency is reached. Finally, add lemon juice and coconut and mix to combine.
Place the frosting in the fridge for 20 minutes before spreading it on the cake. Another vegan frosting you may like if you are a chocolate lover is the ganache frosting used in this Gluten Free Vegan Chocolate Cake with Ganache Frosting recipe. You can also buy vegan gluten free vanilla frosting here->
Why is vegan carrot cake a favorite dessert when following a plant-based diet?
There are a few reasons carrot cake is a favorite among vegans.
Thanks to the carrots and fruit, it's packed with nutrients. Fruit often used is apple sauce, pineapple or pears as I used in this recipe.
It's rich in dietary fiber from carrots, fruit, almond flour, or oat flour.
And lastly, it's rich in plant-based protein from almond flour or oat flour.
But the best reason to love carrot cake is that it's simply delicious! The combination of moist, spiced cake and the rich frosting is hard to resist.
And who can say no to a slice of frosted cake packed with veggies and fruit? Or, if you like a vegan chocolate cake try this No-Bake Chocolate Silk Cake recipe. YUM!
vegan ingredient substitutions
1 tsp. psyllium husk powder – 2 Tbsp. ground flaxseed (this replaces eggs)
grated pear – unsweetened applesauce, drained crushed pineapple, pumpkin puree (using a food processor is the easiest way to make these)
vegan milk options – almond, soy, rice, coconut, hemp, oat
nutmeg – grated ginger, ground cloves
olive oil – melted coconut oil
1/2 cup pure maple syrup – 1 cup coconut sugar or 1cup light brown sugar or 1 cup white sugar
raisins – chopped nuts of choice (walnuts, pecans, almonds)
almond flour – certified gluten free oat flour
gluten free flour blend – any blend that includes xanthan gum and without bean flour in the blend will work
lemon juice in the cake – apple cider vinegar, orange juice, pineapple juice
decorating carrot cake
If you are serving this gluten-free dessert for a special occasion, you can make it pretty by adding carrot roses, small parsley leaves, fresh rosemary, a sprinkle of coconut flakes, or finely chopped walnuts. Or use orange and green food coloring in some of the frosting and create miniature carrots.
How to make carrot roses?
Find a thick carrot about 7 – 8" long. Peel the carrots, then place them on a cutting board. Using a vegetable peeler, lightly pressed against the root end, then drag the blade down its length. This will give you thin strips. Discard the first few irregular strips and continue peeling.
Add about 1 – 2 cups of water and 2 tablespoons of sugar to a skillet and bring to a boil. You should have about an inch of water. Drop the carrot strips into the syrup and cook for 30 seconds. Remove the skillet from the heat.
Once cool enough to handle, drip off the syrup and roll the strips tightly into roses. To do this, start with the skinny end and roll it into a rosebud. Keep adding more ribbons until you get to the desired width and height.
Next, tuck the end of the ribbon underneath itself and gently push the bottom of the rose into the frosting. Repeat as needed.
storing carrot cake with cream cheese or butter frosting
The cake has to be refrigerated whenever you use cream cheese or butter frosting. Cover it with plastic wrap, or it will dry out. The gluten free carrot cake will keep up to seven days when refrigerated. Or use a large cake platter with dome lid.
Can you freeze gluten free cake?
Yes, vegan gluten free carrot cake freezes exceptionally well. First, wrap the cake or cake slices with cling wrap, then place them in freezer bags. The cake will keep up to three months when frozen. Defrost in the fridge before serving.
gluten free vegan carrot cake recipe overview
This carrot cake is not only gluten-free but vegan, too! This means it's made without animal products, including eggs, dairy and honey.
This cake is made with almond flour and gluten free flour blend, giving it a light and airy texture. The carrots add natural sweetness and moisture, while the pears provide a touch of acidity to balance the flavors, sweetness and extra moisture.
The result is a moist and rich cake that's nutrient-packed, healthier and insanely delicious. I highly recommend trying this gluten free plant-based dessert recipe. Especially if you are looking for a vegan carrot cake.
Let's Connect!
Be sure to FOLLOW US on FACEBOOK and PINTEREST. And don't forget to sign up for our newsletter. We always have something new and exciting for you!
Many thanks!
Kristina xx
Vegan Gluten Free Carrot Cake
Published on Nov 10, 2022
by
Kristina Stosek
Instructions
1.

Preheat oven to 350 F. Spray with vegan cooking oil two 8-inch or three 6-inch round pans or one 9x13-inch and line the bottom with parchment paper or dust with gluten free flour

2.

In a large bowl, mix the first 9 ingredients (milk to salt) and set aside for 15 minutes

3.

Meanwhile, mix the 2 flours with baking powder and baking soda, then stir in the carrots and raisins

4.

Add dry ingredients to the wet mixture and stir to combine

5.

Divide evenly between cake pan(s). If using two 8-inch pans, which is what I used, bake for 45 to 50 minutes until golden brown and the cake passes the toothpick test. If using the other sizes of pans, adjust the baking time as needed.

6.

Remove from the oven and allow to cool for 15 minutes. Then transfer onto a cooling rack to cool completely before frosting
Leave a Comment
The best gluten free carrot cake recipe I have tried and vegan even better!