No-Bake Chocolate Silk Cake – Vegan, Grain-Free
Published on Sep 01, 2017
by
Kristina Stosek
Prep Time:

20 minutes
Cook Time:

minutes
Serves:

6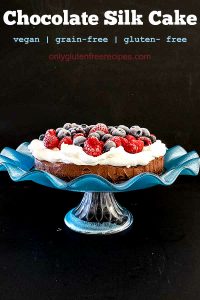 ​This post may contain affiliate links, please see our
privacy policy
for details
Need a showstopper this Grain-Free Vegan No-Bake Chocolate Silk Cake is the one. The smooth and silky cake slathered with coconut cream and topped with frozen berries is as delicious as it gets.
Creamy dairy-free French Silk Cake that tastes just like a creamy custard. Do you love a decadent, creamy chocolate dessert? And, don't want to bake or have the added saturated fats? Then this French dessert is for you!
This Vegan Gluten Free French Silk Cake takes only 15 minutes of prep time and then chilling time. That's it! Although it is a decadent dessert, it is super easy to make.
The creamy chocolate cake is nestled on a pecan chocolate crust and is grain-free, egg-free, dairy-free and gluten-free, thus accommodating most restricted diets.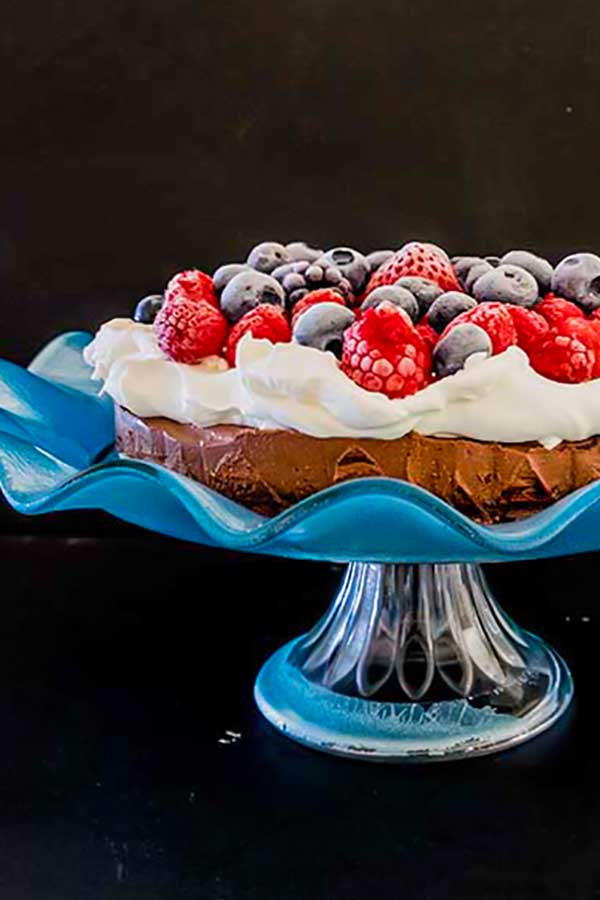 Since this creamy dessert is also low fat, even the diet savvy guests that follow a plant-based diet will have a piece. Serve as is, or add some delicious fresh berries.
Once you take a bite, I know you will enjoy this impressive vegan dessert!
The wonderful thing about this vegan chocolate dessert is, you don't have to bake it.
If you are following a plant-based diet you must check out these gluten-free vegan recipes! The recipes are made simply with healthy ingredients.
No-Bake Chocolate Silk Cake – Vegan, Grain-Free
Published on Sep 01, 2017
by
Kristina Stosek
Instructions
1.

Line the bottom of 7-inch spring cake pan with a circle of parchment paper

2.

Add nuts, dates and cocoa into a food processor and process into fine crumbs. Transfer into a cake pan and firmly press down. Freeze while preparing the cake layers

3.

4.

Add tofu into a food processor and blend until smooth. Add cocoa, maple syrup, vanilla and salt and blend until well combined

5.

Using a small saucepan over low heat while stirring, melt coconut oil and chocolate chips. Add to tofu mix and blend until smooth. Pour chocolate mixture over the crust and place in the freezer while preparing the coconut cream layer

6.

7.

Scoop out only the firm layer the coconut cream at the top of the can. Place cream in a chilled glass bowl and whip the cream at high speed with an electric beater until fluffy and soft peaks form. Stir in maple syrup and vanilla

8.

Spread coconut cream evenly over chocolate layer and if you wish top with frozen berries. Refrigerate overnight

9.

Note: for a 9-inch cake double the recipe