Gluten-Free Vegan Apple Oatmeal Pancakes
Published on Apr 21, 2018
by
Kristina Stosek
Prep Time:

10 minutes
Cook Time:

6-mineach minutes
Serves:

8 pancakes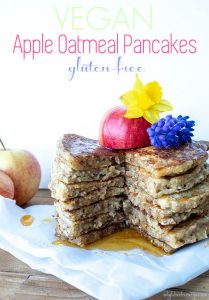 ​This post may contain affiliate links, please see our
privacy policy
for details
You will love these Gluten-Free Vegan Apple Oatmeal Pancakes. Not only because they are incredibly delicious, with a perfect texture, but the apple oatmeal pancakes are also packed with healthy nutrients.
How do you make gluten-free breakfast for the pickiest eater and keep it healthy?
Here is how — a gluten-free, vegan pancake that will make you drool.
Imagine oats, chia, apples and cinnamon with maple syrup all in a pancake. So scrumptious.
Or, spread some jam or nut butter over the top and enjoy these delicious gluten-free pancakes as a snack later.
Kids love apples and cinnamon!
Kids love pancakes, especially when there are apples and cinnamon involved. Add the maple syrup, and they won't notice that these healthy gluten-free pancakes have oats and chia seeds. These gluten-free pancakes have all the flavours kids love.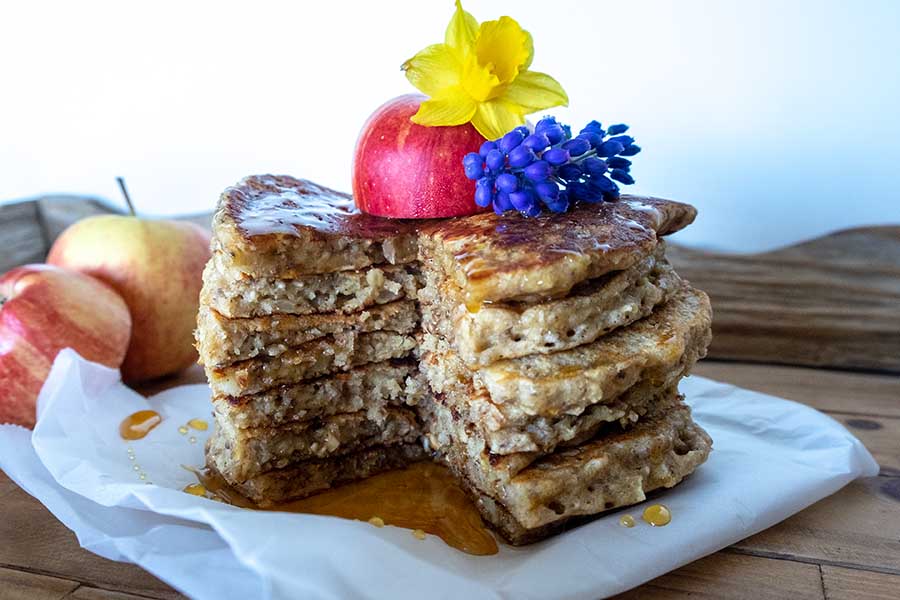 Starting the day with apple oatmeal pancakes will give you lasting energy and keep your hunger at bay. The best part, these gluten-free pancakes are tasty, hearty, and super easy to make.
Are you looking for more breakfast recipes? Check out these gluten-free breakfast muffins!
Gluten-Free Vegan Apple Oatmeal Pancakes
Published on Apr 21, 2018
by
Kristina Stosek
Instructions
1.

Place oats in a food processor and pulse until you break the flakes up. About 5 pulses. Add flour, baking powder, flaxseed, cinnamon, nutmeg and salt and pulse to combine. Transfer to a large bowl

2.

In a separate bowl whisk together, milk, maple syrup, 2 tablespoons of olive oil and vanilla

3.

Add wet mixture and apples to dry ingredients and mix. Set aside for 30 minutes, the batter will thicken. If the batter gets too thick, add a little more milk

4.

Set a non-stick pan over medium heat and brush with olive oil. Add about 1/2 cup of batter at a time, spreading it out to approximately 5-inches in diameter. Cook for 3 minutes per side, until golden and springy to touch. Repeat with the remaining batter, brushing the pan with oil before each pancake

5.
Leave a Comment
I made these pancakes for mothers day, they were a huge hit. Thank you!