Pumpkin Pie With Cinnamon Apple Swirl Yogurt Bowl (Vegan, Gluten-Free)
Published on Oct 23, 2018
by
Kristina Stosek
Prep Time:

10 minutes
Cook Time:

5 minutes
Serves:

4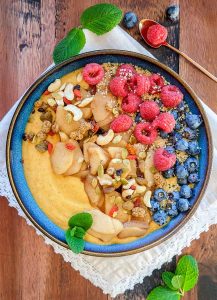 ​This post may contain affiliate links, please see our
privacy policy
for details
Let's talk about healthy food. One of my favourite breakfasts is a yogurt bowl packed with fruit, seeds and nuts. Don't get me wrong, I do spoil myself on the weekends with some gluten-free biscuits or gluten-free chocolate chip zucchini muffins.
I believe life is all about balance and during my work week it is all about healthy food that will keep me energized and focused.
you can't control everything, but you can control what you put in your body!
Let's be honest most of us don't have time in the morning cooking elaborate breakfast anyway, myself included. You have probably guessed it by now, this week is going to be all about healthy gluten-free meals. Yes, HEALTHY 🙂
Focusing on some vegan recipes packed with protein using a variety of spices and colourful fruit and veggies. I like using a wide selection of herbs and spices in my recipes because they are packed with antioxidants and add so much flavour and beautiful colours to simple meals, don't you agree?
let's get to it!
Ok, back to this oh soooo good pumpkin pie with apple cinnamon swirl yogurt bowl. I call it the ultimate breakfast because it has everything from protein, to fruit, to fiber, all the things we need for a healthy body.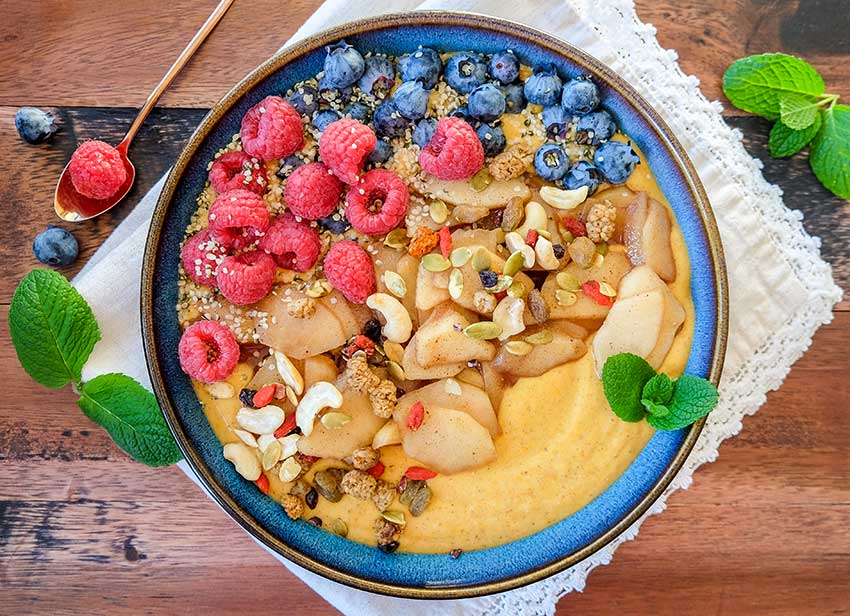 Now for the recipe, I combined dairy-free unsweetened yogurt with pumpkin puree and a little maple syrup with pumpkin pie spices.
To top it all off, I made lightly cooked apples with cinnamon, lemon juice, maple syrup and vanilla and swirled it throughout the pumpkin yogurt.
The apples take only 5 minutes to make, they are tender but still have firmness, and will keep up to 7 days when refrigerated.
pumpkin pie yogurt bowl and toppings
I have also added some fresh berries, seeds and nuts, so feel free to add your favourite toppings. Got it? Yes, I call it awesomeness :-).
So after all this, if I didn't get you at breakfast, hope you enjoy this delicious bowl of pumpkin pie yogurt as a snack or add some coconut cream or vegan ice cream and serve as a dessert. You can't go wrong either way.
Looking for a Halloween gift for your chef in the kitchen. Check out this monkey pizza wheel or, the spaghetti monster colander they are so cute!
Let's Connect!
Be sure to FOLLOW US on FACEBOOK and PINTEREST.
Many thanks!
Kristina xx
Pumpkin Pie With Cinnamon Apple Swirl Yogurt Bowl (Vegan, Gluten-Free)
Published on Oct 23, 2018
by
Kristina Stosek
Instructions
1.

For the apple swirl; Add all the ingredients into a saucepan and mix together. Cover and cook over medium heat for 5 minutes stirring frequently. Keep the lid on and remove from the heat to cool

2.

For the pumpkin yogurt; Mix all the ingredients until well combined

3.

Assemble your bowls; Add pumpkin yogurt to a bowl. Swirl in the cinnamon apples and sprinkle with your favourite toppings