Best Gluten-Free Ham & Cheese Biscuits
Published on Oct 20, 2018
by
Kristina Stosek
Prep Time:

15 minutes
Cook Time:

18 minutes
Serves:

12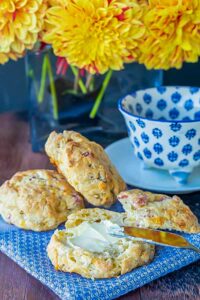 ​This post may contain affiliate links, please see our
privacy policy
for details
The Very Best Gluten-Free Ham and Cheese Biscuits with smokey ham and sharp cheddar cheese. These savory biscuits are extra special; they are flaky, buttery, cheesy, and you only need fifteen minutes of hands-on time. Enjoy them warm right out of the oven, with an extra smear of butter if you wish, because these biscuits are beyond delicious.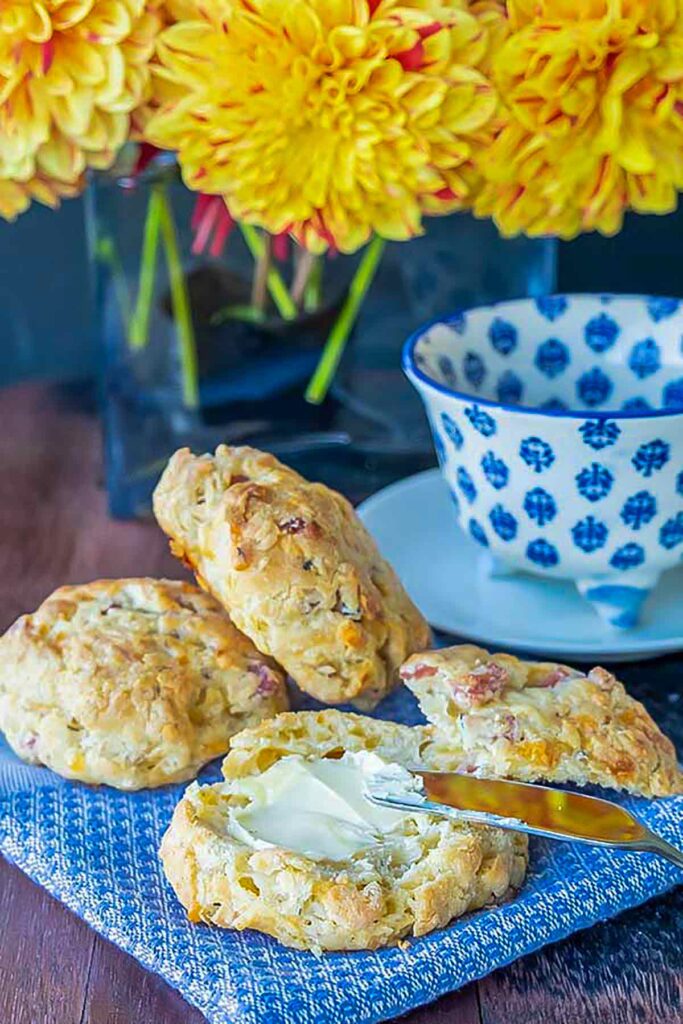 Things you will need to make Gluten-Free Ham & Cheese Biscuits
Gather the ingredients.
I used a measure for measure (1:1) gluten free flour blend to keep this an easy biscuit recipe. You will also need basic things like butter, milk, egg, baking powder, and seasoning. I used thyme because it goes exceptionally well with bacon.
You need to add two more ingredients: cheddar cheese and gluten-free bacon. And that is it for the ingredients.
Special equipment you may need. (affiliate links)
For the gluten free biscuits to be extra flaky, I found that grating frozen butter works best in this recipe. So it would help if you had a grater. However, you can also cut the butter into very small cubes.
You will also need a bowl, spatula, large rimmed baking sheet, and parchment paper. It would be helpful if you have a pastry cutter, but you can use a fork.
How to make gluten free biscuits extra flaky?
Here are some key factors that contribute to flakiness in gluten-free biscuits:
Flour Blend: I found that using a 1:1 flour blend with xanthan gum works exceptionally well in a biscuit recipe. However, it is crucial to measure the flour correctly. The best method is using a scale. If you use a measuring cup, fill the cup with flour using a spoon, then level off with a knife. DO NOT dip the cup into the flour, or you will have too much flour.
Cold Ingredients: Like traditional biscuits, using cold ingredients like cold butter is important for achieving flakiness. Cold fats create steam pockets when they melt in the oven, which helps create layers in the biscuits. Since I grate the butter, it is best when it is frozen. (about 15 minutes in the freezer).
Leavening Agents: Baking powder provides the biscuits with rise and lightness. Make sure to use a gluten-free baking powder. Not all brands are gluten free.
Moisture Content: Some gluten-free flour blends may absorb more moisture than wheat flour, so you may need to adjust the liquid content of your dough accordingly. Start with the recommended amount and add more as necessary to achieve the right consistency.
Flaky Layers: To achieve flakiness, you can incorporate layers of fat within the biscuit dough. This can be done using a pastry cutter or a fork.
Chilling the Dough: After mixing the biscuit dough, chill it in the refrigerator for about 20 minutes if you find it too sticky. This helps to firm up the fats in the dough and makes it easier to work with.
Baking Temperature: Preheat your oven to the recommended temperature in your recipe. A hot oven is important for creating steam and puffing up the biscuits.
Baking Time: Be mindful not to overbake the biscuits. Gluten-free biscuits can dry out faster than their gluten-containing counterparts, so follow the recommended baking time closely.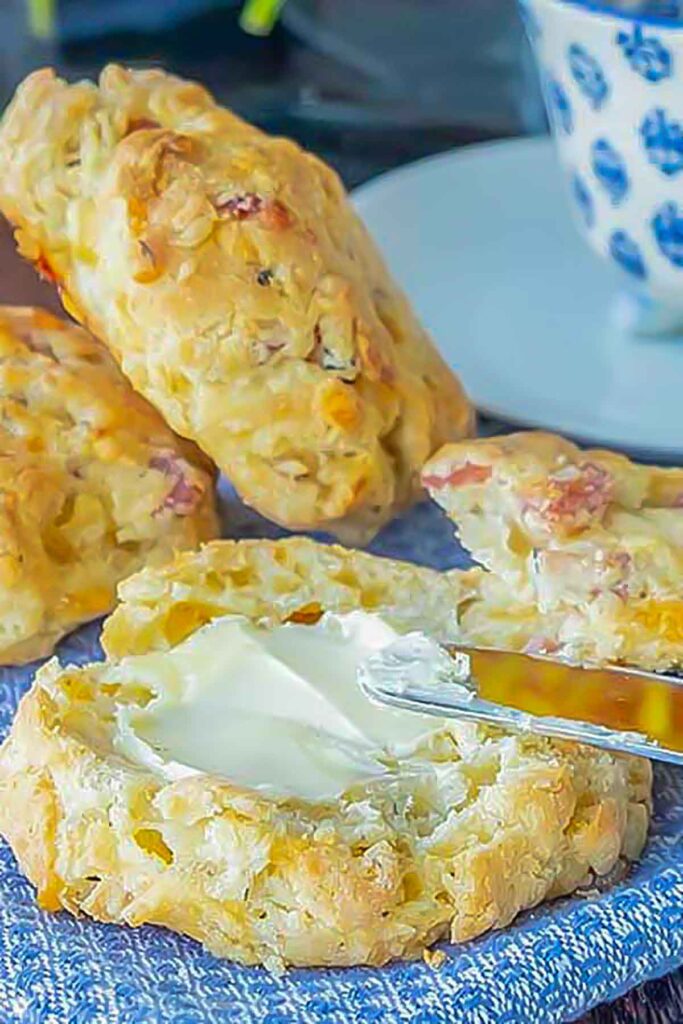 Serving suggestions for gluten free ham and cheese biscuits
Gluten-free ham and cheese biscuits are versatile and delicious. And you can also pair them with other foods to create a complete and satisfying meal. Here are three serving suggestions:
Gluten Free Breakfast Sandwich
Turn your gluten-free ham and cheese biscuits into a hearty breakfast sandwich: Split a warm biscuit in half. Add a fried or scrambled egg and a slice of tomato. Top it with a drizzle of hot sauce, a dollop of mayonnaise, or your favorite breakfast condiment.
Soup and Biscuits
Serve your gluten-free ham and cheese biscuits as a comforting side to a bowl of soup: Prepare a flavorful soup like tomato soup, buffalo sweet potato soup, or creamy cauliflower pesto soup. Place a warm ham and cheese biscuit on the side or break it into pieces for dipping. Combining the flaky biscuit and the savory soup makes for a satisfying and comforting meal.
Gluten Free Biscuit Sliders
Create mini biscuit sliders for a party or casual gathering: Slice the biscuits in half horizontally to make smaller rounds. Spread a condiment of your choice on each half, such as honey mustard, mayonnaise, or Dijon mustard, and your favorite sandwich toppings like lettuce, tomato, and pickles. Secure each slider with a toothpick and serve them as a tasty appetizer or party snack.
These serving suggestions add variety to your gluten-free ham and cheese biscuits and can turn them into a satisfying breakfast, lunch, or snack. Feel free to get creative with your toppings and condiments to suit your preferences. Enjoy!
Let's Connect!
Be sure to FOLLOW US on FACEBOOK and PINTEREST. And don't forget to sign up for our newsletter, the form is at the bottom of this page. We always have something new and exciting for you!
Many thanks!
Kristina xx
Best Gluten-Free Ham & Cheese Biscuits
Published on Oct 20, 2018
by
Kristina Stosek
Instructions
1.

Preheat oven to 450 F and line a large rimmed baking sheet with parchment paper

2.

In a large bowl whisk flour, baking powder, thyme, sugar, xanthan gum, pepper and salt

3.

Add grated butter and using a pastry blender or a large fork, mix until the mixture resembles small lumps. Add ham and cheese and mix combine

4.

In a small bowl whisk together 1 1/2 cups milk, apple cider vinegar and egg. Add to dry ingredients and using a spatula stir just enough until the dough comes together. Do not overwork the dough. You can also use your hands to do this

5.

Shape the dough with lightly floured hands into 12 equal biscuits. About 2-inches wide and 1 1/2 inches tall. Place on the prepared baking sheet and brush with milk.

6.

Bake for 16 - 18 minutes until the tops are golden and the bottoms lightly browned

7.

Serve warm or at room temperature
Leave a Comment
made it today, omg soooo good!
if you haven't tried this gluten-free biscuit recipe you are missing out!