Fresh Tomato Soup Recipe – Gluten Free
Published on Sep 18, 2022
by
Kristina Stosek
Prep Time:

5 minutes
Cook Time:

35 minutes
Serves:

4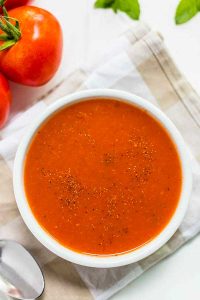 ​This post may contain affiliate links, please see our
privacy policy
for details
Whether you're gluten-intolerant or simply prefer to avoid wheat products, fresh tomato soup is one delicious meal that's easy to make without gluten. There's no comfort food quite like a hot cup of tomato soup, and it's even better if a gluten-free garlic cheese pull-apart monkey bread is accompanying it. It's simple, soothing and savory.
fresh tomato soup made from scratch recipe
Rather than cracking open a can of soup that may or may not contain gluten, and will most likely contain unhealthy levels of sodium and other preservatives — opt to make your own from scratch using fresh tomatoes.
It's deceptively easy, and it'll impress guests and picky children. All you have to do is add a few simple ingredients into a pot, pour into the blender and the gluten-free tomato soup is ready.
Tomato soup is great for winter, times of illness, or when you just want dinner without any frills. It's easy on the palate, and it's easily customizable. If you like your soup bland, make it bland.
If you love spice, your soup can be as hot and peppery as you like. You can also easily customize the amount of salt when you make homemade soup.
How to stop the cream of tomato soup from curdling?
If you would like this to be a creamy tomato soup, you can add cream. To do this without curdling the cream, warm the cream up separately and add it to the blender with the soup. Once mixed, heat the soup gently to no more than 180 degrees Fahrenheit.
Or, keep the soup plant-based by adding coconut milk. If you are adding cream, reduce the broth from 2 1/2 cups to 2 cups, and add 1/2 cup of cream.
best tomato variety for tomato soup?
The best tomatoes for fresh tomato soup are ripe tomatoes like the plum varieties Roma or San Marzano. If you like a sweeter soup, use cherry tomatoes.
Why are cooked tomatoes healthier?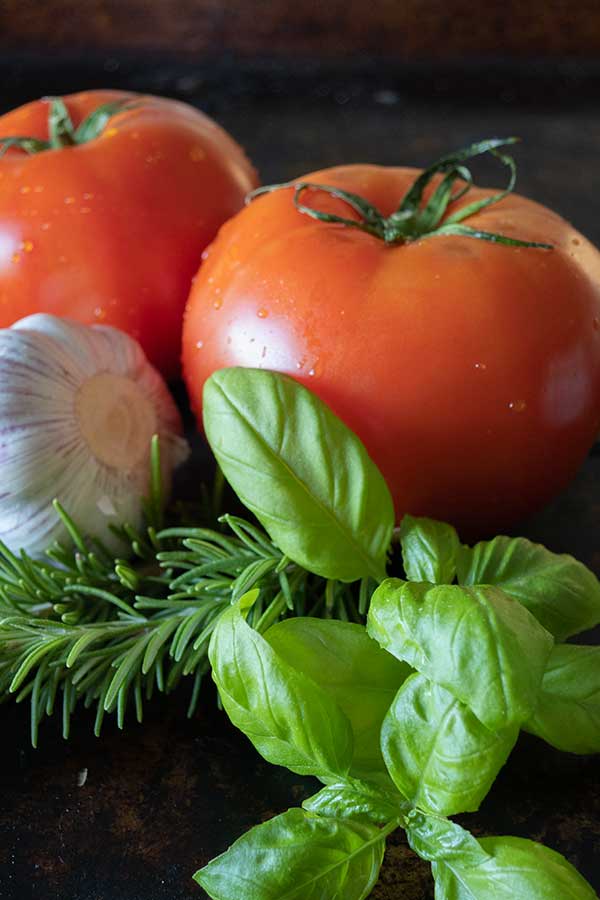 As per Cornell food scientists, research demonstrates that heat processing actually enhanced the nutritional value of tomatoes by increasing the lycopene content — a phytochemical that makes tomatoes red that can be absorbed by the body, as well as the total antioxidant activity.
Why is fresh tomato soup healthy?
Fresh tomato soup isn't just delicious — it's also quite healthy. Tomatoes are rich in all four carotenoids, which are powerful antioxidants that help to prevent disease and ageing.
They're also rich in vitamin E, vitamin C and potassium. Scientists have found that a diet rich in tomatoes improves cardiovascular health and as per National Library of Medicine lowers the risk of pancreatic cancer.
Are you looking for more recipe ideas using tomatoes? Check out our list of gluten-free recipes with tomatoes, especially our Fresh Tomato Marinara Sauce. YUM!
Let's Connect!
Be sure to FOLLOW US on FACEBOOK and PINTEREST.
Many thanks!
Kristina xx
Fresh Tomato Soup Recipe – Gluten Free
Published on Sep 18, 2022
by
Kristina Stosek
Instructions
1.

Place everything into a medium saucepan or soup pot

2.

Bring to a boil, then reduce the heat to a simmer, cover and cook for 20 minutes. Let it cool for 10 minutes.

3.

Pour the soup into a blender in batches, blending each batch on high for 1 minute or until smooth. This helps to create that extra-smooth, creamy texture.

4.

As your batches finish blending, add them back into the pot for reheating

5.

To serve, ladle soups into bowls and top with fresh basil leaves and a sprinkle of freshly ground black or white pepper