Fresh Tomato Marinara Sauce Recipe
Published on Jul 19, 2022
by
Kristina Stosek
Prep Time:

15 minutes
Cook Time:

40 minutes
Serves:

4 cups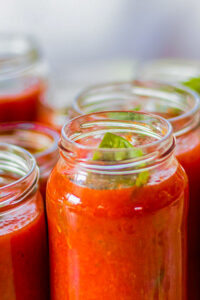 ​This post may contain affiliate links, please see our
privacy policy
for details
There's nothing like a fresh tomato marinara sauce. This classic Italian sauce is made primarily with ripe Roma tomatoes, garlic, olive oil, red wine and herbs. It's perfect for pasta, pizza, or any other Italian dish.
If you're looking for a delicious and easy-to-make tomato sauce, look no further than this recipe for fresh tomato marinara sauce. Made with just a few simple ingredients, it's sure to become a family favourite. So give it a try tonight!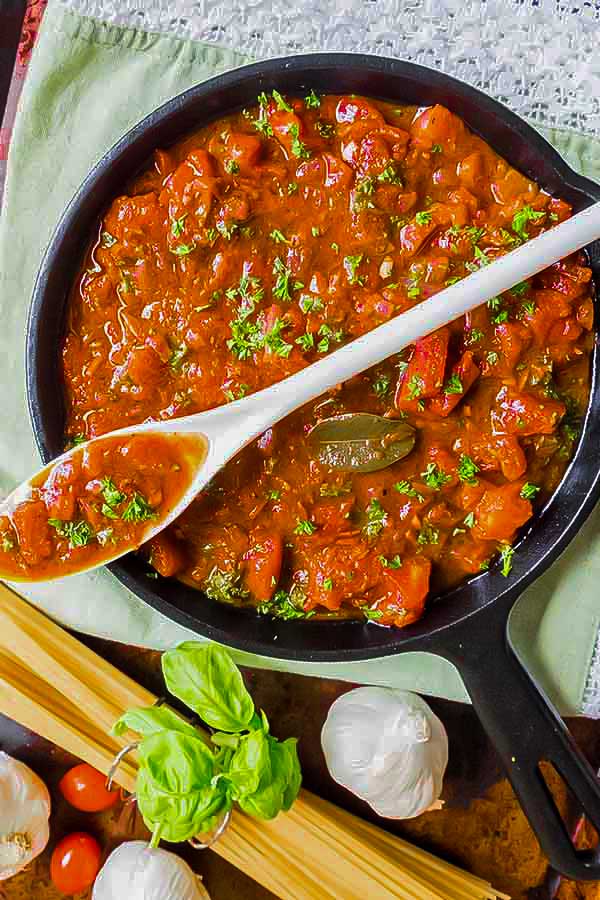 What does the fresh tomato marinara sauce taste like?
For me, I wanted to keep some texture in the sauce, so I kept the sauce a little chunky. Serving it over pasta, in soups or in stews, the small chunks of tomatoes make the dish much tastier.
However, if you prefer a smooth sauce, you can use an immersion blender or a food processor to get a smooth texture.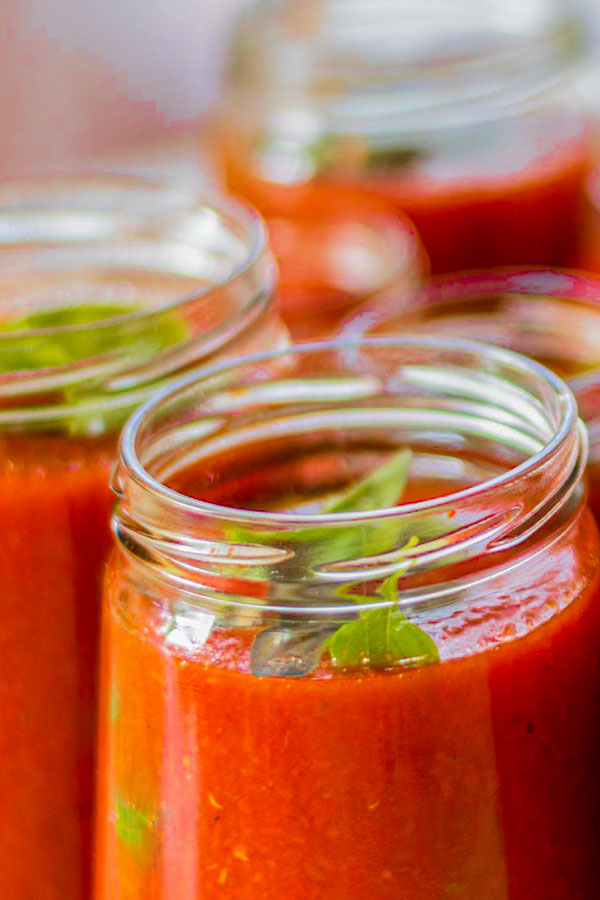 The sauce has the flavour of fresh tomatoes, lightly hinted with garlic and seasoned with basil, oregano, marjoram and bay leaves. The tomatoes must be ripe! Otherwise, the sauce will be tart.
Are cooked tomatoes healthier?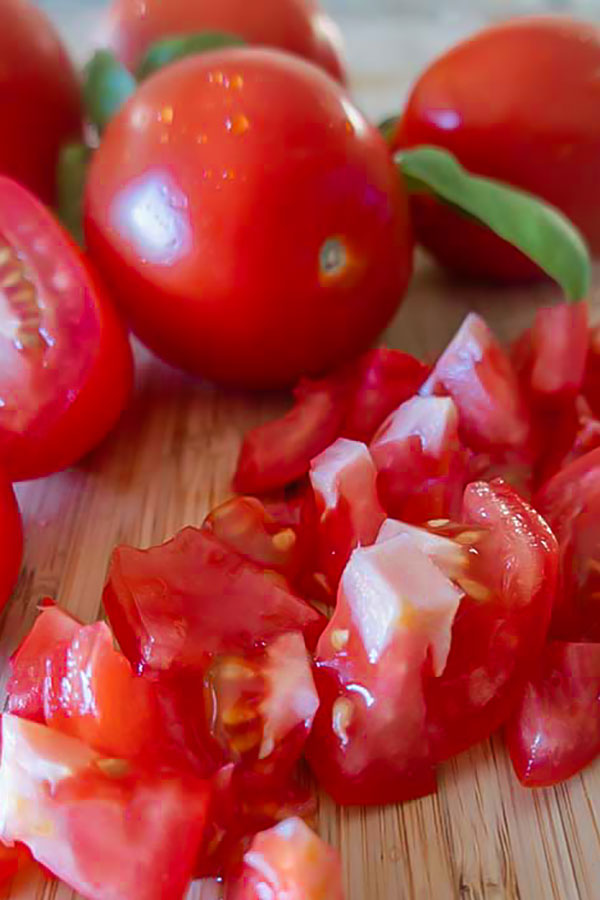 As per a study done by Cornell University, cooking tomatoes such as in marinara sauce will enhance the antioxidant activity because the cooking process significantly raises the levels of beneficial compounds called phytochemicals.
Why should you peel tomatoes before cooking?
If you don't peel the tomatoes, you will get pieces of tough skin floating in the sauce. If you don't remove the skin before cooking, you will have to fish them out later. A very tedious job 🙁
How to peel tomatoes?
Place a pot of water on the stove and bring it to a boil. Drop tomatoes into boiling water. Remove them after 30 seconds or when the skin begins to peel. Place them in a bowl of ice water, and then peel.
Should you remove the seeds?
People who suffer from gastrointestinal issues must avoid raw tomatoes and tomato seeds. The seeds are acidic and may promote heartburn and other adverse effects on the digestive system.
The seeds are removed simply by cutting the tomato in half and, using a small spoon, scoop them out.
When is tomato season?
Tomatoes are typically harvested from July to September. If you use tomatoes that are hard and don't have a deep red colour, the marinara sauce will have less flavour and may be tart.
How to ripen tomatoes?
Tomatoes have the best flavour when they are fully ripened. They are sweeter and make the marinara sauce much tastier. The easiest way to ripen tomatoes is by placing them on a windowsill that gets full sun.
What can I use the marinara sauce for?
There are so many delicious things you can do with marinara sauce! It's a versatile sauce that you can use in many different dishes. Here are some of our favourite ideas:
-Serve it over pasta for a classic Italian dinner
— Top chicken or fish with it and bake for an easy, flavorful meal
— Make stuffed peppers in marinara sauce
— Use it as a dipping sauce for leftover mashed potato sesame cheese sticks
— Make a homemade gluten-free pizza and top it with marinara sauce
— Add it to soups, stews or chili for extra flavour
— Use it as a base for gluten-free lasagna or other baked pasta dishes
storing and reheating,
Assuming you have made a big batch of this delicious tomato marinara sauce, here are some tips on storing and reheating it!
Leftover marinara sauce can be stored in an airtight container in the fridge for up to a week. When you're ready to eat it again, reheat it on the stove over low heat until warmed through.
If you have freezer space, you can also store the sauce in a freezer-safe container for up to 6 months—Thaw in the fridge overnight before reheating on the stove.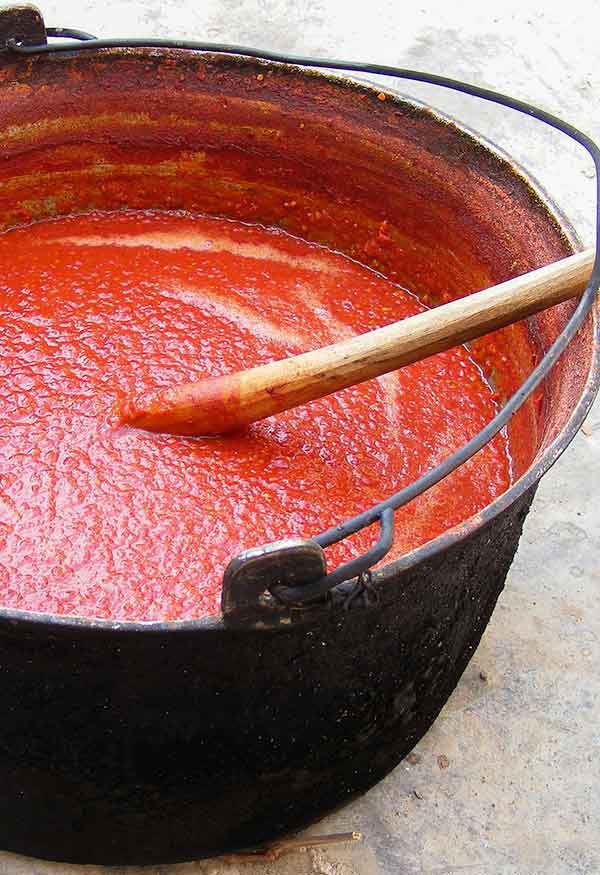 What is the difference between marinara sauce and spaghetti sauce?
Marinara sauce is a tomato-based sauce typically made with olive oil, garlic, onions, and sometimes herbs. Spaghetti sauce is also a tomato-based sauce, but it usually has meat and/or vegetables in it and is more of a hearty sauce.
What to serve with marinara sauce?
Marinara sauce is perfect for dipping gluten-free garlic pizza bread in, pizza topping, or even eating as is with plain gluten-free pasta.
Why is this sauce recipe the best?
This recipe is best because it uses the freshest ripe tomatoes possible and the right mix of herbs. The fresher the tomatoes, the tastier the sauce will be! And the Italian sauce is naturally gluten-free.
Fresh Tomato Marinara Sauce Recipe
Published on Jul 19, 2022
by
Kristina Stosek
Instructions
1.

To peel the tomatoes; place a pot of water on the stove and bring it to a boil. Drop tomatoes into boiling water. Remove them after 30 seconds or when the skin begins to peel. Place them in a bowl of ice water, then peel and roughly chop. Set aside. *see in the post on how to remove seeds

2.

Heat olive oil in a large pot over medium heat. Add onions and saute until the onions are translucent, about 5 minutes. Stirring as needed

3.

Add garlic, bay leaves, red wine, honey/agave, basil, oregano and marjoram. Simmer for 3 minutes

4.

Add tomatoes, salt and crushed red pepper, cover and cook over low heat for 30 minutes

5.

Remove from the stove and stir in parsley and apple cider vinegar. Taste and adjust seasoning as needed