Leftover Mashed Potato Sesame Cheese Sticks
Published on May 02, 2022
by
Kristina Stosek
Prep Time:

5 min + freezing minutes
Cook Time:

6 minutes
Serves:

20 - 24
​This post may contain affiliate links, please see our
privacy policy
for details
Crispiest, tastiest Gluten-Free Potato Sesame Cheese Sticks made with only 4 ingredients and leftover mashed potatoes. You can also add your favourite herbs or spices, but the seasoning is optional.
It's Monday, and it's time to use up leftovers!
Who doesn't like a delicious gluten-free snack from leftover food? I find that mashed potatoes are an excellent way to make gluten-free snacks or biscuits. Check out these Gluten-Free Cheesy Mashed Potato Biscuits. The best biscuits ever!
When following a gluten-free diet, using potatoes in recipes is excellent! Potatoes are naturally gluten-free and grain-free, and they are a low allergen food. Plus, they are packed with nutrients and fiber.
Are potatoes healthy?
A medium-sized potato has only about 140 calories. About 70 % of your daily vitamin C, 30% vitamin B6, 25% potassium, and 4 grams of protein. In addition, it has fiber, iron, and traces of calcium and folate.
Today, potatoes are the fifth most consumed crop worldwide, after wheat, rice, sugar and corn. Potatoes are budget-friendly, and contain all the essential amino acids you need to build proteins, repair cells, and fight diseases.
How to make Leftover Mashed Potato Sesame Cheese Sticks?
You will need 4 ingredients, and if you like, a teaspoon of your favourite gluten-free spices or herbs. For example, today, I added one teaspoon of onion powder.
Place the 4 ingredients — mashed potatoes, grated cheese, sesame seeds, and tapioca or arrowroot starch, into a bowl. Now is the time when you would add seasoning.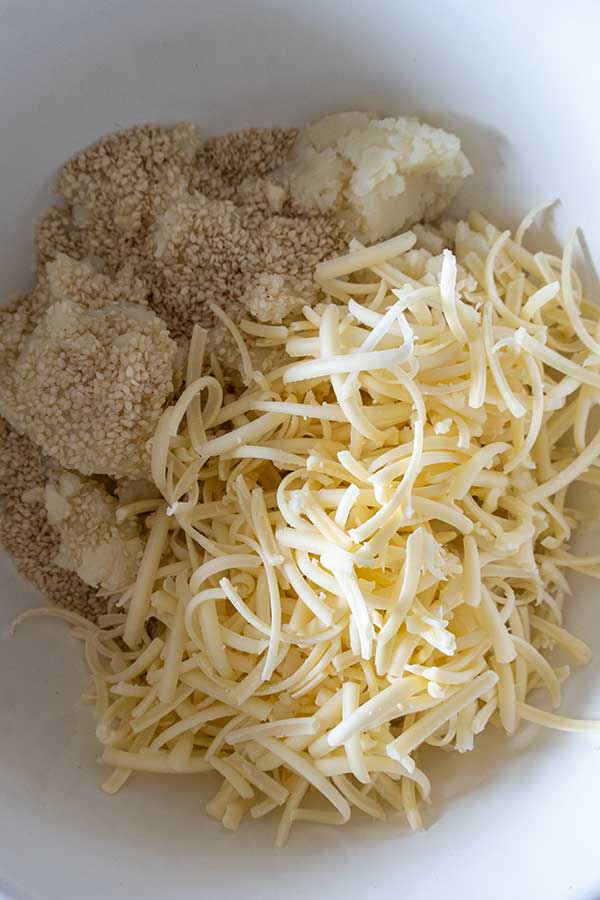 Use your hands and mix to combine.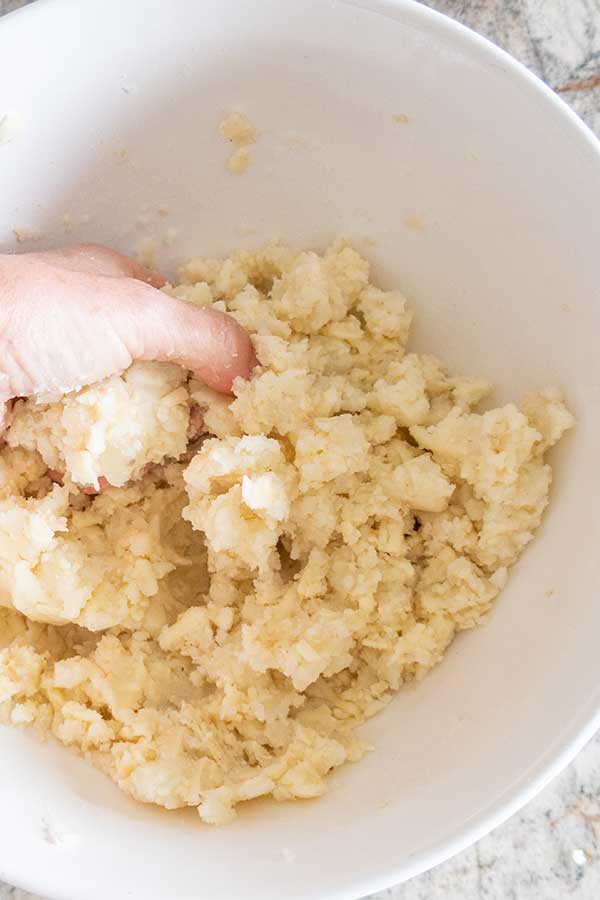 Place potato cheese mixture into a large freezer bag, and using a rolling pin, roll it out to about 3/4-inch thickness and place it in the freezer for 45 minutes. You must not skip this step!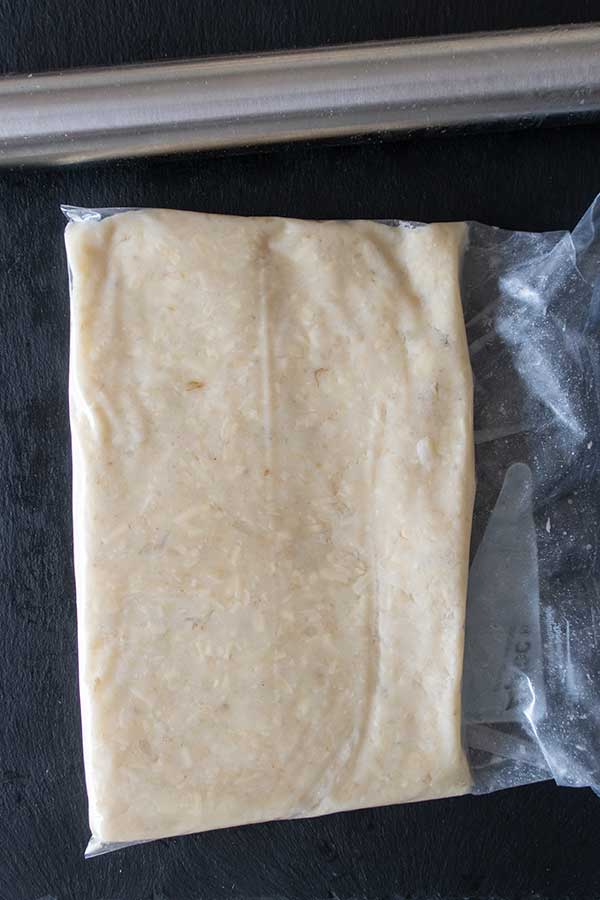 After 45 minutes, slide it out onto a cutting board and slice it into desired lengths. You don't have to use up the entire piece. I cook up to ten at a time, and I place the rest of the dough back in the freezer for future use.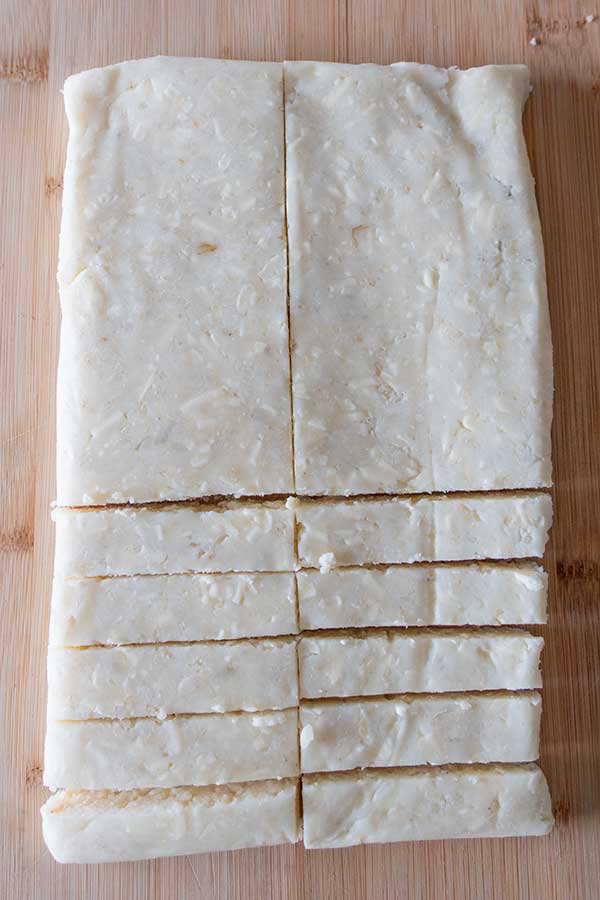 Place cooking oil about 1/4-inch deep in a skillet and heat to medium-high temperature. Place potato cheese sticks in the hot oil without touching. Do not crowd them, or they will stick together.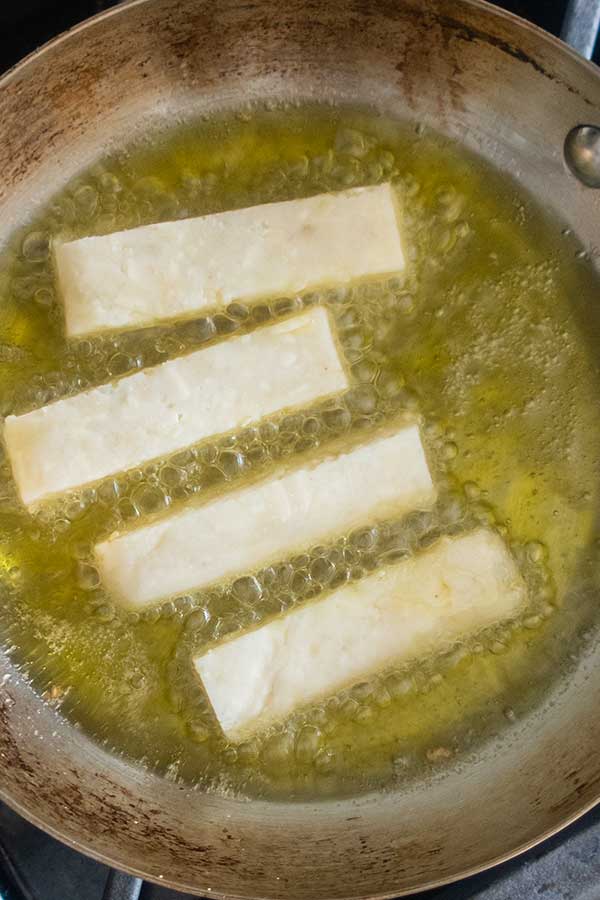 Cook for about 3 minutes per side, or until golden brown and crispy. Drain on a paper towel or let them drain on a wire rack. Serve hot.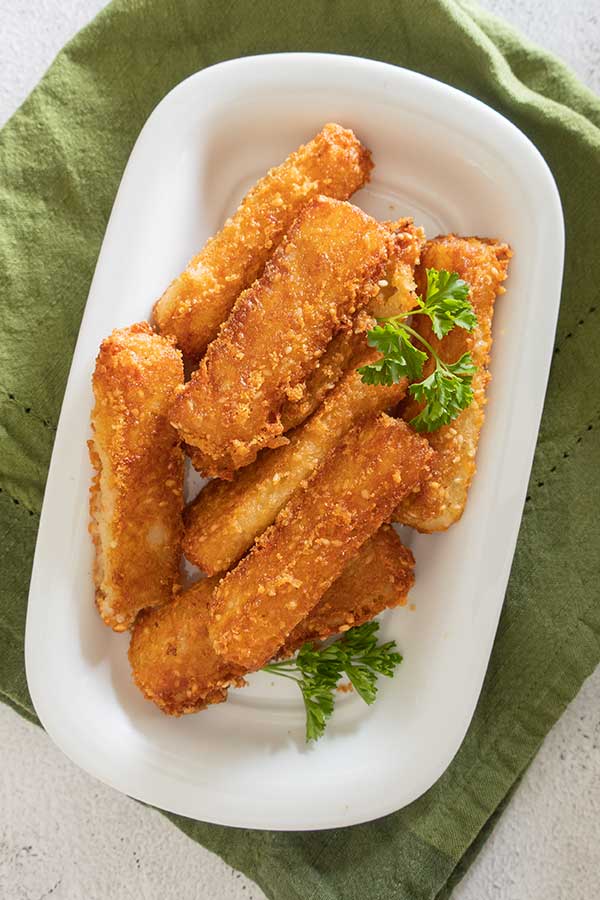 What if I don't have leftover mashed potatoes?
It is not a problem if you don't have leftover mashed potatoes and want to make these insanely addictive potato sesame cheese sticks. First, boil three peeled, chopped, medium size russet potatoes in well-salted water: drain and mash. Do not add anything else. You should have 2 1/2 cups.
Do I have to add sesame seeds?
No, you don't need to add the sesame seeds. However, they add to healthiness, flavour and give the potato cheese sticks extra crispness.
Are sesame seeds good for you?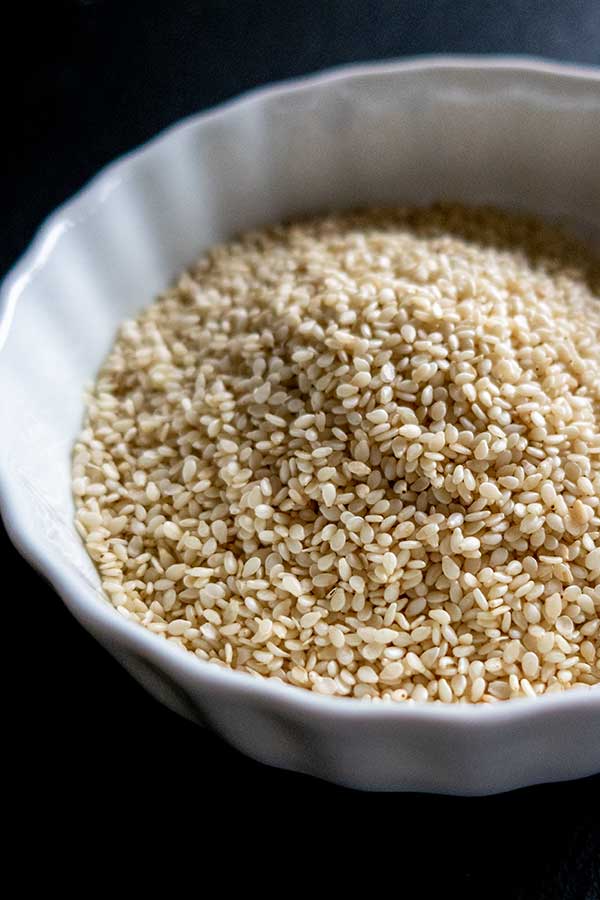 Sesame seeds are a good source of healthy fats, B vitamins, minerals, and antioxidants. The tiny seeds are an excellent source of manganese, calcium, protein, and fiber. One cup of sesame seeds has 17 grams of dietary fiber and 26 grams of protein.
Which spices or herbs go well in this potato sesame cheese sticks recipe?
Use about one teaspoon of a mix of spices or just one spice. My favourite is the onion powder. Other choices would be garlic powder, thyme, rosemary, black pepper, curry powder, dried parsley or dried chives.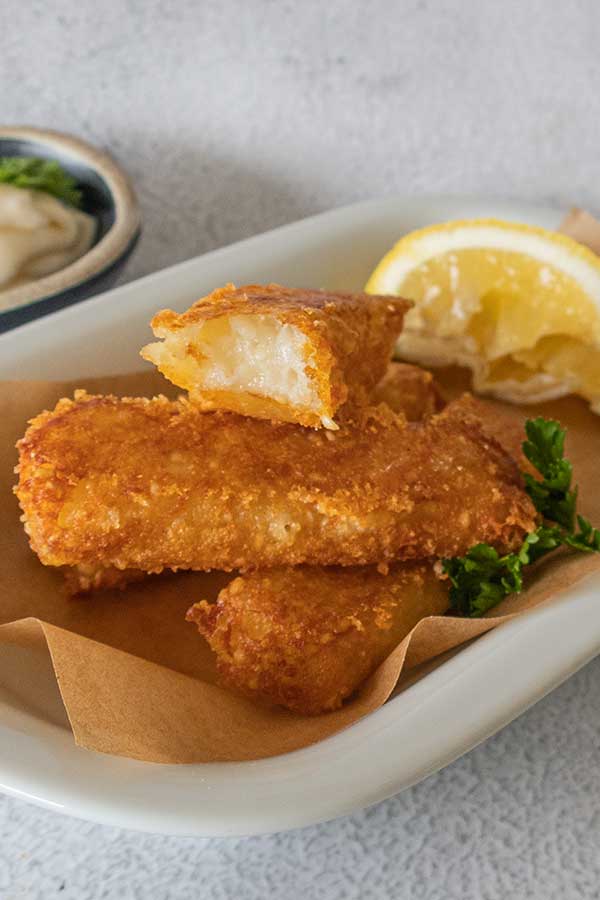 How to warm up the sticks?
Preheat the oven to 375 F. Place them on a baking sheet lined with parchment paper and bake for 8 – 10 minutes. I would not recommend heating them in a microwave because they will become soft.
Can you freeze the potato cheese dough?
Once you roll it out in the freezer bag, seal the bag and freeze for up to three months for future use. Before cooking, place the bag in the fridge for 30 minutes, then prepare as per the recipe.
What to serve with Potato Sesame Cheese Sticks?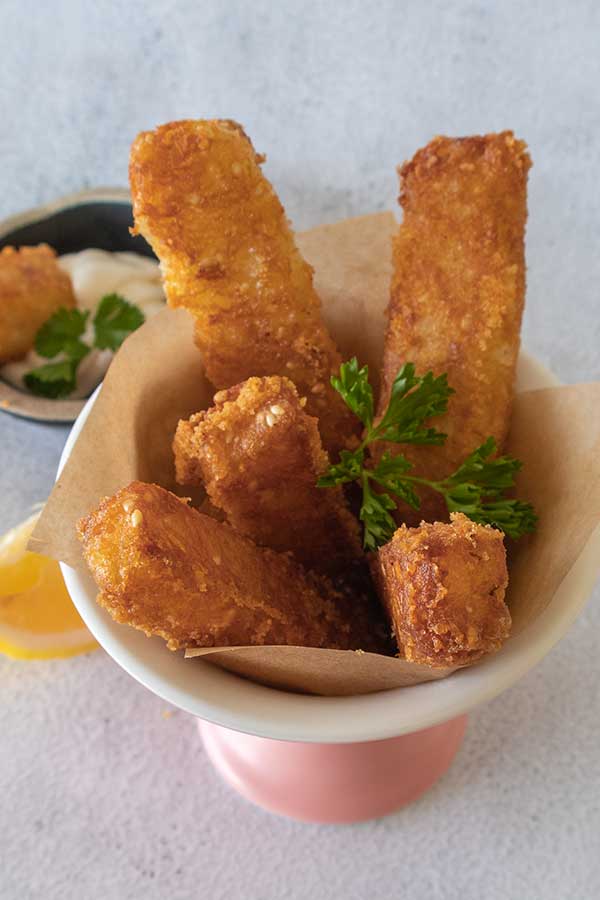 I like to serve them with just a drizzle of fresh lemon juice. Or, you can add a tasty dip such as aioli dip, avocado dip, gluten-free ketchup, gluten-free tartar sauce, gluten-free marinara sauce or mayo.
Another way I like to serve these delicious cheesy potatoes is for brunch. I make them into round patties and serve them with omelettes or a poached egg over the top with a light salad. Sooo good, everyone loves them! Enjoy!
Leftover Mashed Potato Sesame Cheese Sticks
Published on May 02, 2022
by
Kristina Stosek
Instructions
1.

Place mashed potatoes, cheese, sesame seeds and tapioca/arrowroot starch in a bowl. I do not add salt because the potatoes are already salted, and so is cheese

2.

Using your hand, mix well until combined

3.

Transfer dough into a large freezer bag and, using a rolling pin, roll out into about 3/4-inch thickness. Place in the freezer for 45 minutes

4.

Slide partially frozen potato dough out onto a cutting board and slice into sticks

5.

Add cooking oil into a skillet to about 1-inch deep. Heat to medium-hot (360 F) and fry for about 3 minutes per side until golden brown and crispy. Drain on a paper towel or a wire rack. Enjoy!