Bacon Wrapped Cauliflower with Avocado Aioli {Keto}
Prep Time
15 Minutes
Difficulty
Easy
Cook Time
25 Minutes
Serves
12 pieces
Average Rating: 5 | Rated By: 5 users
Bacon Wrapped Cauliflower with Avocado Aioli is one of the most popular keto appetizers. The healthy fresh cauliflower is lightly season and wrapped with tasty smoky bacon, slowly roasted, giving the cauliflower a crispy delicious bacon coating. This keto cauliflower appetizer is served alongside a healthy avocado aioli dip. YUM!
The avocado aioli dip…
Creamy fresh tasting avocado aioli dip made with avocado, sour cream, fresh lemon juice, garlic and green onions. The fresh tasting avocado dip is rich and creamy, complimenting the bacon wrapped cauliflower. Healthy ingredients such as avocado, fresh lemon juice, green onions and garlic add healthiness to this keto-friendly appetizer.
Appetizers should be easy to prepare, simple to present and delicious to eat. In this recipe, the flavour of the cauliflower is enhanced by smoked bacon, a hint of maple syrup and black pepper.
Sometimes the simplest combinations work the best. This easy to make bacon wrapped cauliflower appetizer is served with creamy avocado aioli. However, most dips will work well with this keto appetizer.
This is a keto and gluten-free recipe, with only about 1 net carb per serving. If you follow a keto diet, check out our complete list of keto-friendly recipes, including mouthwatering desserts such as these keto cream cheese lemon bars!
Ingredients
1 medium size cauliflower, broken into equal bite-size florets (about 12)
2 Tbsp. coconut oil, melted
1 Tbsp. pure maple syrup
6 gluten-free thick slices of bacon, cut in half makes (12)
1 tsp. GF coarsely ground black pepper
12 toothpicks
AVOCADO AIOLI DIP
1 ripe avocado, mashed
½ cup sour cream
1 tsp. fresh lemon juice
1 garlic clove, minced
Sea salt to taste
Garnish; thinly sliced green onions or shallots (optional)
*As an Amazon Associate and member of other affiliate programs, I earn from qualifying purchases. Please check out my sponsorship and disclosure policy page for more details
Instructions
Preheat oven to 400 F and line a baking sheet with parchment paper
Toss cauliflower in coconut oil and maple syrup
Generously season both sides of bacon with black pepper
Wrap cauliflower with bacon and secure with a toothpick
Place on prepared baking sheet and bake for 20 -25 minutes until the bacon begins to crisp around the edges
AVOCADO AIOLI DIP
Blend all the ingredients and serve with warm bacon wrapped cauliflower. Sprinkle with green onions or shallots
Similar Recipes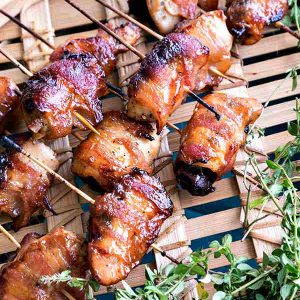 Chicken and Dates Bacon Wraps
Super tasty Chicken and Dates Bacon wraps…anything with bacon is heavenly, especially, when you combine bacon with dates and chicken. The flavours smoldering in your mouth are from the sweetness of dates mixed with the saltiness of  bacon. You will find that this recipe for Chicken and Dates Bacon Wraps is simple to make and […] Read More
Prep Time
15 Minutes
Difficulty
Easy
Cook Time
25-30 Minutes
Serves
24 pc
Chicken, Water Chestnut And Bacon Appetizers
Chicken, Water Chestnut and Bacon Appetizer is probably one of the most popular appetizers. The smoky flavour of bacon and the crunchiness of water chestnuts wrapped around tender chicken makes this gluten free appetizer explosively delicious. Serve at super bowl parties or large gatherings. But don't stop there, they also make for a tasty savoury […] Read More
Prep Time
20 Minutes
Difficulty
Easy
Cook Time
15 Minutes
Serves
16 pc
Dates Stuffed With Asiago And Wrapped With Bacon
When it comes to hot gluten free appetizers this recipe is one of my favourites. The recipe is simple and can be prepared 24 hours in advance, leaving you time for more important things to do when entertaining. This hot appetizer is made with dates stuffed with melted Asiago cheese and wrapped in crispy bacon. […] Read More
Prep Time
20 Minutes
Difficulty
Easy
Cook Time
15 Minutes
Serves
12 pc