Biryani Cauliflower Recipe
Prep Time
10 Minutes
Difficulty
Beginner
Cook Time
15 Minutes
Serves
4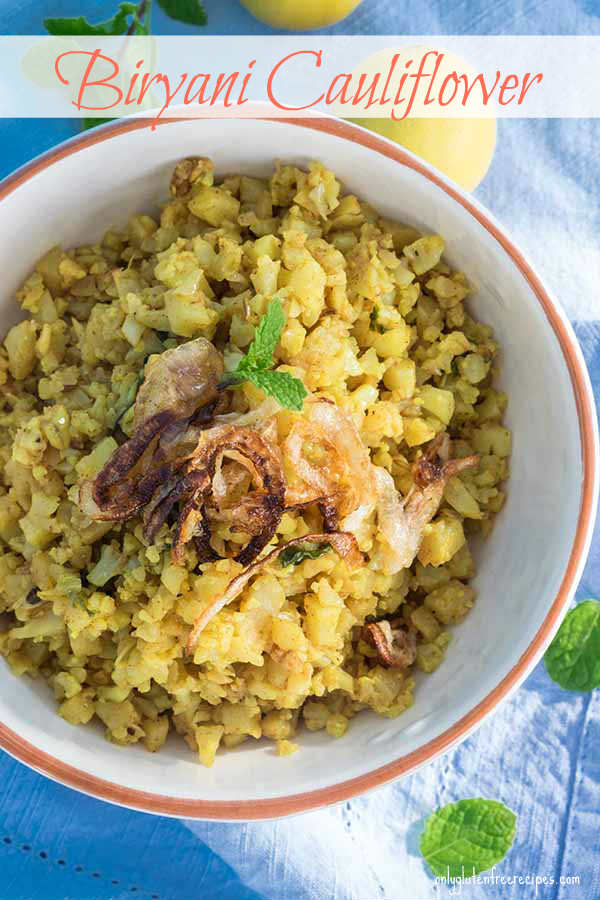 Average Rating: 5 | Rated By: 3 users
This light aromatic cauliflower dish is easy to prepare and goes exceptionally well with curry or chicken. Cauliflower is packed with healthy nutrients and is low in carbs and calories. With only 2 grams of carbs per serving, this biryani cauliflower side will compliment keto and paleo diet
Ingredients
1 large cauliflower, brake into florets and chop into ¾-inch pieces
3 Tbsp. coconut oil
3 garlic cloves, chopped
1 Tbsp. fresh minced ginger
1 GF bay leaf
½ tsp. GF ground turmeric
½ tsp. GF caraway seeds
¼ tsp. GF ground cinnamon
¼ tsp. GF ground cardamom
¼ cup chopped fresh mint leaves
2 Tbsp. fresh lemon juice
¼ cup water or GF vegetable stock
Pure sea salt
Garnish: thinly sliced fried onions and fresh mint leaves (optional)
*As an Amazon Associate and member of other affiliate programs, I earn from qualifying purchases. Please check out my sponsorship and disclosure policy page for more details
Instructions
In a large saucepan heat coconut oil over medium-low heat. Add garlic and cook for 1 minute.
Add ginger, bay leaf, turmeric, caraway seeds, cinnamon, and cardamom. Cook for 1 minute while stirring. Add cauliflower and stir to coat with the spices
Add mint leaves, lemon juice, water and season with salt. Cover and cook over medium heat for 10 minutes. Give it a good stir and cover until ready to serve. Enjoy!
Similar Recipes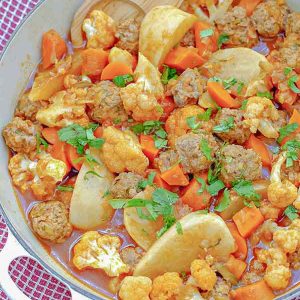 Cauliflower and Meatballs Ragout
Cauliflower and Meatballs Ragout – a fragrant dish, scented with cinnamon, cumin and fresh cilantro. The meatballs are made with grated zucchini and flavoured with a hint of cinnamon and cumin. Keeping them light and flavourful. Once you prepare the meatballs they are cooked with cauliflower, carrots and turnip in a light tomato-based broth. The […] Read More
Prep Time
10 Minutes
Difficulty
Easy
Cook Time
35 Minutes
Serves
4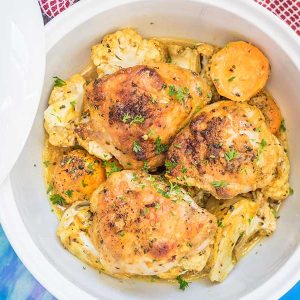 Cauliflower Fennel and Sweet Potato Chicken Tagine
This rustic method for cooking chicken, popular in Morocco, creates a crispy skin that everyone loves. This recipe is one of my favourite chicken dishes because it is so simple and flavourful. The chicken and veggies are marinated in lightly spiced yogurt with coriander, cumin, basil, mustard seed, paprika, turmeric, and cinnamon. Serve with a […] Read More
Prep Time
15 Minutes
Difficulty
Easy
Cook Time
45 Minutes
Serves
4-6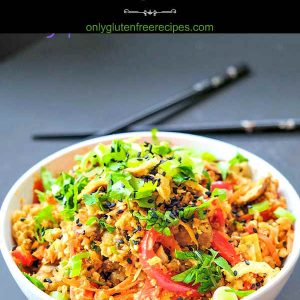 Low Carb Singapore Cauliflower Rice
This is a simple but utterly delicious cauliflower rice dish. If you are on the hunt for low carb ethnic food, this recipe is for you. I have enhanced this vegetarian recipe with delicious spices and medley of vegetables that make this a mouthwatering healthy dish. This recipe comes together fast and easy with added […] Read More
Prep Time
15 Minutes
Difficulty
Easy
Cook Time
14 Minutes
Serves
4