Keto Cream Of Cauliflower Soup with Sage
Published on Jun 21, 2019
by
Kristina Stosek
Prep Time:

10 minutes
Cook Time:

20 minutes
Serves:

6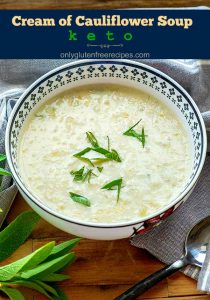 ​This post may contain affiliate links, please see our
privacy policy
for details
Deliciously creamy Keto Cream of Cauliflower Soup with Sage is a thick and wholesome cauliflower soup not to be ignored. It's the creamiest, most delicious bowl of healthy cauliflower soup, low in carbs and takes less than 30 minutes to make
To flavour this keto soup, I added fresh sage. This herb adds a subtle flavour to cream soups, especially a cauliflower soup.
You will need only 8 ingredients for this keto cauliflower soup.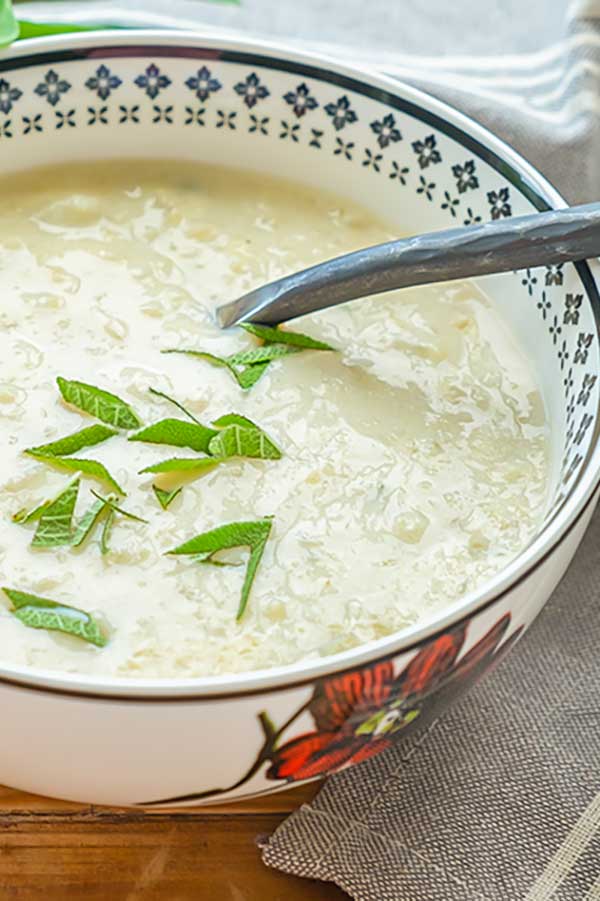 This cream of cauliflower soup is made simply using only eight ingredients that you probably already have in your pantry.
how to make keto cauliflower soup
For the recipe, first, you sauté the onions in butter, then add the broth, cauliflower and sage and cook until the cauliflower becomes tender.
Cauliflower cooks very quickly, so this takes only minutes. Once the cauliflower is cooked, mash it with a potato masher until it resembles the size of rice.
I added cream mixed with arrowroot powder to the soup. This will make the soup thick and creamy. Arrowroot powder is naturally gluten-free, grain-free and paleo-friendly starch.
The starch is lower in calories and carbs and is healthier than genetically modified corn starch.
In low-carb recipes, I often use arrowroot starch, sometimes called flour, to thicken sauces and stews. Also, the starch adds lightness to gluten-free baked goods.
Arrowroot starch is made from a starchy substance extracted from a tropical plant known as Maranta arundinacea and has no taste. This starch makes a good thickener in recipes like this Keto Cream of Cauliflower Soup.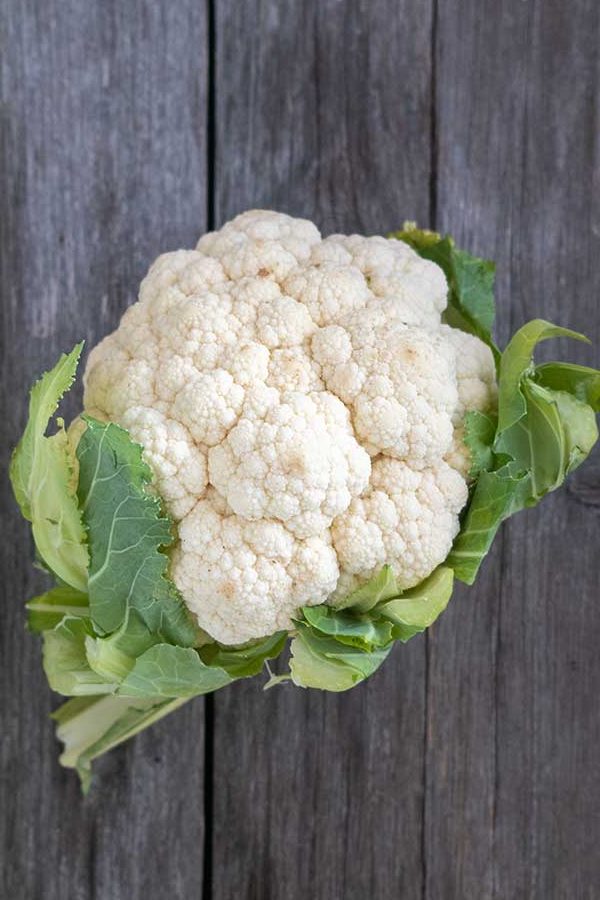 Is cauliflower good in keto recipes?
Cauliflower is great for keto. This cruciferous vegetable is low in calories and carbs and very satisfying. In addition, it is high in vitamin C and dietary fiber.
You'll often find low-carb pizzas crusts made from cauliflower or as a rice substitute we used in Singapore cauliflower rice recipe, and our favourite keto side recipe is the faux creamy mashed potatoes.
This hearty keto vegetable soup goes exceptionally well with our keto nut-free pumpkin seed bread. The soup and the keto bread together make for a hearty keto weeknight meal.
Keto Cream Of Cauliflower Soup with Sage
Published on Jun 21, 2019
by
Kristina Stosek
Instructions
1.

In a large pot heat butter over medium heat. Add onions and cook until translucent. About 5 minutes

2.

Add chicken stock, cauliflower and sage, bring to boil cover and reduce heat to low. Cook for 10 minutes or until the cauliflower is tender. Using a potato masher, mash the cauliflower until it resembles the size of rice

3.

Whisk together cream and arrowroot flour and add to the soup. While stirring, bring to boil and cook for 2 minutes. Season with salt and pepper

4.

To serve, top with fresh sage