Cauliflower Quinoa Dumplings in Creamy Marinara Sauce
Published on May 26, 2018
by
Kristina Stosek
Prep Time:

15 minutes
Cook Time:

45 minutes
Serves:

4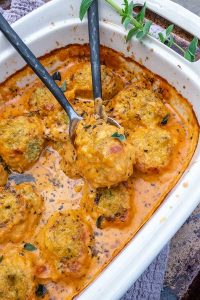 ​This post may contain affiliate links, please see our
privacy policy
for details
Cauliflower Quinoa Dumplings in Creamy Marinara Sauce are the best! If you love Italian food, this healthy, delicious gluten-free, vegetarian dish is for you!
the quinoa dumplings
The vegetarian dumplings are made with cauliflower rice, quinoa, parsley, garlic, oregano and eggs. They are light and flavourful and super easy to make.
To make the dumplings, all you do is mix the ingredients and chill for 15 minutes. Then, you shape small dumplings and place them in a baking dish. That is it for the dumplings.
the marinara sauce
For the creamy marinara sauce, again, easy! First, saute the garlic in olive oil with basil, and if you like a bit of spice, add some cayenne pepper.
For the next step, whisk in tomato sauce, cream and cheddar cheese until melted. Once the sauce is prepared, pour it over the dumplings and bake.
For the finish, before the dumplings are fully cooked, scatter the remaining cheese over the top and bake for a few more minutes until the cheese has melted.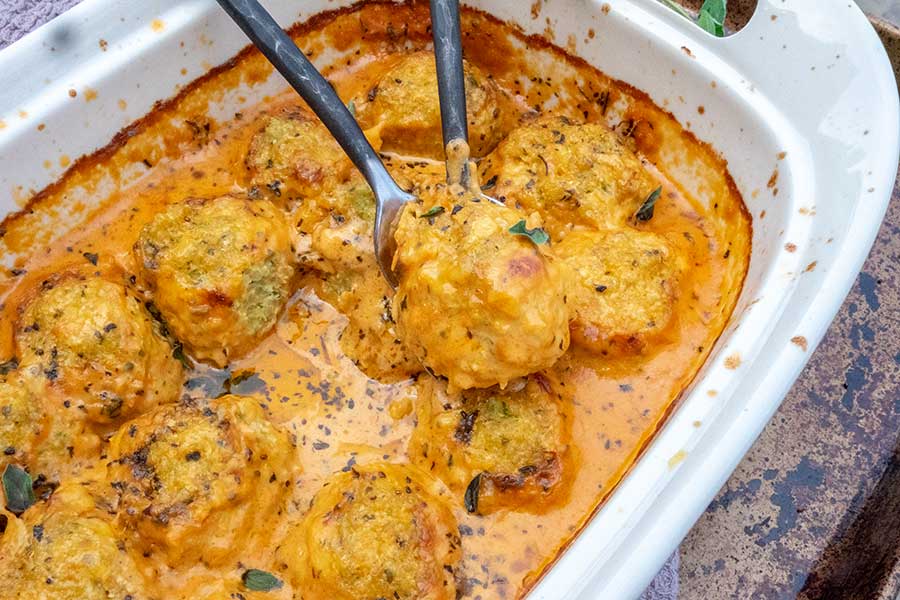 The flavourful creamy marinara sauce ties everything together beautifully. I make my sauce extra spicy because I love spicy food, but feel free to add as much or as little cayenne pepper as you like.
Why is quinoa so healthy?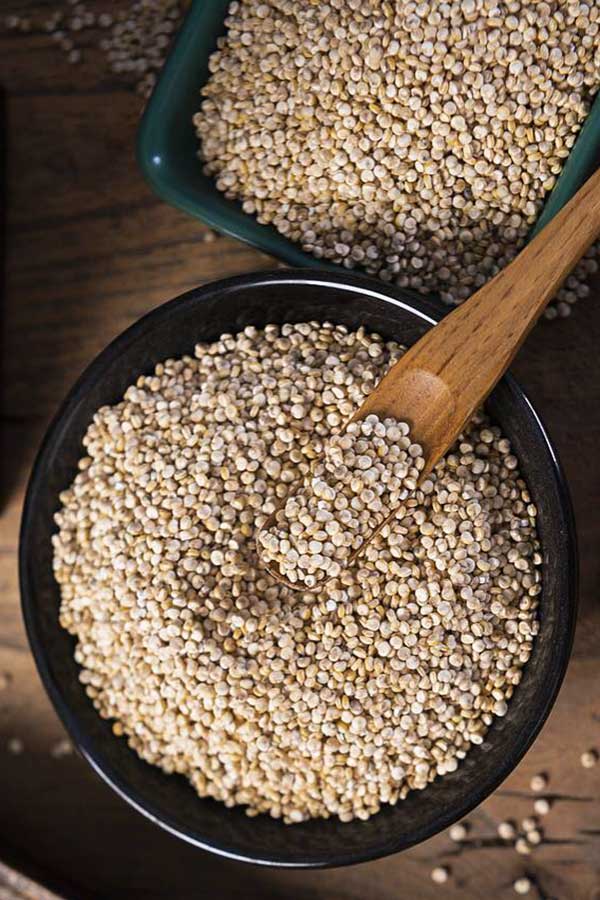 Quinoa is a naturally gluten-free plant-based protein, rich in dietary fiber and high in anti-inflammatory phytonutrients. In addition, this tiny seed is a good source of protein, fiber, iron, copper, thiamin and vitamin B6.
What is cauliflower rice?
Cauliflower rice is not rice! It is a low-carb vegetable and a keto-friendly, paleo-friendly substitute for rice. The rice is made by grating raw cauliflower using a food processor or a box grater.
Looking at the long list of ingredients, I know the recipe may look complicated, but there is nothing to it, even for a novice cook.
If you are searching for delicious vegetarian gluten-free Italian recipes, why not try this Cauliflower Quinoa Dumplings in Creamy Marinara Sauce dish. This gluten-free, vegetarian dinner is super tasty and also healthy.
This is a healthy meatless lazy night type of meal. Serve with a salad, simple parsley rice or over gluten-free pasta. Enjoy!
Another delicious gluten-free cauliflower recipe is our popular Chicken and Chorizo Cauliflower Paella.
Let's Connect!
Be sure to FOLLOW US on FACEBOOK and PINTEREST.
Many thanks!
Kristina xx
Cauliflower Quinoa Dumplings in Creamy Marinara Sauce
Published on May 26, 2018
by
Kristina Stosek
Instructions
1.

In a large bowl combine dumplings ingredients and refrigerate for 15 minutes

2.

In the meantime using a large saucepan heat olive oil over medium heat. Add garlic, basil and cayenne pepper and sauté until fragrant. Whisk in tomato sauce, cream and 1/4 cup of cheddar cheese. Bring to a boil, then remove from the heat. Season with salt to taste and set aside

3.

Preheat oven to 375 F and brush an 8 x 10-inch baking dish with oil

4.

For the dumplings; wet your hands with water and shape into 12 equal size dumplings. Place dumplings 1/4-inch apart in the baking dish and pour the sauce over top. Cover the dish with a lid or foil paper and bake for 30 minutes

5.

Remove the foil paper and scatter the remaining cheese over the dumplings. Bake for 15 more minutes. Rest for 15 minutes before serving
Leave a Comment
Kristina
Isla it is 1 and a 1/4 cup
Hello is that 1/4 cup of cream? Or 1 and 1/4 , thanks
delicious and a lot easier to make than it looks. I will definitely make this quinoa recipe again
Kristina
thank you, that is great to hear!
OMG just made this recipe....so so good. Thank you!