Cauliflower Quinoa Dumplings in Creamy Marinara Sauce
Prep Time
15 Minutes
Difficulty
Easy
Cook Time
45 Minutes
Serves
4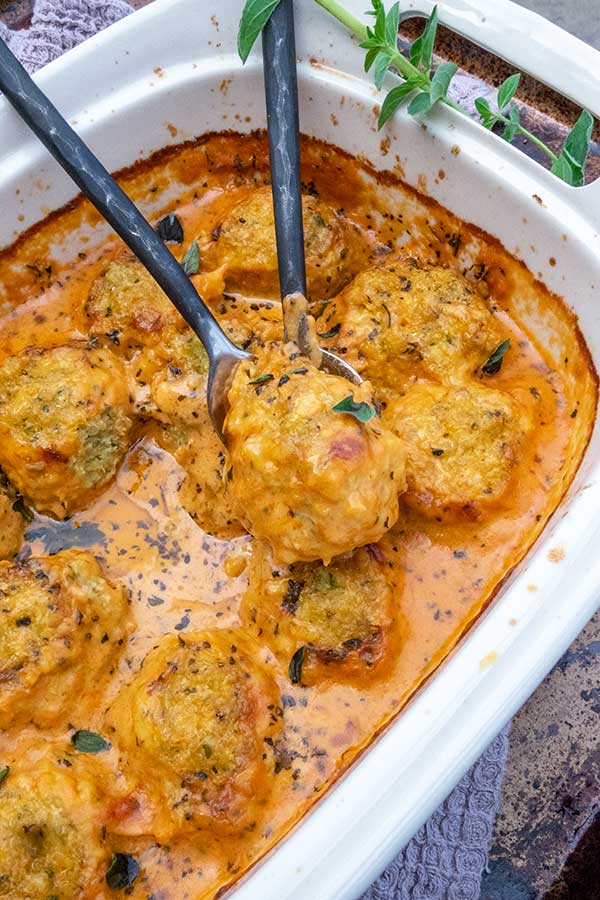 Average Rating: 5 | Rated By: 8 users
Cauliflower Quinoa Dumplings in Creamy Marinara Sauce are the best! If you are a lover of Italian food you will adore this outrageously delicious vegetarian dish.
The vegetarian dumplings are made with cauliflower rice, quinoa, parsley, garlic, oregano and eggs. They are light and flavourful and super easy to make. To make the dumplings, all you do is mix the ingredients and chill for 15 minutes. Then, you form small dumplings and place them in a baking dish. That is it for the dumplings.
For the creamy marinara sauce, again easy! Saute the garlic in olive oil with basil, and if you like a bit of spice add some cayenne pepper. For the next step, whisk in tomato sauce, cream and cheddar cheese until melted. Once the sauce is done, pour it over the dumplings and bake covered until done. Just before the dumplings are done cooking, scatter the remaining cheese over the top and bake few more minutes until the cheese has melted. Done! I know, looking at the long list of ingredients the recipe may look complicated, but as you can see it is super easy to put together. The flavourful creamy marinara sauce ties everything together beautifully. I make my sauce extra spicy because I love spicy food, but feel free to add as much or as little cayenne pepper as you like.
If you are looking to make vegetarian Italian food, you should try this recipe. Not only it is super tasty but it is also healthy. This dish is ideal for a healthy meatless lazy night. Serve with a salad, rice or over gluten-free pasta. Enjoy!
Another delicious gluten-free cauliflower recipe is our famous Chicken and Chorizo Cauliflower Paella ♥
Ingredients
CAULIFLOWER QUINOA DUMPLINGS
2 cups cauliflower rice
1 cup cooked quinoa, cooled
1 cup chopped fresh parsley
3 large eggs, whisked
1 Tbsp. Extra virgin olive oil
2 tsp. GF dried oregano
1 garlic clove, minced
1/2 tsp pure sea salt
1/4 tsp. GF ground black pepper
CREAMY MARINARA SAUCE
1 Tbsp. Extra virgin olive oil
2 garlic cloves, minced
1 Tbsp. GF dried basil
Pinch of GF cayenne pepper (optional)
1/2 cup pure tomato sauce
1 1/4 cup cream
Sea salt to taste
1 cup grated cheddar cheese, divided
*As an Amazon Associate and member of other affiliate programs, I earn from qualifying purchases. Please check out my sponsorship and disclosure policy page for more details
Instructions
In a large bowl combine dumplings ingredients and refrigerate for 15 minutes
In the meantime using a large saucepan heat olive oil over medium heat. Add garlic, basil and cayenne pepper and cook for 1 minute. Whisk in tomato sauce, cream and 1/4 cup of cheddar cheese. Bring to a boil, then remove from the heat. Season with salt to taste and set aside
Preheat oven to 375 F and brush an 8 x 10-inch baking dish with oil
For the dumplings; wet your hands with water and form 12 equal size dumplings. Place dumplings 1/4-inch apart in the baking dish and pour the sauce over top. Cover the dish with a lid or foil and bake for 30 minutes
Remove the foil and scatter the remaining cheese over the dumplings. Bake for 15 more minutes. Rest for 15 minutes before serving
Similar Recipes
Gluten Free Broccoli Quinoa Cheese Casserole
This easy to make gluten free casserole is ideal for cool windy nights. Comfort food is the word when making this delicious recipe. The combination of broccoli quinoa, corn and cheese, topped with lean bacon makes this into an outstanding weeknight meal Quinoa and broccoli are well known for their health benefits making this delicious […] Read More
Prep Time
10 Minutes
Difficulty
Easy
Cook Time
45 Minutes
Serves
4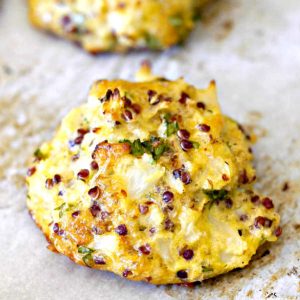 Gluten Free Cauliflower Quinoa Tidbits
Healthy Gluten Free Cauliflower Quinoa Tidbits… These melt in your mouth savoury morsels go especially well with Baked Spinach Ricotta Dip or a hot sauce. Just grab some cauliflower, cheddar cheese, quinoa, eggs, and some basic ingredients shape it into small balls and bake. If you are looking for a healthier snack, or a gluten […] Read More
Prep Time
15 Minutes
Difficulty
Easy
Cook Time
20 Minutes
Serves
16
Gluten Free Quinoa Pork Risotto
Not sure if you like quinoa? Try this easy to make gluten-free quinoa pork risotto recipe. This delicious risotto made with quinoa, pork tenderloin, black beans, red pepper and spices will surely change your mind. Quinoa is a well-known gluten-free superfood, rich in fiber, protein and many important minerals. Serve with a light cucumber salad Read More
Prep Time
15 Minutes
Difficulty
Easy
Cook Time
35 Minutes
Serves
4