Chicken and Chorizo Cauliflower Paella
Published on Feb 28, 2018
by
Kristina Stosek
Prep Time:

15 minutes
Cook Time:

30 minutes
Serves:

4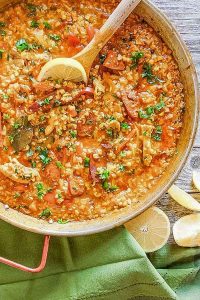 ​This post may contain affiliate links, please see our
privacy policy
for details
This chicken and chorizo cauliflower paella is an easy weeknight meal made in one skillet. Spain is famous for its paella dish which is typically made with rice, vegetables, chicken, chorizo and or seafood. In this recipe, I substituted cauliflower for the rice, making this a low carb meal. For protein, I used chicken and chorizo sausage, which is made of pork and is highly seasoned, adding a lot of flavour to this Spanish meal. Chorizo sausage is used mainly in Spanish and Mexican cuisine. 
For extra flavour and a little heat, I used spices such as paprika, saffron, bay leaf and cayenne pepper. Saffron, often used in Spanish recipes, is especially delicious in paella because of its intense flavour. And let us not forget the impressive health benefits, saffron is a powerful antioxidant. This cauliflower paella dish is gluten-free, low carb, paleo and keto friendly. Paella is often served with roasted peppers, fried pimientos or bread. What I love about this recipe, it is quick and easy to prepare, and more importantly, it is made with cauliflower and not rice making this popular dish healthier and lower in carbs
If you like Spanish cuisine check out these gluten-free Spanish recipes
Chicken and Chorizo Cauliflower Paella
Published on Feb 28, 2018
by
Kristina Stosek
Instructions
1.

Heat olive oil in a paella pan or a large skillet over medium-low heat. Add onions and garlic and cook until softened about 5 minutes. Add bell pepper and cook for another minute stirring frequently

2.

Increase heat to medium-high and add chicken, cook until the chicken is no longer pink. Add paprika, saffron, bay leaf, cayenne pepper flakes, and chorizo. Stir well to coat everything with the spices

3.

Add tomato sauce, 3 1/2 cups of chicken broth and season with salt. Reduce heat to medium and cook for 15 minutes. Add cauliflower and parsley and bring to boil. Cook for 5 more minutes

4.

Whisk together remaining chicken broth with arrowroot/tapioca and add to the paella. Cook until the sauce thickens about 2 minutes. Drizzle with fresh lemon juice and set aside for 10 minutes before serving
Leave a Comment
Kristina
I am sorry you didn't enjoy it. You can always increase the chicken and the sausage and reduce the mount of cauliflower.
Not that great to be honest. It's okay, but I wouldn't make it again. Also not sure about the amount of cauliflower. Seems like way too much