Keto Baked Meatballs in Tomato Cream Sauce
Published on Oct 02, 2018
by
Kristina Stosek
Prep Time:

15 minutes
Cook Time:

60 minutes
Serves:

6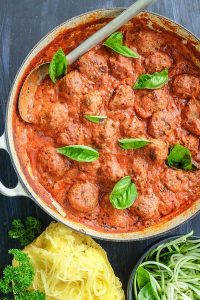 ​This post may contain affiliate links, please see our
privacy policy
for details
This Keto Baked Meatballs in Tomato Cream Sauce recipe is an easy Keto Italian meal that is almost effortless.
first the keto meatballs
First, you make the meatballs, bake them and then add the sauce and bake a little longer.
then the sauce
The sauce is deliciously spiced, creamy and takes less than 10 minutes to make.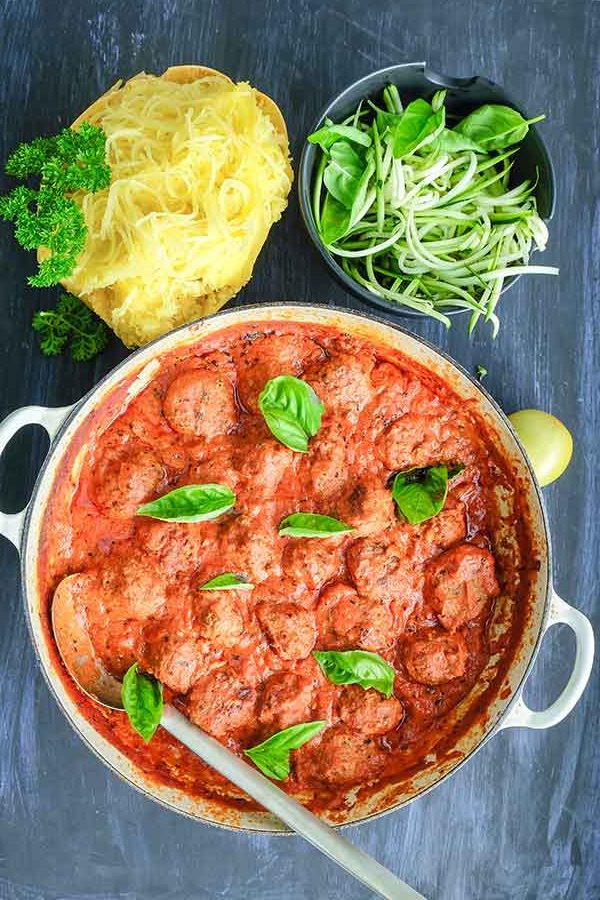 keto Italian dinner in no time
The meatballs are made with chicken, beef, zucchini, mushrooms and plenty of spices, making them outstanding! Combine the two, and you have a winning dinner for 6 or if you have hungry teenagers make it 4!
This recipe makes 24 meatballs, so there is plenty for everyone.
the total net carbs
Total net carbs are approximately 10 grams per serving.
add a low carb side and keep the dinner keto
To keep the carbs low I usually serve this keto baked meatballs in tomato cream sauce dish with zucchini noodles or zero carb noodles.
But you can also serve the keto meatballs in cream sauce with spaghetti squash. This squash has only 6.5 carbs per 100 grams.
So what is the best part about this keto gluten-free dinner? Everything!
Keto Baked Meatballs in Tomato Cream Sauce
Published on Oct 02, 2018
by
Kristina Stosek
Instructions
1.

2.

Preheat oven to 425 F and oil a 9x13-inch baking dish

3.

Place zucchini and mushrooms in a food processor and pulse about 10 times until the veggies are finely chopped but not mushy

4.

Add remaining ingredients and pulse until everything is blended. About 10 times. If you do not have a food processor grate the veggies and then combine everything together

5.

Dip an ice cream scoop into cold water and scoop out the meat mixture, and shape them into balls. You should have about 24 meatballs. Place the meatballs in the prepared baking dish. Bake for 15 minutes. You can also roll them with your hands, just dip your hands in cold water first

6.

7.

While the meatballs are baking. In a large saucepan sauté garlic and onions in olive oil until soft. About 5 minutes

8.

Stir in spices for about 30 seconds, until fragrant

9.

Add tomato sauce, cream and water and carefully stir to combine. Cook until the sauce starts to simmer. About 3 minutes. Set aside until the meatballs are done

10.

Pour the sauce over the meatballs and cover the dish with foil. Reduce oven temperature to 375 F and bake for 30 minutes. The sauce will thicken as it cooks, if it gets too thick add some water or cream. Enjoy!