Taco Stuffed Roasted Kabocha
Prep Time
15 Minutes
Difficulty
Easy
Cook Time
35 Minutes
Serves
4
Be the first to rate this recipe.
Casual style Mexican inspired cheesy taco stuffed roasted kabocha. Keeping things on the healthier side, this roasted kabocha stuffed with the most delicious loaded taco filling makes the list of healthy gluten-free recipes and is keto friendly.
Kabocha, also known as Japanese pumpkin, is a naturally sweet squash lower in calories and carbs than other winter squash varieties. One cup of kabocha has approximately 49 calories and 8 grams of net carbs per cup.
This healthy squash is also packed with beta carotene (Vitamin A), vitamin C, and other essential minerals. Also, the winter squash has 1.8 grams of protein per one cup and is dietary fibre-rich.
This healthy squash looks like a small pumpkin with thick green skin and orange flesh. Kabocha tastes like something in between sweet potato and butternut squash, except a little sweeter.
And, you can also eat the skin once it is roasted. This squash is my personal winter squash favourite.
about the taco filling,
I can't tell you enough how delicious the taco meat filling is. To start, the meat is browned with onions. You can use chicken or beef. Then all the spices with garlic are added. I used chipotle chilli powder, cumin, oregano, and my personal favourite smoked paprika.
The paprika and chipotle chilli powder add extra flavour, but if you don't have the two spices, use regular paprika and chilli powder.
For spiciness, I added crushed red pepper flakes, and I also included a sweetener and fresh lime juice. Adding something sweet and tart accentuates the flavours.
Next, I added salsa, sour cream and Mexican cheese to the mix. These three ingredients made the difference, and everything so much tastier with a little creaminess.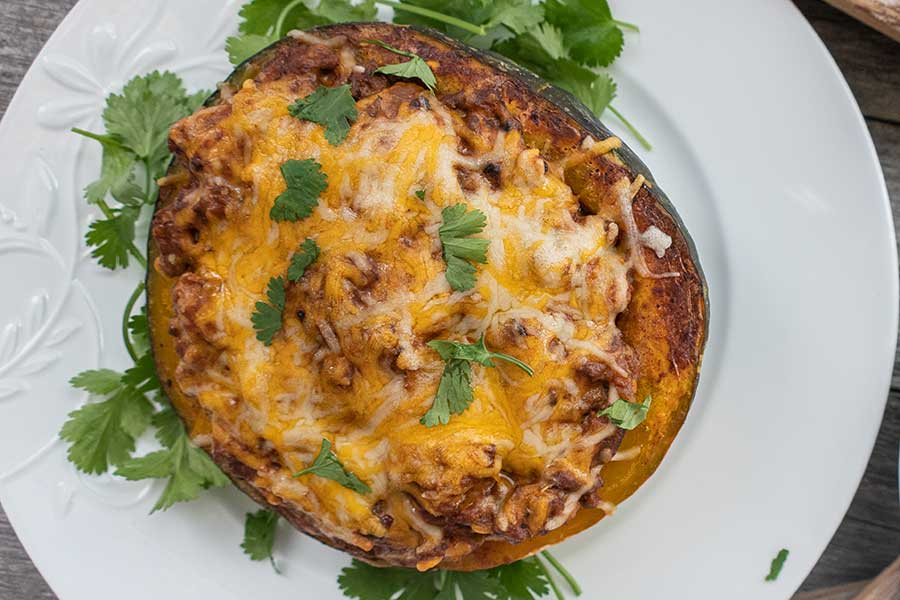 Before the kabocha is filled with this incredibly tasty taco filling, the squash is halved and roasted. The gluten-freee taco filling is then added to the roasted kabocha and topped with some more cheese.
Next, the squash is baked for a few more minutes, just long enough to re-heat the filling and melt the cheese.
If you like Mexican food even a little, you will love this healthier version of serving tacos. To serve, I like to add either full-fat plain Greek yogurt or sour cream, salsa and fresh cilantro.
You can even add avocado slices. The gluten-free taco meal is filling, flavourful, and so simple to make. Enjoy!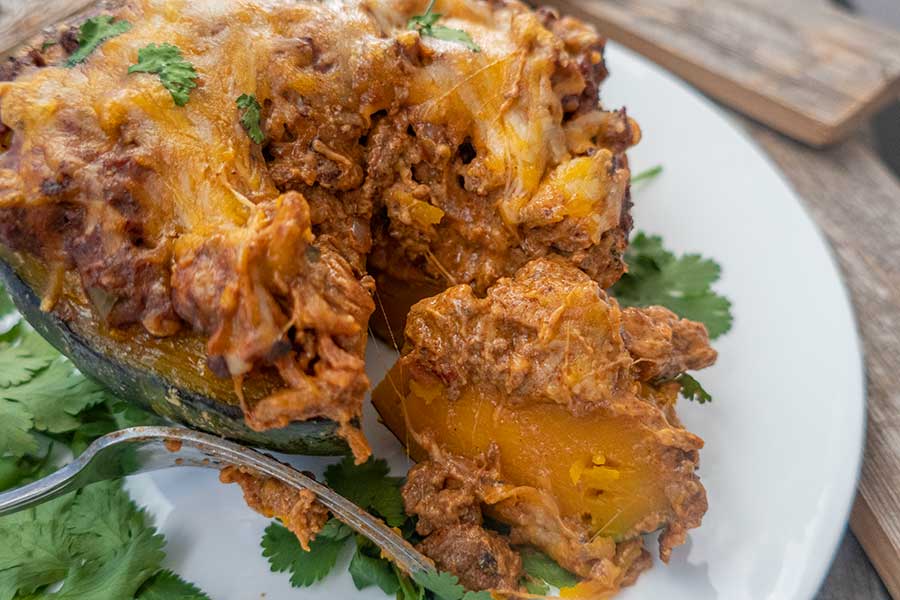 If you like squash, you will enjoy the cheesy buffalo turkey acorn squash bowls or the Thai red curry with chickpeas and butternut squash.
For the latest recipes and tips, please like us on Facebook or follow us on Pinterest.
Ingredients
1 medium-size kabocha
1 lb. lean ground beef or ground chicken
1 medium onion chopped 
3 garlic cloves, minced
1 tsp. GF dried oregano
1 tsp. GF ground cumin
1 tsp. Sweetener of choice (maple syrup, honey, coconut sugar, brown sugar)
1/4 tsp. GF crushed red pepper flakes or to taste
Sea salt and GF ground black pepper to taste
1/2 cup water
1/2 cup sour cream
1 Tbsp. Fresh lime juice 
2 cups shredded Mexican cheese (Cheddar and Monterey Jack cheese), divided
Optional toppings; sour cream or yogurt, salsa, chopped cilantro
*As an Amazon Associate and member of other affiliate programs, I earn from qualifying purchases. Please check out my sponsorship and disclosure policy page for more details
Instructions
Preheat oven to 400 F and line a rimmed baking sheet with parchment paper
Slice kabocha in half so that the stem side lies flat and remove the seeds. Kabocha is very hard, and if you need to soften it, place the squash in the microwave for 4 minutes. The skin will slightly soften. You will need a sharp knife or a cleaver to slice the squash
Season the squash with black pepper and place cut side down on the prepared baking sheet. Roast for 25 minutes or until the squash is fork-tender
While the squash is roasting, using a non-stick large skillet brown ground beef with onions. Stir in garlic and spices until combined. Add water, cover and cook over low heat for 20 minutes
Remove the skillet from the heat and stir in salsa, sour cream and 1 1/2 cup of cheese
Spoon beef mixture into the roasted squash and sprinkle with remaining cheese. Return squash in the oven and roast 10 more minutes, until the mixture is heated through and the cheese has melted
To serve, using a sharp knife slice the stuffed squash in half and top with desired toppings
Similar Recipes
4-Ingredient Double Stuffed Butternut Squash
This 4 Ingredient Double Stuffed Butternut Squash is tasty, cheesy and super easy to make. This gluten-free, vegetarian dish features butternut squash and is made with only four ingredients plus spices.  The stuffing is made with yogurt, cheddar cheese, and green onions. For added healthiness, I used mild-flavored turmeric, a spice with powerful antioxidants.  The […] Read More
Prep Time
10 Minutes
Difficulty
Easy
Cook Time
50 Minutes
Serves
4
Squash With Pesto Cream Sauce Pasta (Gluten-Free)
This gluten-free recipe is all about healthy Squash With Pesto Cream Sauce and Pasta. The sauce is made with seasonal butternut squash and tender young zucchini and with only a handful of ingredients. You will find that this most delicious dish is super easy to whip up. quick and easy details for this squash with […] Read More
Prep Time
10 Minutes
Difficulty
Easy
Cook Time
20 Minutes
Serves
6
Baked Yams Stuffed with Roasted Spiced Veggies
Baked Yams Stuffed with Roasted Spiced veggies is a vegetarian forward recipe with blended flavours, nutritionally packed and super easy to make. Keep it simple tonight with this hearty vegan baked yam dish. baked stuffed yams – the details… The delicious yams are first baked, then the yams are filled with roasted veggies such as […] Read More
Prep Time
15 Minutes
Difficulty
Easy
Cook Time
60 Minutes
Serves
2 - 4