Taco Stuffed Roasted Kabocha
Published on Jan 15, 2021
by
Kristina Stosek
Prep Time:

15 minutes
Cook Time:

35 minutes
Serves:

4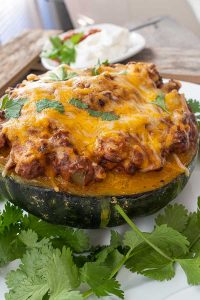 ​This post may contain affiliate links, please see our
privacy policy
for details
A casual-style Mexican-inspired TACO STUFFED ROASTED KABOCHA filled with cheesy taco filling without extra carbs and grains. This dish is a healthier version of tacos with exceptional flavor.
Why is taco stuffed roasted kabocha so good?
First, this is a healthier way to enjoy tacos. This gluten free vegetarian dish is hearty and satisfying even for big appetites. And the pumpkin is loaded with so much goodness and flavour. The surprising thing about the recipe is that even novice cooks can master it in minutes.
What is kabocha?
Kabocha, also known as Japanese pumpkin, is a naturally sweet squash lower in calories and carbs than other winter squash varieties. One cup of kabocha has approximately 49 calories and 8 grams of net carbs per cup.
This healthy squash is also packed with beta carotene (Vitamin A), vitamin C, and other essential minerals. Also, the winter squash has 1.8 grams of protein per one cup and is dietary fibre-rich.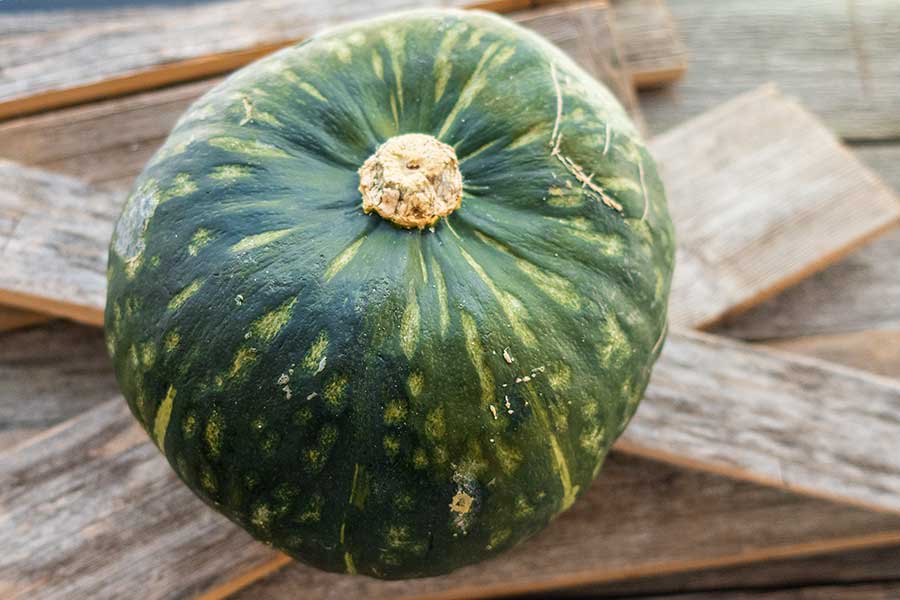 Can you eat the skin of roasted kabocha squash?
This healthy squash looks like a small pumpkin with thick green skin and orange flesh. Kabocha tastes like something in between sweet potato and butternut squash, except a little sweeter. And, you can also eat the skin once it is roasted.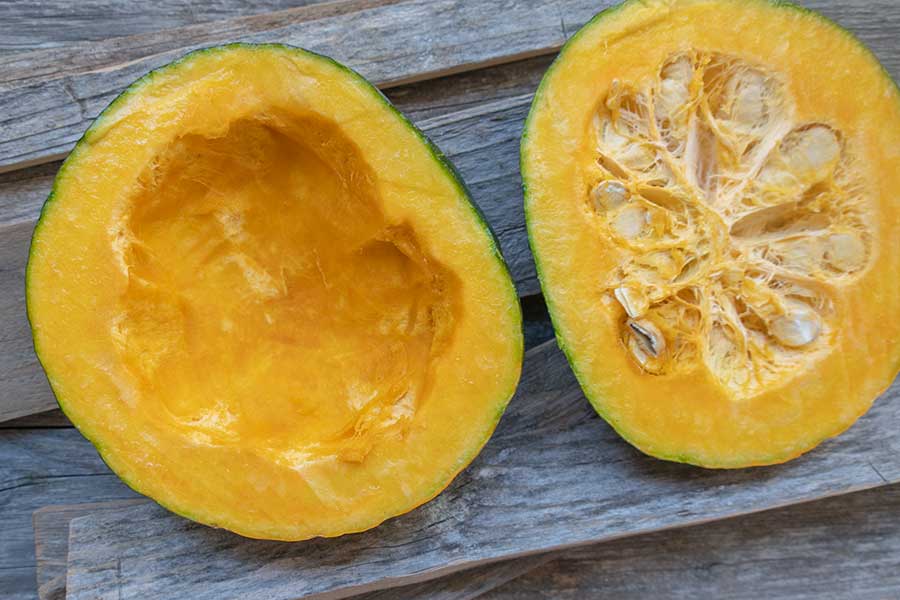 How to make taco filling for roasted kabocha?
To start, the meat is browned with onions. You can use chicken or beef. Once the meat is browned add the spices and garlic. The mix of spices used in the filling are chipotle chilli powder, cumin, oregano, and our personal favourite smoked paprika.
The paprika and chipotle chilli powder add a deep earthy flavour and change a good filling to outstanding one. However, if you don't have the two spices, use regular paprika and chilli powder.
For spiciness, some crushed red pepper flakes, and some sweeteness and fresh lime juice. Combining sweet and tart accentuates the flavour in the taco filling.
And finally, fresh salsa, sour cream and Mexican cheese to the mix. These three ingredients added creaminess and made everything so much tastier.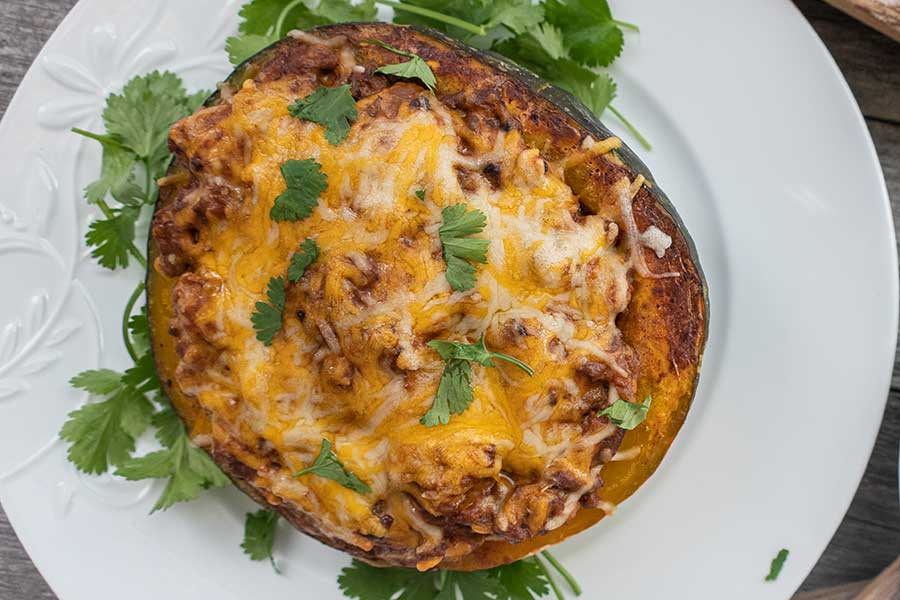 start with roasting the kabocha
Before the kabocha is filled with the flavorful taco filling, the squash is halved and roasted. The gluten-freee taco filling is then added to the roasted kabocha and topped with some more cheese.
Next, the squash is baked for a few more minutes, just long enough to re-heat the filling and melt the cheese.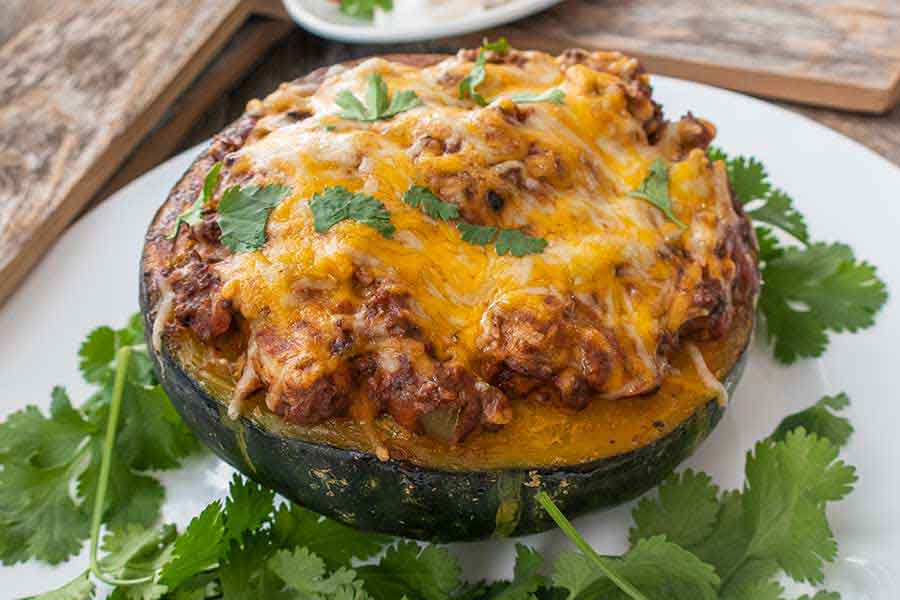 best way to serve taco stuffed kabocha
To serve, we we like to add full-fat plain Greek yogurt or sour cream, salsa and fresh cilantro. You can even add avocado slices. This gluten-free taco dish is super filling, flavourful, and so simple to make. Enjoy!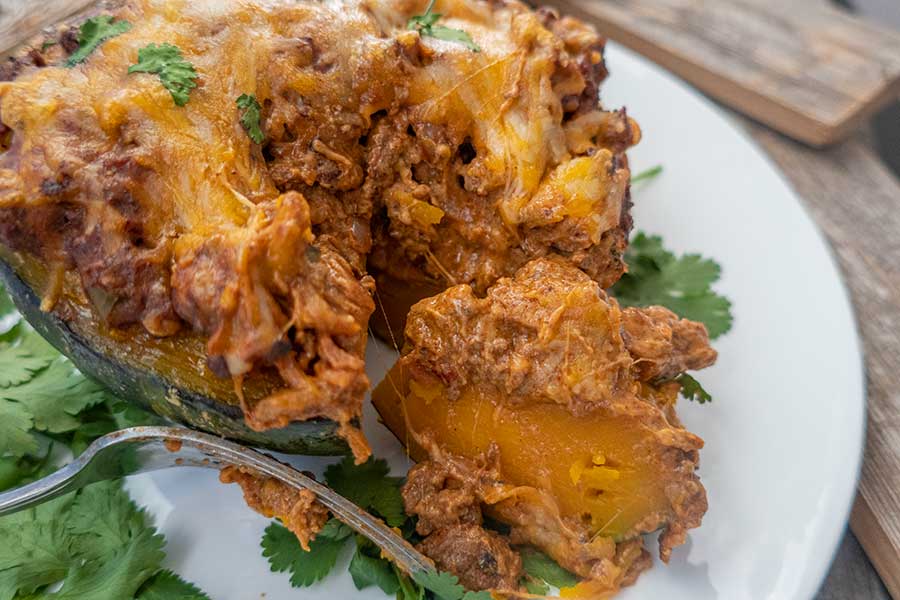 If you like pumpkin, you will enjoy the cheesy buffalo turkey acorn squash bowls or one of our favorites the healthy Thai red curry with chickpeas and butternut squash.
For the latest recipes and tips, please like us on Facebook or follow us on Pinterest.
Taco Stuffed Roasted Kabocha
Published on Jan 15, 2021
by
Kristina Stosek
Instructions
1.

Preheat oven to 400 F and line a rimmed baking sheet with parchment paper

2.

Cut the kabocha in half so that the stem side lies flat and remove the seeds. Kabocha is very hard, and if you need to soften it, place the squash in the microwave for 4 minutes. The skin will slightly soften. You will need a sharp knife or a cleaver to cut the squash

3.

Season the squash with pepper and place cut side down on the prepared baking sheet. Roast for 25 minutes or until the squash is fork-tender

4.

While the squash is roasting, using a non-stick large skillet, brown the beef with onions. Stir in garlic and spices until combined. Add water, cover and simmer over low heat for 20 minutes

5.

Remove the skillet from the heat and stir in salsa, sour cream and 1 1/2 cups of cheese

6.

Spoon beef mixture into the roasted squash and sprinkle with remaining cheese. Return squash to the oven and roast 10 more minutes, or until the stuffing is heated and the cheese has melted

7.

To serve, using a sharp knife cut the stuffed squash in half and top with desired toppings