Gluten-Free Kung Pao Cauliflower
Published on Aug 04, 2020
by
Kristina Stosek
Prep Time:

15 minutes
Cook Time:

20 minutes
Serves:

4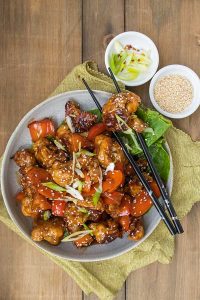 ​This post may contain affiliate links, please see our
privacy policy
for details
A vegan Gluten-Free Kung Pao Cauliflower recipe. The cauliflower is baked in a crispy light batter then tossed in the most flavourful kung pao sauce filled with veggies and topped with sesame seeds and green onions. This cauliflower recipe is a must try!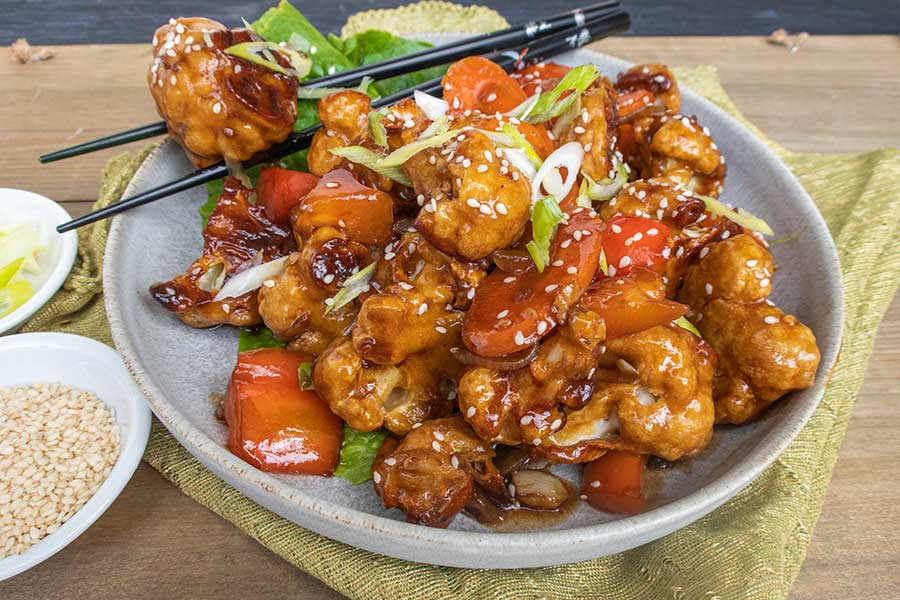 What is Kung Pao?
A Classic Kung Pao is a spicy, stir-fried Chinese dish made with chicken, peanuts or cashews, vegetables, and chilli peppers. In this kung pao recipe, I replaced chicken, a classic component of kung pao recipe, with healthy cauliflower.
The cauliflower provides great texture without skipping on flavour. The cauliflower is lightly coated with a crispy batter, making this gluten-free kung pao cauliflower dish absolutely delicious and satisfying.
I love to experiment with nourishing ingredients such as cauliflower. This cauliflower recipe is ideal for people that follow a vegan or vegetarian diet. Cauliflower is an excellent vegetable to use in keto recipes because it has only 3 net carbs per 100 grams.
This delicious vegetable is also low in calories, only 25 calories per 100 grams. Two of our most popular cauliflower keto recipes are the Garlic Mashed Fauxtatoes and our low-carb Chicken and Chorizo Cauliflower Paella.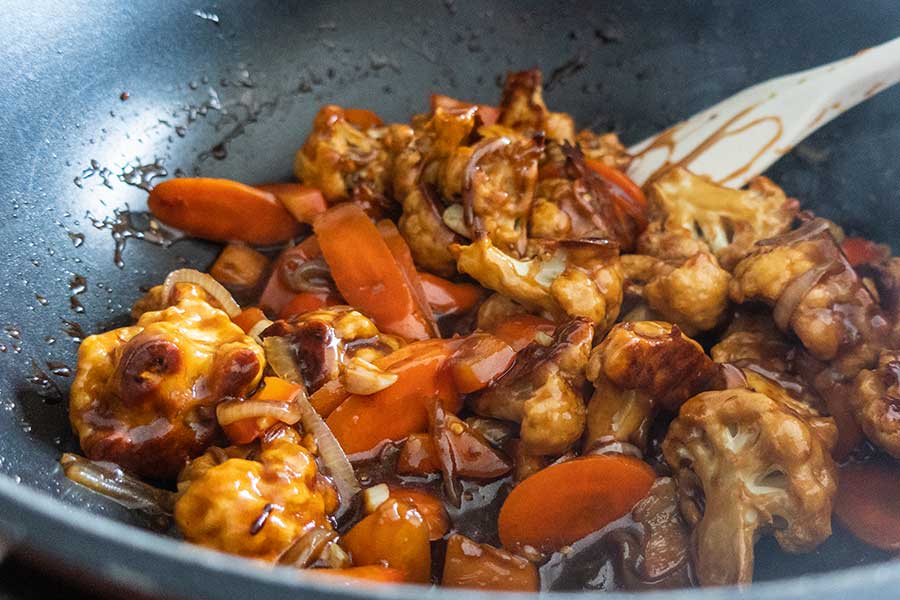 Kung Pao Cauliflower Recipe Details!
You may think that this gluten-free kung pao cauliflower recipe is complicated. Not at all! Once you prep the veggies, total hands-on time is 10 minutes. The cauliflower is made simply by tossing small cauliflower florets in a simple batter.
Gluten Free Batter
The gluten-free batter is made with protein-packed chickpea (garbanzo bean) flour, arrowroot starch, dairy-free milk and gluten-free tamari sauce. Then the cauliflower is baked until crispy. There is no deep-frying keeping this cauliflower recipe as healthy as possible.
How To Make Gluten Free Kung Pao Sauce?
The sauce is all about stir-frying onions, garlic, ginger, bell peppers, and carrots with a kung pao sauce. To make the kung pao sauce, mix tamari sauce, hoisin sauce, rice vinegar, maple syrup, arrowroot starch, sesame oil and water. Add the sauce to the veggies and cook until the sauce thickens and the vegetables are tender.
Once the gluten free sauce is ready, just before serving, add the crispy cauliflower and toss it with the sauce. As promised, this gluten-free kung pao cauliflower recipe is effortless.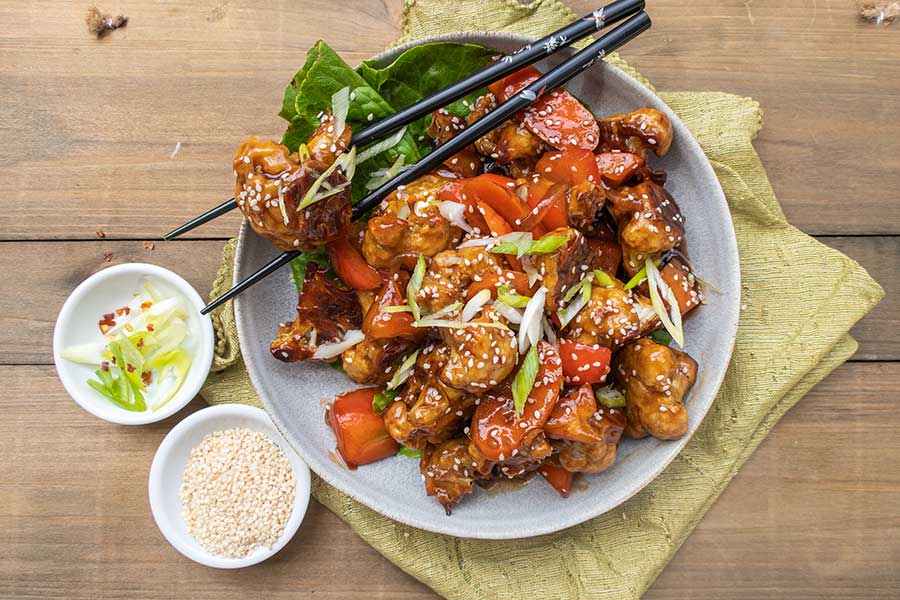 Although traditional kung pao recipe has added nuts such as peanuts or cashews, I did not add them to this recipe. I felt that this cauliflower recipe did not need them.
In addition, some people are allergic to nuts, so I did not want them in this recipe. You will find that this cauliflower dish tastes so incredibly delicious even without them!
What to serve with kung pao cauliflower?
There are many options to add to this dish. While the weather is hot, I like to serve the kung pao cauliflower in lettuce leaves. The crispy romaine lettuce brings freshness to the spicy kung pao cauliflower dish, keeping it on a light note.
Once the weather starts to cool, I like to serve it over rice noodles or rice. Just before serving, I add thinly sliced green onions and plenty of sesame seeds. Enjoy!
Let's Connect!
Be sure to FOLLOW US on FACEBOOK and PINTEREST.
Many thanks!
Kristina xx
Gluten-Free Kung Pao Cauliflower
Published on Aug 04, 2020
by
Kristina Stosek
Instructions
1.

Preheat oven to 425 F Line a large baking tray with parchment paper and brush with cooking oil

2.

In large bowl mix chickpea flour, 1/4 cup arrowroot starch, milk and tamari sauce. Add cauliflower pieces and toss to coat thoroughly. Spread cauliflower pieces on the baking sheet without touching and bake for 20 minutes

3.

In the meantime, using a large skillet or a wok heat the olive oil and sesame oil over medium heat. Add onions, garlic, bell pepper, carrots and chilli pepper flakes. Stir-fry for about 5 minutes, until the veggies start to soften

4.

Using a small bowl whisk together tamari sauce, hoisin sauce, rice vinegar, maple syrup, ginger, arrowroot starch and water. Add to the skillet and cook until the sauce starts to thicken, and the veggies are tender. If the sauce is too thick, add a little more water.

5.

Add the baked cauliflower pieces and gently toss to combine to coat the cauliflower with the sauce. Serve with preferred toppings.
Leave a Comment
Kristina
thank you Annette, I am thrilled that you liked the kung pao cauliflower!
OMG!!! This was amazingly delicious. Thank you so much for sharing this recipe!!!
Kristina
thats so good to hear Rosa, thank you
Kristina
Just made this cauliflower recipe, it was so good! thank you :-)