Instant Pot Buffalo Sweet Potato Soup {Vegan, Whole30, Paleo, Gluten-Free}
Prep Time
10 Minutes
Difficulty
Easy
Cook Time
13 Minutes
Serves
4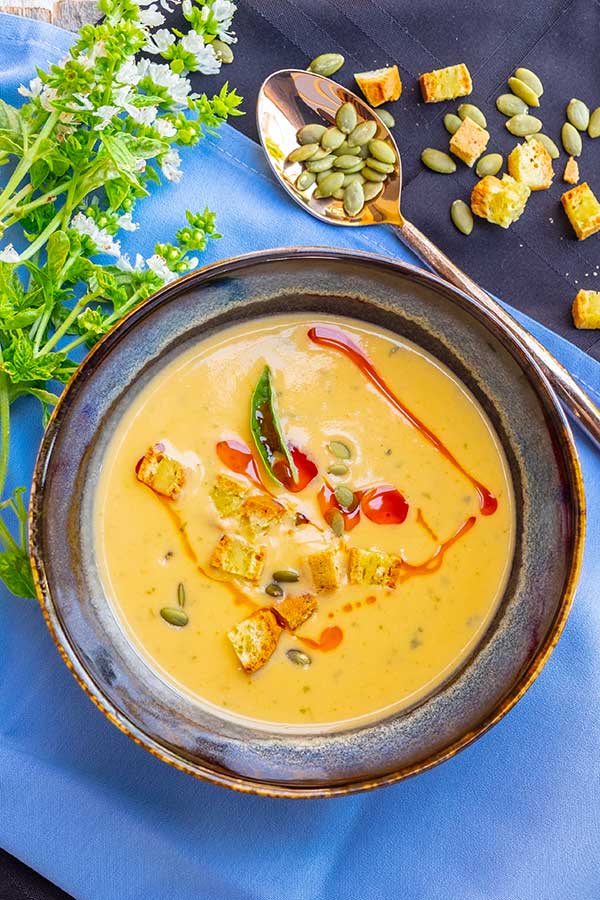 Be the first to rate this recipe.
This easy, healthy buffalo sweet potato soup is satisfying and jam-packed with most delicious flavour. The vegan soup is flavoured with coconut milk, fresh basil, and a little heat. I must admit I have been addicted to my Instant Pot because everything cooks so much faster and your retain more vitamins than you would by cooking on the stovetop even steaming. The best part is, once you set the Instant Pot to cook, you can walk away, how easy is that? If you don't have an Instant Pot, follow the same steps, except the cooking time extends to about 35 minutes, or until the sweet potatoes are tender. I love to serve this soup with my most popular keto nut-free pumpkin seed bread. On a side note, sweet potatoes are antioxidant powerhouses, they are anti-inflammatory and support healthy vision. Enjoy!
Ingredients
2 Tbsp. extra virgin olive oil

1 medium yellow onion, chopped

2 garlic cloves, chopped
1 tsp. GF paprika
2 medium sweet potatoes, (about 1 lb.) peeled and diced
1 (13.5-oz) can full-fat coconut milk
1 Tbsp. Apple cider vinegar

1/2 tsp Himalayan salt
Handful of fresh basil leaves, roughly chopped
Optional toppings; chili oil, pumpkin seeds, GF croutons, coconut cream
Instructions
Set Instant Pot to sauté. Add olive oil, once heated add onions and garlic. Sauté for 3 minutes. Stir in paprika and turn the Instant Pot off
Add all other ingredients, except the fresh basil. Cover, select the manual setting and cook on high pressure for 10 minutes
Once done cooking, use the quick release function and release the steam
Transfer to a high-speed blender and add basil. Blend until creamy. You can also use an immersion blender and blend the soup right in the Instant Pot. I used an immersion blender, less clean up :-)
Taste and adjust salt if needed. If the soup is too thick add a little more broth or water until you reach desired consistency. Serve with desired toppings. Enjoy!
Similar Recipes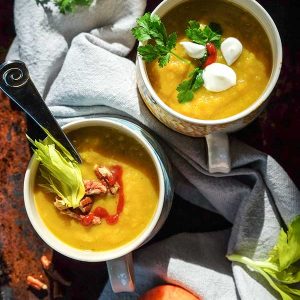 Sweet Potato And Apple Soup {Vegan, Grain-Free}
Happy Monday! Yes, it's the day after Super Bowl. Some of us may have indulged in hearty finger food and maybe some cocktails this weekend, so I thought let's start with something healthy and delicious this week. The weather is cold, so a nutritious, sweet and savoury velvety soup is perfect! The comforting combination of […] Read More
Prep Time
15 Minutes
Difficulty
Easy
Cook Time
35 Minutes
Serves
4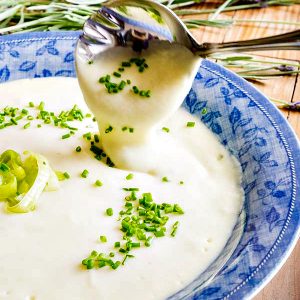 Vegan Vichyssoise Soup Recipe
Most of us hanker for authentic food experiences. This inspiration comes from France, the epicenter of culinary elegance. Vichyssoise soup is a chilled creamy soup made with leeks and potatoes. I have converted classic vichyssoise soup to a delicious vegan version. Potatoes are packed with energy-giving complex carbohydrates and are a good source of iron, folate […] Read More
Prep Time
15 Minutes
Difficulty
Easy
Cook Time
20 Minutes
Serves
4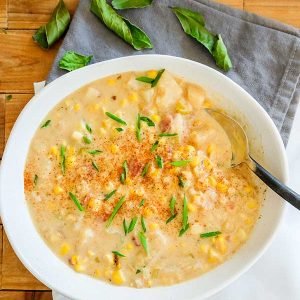 Fresh Corn Potato & Leek Chowder (Gluten-Free)
A crisp chill in the air is your cue to cook some hearty delicious chowders. Fresh corn, potato & leek chowder is one of my guilty pleasures. What could possibly be better then, charred sweet corn with potatoes and leeks in a thick creamy soup topped with freshly cooked crispy bacon crumbles? This exceptionally simple […] Read More
Prep Time
15 Minutes
Difficulty
Easy
Cook Time
35 Minutes
Serves
4