Simply Roasted Sweet Potato Recipe
Published on Mar 15, 2015
by
Kristina Stosek
Prep Time:

5 minutes
Cook Time:

25 minutes
Serves:

4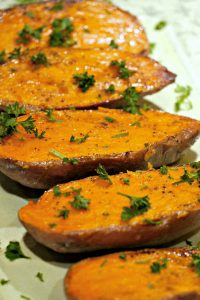 ​This post may contain affiliate links, please see our
privacy policy
for details
Most delicious roasted sweet potato dish made simply? This recipe is perfect for a quick and easy side for a weeknight meal or entertaining guests.
The sweet potatoes are roasted to perfection with a touch of olive oil, cumin, black pepper and sea salt. Serve them alongside your favorite protein for a complete meal. Or with a vegan main such as The Gluten-Free Vegan Schnitzel to keep this a plant-based easy weeknight meal.
What is a sweet potato?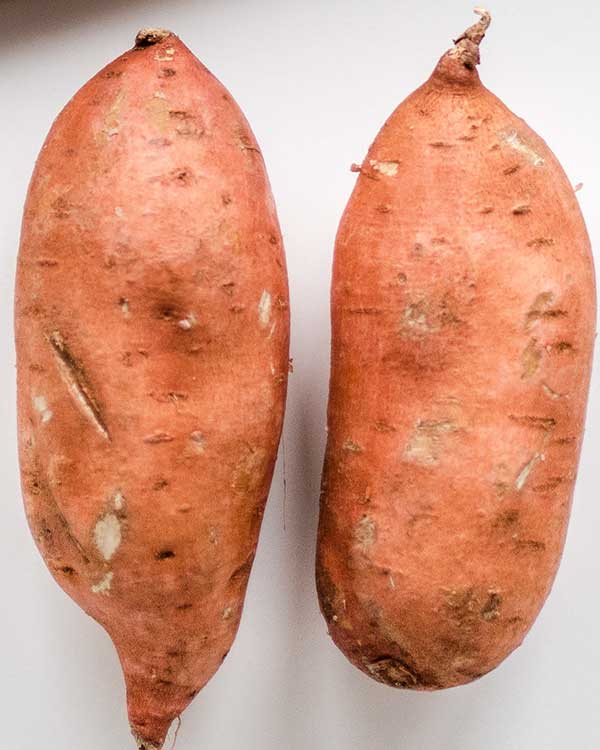 Sweet potato is a starchy, sweet-tasting root vegetable often used in place of white potatoes. Sweet potatoes are rich in vitamins A and C and are a good fibre source. This vegetable can be roasted, mashed, or baked, making them a delicious addition to any meal.
health benefits of sweet potato
There are many health benefits to eating sweet potatoes. They are a good source of fiber, which can help to regulate digestion. They also contain vitamins A and C, essential for immunity and skin health. They are also a good source of potassium, essential for proper muscle function.
FAQ about sweet potato
1. What is the best way to cook sweet potatoes?
There are many ways to cook sweet potatoes, but roasting is one of the simplest and most delicious.
2. What are some other ways to cook sweet potatoes?
You can also boil, bake, or fry sweet potatoes. Each method will give the sweet potato a different flavor and texture. Experiment to find your favorite!
3. What are some tips for cooking perfect sweet potatoes?
Here are a few tips:
– Choose sweet potatoes that are uniform in size, so they cook evenly.
– Cut sweet potatoes into even pieces, so they cook through evenly.
– Roast at a high temperature, so the outside of the sweet potato gets nice and crispy and perfectly cooked on the inside.
a healthy side to everyday meals
When looking for a side dish to add to our main, it is typically a vegetable. And preferably one that is nutrient-packed to ensure that our meals are well balanced to keep our bodies healthy.
The roasted sweet potato has a wealth of nutrients, making it a great option for those looking for a healthier alternative to traditional sides.
Plus, it's easy to make and can be tailored to your liking. In this recipe, I used cumin to add a decadent earthy flavour. However, nutmeg or cinnamon is also a great way to spruce up the sweet potato with flavour.
Why are roasted sweet potatoes so popular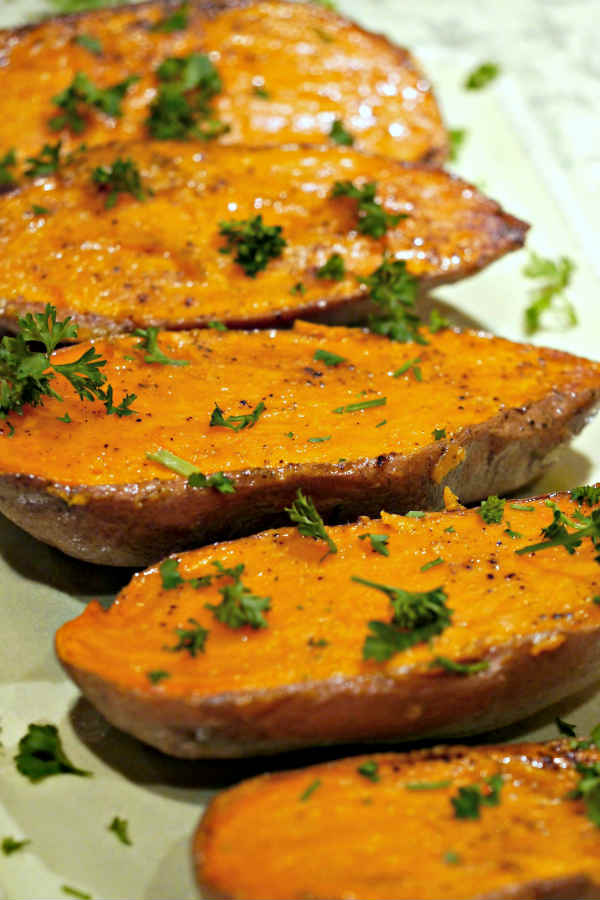 1. Sweet potatoes are a delicious and healthy option for any meal. And they are budget friendly compared to other veggies such as asparagus, bell peppers, mushrooms or squash.
2. Roasting sweet potatoes is a simple process that can be quickly done at home with just a few ingredients.
3. Roasting them is a great way to enjoy the natural sweetness of sweet potatoes.
4. Sweet potatoes are a nutritious option that can be enjoyed as part of a healthy diet.
5. They are one of the best sources of vitamin A and are lower in calories and net carbs than white potatoes. They are also higher in fiber, Vitamin C and B6 than white potatoes.
To conclude, this is a simple and healthy roasted sweet potato recipe. Sweet potatoes make an excellent side to your main or as a snack with a dollop of plain Greek yogurt. Enjoy!
Let's Connect!
Be sure to FOLLOW US on FACEBOOK and PINTEREST.
Many thanks!
Kristina xx
Simply Roasted Sweet Potato Recipe
Published on Mar 15, 2015
by
Kristina Stosek
Instructions
1.

Preheat oven to 400 F and line a baking sheet with foil

2.

Thoroughly wash the sweet potatoes and slice lengthwise in half

3.

Mix cumin, sea salt and pepper, and then sprinkle the foil

4.

Brush the cut side with olive oil and place facing down on the baking sheet

5.

Bake for 25 minutes or until tender

6.

Garnish with fresh parsley