Gluten-Free Apple Sponge Cake With Almond Topping
Prep Time
15 Minutes
Difficulty
Easy
Cook Time
35 Minutes
Serves
8
Average Rating: 5 | Rated By: 12 users
This gluten-free apple sponge cake has layers of thinly sliced apples finished with the most delicious almond topping. The fresh sweet-tart apples make this sponge cake super moist and not overly sweet. 
this apple recipe is all about the almond topping,
Add the crunchy almond topping to the mix, and you will find every slice irresistibly addictive.
Cooking with apples is super easy! In this recipe, I used two varieties, Granny Smith and Honeycrisp. Both apples are great for baking because Granny Smith is a juicy tart apple, and Honeycrisp is a sweet crispy apple.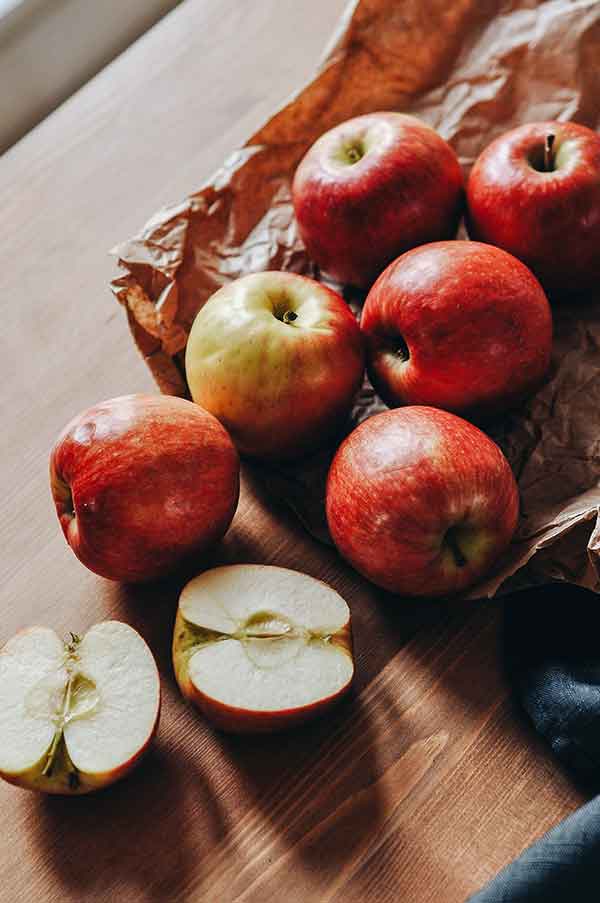 In this gluten-free apple sponge cake recipe, the two varieties will give you the perfect texture with a balanced sweet and tart flavour. 
In eastern Europe, this dessert is a staple in most homes. The cake is made simply with plenty of fresh apples, baked in a lightly sweetened sponge cake and finished with crunchy almond topping. 
All in all, this is a simple gluten-free apple dessert recipe. You will find that this melt-in-your-mouth coffee cake can be served for breakfast, as an anytime snack, or as a dessert.
a simple gluten-free apple dessert recipe,
This apple recipe is all about the simplicity of ingredients. However, the texture and flavour are second to none. You will need fresh apples and a few sliced almonds to start this recipe. Most likely, you have all the other ingredients in your gluten-free pantry.
This recipe has been in my family for many years. All I had to do was create a gluten-free version. Since this apple recipe is known to be simple, I wanted to keep it that way. To do this, I used only a gluten-free flour blend. 
With some other minor changes, this apple sponge cake came out just as I remember it, DELICIOUS!
Need more apple recipes? Check out these gluten-free recipes using fresh apples.
Let's Connect!
Be sure to FOLLOW US on FACEBOOK and PINTEREST.
Many thanks!
Kristina xx
Ingredients
3 large apples, peeled, cored, halved and thinly sliced. I used Granny Smith and Honeycrisp combo
3 large eggs
2 Tbsp. Extra virgin olive oil
1/4 cup sour cream
1 tsp. Pure vanilla extract or almond extract
2 tsp. GF aluminum-free baking powder
1/4 tsp. sea salt
ALMOND TOPPING
2 large eggs, at room temperature
1/4 cup melted unsalted butter
1/4 cup coconut sugar + 1 Tbsp.
1 cup sliced almonds
Note; I use coconut sugar in my recipes because it is low glycemic so no sugar spikes
*As an Amazon Associate and member of other affiliate programs, I earn from qualifying purchases. Please check out my sponsorship and disclosure policy page for more details
Instructions
Preheat oven to 400 F . Spray a 9-inch springform pan with cooking oil and line the bottom with parchment paper
Beat 3 eggs with sugar and olive oil until sugar dissolves. Add sour cream and vanilla and mix to combine
In a separate bowl whisk together flour, baking powder and salt. Add to the egg mixture and mix to combine
Arrange half the apples on the bottom of the pan. It is ok if they overlap a bit. Pour half the batter over the apples, then repeat with remaining apples and batter. Bake for 25 minutes
While the cake is baking; prepare the almond topping. Whisk 2 eggs with 1/4 cup of sugar and melted butter. Once the cake baked for 25 minutes, pour the egg mixture over the cake and scatter with almonds. Sprinkle with 1 tablespoon of sugar and bake for 10 more minutes
Remove the cake from the oven and cool. Using a sharp knife loosen the edges of the cake before removing from the pan
Similar Recipes
Gluten-Free Crust Free Apple Pie
Gluten-Free Crust Free Apple Pie – a true classic without the crust. The fresh juicy apples flavoured with cinnamon, lemon juice and creaminess of butter are what make this an outstanding apple pie. The crunchy nutty topping is made with oats, coconut sugar, vanilla, butter and almonds. Adding a nice finish to this crust-free apple […] Read More
Prep Time
15 Minutes
Difficulty
Easy
Cook Time
65 Minutes
Serves
6
Apple Pie Bread – (Gluten-Free, Vegan)
Meet one of my favourite gluten-free snacks, the Gluten-Free Apple Pie Bread! I am so excited about this gluten-free, vegan apple pie bread recipe. Moist and delicious and tastes like an apple pie. Honestly, it is soo good! Cooking and baking can be therapeutic and may also help to bust stress, and it does for […] Read More
Prep Time
10 Minutes
Difficulty
Easy
Cook Time
45 Minutes
Serves
8 slices
Easiest French Apple Cake – Gluten Free
Moist French Apple Cake filled with soft apples lightly scented with cinnamon. This gluten-free French dessert is made with fresh apples in an extra moist light cake. This lightly sweetened apple cake is probably one of the easiest gluten-free apple recipes for fall. There is nothing not to love about this French apple cake. a […] Read More
Prep Time
10 Minutes
Difficulty
Beginner
Cook Time
35 Minutes
Serves
8