Gluten-Free Apple Sponge Cake With Almond Topping
Published on Oct 04, 2019
by
Kristina Stosek
Prep Time:

15 minutes
Cook Time:

35 minutes
Serves:

8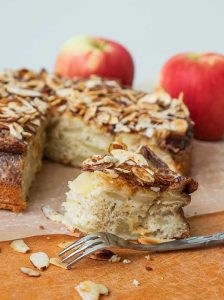 ​This post may contain affiliate links, please see our
privacy policy
for details
This gluten-free apple sponge cake has layers of thinly sliced apples and finished with the most delicious almond topping. The fresh sweet-tart apples make this sponge cake super moist and not overly sweet.
The VERY BEST Gluten-Free Apple Sponge Cake With Almond Topping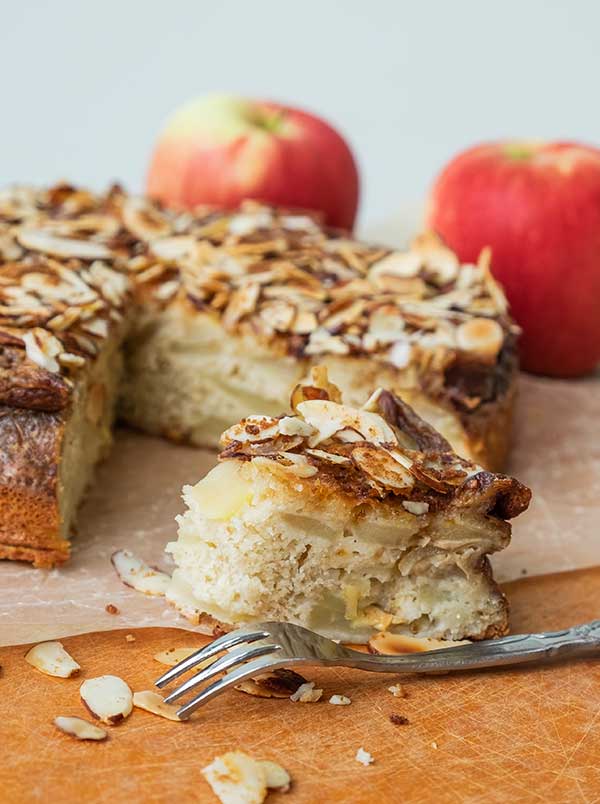 this gluten free apple dessert is all about the almond topping
Add the crunchy almond topping to the mix, and you will find every slice irresistibly addictive.
Cooking with apples is super easy! In this recipe, I used two varieties, Granny Smith and Honeycrisp. Both apples are great for baking because Granny Smith is a juicy tart apple, and Honeycrisp is a sweet crispy apple.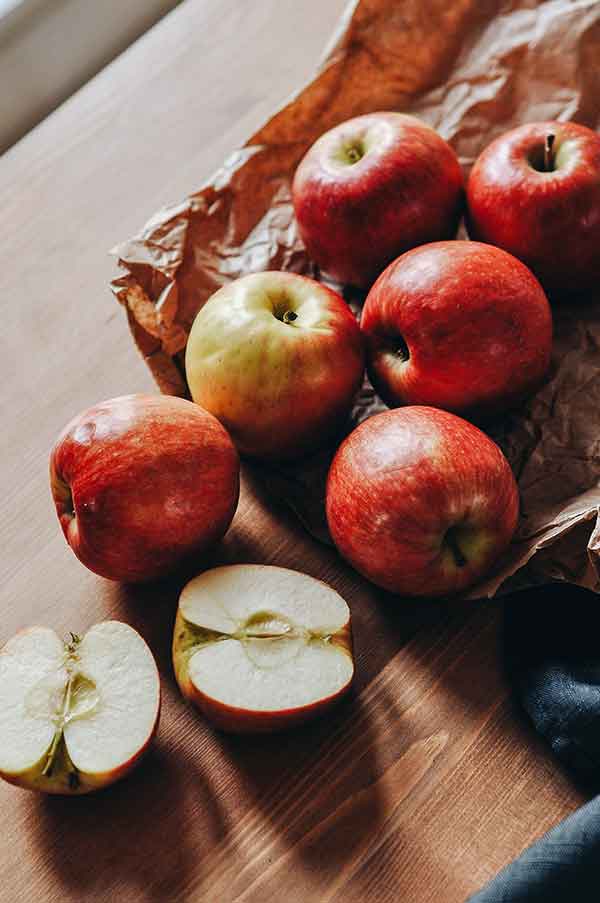 Things to know about baking with apples and sponge cake.
Baking with apples can lead to delicious treats like apple pies, pancakes, like these amazing Gluten-Free Apple Cinnamon Buckwheat Pancakes, and our favorite Gluten-Free Apple Pie Bars. Here are some essential things about baking with apples and sponge cake.
Choosing the Right Apples:
Different apple varieties have different textures and flavors. Some are better for baking than others. Popular baking apples include Granny Smith, Honeycrisp, Braeburn, and Jonagold. These apples are firm and hold their shape well when baked.
Peeling and Coring:
Most recipes will instruct you to peel and core the apples. You can do this with a paring knife or use an apple peeler/corer tool to make the process faster and easier.
Slicing or Chopping:
Depending on your recipe, you may need to slice, chop, or dice the apples. The size and shape of the apple pieces will affect the texture of
In this gluten-free apple sponge cake recipe, the two varieties Granny Smith and Honeycrisp apples will give you the perfect texture with a balanced sweet and tart flavour.
In eastern Europe, this dessert is a staple in most homes. The cake is made simply with plenty of fresh apples, baked in a lightly sweetened sponge cake and finished with crunchy almond topping.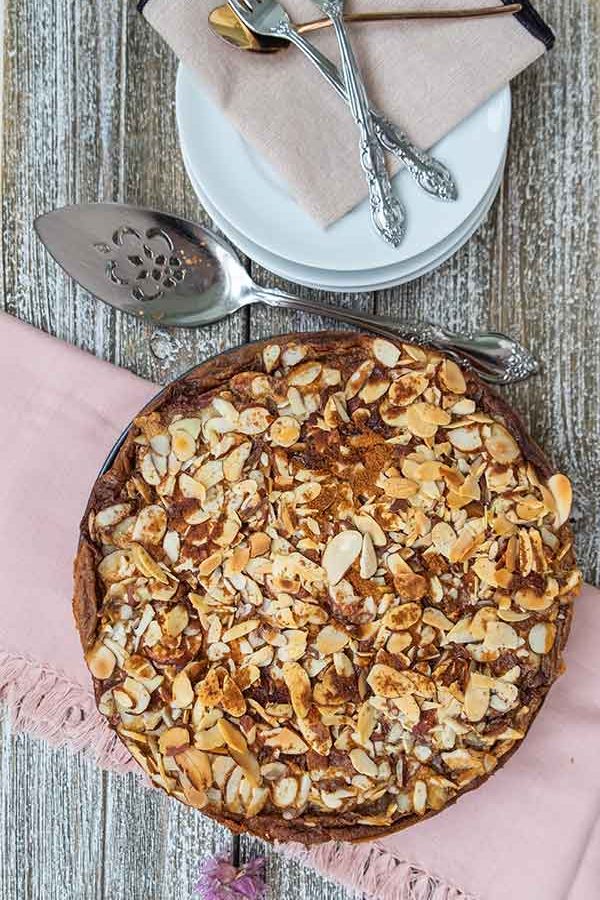 A Simple Gluten-Free Apple Sponge Cake Recipe
This apple recipe is all about the simplicity of ingredients. However, the texture and flavour are second to none.
You will need fresh apples and a few sliced almonds to start this recipe. Most likely, you have all the other ingredients in your gluten-free pantry.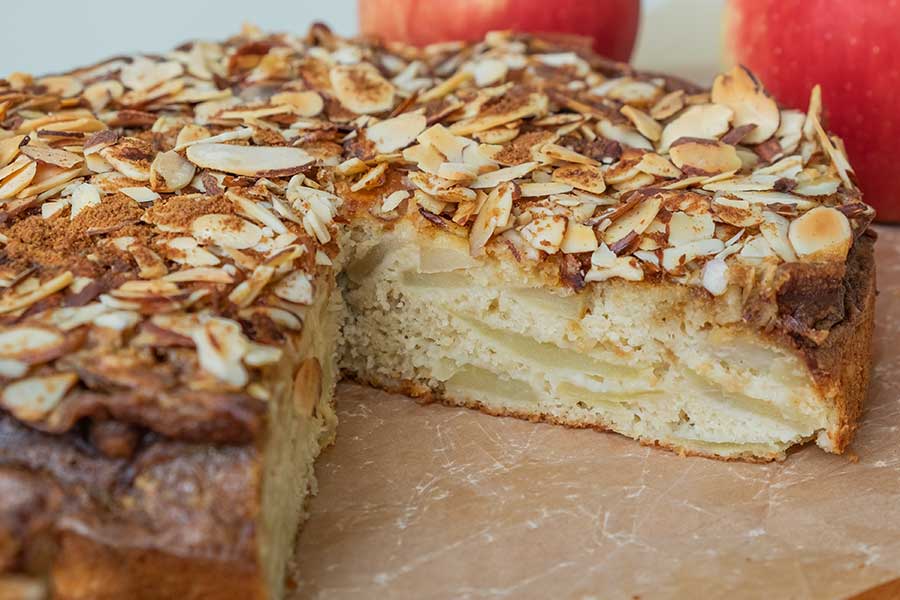 This recipe has been in my family for many years. All I had to do was create a gluten-free version.
Since this apple recipe is known to be simple, I wanted to keep it that way. To do this, I used a gluten-free flour blend.
With some other minor changes, this apple sponge cake came out just as I remember it, DELICIOUS! All in all, this is a simple gluten-free apple dessert recipe. This melt-in-your-mouth coffee cake can be served for breakfast, as an anytime snack, or as a dessert.
Need more apple recipes? Check out these gluten-free recipes using fresh apples.
Let's Connect!
Be sure to FOLLOW US on FACEBOOK or, check us out on PINTEREST. And don't forget to sign up for our newsletter. We always have something new and exciting for you!
Many thanks!
Kristina xx
Gluten-Free Apple Sponge Cake With Almond Topping
Published on Oct 04, 2019
by
Kristina Stosek
Instructions
1.

Preheat oven to 400 F . Spray a 9-inch springform pan with cooking oil and line the bottom with parchment paper

2.

Beat 3 eggs with sugar and olive oil until sugar dissolves. Add sour cream and vanilla and mix to combine

3.

In a separate bowl whisk together flour, baking powder and salt. Add to the egg mixture and mix to combine

4.

Arrange half the apples on the bottom of the pan. It is ok if they overlap a bit. Pour half the batter over the apples, then repeat with remaining apples and batter. Bake for 25 minutes

5.

While the cake is baking; prepare the almond topping. Whisk 2 eggs with 1/4 cup of sugar and melted butter. Once the cake baked for 25 minutes, pour the egg mixture over the cake and scatter with almonds. Sprinkle with 1 tablespoon of sugar and bake for 10 more minutes

6.

Remove the cake from the oven and cool. Using a sharp knife loosen the edges of the cake before removing from the pan
Leave a Comment
Kristina
thank you Angela for sharing, and sticking to the recipe!
When i made this recipe, i thought it wasnt gonna work, despite the good ratings. I thought the ovem temperature was too high (i had to cover the cake with foil half way through), i thought the batter wasnt enough and too thick. But i stuck to the recipe. And magic worked.... This absolutely beautiful and tasty cake came out! Well surprised!
Kristina
various flour blends may react differently. So happy to hear that you added more liquid and made it work. Thank you for the info
This cake is just the right amount of sweetness, but I had some difficulty with the recipe. I followed everything and ended with batter the consistency of peanut butter and it wouldn't spread over the apples at all. I put it back in the mixer and added 1/3 cup almond milk. It spread, but just barely. It will definitely make it again, but I may use GF flour with less xanthan gum and or add more liquid.