Gluten-Free Apple Pie Bars
Published on Sep 15, 2021
by
Kristina Stosek
Prep Time:

15 minutes
Cook Time:

45 minutes
Serves:

9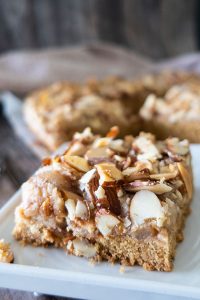 ​This post may contain affiliate links, please see our
privacy policy
for details
A perfect fall deliciousness, Gluten-Free Apple Pie Bars. Delicious cinnamon apples with a hint of nutmeg and vanilla nestled between a shortbread crust and topped with lightly sweetened crunchy almonds. YUM!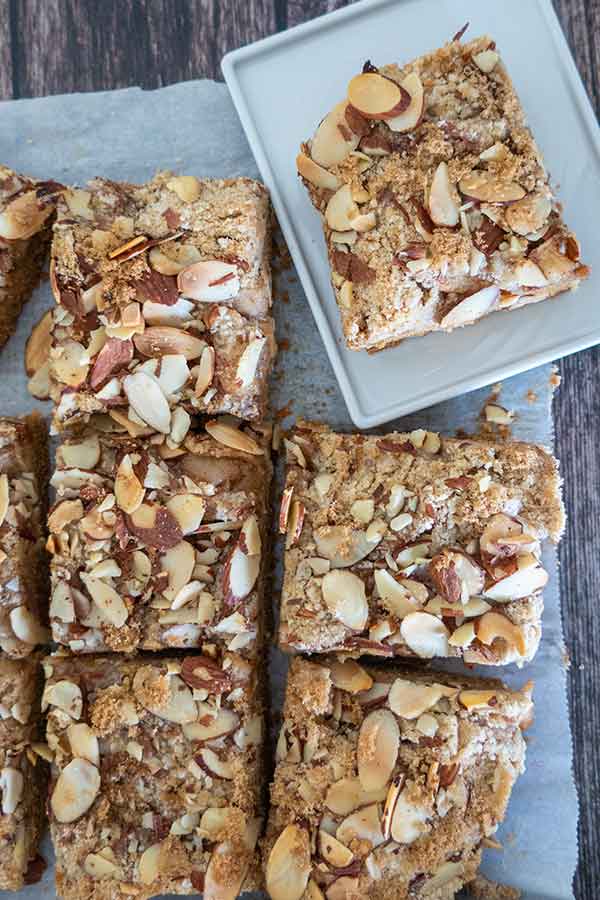 Easiest Gluten-Free Apple Pie Bars Recipe
This apple pie bar recipe is probably one of the easiest gluten-free snack recipes using healthy apples. I used honey crisp apples because I find they are perfectly sweet and excellent for baking.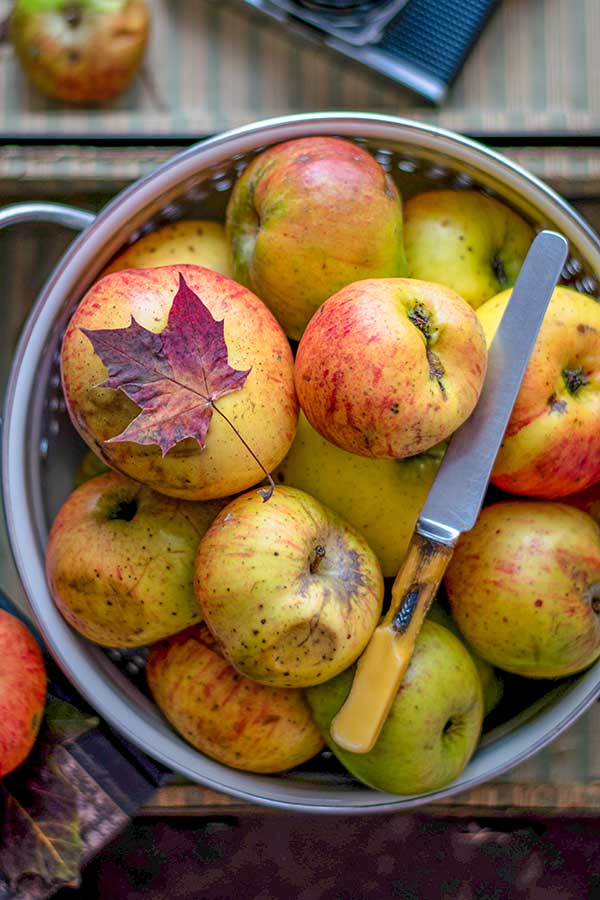 fall is all about apples
With the onset of fall, fresh apples are abundant everywhere. So whether you enjoy a day at a farm picking apples or get some at your local market, you know they will taste fresh, crispy and delicious.
As per Statista, apples are the second most consumed fruit in America, after bananas. This is why apple recipes are so popular, especially in the fall. Two of our most popular apple recipes are the Very Best Gluten-Free Apple Fritter Bread and the Gluten-Free Baked Apple Cider Donuts.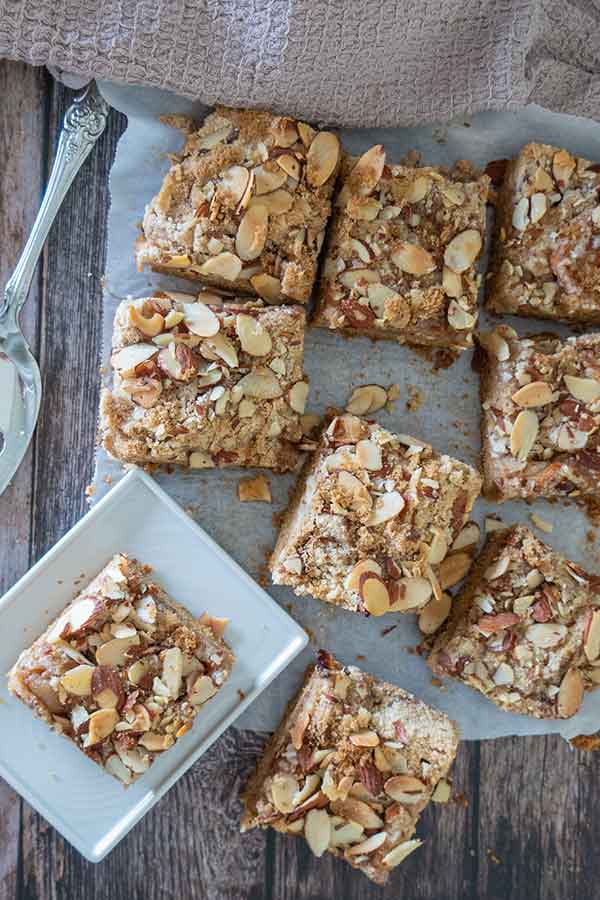 Gluten free apple pie bars to celebrate autumn!
This apple recipe is one of the simplest gluten-free sweet snacks to make. With the goodness of apples combined with buttery shortbread and crunchy almonds, you know this apple pie bar will be a winner.
Gluten free apple pie bar recipe details
You will love this gluten-free apple recipe because it is not complicated. The aroma of cinnamon apples while baking screams fall deliciousness, so let's get to it!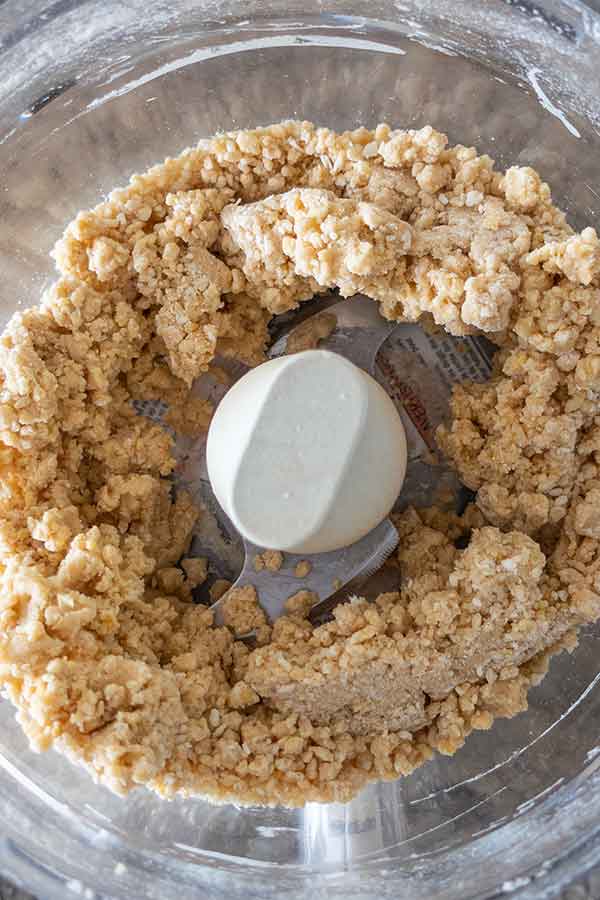 you need only a food processor to make the crust and topping
The entire crust and topping are made easily in a food processor. Begin with adding dry ingredients, toss in the butter and pulse to create coarse crumbs. Then add a couple of eggs and briefly pulse. Done!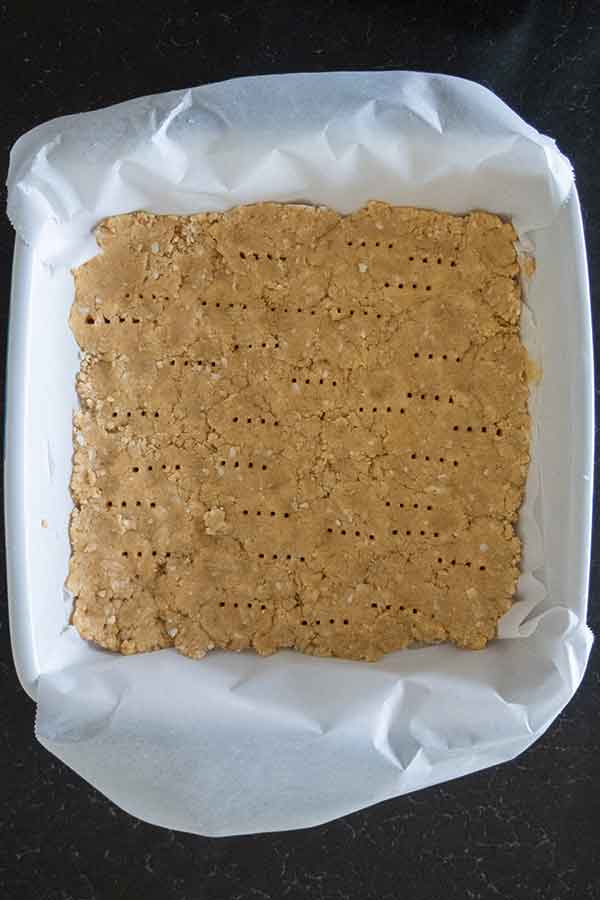 Some of the dough is pressed in the baking dish and baked. In this recipe, the apple pie dough is used for the crust and the topping, keeping the recipe super simple!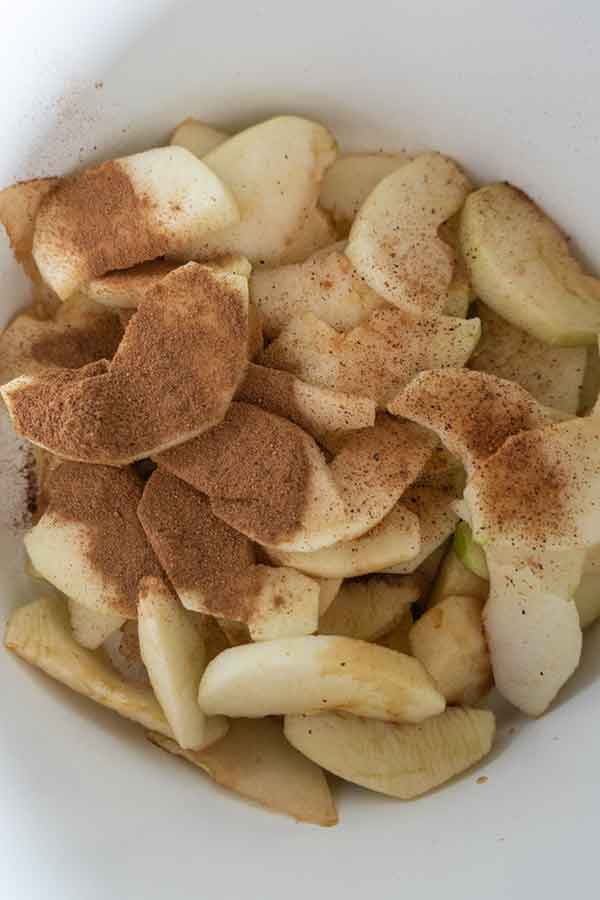 prepare the apples
While the crust is baking, prepare the apples. Using a saucepan, add a tablespoon of butter, apple slices, cinnamon, nutmeg and vanilla. Cover the saucepan and cook for five minutes. By briefly cooking the apples, they will slightly soften and hold their shape.
assemble the apple pie dessert
Spread the cinnamon apple slices with their juices over the baked crust and top with remaining crumbled dough. Sprinkle with sliced almonds and some sugar and bake.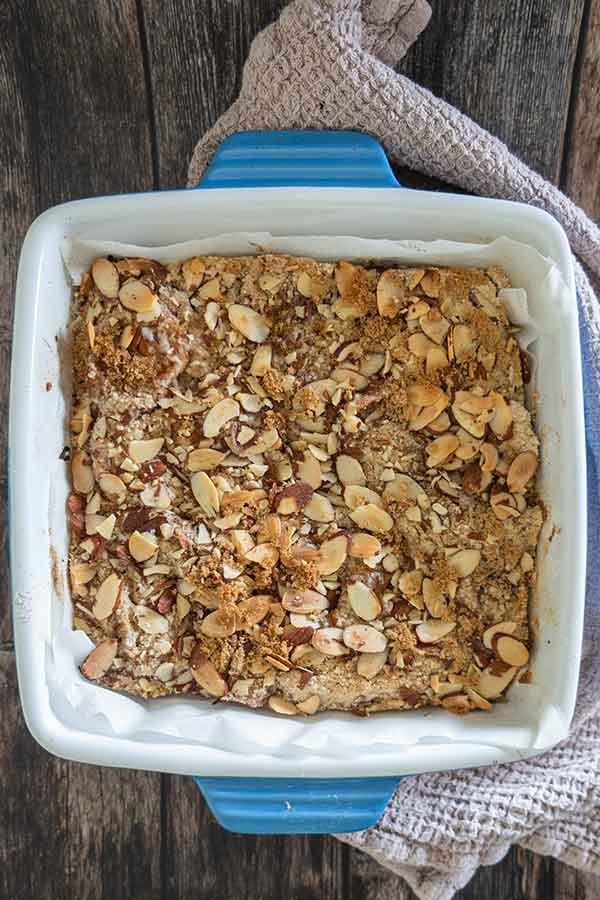 As you can see, the recipe is super easy. However, the hardest thing you will have to do is wait for the apple bars to cool before you can enjoy them.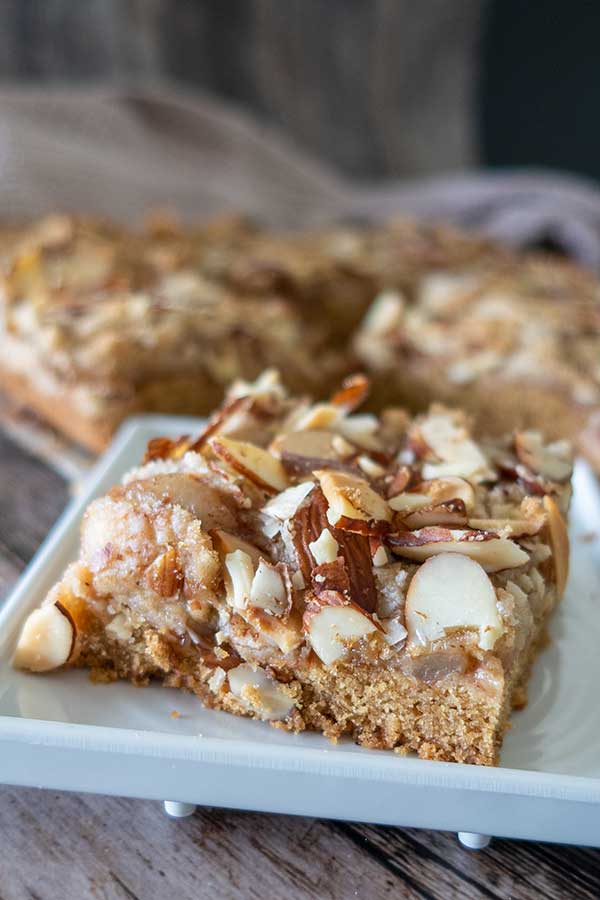 With the buttery crust, a layer of cinnamon apples and crunchy almond topping, these gluten-free apple pie bars will easily become everyone's favourite snack. So let's bake. Kids especially love this apple treat.
Let's Connect!
Be sure to FOLLOW US on FACEBOOK and PINTEREST.
Many thanks!
Kristina xx
Gluten-Free Apple Pie Bars
Published on Sep 15, 2021
by
Kristina Stosek
Instructions
1.

2.

Add flour, 3/4 cups of sugar, cinnamon, baking soda and salt to a food processor bowl and pulse to combine. Add butter and pulse until the mixture resembles coarse crumbs. Add eggs and pulse until the dough just starts to come together

3.

Press about 2/3 of the dough into the baking dish and prick with a fork all over. Place in the freezer for 15 minutes, then bake the crust for 20 minutes

4.

5.

Meanwhile, using a medium saucepan, heat butter over medium heat. Stir in apple slices, sweetener, vanilla, cinnamon and nutmeg. Cover and cook over medium heat for 5 minutes, stirring halfway. Set aside

6.

Spoon apples with juices over the baked crust, and using your fingers, crumble the remaining dough over the top. Scatter the almonds and the remaining one tablespoon of sugar. Bake for 25 minutes until topping is golden brown. Cool before cutting into bars
Leave a Comment
I've just been diagnosed with celiac at 47 year's old I'm going to be breaking habits of my life and these fabby recipes are definitely helping me through it. I've never baked but there's hardly anything for us so I m going to start with the apple pie bars.
Kristina
sounds delicious especially with the ice cream. Thank you for sharing Deb
Delicious! I made it just as written with the exception of reducing the sugar(brown) to 1/2C instead of 3/4. We ate it warm with ice cream.