Gluten-Free Apple Turnovers
Prep Time
30 Minutes
Difficulty
Intermediate
Cook Time
25 Minutes
Serves
8
Average Rating: 5 | Rated By: 15 users
Freshly made from scratch Gluten-Free Apple Turnovers. There is nothing better than homemade pastries. The flaky pastry is filled with an amazing fresh apple cinnamon filling and kids love them! 
The shortcrust gluten-free pastry is light, slightly crispy, and perfect for bubbly, buttery fresh apples lightly dusted with cinnamon and fresh lemon juice filling.
Sometimes you long for freshly baked sweetness, and this ticks all the boxes! The Gluten-Free Apple Turnovers are insanely delicious!
FAQs about apples
Apples are a popular fruit that many people enjoy eating. However, there are still some things about apples that many people do not know.
Why are apples healthy?
There are many reasons why apples are healthy. They are a good source of fiber, which can help with digestion and keep you regular. They are also a good source of vitamins A and C and potassium. Additionally, apples contain antioxidants, which can help protect your cells from damage.
Why do kids love apples?
Apple is one fruit that most kids love, especially with cinnamon like the apple cinnamon chips. Here is why.
they are sweet and juicy

they all taste a little different and have various textures

easy to eat on the go

they come in a variety of colors
best apples for baking
When it comes to baking, there are a few different types of apples that you can use. For example, Granny Smith apples are great for pies because they hold their shape and don't turn to mush when cooked.
Other good options for baking include Honeycrisp, Golden Delicious, and Rome apples.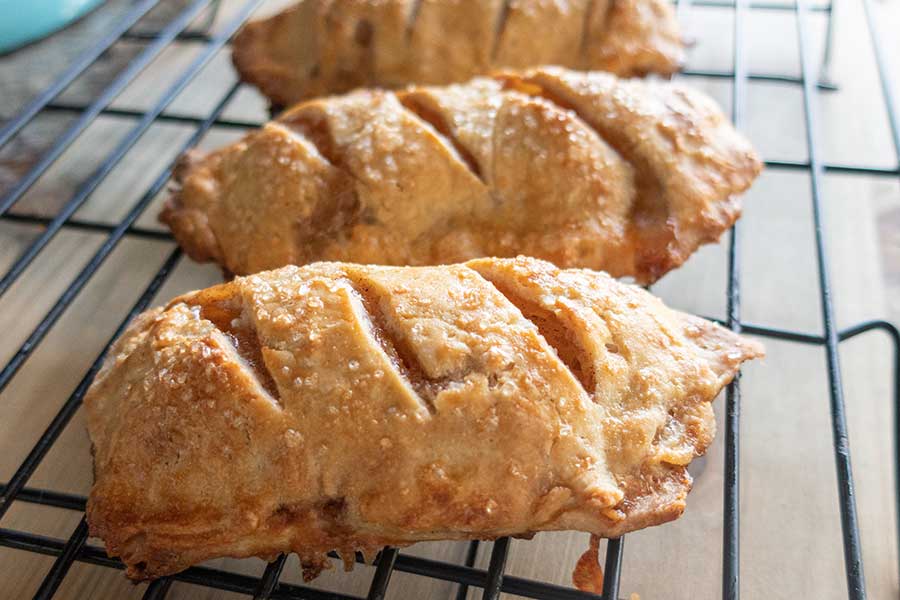 Apple Season Is The Time For Gluten-Free Apple Turnovers!
With the apple season is in full force, what better reason than to bake something sweet and delicious that the entire family will love. Apple turnovers are something I grew up with and loved, especially warm right out of the oven.
My grandmother always made them for me whenever I visited her, but she used the classic store-bought chilled puffed pastry.
I tried some store bought frozen gluten-free apple turnovers, and honestly, I couldn't eat them. Another apple dessert you may enjoy is the Gluten-Free Breakfast Apple Yogurt Cake
The weather is cold and rainy here on the west coast, so what better way to spend the day than baking fresh Gluten-Free Apple Turnovers? This apple turnover recipe has been on my list of things to do for a long time. So, today is the day!
Rachael Ray Nonstick Bakeware Set with Grips, Nonstick Baking Sheets / Baking Pans – 3 Piece, Gray with Orange Grips
start with the gluten-free sweet pastry
First, I made the gluten-free sweet pastry. To give you an idea, this gluten-free pastry texture is something between shortcrust and puff pastry. 
the cinnamon apple filling
This part was super easy. The fresh apple chunks are briefly cooked in a buttery, cinnamon sauce with fresh lemon juice. The filling is sooo good! The cinnamon apple filling and sweet pastry are a perfect combo.
assembling the apple turnovers
The next part is assembling the Apple Turnovers. First, let me stress that when you work with pastry dough, it has to be cold. You want to have small pieces of butter in the flour.
The butter is what gives the flakiness to the pastry. The dough is rolled out into two squares and then cut into four more squares.
Now add the filling to half the square and seal the pastry. I found it a lot of fun making the apple turnovers, and tasting the apple filling lol.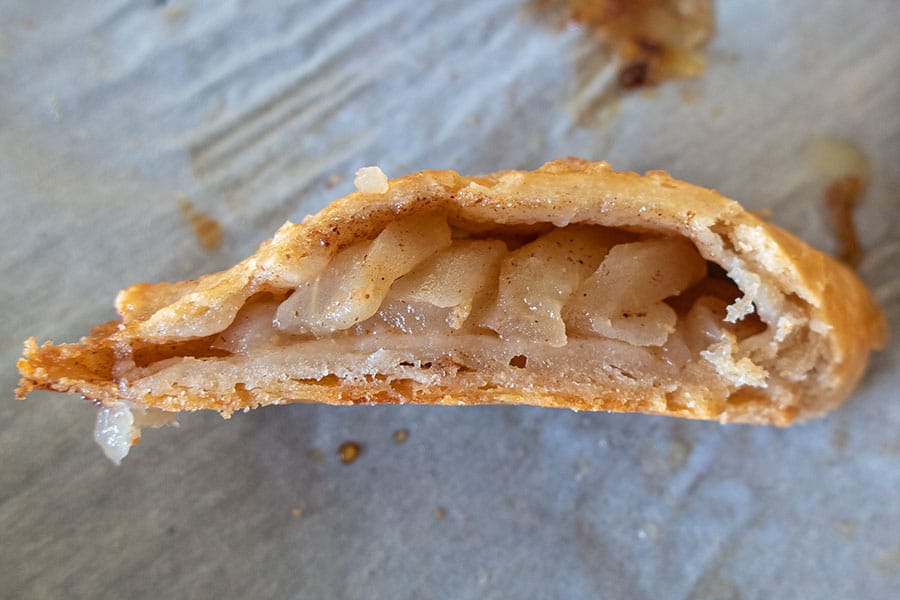 As with all gluten-free baking, these pastries are the best when fresh and slightly warm. I like to warm them in a hot oven for a few minutes for that freshly baked texture for leftovers.
You can also reheat the pastry in the microwave for about 15 seconds, which is almost as good. Finally, if you want to make the Gluten-Free Apple Turnovers a special dessert, heat them and top them with vanilla bean ice cream. Enjoy!
Let's Connect!
Be sure to FOLLOW US on FACEBOOK and PINTEREST.
Many thanks!
Kristina xx
Ingredients
APPLE FILLING
 4 large Granny Smith or Honey Crisp apples, peeled, cored and roughly chopped into small pieces
 3 Tbsp. Unsalted butter
 2 Tbsp. Coconut sugar or brown sugar
 1 tsp. GF ground cinnamon
1 tsp. Lemon juice
2 Tbsp. water
 1 tsp. arrowroot or tapioca flour
PASTRY
3 cups all-purpose gluten-free flour blend, one that includes xanthan gum. (Otherwise, add 3/4 tsp.) My favourite flour for this recipe is cup4cup because it contains milk and works best in this recipe. Better batter works also very well
1/4 cup Sugar (I used fine coconut sugar)
1/2 tsp. Xanthan gum (this is in addition to the xanthan gum in the flour blend)
1 tsp. Baking soda
1/4 tsp. Sea salt
2/3 cup unsalted butter (place the butter in the freezer for 15 minutes before using)
1 cup sour cream
 4 + Tbsp. Ice water or as needed
1 egg beaten, for eggwash
1 Tbsp. Coconut sugar for topping (optional)
*As an Amazon Associate and member of other affiliate programs, I earn from qualifying purchases. Please check out my sponsorship and disclosure policy page for more details
Instructions
APPLE FILLING
Heat butter, sugar and cinnamon in a large saucepan over medium heat until the butter starts to melt. Add apples and lemon juice, stir to combine and cook until the apples begin to soften but still holding shape. Stirring as needed, about 3 - 5 minutes. 
Mix water with arrowroot/tapioca and add to the apples. Cook for about another minute until the sauce starts to bubble. Remove from the heat, bring to room temperature and refrigerate for 30 minutes or until ready to use. You can make the filling a day in advance.
PASTRY
Using a large bowl, whisk together flour, sugar, xanthan gum, baking soda and salt.
Using a box grater, grate the chilled butter into the flour. Using a fork, mix the butter with the flour, and then using your fingers, work the butter into the flour until slightly crumbly.
Add sour cream and mix. The dough will still be a bit dry. Add one tablespoon of ice water at a time and use your hands, knead the dough until it begins to come together. If the dough is too dry, keep adding 1 tablespoon of ice water at a time while working the dough until it holds together. I used 6 tablespoons.
 Transfer dough onto a plastic wrap and form a compact disk. Wrap the dough and place it in the refrigerator for 45 minutes.
Preheat oven to 400 F and line a large baking tray with parchment paper
Divide the dough in half. Working with one half at a time, roll the dough out on a lightly floured parchment paper into a square about 1/8-inch thick, using flour as needed to keep the dough from sticking. Cut into for squares.
Add apple filling over half of each square and fold the pastry over apples. Wet the tips of your fingers lightly with water and moisten inside of the edges of the pastry dough. Press the edges to seal the filling. Transfer to a lined baking tray. The apple filling should fill eight pastries, I used about two tablespoons of filling per each pastry.
 Using a sharp knife, cut three slits in the top of each pastry and brush the tops with egg wash and sprinkle with sugar.
Bake for 23 - 26 minutes until golden brown. Remove from the oven and place pastries on a cooling rack. Enjoy warm or at room temperature
Similar Recipes
Gluten-Free Crust Free Apple Pie
Gluten-Free Crust Free Apple Pie – a true classic without the crust. The fresh juicy apples flavoured with cinnamon, lemon juice and creaminess of butter are what make this an outstanding apple pie. The crunchy nutty topping is made with oats, coconut sugar, vanilla, butter and almonds. Adding a nice finish to this crust-free apple […] Read More
Prep Time
15 Minutes
Difficulty
Easy
Cook Time
65 Minutes
Serves
6
Easy Gluten-Free Apple Cobbler
This is a super Easy Gluten-Free Apple Cobbler recipe. An apple dish that is nothing short of deliciousness.  Every bite is filled with tasty buttery apples, fresh lemon, vanilla, cinnamon and a hint of nutmeg. The apples are tender, and the gluten-free biscuit topping is fluffy and light. Every bite is beyond delicious. I promise […] Read More
Prep Time
15 Minutes
Difficulty
Easy
Cook Time
50 Minutes
Serves
6