Gluten-Free Breakfast Apple Yogurt Cake
Prep Time
20 Minutes
Difficulty
Easy
Cook Time
45 Minutes
Serves
10-inch round cake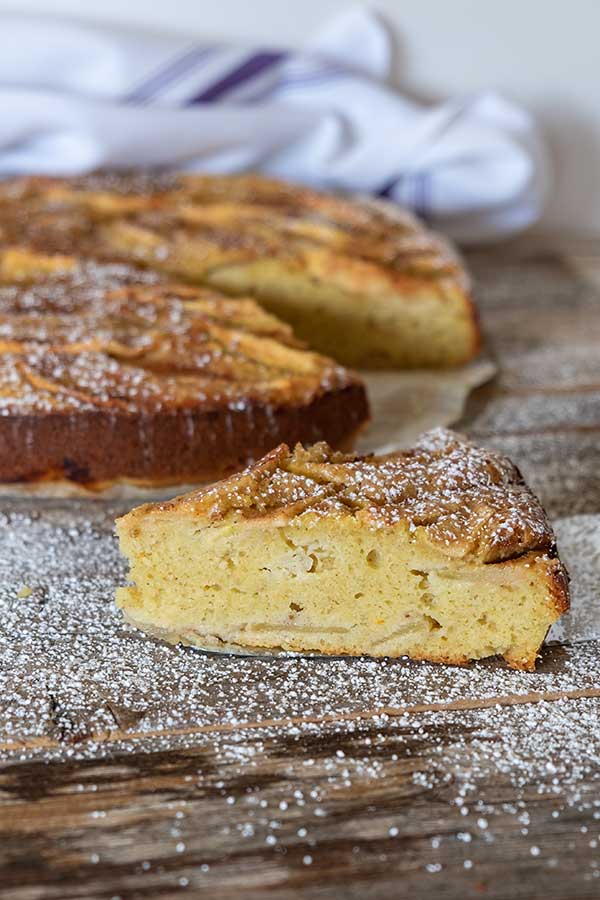 Average Rating: 5 | Rated By: 17 users
Gluten-Free Breakfast Apple Yogurt Cake topped with soft, healthy apples lightly flavoured with cinnamon and maple syrup. I promise you, this rustic apple cake will melt in your mouth. The gluten-free cake is made with three layers.
The first layer is apples, then a delicious moist healthy cake which is finished with a layer of more apples, a light dusting of cinnamon and a drizzle of maple syrup.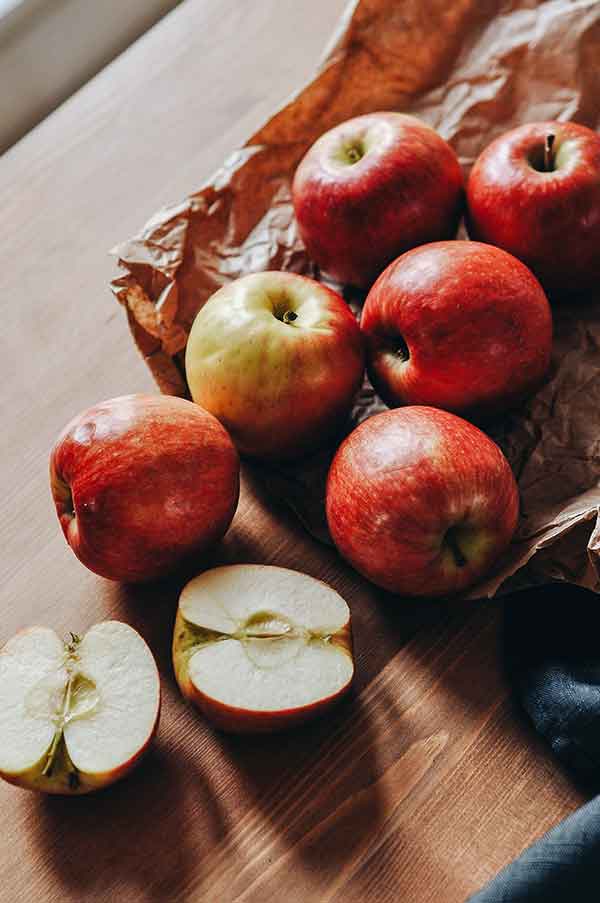 This breakfast cake has it all, protein, fiber, vitamins, but mostly deliciousness. Lightly sweetened with maple syrup and flavoured with delicious vanilla and orange zest.
There is nothing complicated in this pudding like cake. What makes this cake outstanding is the orange zest and yogurt. By using yogurt, I cut back on fats and still leaving the cake super moist. The only fat added is some healthy olive oil. 
I like to serve this gluten-free breakfast apple yogurt cake slightly warm or at room temperature. You will love this breakfast cake recipe because it is super simple to whip up any day of the week.
And besides, what's there not to like? A delicious pudding like cake combined with tender cinnamon apples. Enjoy!
Why did I choose almond flour, sweet white sorghum flour and arrowroot flour in this breakfast cake recipe?
Almond flour is a grain-free flour made from ground almonds. Besides being packed with protein and fiber, using this flour in gluten-free baking will help retain moisture, add mild sweetness and richness, and because of the fats in almonds, it will extend shelf life in cakes, muffins, cookies and bread.
Sweet white sorghum flour, also known as jowl flour is stone ground from whole grain sorghum. This exceptionally healthy grain is gluten-free, rich in vitamins and minerals, especially B vitamins, iron and zinc.
This grain is also a good source of antioxidants, protein and fiber. When it comes to gluten-free baking, this healthy flour adds good texture.
Arrowroot flour, often called arrowroot starch, is a starch obtained from rootstock from several tropical plants, therefore not a grain. Arrowroot has a good amount of potassium and iron and has been known to boost the immune system.
This fine flour or starch provides structure and light texture in gluten-free baking and is a good substitute for corn starch for people with corn allergies.
Summary
All three flours are packed with healthy nutrients, give gluten-free baked goods good texture and make everything taste more delicious.
Ingredients
2 large apple, peeled, cored and cut into thin slices (I used honey crisp apples)
1/2 tsp. Himalayan fine salt
3 large eggs
1/3 cup + 1 Tbsp. pure maple syrup, divided
1/3 cup extra virgin olive oil
2/3 cup full-fat plain Greek yogurt
Zest of 1 orange
1 tsp. Pure vanilla extract
1 tsp. GF ground cinnamon, divided
*As an Amazon Associate and member of other affiliate programs, I earn from qualifying purchases. Please check out my sponsorship and disclosure policy page for more details
Instructions
Preheat oven to 375 F and line the bottom of a 10-inch springform pan with a circle of parchment paper
Layer the bottom of the pan with a third of the apple slices and sprinkle with half the cinnamon
Whisk together almond flour, sorghum flour, arrowroot flour, baking powder, and salt
In a separate bowl, using an electric mixer, mix eggs, maple syrup, olive oil, yogurt, orange zest and vanilla until well blended. Whisk dry ingredients into the wet mixture until fully incorporated and the batter is smooth. Pour batter in the pan over the sliced apples
Arrange remaining apple slices on top of cake batter. Sprinkle with remaining cinnamon and drizzle with 1 tablespoon of maple syrup
Bake for 40 - 50 minutes until golden and passes the toothpick test.
Cool for 15 minutes on a cooling rack before removing from the pan. Dust with powdered sugar if you wish
Similar Recipes
Best Gluten-Free Carrot Cake
The Best Gluten-Free Carrot Cake with light zesty cream cheese frosting. The deliciously tasty cake is made with unsweetened coconut flakes, raisins, coconut sugar and orange juice, keeping it sweet without adding that extra sugar. The creamy, zesty frosting is made with a mix of cream cheese and sour cream, keeping the frosting light and […] Read More
Prep Time
20 Minutes
Difficulty
Easy
Cook Time
25 Minutes
Serves
6-8
Chai Spiced Banana Bread Gluten-Free
Healthy Gluten-Free Chai Spiced Banana Bread. An excellent way to use up overripe bananas is to make banana bread. In this recipe, I wanted more flavour than just bananas, so I added my favourite blend of chai spices such as cinnamon, nutmeg, cardamom and fresh ginger. Don't have ripe bananas? No problem, you can ripen […] Read More
Prep Time
10 Minutes
Difficulty
Easy
Cook Time
45 Minutes
Serves
1 loaf
Gluten Free Apple Blueberry Crumb Cake
Gluten-Free Apple Blueberry Crumb Cake – a moist cake with a delicious layer of spiced apples and blueberries, and a crunchy topping are what makes this stay at home cake exceptional. A crumb cake is one of the easiest desserts to make. Typically the cake is made of two layers. In this recipe, there are […] Read More
Prep Time
15 Minutes
Difficulty
Easy
Cook Time
60 Minutes
Serves
12 pc