Breakfast Plum Cake – Gluten Free
Published on Jun 18, 2020
by
Kristina Stosek
Prep Time:

15 minutes
Cook Time:

35 minutes
Serves:

12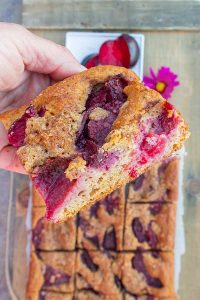 ​This post may contain affiliate links, please see our
privacy policy
for details
Breakfast cake like never before! A Gluten-Free Breakfast Plum Cake filled with fresh plums, a hint of cinnamon and vanilla in a buttery cake. Now the decision to make is, when are you going to eat it, breakfast, brunch, lunch or dinner?
The answer is simple, any time of the day! Because it is filled with so many fresh plums, and will melt in your mouth!
When plums are in season, this breakfast plum cake is a must try recipe!
I am super excited to share this moist, gluten-free breakfast cake recipe with you today because it is sooo good! So let me start first by this is a seasonal gluten-free breakfast cake.
You can make this recipe with plums, peaches, apples or berries. Seeing that plums are in season, I decided to make it with fresh juicy plums.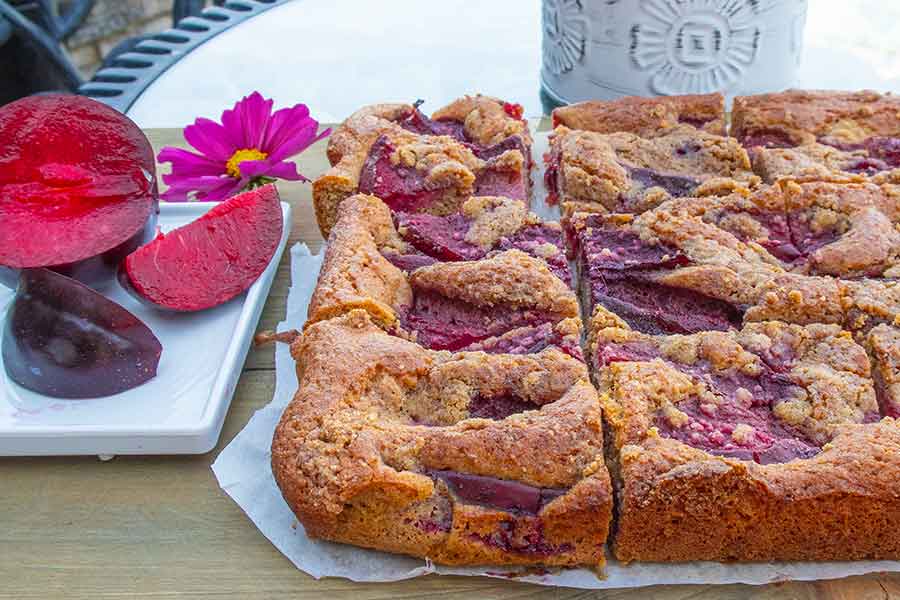 The cake is made up of two layers, a buttery cake and juicy plums. You can also add a cinnamon streusel topping and make it a three-layer breakfast cake.
I did not add the streusel topping because I feel that it doesn't need it. But if you want added goodness, feel free to add it. This cake is anything but dry, it is super moist and buttery filled with plums coated with cinnamon.
the details,
To make this gluten-free breakfast plum cake is simple. First, you toss the plum wedges in some coconut sugar and cinnamon and set them aside for a few minutes. This allows them to release some of their juices and stops them from making the cake soggy.
The rest is easy, combined dry ingredients, cream the butter with eggs and sugar, add milk and vanilla combine with dry ingredients.
Now comes the fun part, spread the batter into a cake pan, then top with cinnamon plum wedges. If you are using a streusel topping, this is the time to add it. Once the cake is fully baked, the batter rises and encases each plum with buttery goodness.
Need I say more? The plum cake is soo good! Do you need more breakfast cake recipe inspirations? Check out our complete selection of gluten-free sweet cakes.
Recipe for cinnamon streusel topping. (optional)
1/3 cup coconut sugar or brown sugar.
1/4 cup sweet sorghum flour.
1/4 cup finely chopped walnuts or pecans.
1/2 tsp. GF ground.
3 Tbsp. Cold butter.
Combine sugar, flour, nuts and cinnamon. Add cold butter, and using your fingers mix until crumbly.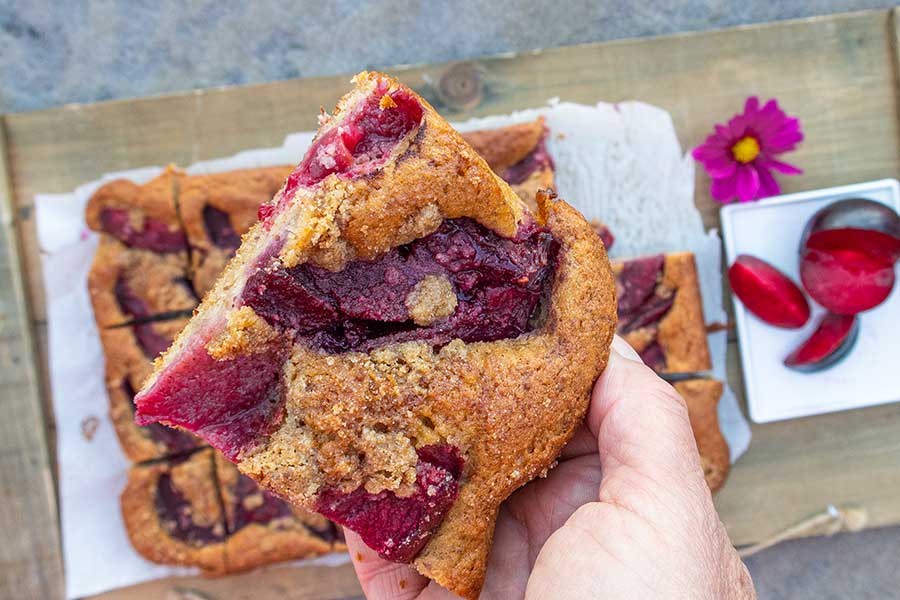 Frequently asked questions:
∼ Can I replace fresh fruit with frozen fruit?
Yes, you can. First, bring the fruit to room temperature for 15 minutes and then allow for extra baking time.
∼ Can I freeze the cake?
Once the cake has been thoroughly cooled, store it in an airtight container, and you can freeze it up to three months.
∼ How long does this cake keep?
The cake will keep up to five days when refrigerated in an airtight container.
Let's Connect!
Be sure to FOLLOW US on FACEBOOK and PINTEREST.
Many thanks!
Kristina xx
Breakfast Plum Cake – Gluten Free
Published on Jun 18, 2020
by
Kristina Stosek
Instructions
1.

Preheat oven to 375 F and line an 8x12-inch baking pan with parchment paper

2.

Toss plum wedges with 2 Tbsp. coconut sugar and cinnamon. Set aside for 15 minutes

3.

In a large bowl, combine flours, xanthan gum if using, baking powder and salt.

4.

In a separate bowl using an electric mixer, cream together butter, sugar and eggs. Add milk and vanilla and mix

5.

Add wet mixture to dry ingredients and mix to combine

6.

Spread the batter into prepared pan and evenly top with plums. Do not add the juices

7.

Bake for 35 minutes or until the cake is golden brown. Cool fully in the pan, then slice