Gluten-Free Blueberry Streusel Coffee Cake
Published on Dec 07, 2021
by
Kristina Stosek
Prep Time:

15 minutes
Cook Time:

40 minutes
Serves:

16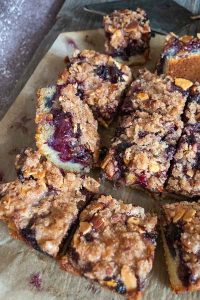 ​This post may contain affiliate links, please see our
privacy policy
for details
Another insanely delicious Gluten-Free Breakfast Blueberry Streusel Cake to enjoy in the morning with a cup of hot coffee or as anytime healthy-ish snack. This buttery, blueberry studded coffee streusel cake is nothing short of deliciousness.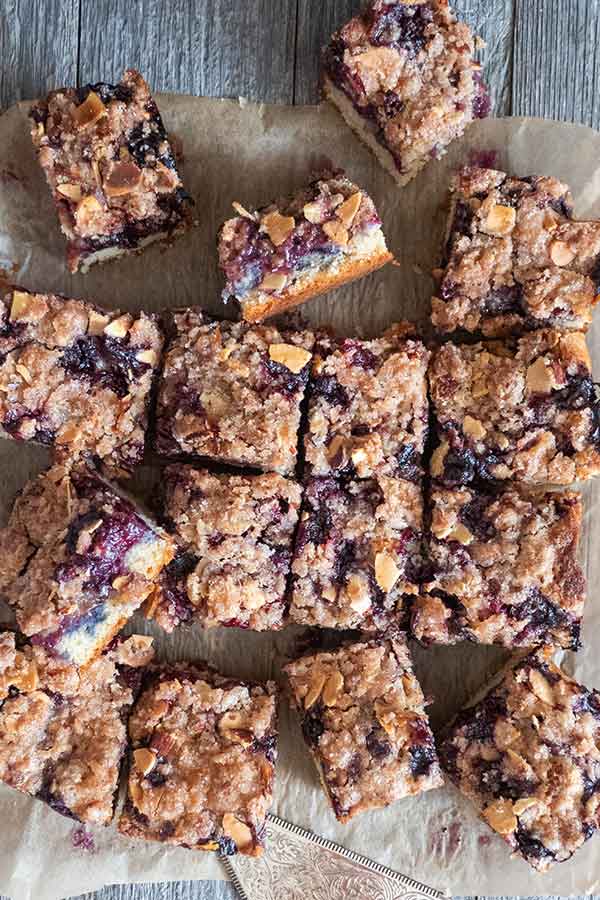 What sets this Gluten-Free Blueberry Streusel Coffee Cake apart from most?
The moist butter flavoured cake is topped with bursting blueberries scented with cinnamon and a crunchy almond streusel topping. Honestly, I will not say this often, but this blueberry streusel cake is THE BEST!
What is the difference between cake and coffee cake?
The primary difference between a coffee cake, sometimes called a crumb, or breakfast cake is the topping. A cake is usually glazed or has frosting. A coffee cake, often has a streusel or crumb topping.
What is streusel?
Streusel is typically made from butter, sugar, flour and sometimes cinnamon baked on top of cakes, muffins or pies. Sometimes oats or nuts are used to make the streusel.
I like to think of this gluten-free blueberry streusel coffee cake as my go-to special treat for breakfast or brunch.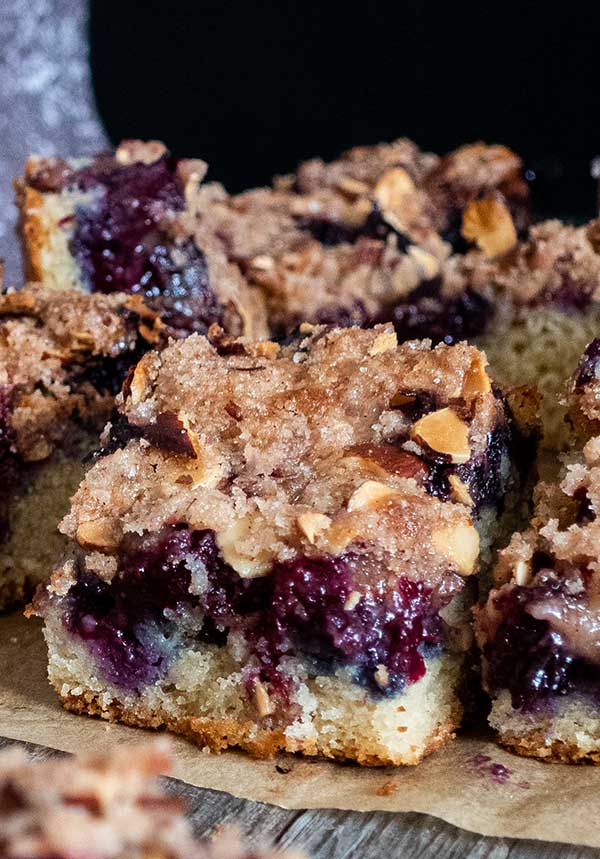 Is this blueberry streusel coffee cake healthy?
This blueberry streusel coffee cake is not shy of healthy nutrients. The batter is made with protein fibre-rich almond flour, eggs which are a great source of vitamin D and packed with antioxidants deliciously sweet blueberries.
Is butter good for you?
If you are concerned about butter, in moderation, it can be a healthy part of your diet because it is rich in bone building nutrients like calcium and butter contains compounds to lower chances of obesity.
gluten-free blueberry streusel coffee cake — recipe details
to start,
This coffee cake is gluten-free. Using two flours, a gluten-free measure for measure flour to keep the recipe simple, and almond flour to add protein and fiber and keep the cake moist.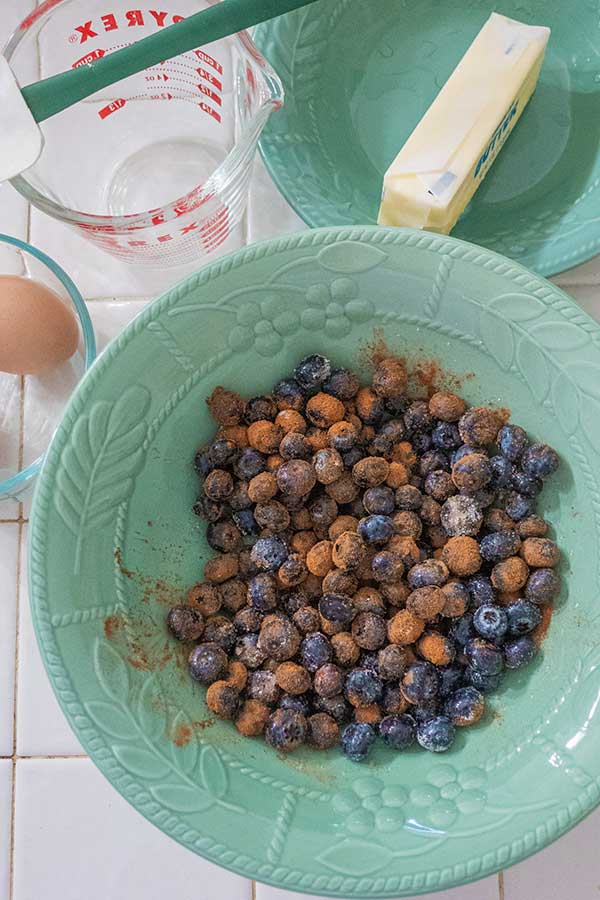 Why are fresh blueberries better in streusel cake?
I used fresh blueberries and tossed them in cinnamon and sugar first. I tried to make this recipe with frozen blueberries, but the cake was a bit soggy, and the blueberries didn't have that punch of fresh blueberry flavour.
If you have to use frozen blueberries, add a tablespoon of gluten-free flour to the mix with cinnamon and sugar to coat the blueberries.
If you are looking for recipe inspirations using blueberries check out the Gluten-Free Zesty Blueberry Scones or my favourite the Gluten-Free Blueberry Buckle.
Once you make the batter by creaming the butter with sugar, adding the eggs, milk, and dry ingredients, spread it in a 9-inch square pan.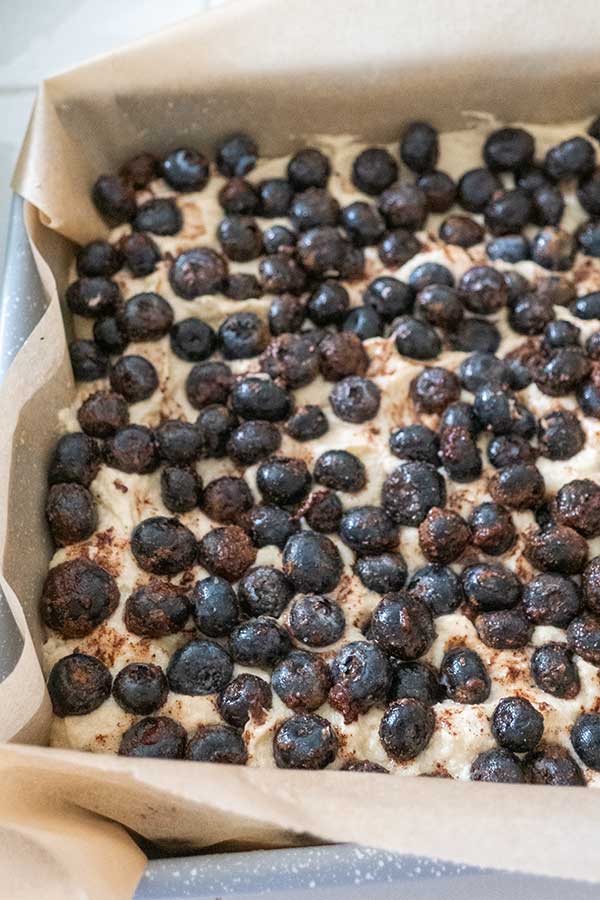 Next, scatter the cinnamon-sugar-coated blueberries over the batter in an even layer.
How to make the perfect streusel?
To make the streusel is so simple. Combine the dry ingredients, add cubed or grated butter and one tablespoon of cold water. Most streusel recipes do not use water, but I find it makes a much better streusel with a bit of extra crunch.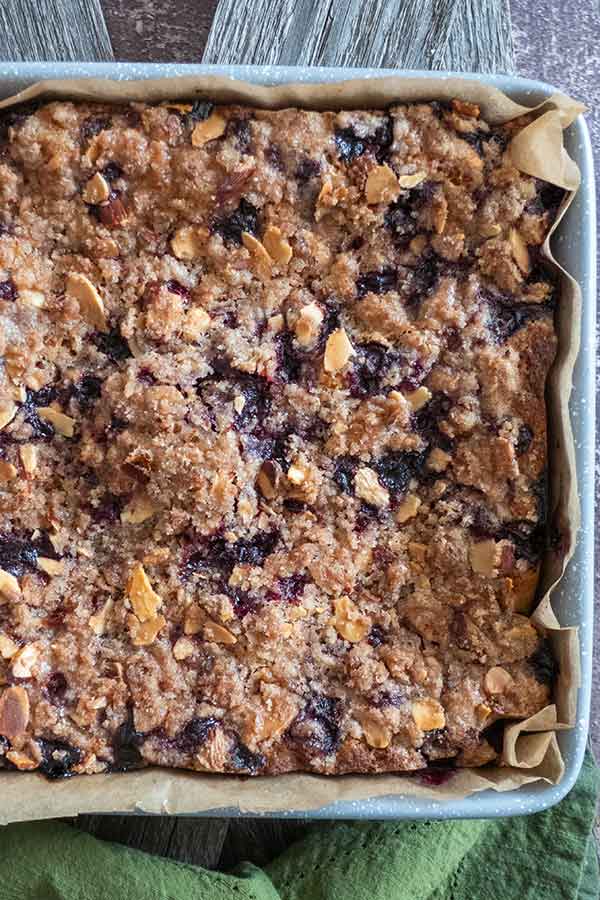 pie-like blueberry topping
This gluten-free coffee cake takes a little longer to bake because of the blueberries. They add a pie-like blueberry filling layer to the cake, which is why the cake takes a little longer to bake.
So, do not underbake the cake. The topping and the edges of the cake should be a golden brown colour.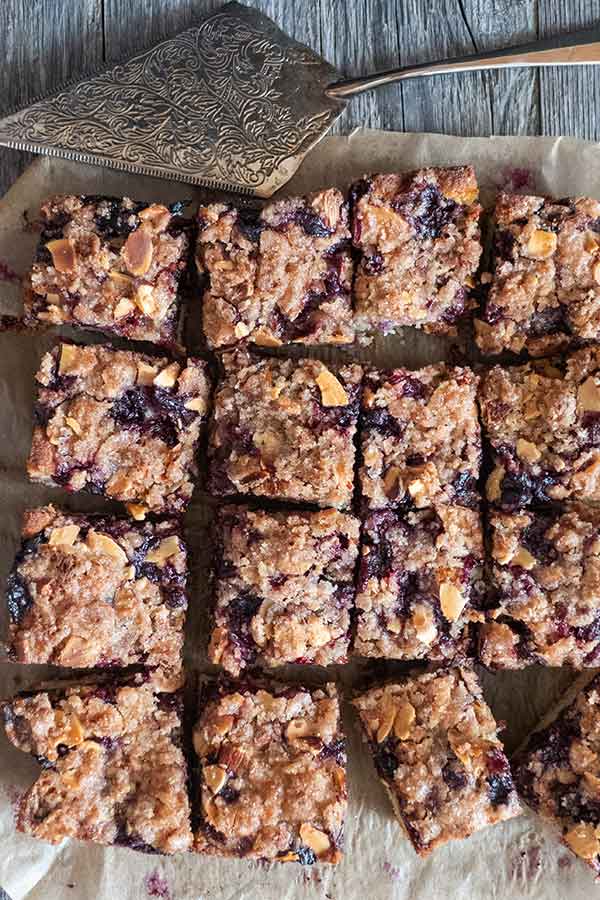 add whipped cream or vanilla bean ice cream for an extra special coffee cake
When serving this gluten-free coffee cake, you can change it up by adding whipped cream or ice cream.
The cake must cool completely in the pan before you cut it. I lined the pan with parchment paper for easy removal of the cake.
Lift the cake using the paper and place it on a cutting board. You can cut it into 9 or 16 squares. I prefer smaller pieces, so I cut them into 16 squares.
This gluten-free blueberry streusel cake is delicious just as is. However, if you want to serve it for brunch, add a dollop of whipped cream or for a special gluten-free dessert, add a couple of scoops of vanilla bean ice cream.
OMG…blueberry dessert heaven!
Let's Connect!
Be sure to FOLLOW US on FACEBOOK and PINTEREST.
Many thanks!
Kristina xx
Gluten-Free Blueberry Streusel Coffee Cake
Published on Dec 07, 2021
by
Kristina Stosek
Instructions
1.

Preheat oven to 375 F and line a 9x9-inch baking pan with parchment paper

2.

Toss blueberries with cinnamon and 1 tablespoon of sugar and set aside

3.

In a large bowl, combine flours, baking powder and salt

4.

In a separate bowl using an electric mixer, cream together butter and sugar. Add vanilla and mix

5.

Add butter mixture and milk to dry ingredients and using a spatula mix to combine

6.

Spread the batter into the prepared pan and top with cinnamon coated blueberries. Gently press the blueberries partially into the batter

7.

For the streusel topping, mix dry ingredients, add butter and water and using a fork or your fingers, mix until crumbly. Top the blueberries with the streusel and bake for 40 - 45 minutes. The topping and the edges of the cake should be golden brown

8.

Cool in the pan, then slice into squares