Gluten Free German Apple Cake
Published on Jan 10, 2023
by
Kristina Stosek
Prep Time:

15 minutes
Cook Time:

60 minutes
Serves:

12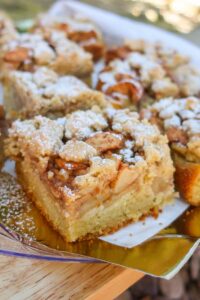 ​This post may contain affiliate links, please see our
privacy policy
for details
This traditional yet simple gluten-free German Apple Cake is the perfect snacking cake. A mix of tart apples and sweet cinnamon creates an apple pie-like topping nestled on a moist, buttery cake. And you can make this apple cake with or without a streusel topping, however, we love it with the streusel!
The best part about this apple cake is that you don't have to compromise on taste or texture, even though this dessert is made without gluten.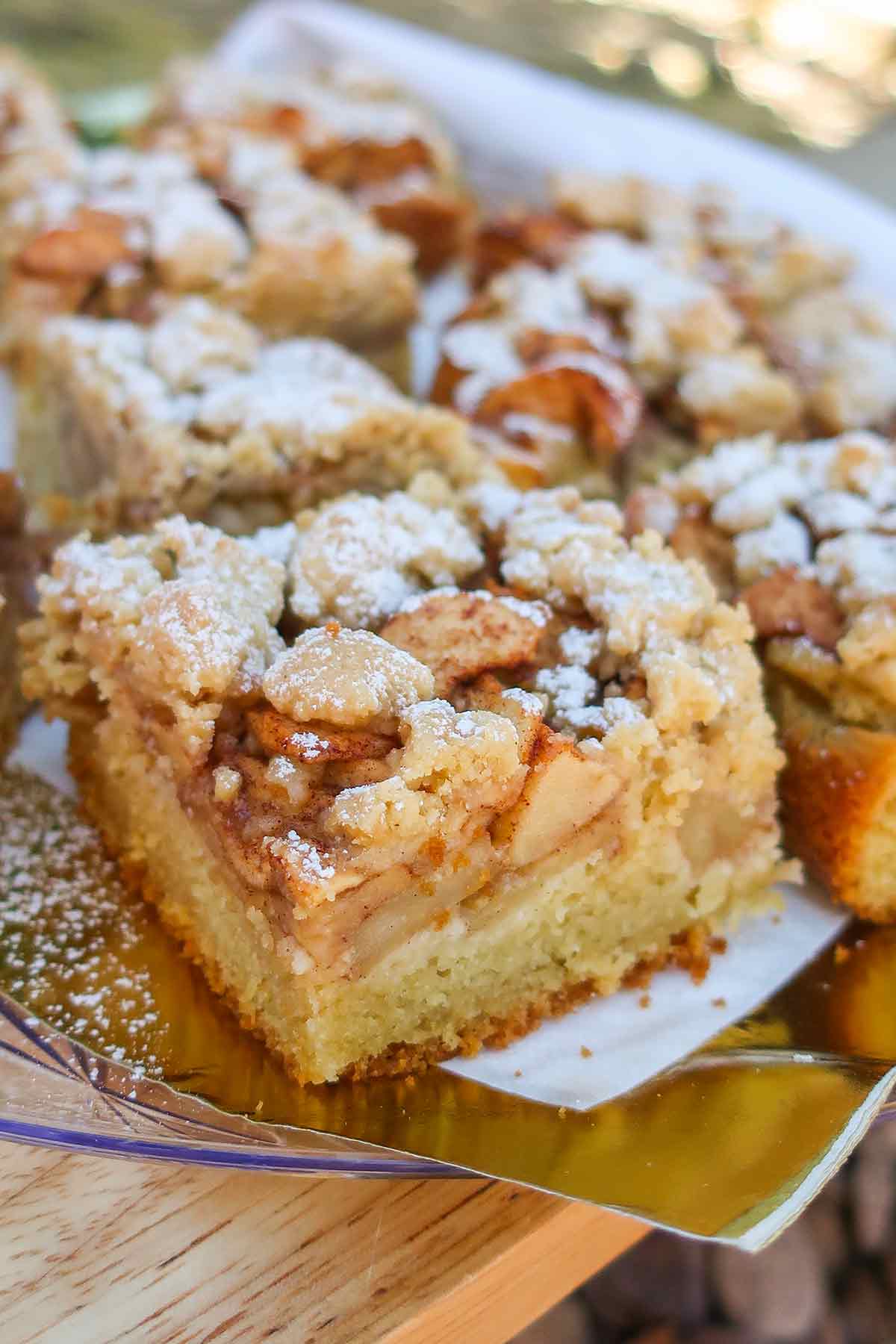 What is a German Apple Cake?
A German Apple Cake is made with fresh apples and a hint of cinnamon, in a moist sponge-like cake.
German Apple Cake VS French Apple Cake
When it comes to apple cake, there are two camps: those who prefer the German version and those who go for the French. Both have their merits, but which one is the better?
Let's take a closer look. The German apple cake is all about the apples. This is a fruit-forward cake that showcases the natural sweetness and flavor of the apples. The apples are usually spiced with cinnamon or nutmeg, giving the cake a warm and cozy flavor. And you can make it in a square, rectangle or round pan.
On the other hand, French apple cake is more about pastry. The apples are still front and center, but the French cake has fewer apples and more cake. This results in a richer, more decadent cake perfect for special occasions. The French apple cake is usually baked in a ring mold, resulting in a round pretty cake.
So, which one is better? It depends on your preference. If you're looking for an easy and fruit-forward cake, go for the German version. If you're craving something more indulgent, go for the French option. You may enjoy this Gluten-Free French Pear Cake.
Best apples for gluten free apple cake
When it comes to gluten free apple cake, Granny Smith apples are the best option. They are tart and firm, which makes them perfect for baking. Other good choices include Honeycrisp, Golden Delicious, and Braeburn apples.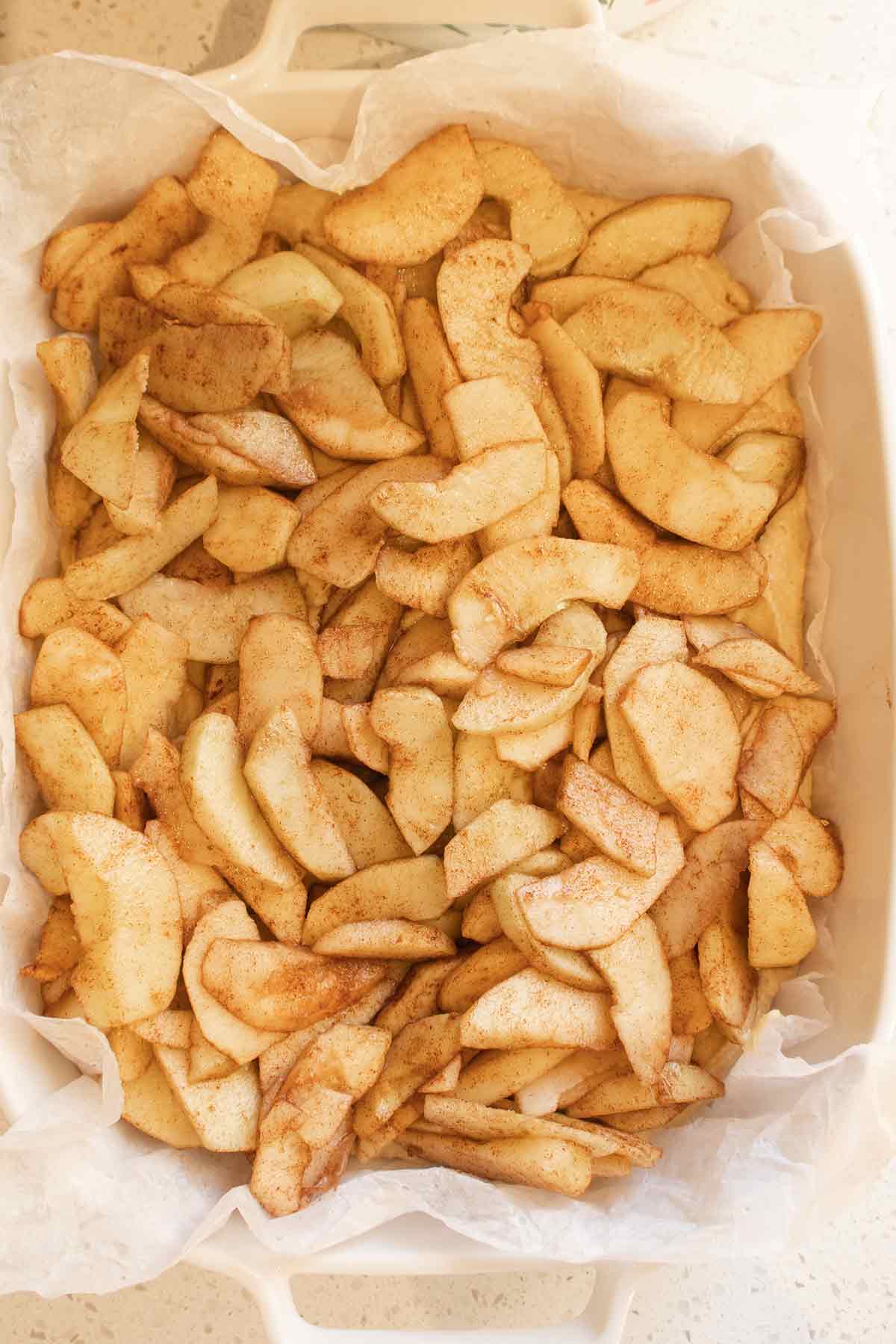 Apple cake with or without streusel
If you love the classic taste of German Apple Cake, make it without the streusel. However, if you want to add another layer of deliciousness, the streusel topping will take it over the top.
And, if you are short on time, you can skip the streusel and still have a delicious cake.
Storing gluten free German apple cake
There are a couple of things to know when storing gluten-free German apple cake. First, if you plan on eating it in the next couple of days, loosely cover it with plastic wrap and keep it at room temperature.
And finally, if you have any leftovers (lucky you!), they can be stored in an airtight container in the fridge for up to a week.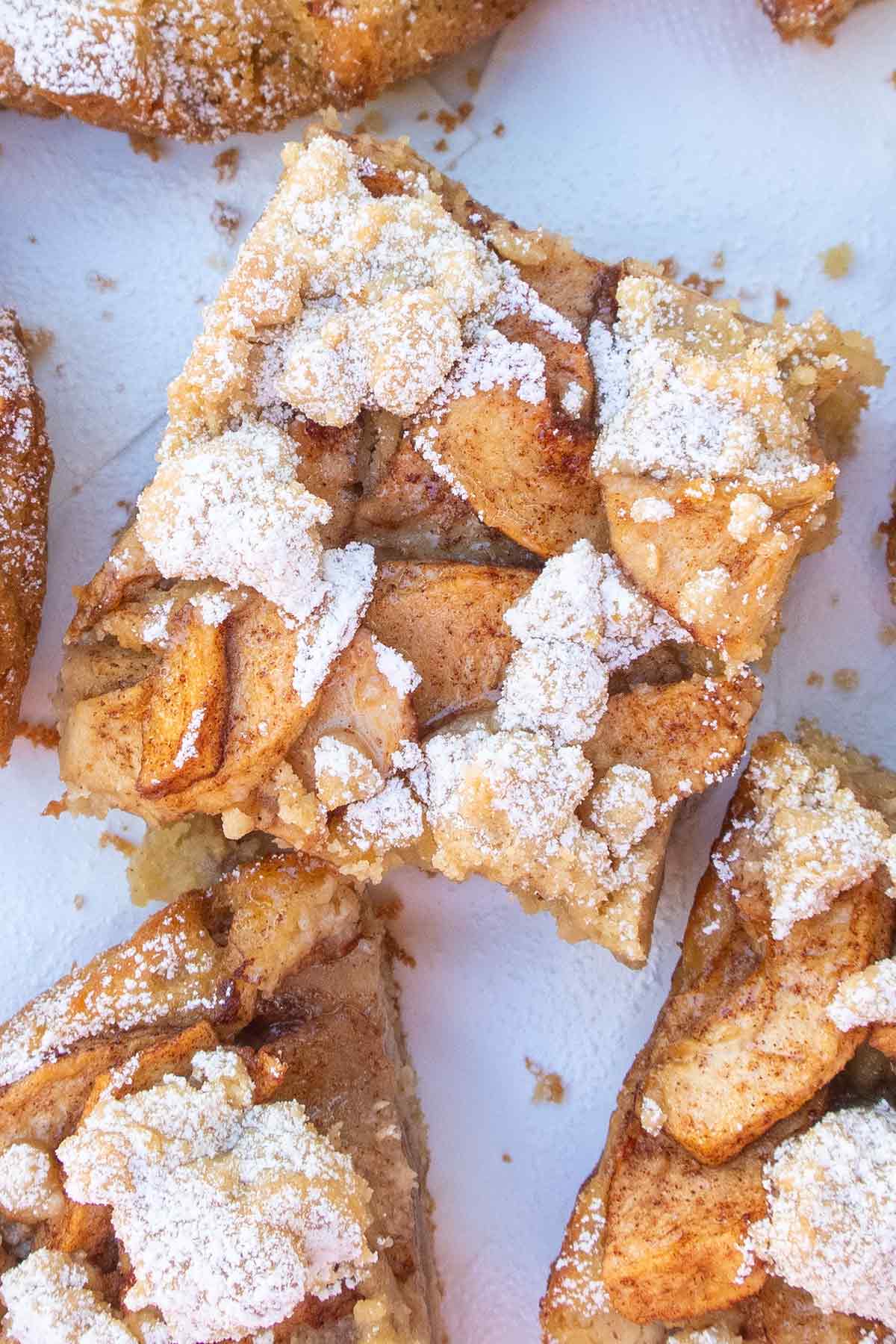 serving suggestions for this dessert
Serve this cake with a scoop of vanilla ice cream or a sprinkle of powdered sugar. Or, if you want to get fancy, you can make a homemade caramel sauce and drizzle it over the German apple cake. Check out the Salted Caramel Chai Pumpkin Cheesecake Dessert which includes homemade caramel sauce.
Dairy-Free German Apple Cake Version
This gluten free apple cake is easily converted to a dairy-free version. To keep the recipe dairy-free, substitute vegan butter such as earth balance for butter and use non-dairy milk such as rice or almond milk.
Tools you will need to make this dessert
electric mixer or a whisk
cutting board
8 x 12-inch baking pan or 10-inch round cake pan
measuring cups and spoons
spatula
parchment paper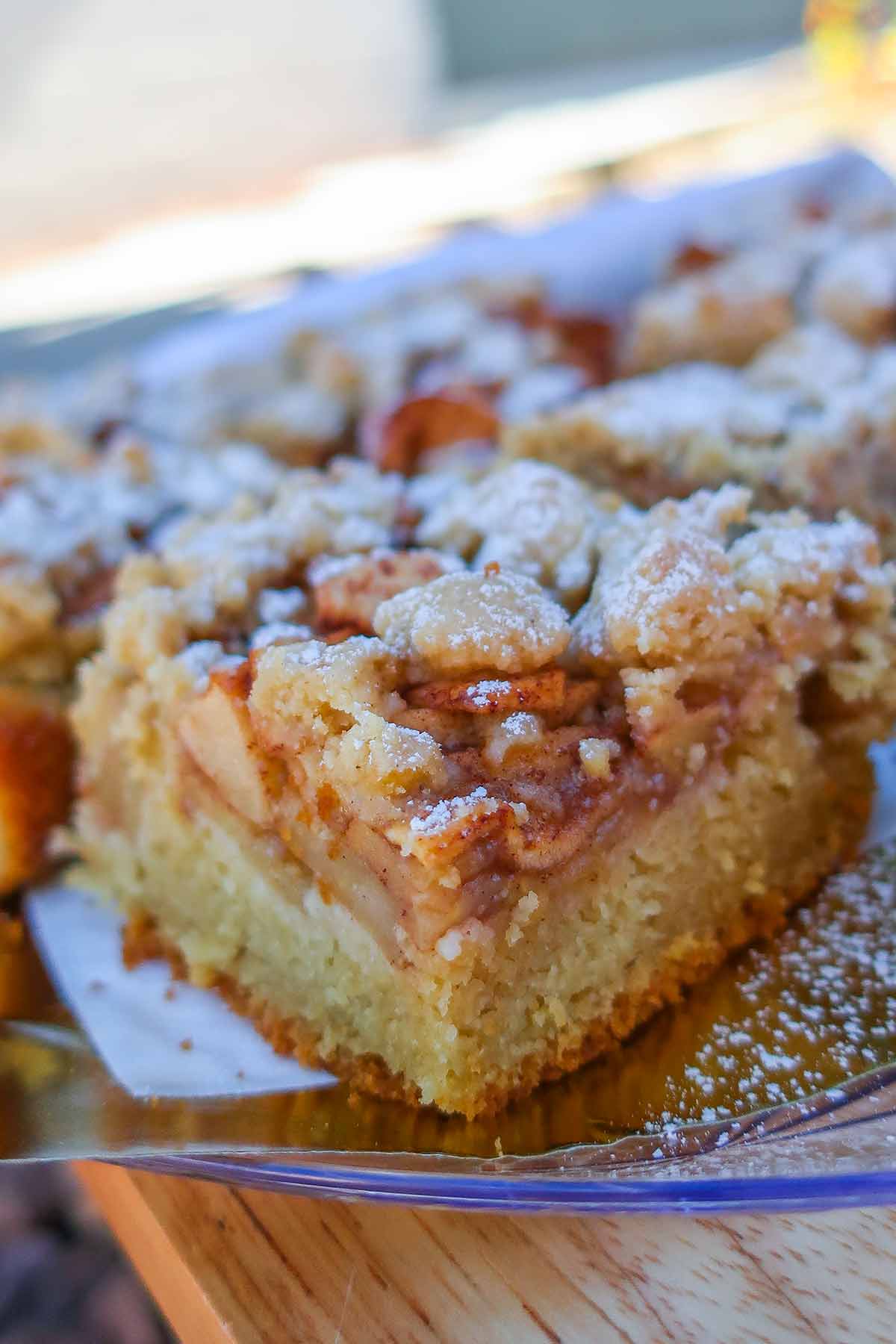 Why is gluten free apple cake popular?
There are a few reasons why apple cakes are one of the most popular gluten free coffee cakes.
First, apples are always in season and are budget-friendly.
Most people like apples, especially when combined with cinnamon.
Apples add moisture to gluten free cake recipes and are not too sweet, making it the perfect morning treat.
And gluten free apple cake is super easy to make.
This gluten-free apple dessert looks impressive, will melt in your mouth, and requires minimal effort. The simple ingredients list and basic instructions make it a breeze to whip up in no time. Why not give this German apple cake recipe a try? It will not disappoint!
Gluten Free German Apple Cake
Published on Jan 10, 2023
by
Kristina Stosek
Instructions
1.

Preheat oven to 350 F and line an 8 x 10-inch baking pan or a 10-inch round pan with parchment paper

2.

In a large bowl, toss apple slices with cinnamon, lemon juice and 2 tablespoons of sugar. Set aside

3.

Cream butter with remaining sugar in a large bowl using an electric mixer or a whisk. Add eggs one at a time and mix until creamy. Add milk, vanilla and salt and mix until smooth

4.

Add flours and baking powder, and using a spatula, mix until smooth. Spread the batter into the prepared pan

5.

Scatter the apple slices over the batter in an even layer and gently press some into the batter 

6.

If you are making streusel, combine all ingredients to form small crumbs and sprinkle them over the cake

7.

Bake for 50 - 60 minutes until a toothpick inserted into the center of the cake comes out clean. Let the cake cool in the pan for 20 minutes, and then remove it to let it cool completely.
Leave a Comment
Kristina
I am so happy to heat that Randi, thank you xx
I have almost given up on GF baking, but this has given me hope. It was super good. I will try it with plums in the fall. Thank you for this recipe!
This cake is delicious. Not too sweet and lots of flavour. Will definitely make again!