Gluten-Free Dutch Apple Quick Bread
Prep Time
15 Minutes
Difficulty
Easy
Cook Time
65 Minutes
Serves
1 loaf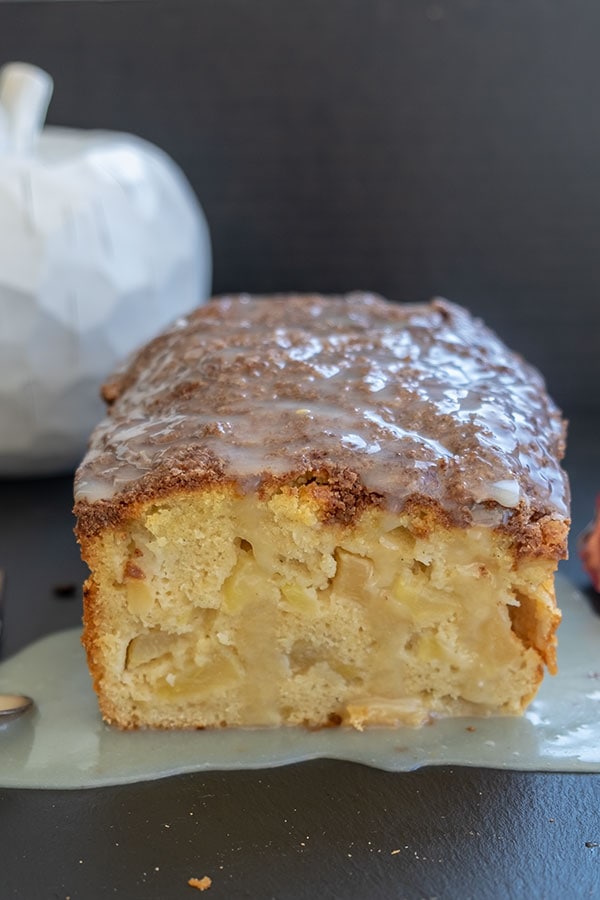 Average Rating: 5 | Rated By: 20 users
Hearty and fragrant this Gluten-Free Dutch Apple Quick bread is made in a jiffy – plenty of apples, cinnamon butter topping and vanilla glaze. So so good! There is a reason apples and cinnamon are a classic pairing. I can't think of two flavours that go better together.
the best gluten-free Dutch apple quick bread recipe…
This breakfast loaf or a snack is just the thing to make your day better. The apple quick bread is sure to satisfy when you need just a little slice of something sweet.
Why is this apple quick bread named Dutch?
Whether it is a Dutch Apple cake, Dutch Apple pie or Dutch Apple quick bread, the recipes are made with a streusel topping of flour, butter and sugar baked on top, adding a delicious sweet crunchy topping.
In this streusel recipe, I added cinnamon making the topping flavourful and complimenting the apples in the loaf.
Why add the vanilla glaze when there is already a streusel topping?
This is a great question. First, the vanilla glaze is optional, but it adds extra creamy lightly flavoured with vanilla topping. In this Dutch apple quick bread recipe, I reduced the amount of sugar that I would normally use in a loaf of this size. This allowed me to add the vanilla glaze making this apple treat spectacular.
I have replaced olive oil for butter in this sweet bread, making it lighter and healthier. You will love it, and it is by far most loved apple loaf by kids, well at least in my family 🙂
Want more recipes with streusel toppings? Check out these gluten-free sweet treats.
Ingredients
1/2 cup extra virgin olive oil
3/4 cup sugar (I prefer coconut sugar)
2 large eggs
1/2 cup milk
1 tsp. Pure vanilla extract
2 cups gluten-free all-purpose flour blend, one that includes xanthan gum. Otherwise, add 1/2 tsp. Xanthan Guam
1 1/2 tsp. GF aluminum-free baking powder
1/2 tsp. Sea salt
2 cups peeled diced apples. (About 2 small apples)
1/3 cup finely chopped walnuts (optional)
STREUSEL TOPPING
5 Tbsp. Unsalted butter
1/4 cup gluten-free flour blend
4 Tbsp. Sugar (I used coconut sugar, you can also use brown sugar)
1 1/2 tsp. GF ground cinnamon
VANILLA GLAZE (optional)
1 Tbsp. Unsalted butter
1 Tbsp. Milk, at room temperature 
1/4 tsp. Pure vanilla extract
1/2 cup powdered sugar
*As an Amazon Associate and member of other affiliate programs, I earn from qualifying purchases. Please check out my sponsorship and disclosure policy page for more details
Instructions
Preheat oven to 350 F and line a basic loaf pan 9 x 5-inches with parchment paper
Using an electric mixer, whisk the olive oil with sugar until the sugar has dissolved. About 2 minutes. Add in eggs, milk and vanilla and mix until blended
Mix in flour, baking powder and salt. Fold in apples and walnuts. Transfer batter to the loaf pan
For the topping; mix everything together using a pastry fork until crumbly. Scatter over batter in the pan and bake for 60 - 65 minutes, until the loaf passes a toothpick test
Cool in the pan for 15 minutes, then transfer to a cooling rack
For the vanilla glaze; cream everything together and drizzle over cooled loaf
Similar Recipes
Gluten Free Butternut Squash-Apple Cake
Imagine a cake made with squash and apples that your entire family will love! Honestly, every time I make this Gluten Free Butternut Squash-Apple Cake, there isn't a crumb leftover. This deliciously flavoured moist cake can be served as a dessert, snack or polish it off for breakfast…my favourite 🙂 Your family will never know […] Read More
Prep Time
20 Minutes
Difficulty
Easy
Cook Time
60 Minutes
Serves
8 - 10
Easy Gluten-Free Apple Cobbler
This is a super Easy Gluten-Free Apple Cobbler recipe. An apple dish that is nothing short of deliciousness.  Every bite is filled with tasty buttery apples, fresh lemon, vanilla, cinnamon and a hint of nutmeg. The apples are tender, and the gluten-free biscuit topping is fluffy and light. Every bite is beyond delicious. I promise […] Read More
Prep Time
15 Minutes
Difficulty
Easy
Cook Time
50 Minutes
Serves
6
Gluten-Free Breakfast Apple Yogurt Cake
Gluten-Free Breakfast Apple Yogurt Cake topped with soft, healthy apples lightly flavoured with cinnamon and maple syrup. I promise you, this rustic apple cake will melt in your mouth. The gluten-free cake is made with three layers. The first layer is apples, then a delicious moist healthy cake which is finished with a layer of […] Read More
Prep Time
20 Minutes
Difficulty
Easy
Cook Time
45 Minutes
Serves
10-inch round cake