Dutch Apple Quick Bread – Gluten Free
Published on Apr 05, 2020
by
Kristina Stosek
Prep Time:

15 minutes
Cook Time:

65 minutes
Serves:

1 loaf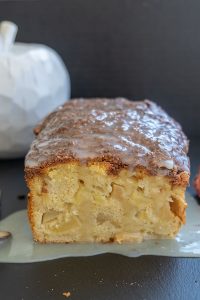 ​This post may contain affiliate links, please see our
privacy policy
for details
Hearty and fragrant, this Gluten-Free Dutch Apple Quick bread is made in a jiffy – studded with chunks of fresh apples, cinnamon, butter topping and vanilla glaze. So so good! There is a reason apples and cinnamon are a classic pairing. I can't think of two flavours that go better together.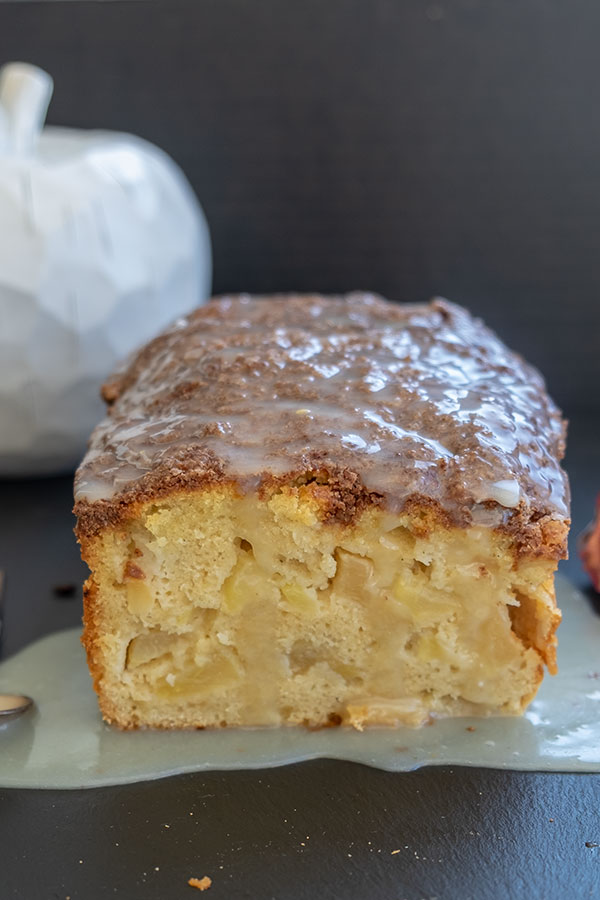 What is a quick bread?
Quick bread batter is made without yeast. It is usually leavened with baking soda or baking powder and includes recipes such as sweet bread, muffins, biscuits, and pancakes.
Who invented quick bread?
There are conflicting stories about who invented quick bread. Some say it was created by Native Americans, while others claim that European settlers developed it.
Quick bread became popular in the United States during the 1800s. At that time, baking powder and baking soda were first introduced, and recipes for quick breads began to appear in cookbooks. Quick bread quickly became a staple in American kitchens because they were so easy to make.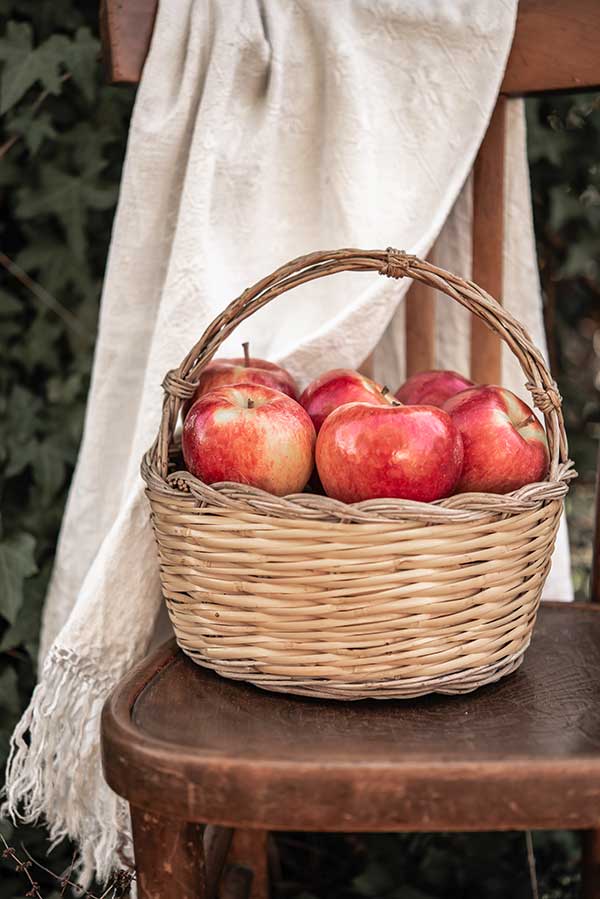 Why is this apple recipe named Dutch?
Whether it is a Dutch Apple cake, Dutch Apple pie or Dutch Apple quick bread, the recipes are typically made with a streusel topping of flour, butter and sugar baked on top, adding a delicious sweet crunchy topping.
In this streusel recipe, I added cinnamon making the topping flavourful and complimenting the apples in the loaf.
Why does this quick bread take longer to bake?
This gluten-free Dutch apple quick bread recipe takes a bit longer to bake than some other quick bread recipes because it contains apples. Apples are naturally dense fruit that takes a bit longer to cook through.
However, the resulting bread is moist, flavourful, and well worth the extra few minutes in the oven!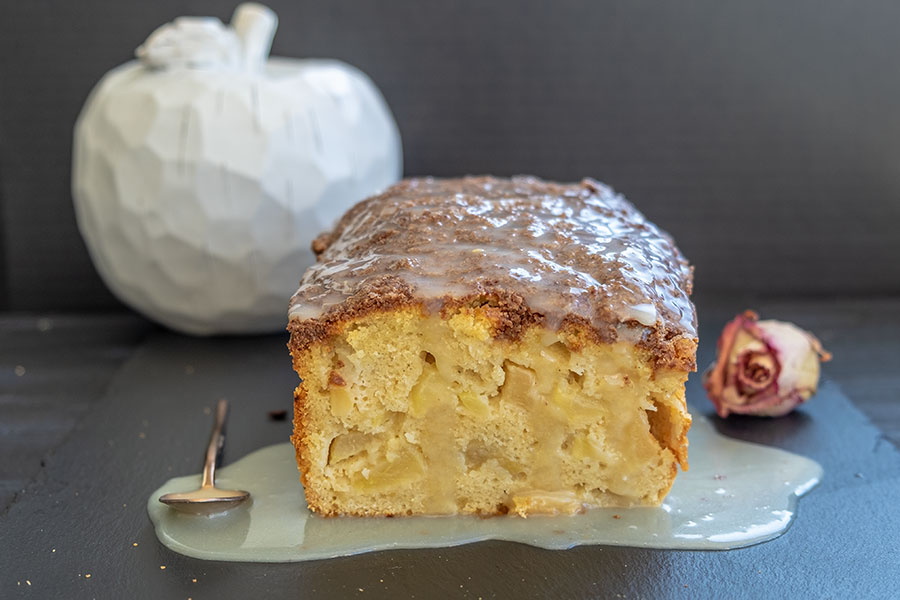 What fruits are best in quick bread recipes?
There are a lot of different fruits that you can use in quick bread recipes. Some of the more popular ones include apples, bananas, and blueberries.
However, you can use any fruit that you like. Make sure the fruit is fresh and ripe. This keeps the loaf moist and adds sweetness to the quick bread. You must check out this Gluten-Free Brown Butter Blueberry Snacking Cake…SOO GOOD!
Why add the vanilla glaze when there is already a streusel topping?
This is a great question. First, the vanilla glaze is optional. However, it adds creamy vanilla topping, setting the quick bread apart from most!
In this Dutch apple quick bread recipe, I reduced the amount of sugar that I would normally use in a loaf of this size. This allowed me to add the vanilla glaze making this apple treat spectacular.
In addition, I have replaced olive oil for butter in this sweet bread, making it lighter and healthier because we are avoiding saturated fats. You will love it, and it is by far most loved apple loaf by kids… at least in my family :-).
quick bread vs cake
When it comes to quick bread, many people think of them as being synonymous with cake. However, there are some key differences between the two types of baked goods. For example the Gluten-Free Cinnamon Roll Cake is made with yeast.
Quick bread generally doesn't contain leavening agent, such as yeast. This means they're often denser and not as light and fluffy as cake.
Additionally, quick bread is usually made with a wetter batter, which helps to keep them moist. But don't let that fool you – it will melt in your mouth.
How long will quick bread last?
This gluten-free quick bread is freezer-friendly, so you can make a batch ahead of time and have it on hand for those busy mornings. But how long will this quick bread last?
Typically, quick bread will stay fresh for about 3-4 days when stored in an airtight container at room temperature. However, if you want it to last a little longer, you can keep it in the refrigerator for up to 1 week. Just be sure to wrap it tightly in plastic or place it in a resealable bag before storing it in the fridge.
So whether you're looking for a healthier breakfast option or a tasty snack, gluten-free apple quick bread is a great choice. Serve it warm with a dollop of cream cheese, or enjoy it cold with a cup of coffee or tea.
Want more recipes with streusel toppings? Check out these gluten-free sweet treats.
Let's Connect!
Be sure to FOLLOW US on FACEBOOK and PINTEREST.
Many thanks!
Kristina xx
Dutch Apple Quick Bread – Gluten Free
Published on Apr 05, 2020
by
Kristina Stosek
Instructions
1.

Preheat oven to 350 F and line a standard loaf pan 9 x 5-inches with parchment paper

2.

Using an electric mixer, whisk the olive oil with sugar until the sugar has dissolved. About 2 minutes. Add in eggs, milk and vanilla and mix until blended

3.

Mix in flour, baking powder and salt, do not overmix. Gently fold in apples and walnuts. Transfer the batter to the loaf pan

4.

For the streusel topping; using a fork, mix everything until crumbly. Scatter the mixture over the top of the batter and bake for 60 - 65 minutes, until the loaf passes a toothpick test

5.

Cool in the pan for 15 minutes, then transfer to a cooling rack

6.

For the vanilla glaze; mix the ingredients until creamy, and drizzle over the cooled loaf
Leave a Comment
Kristina
We have added grams, and are working on using both measurements in the future. Thank you Margaret
Kristina
thank you for sharing Martha.
This looks very good. But could you add the ingredients by weight? This is much more accurate when you are using different kinds of gluten free flour. Many thanks
I use PureCane in my baking. It is fermented sugar with zero calories and 0 on glycemic index. It is approved by the FDA for diabetics. It tastes exactly like regular sugar. They only thing I didn't like it in was lemonade.
Kristina
yes Barbara, but you have to chop the apples to very small pieces. Do not grate the apples. The baking time will be shorter as well.
Could this recipe be made into muffins?
the BEST gluten free Dutch apple bread I ever tried!!
Kristina
that's so great to hear Kat, thank you for sharing
Oh my heavenly word! This was amazing. I didn't do the vanilla glaze because of not wanting the added sugar, but I personally didn't miss it. I didn't have xanthan gum, so I used ground flax (1tbs per cup of flour)instead and reduced the sugar in the bread to 1/2 cup. Everyone in my office raved about it. My daughter asked me to make it again immediately and I am planning on bringing to Thanksgiving Day dinner.
Kristina
amazing, moist, delicious and tasty!
Kristina
Oh wow, I am so happy you enjoyed them and shared your tips. Thank you!
I made this yesterday and had it for dessert last night and then for breakfast this morning. It was perfect -- so moist (but it still held together) and not overly sweet. I think the walnuts (or maybe pecans!) are a must. I added 1 t. cinnamon to the cake batter which is a good thing because in the end I forgot to add the cinnamon into the streusel topping. Also, I ran out of GF flour so I used millet flour for the topping and it turned out just fine. I didn't use parchment paper and just buttered my loaf pan which has a nonstick coating and had no problem with sticking. I also omitted the glaze because I served the cake warm out of the oven with vanilla ice cream instead. So yummy. A keeper!