Brown Butter Blueberry Snacking Cake – Gluten Free
Published on May 14, 2022
by
Kristina Stosek
Prep Time:

15 minutes
Cook Time:

60 minutes
Serves:

8-10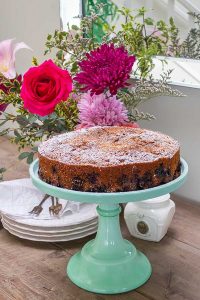 ​This post may contain affiliate links, please see our
privacy policy
for details
This is the most spectacular Gluten-Free Brown Butter Blueberry Snacking Cake. Extra moist deep flavoured brown butter cake studded with healthy blueberries, a zing from lemon zest and walnut topping.
This gluten-free recipe is not your typical blueberry coffee cake. Instead, this cake has a tasty brown butter flavour and is healthier than most coffee cakes. Another cake you will love is the Gluten-Free Blueberry Streusel Coffee Cake. This is our most downloaded blueberry cake recipe.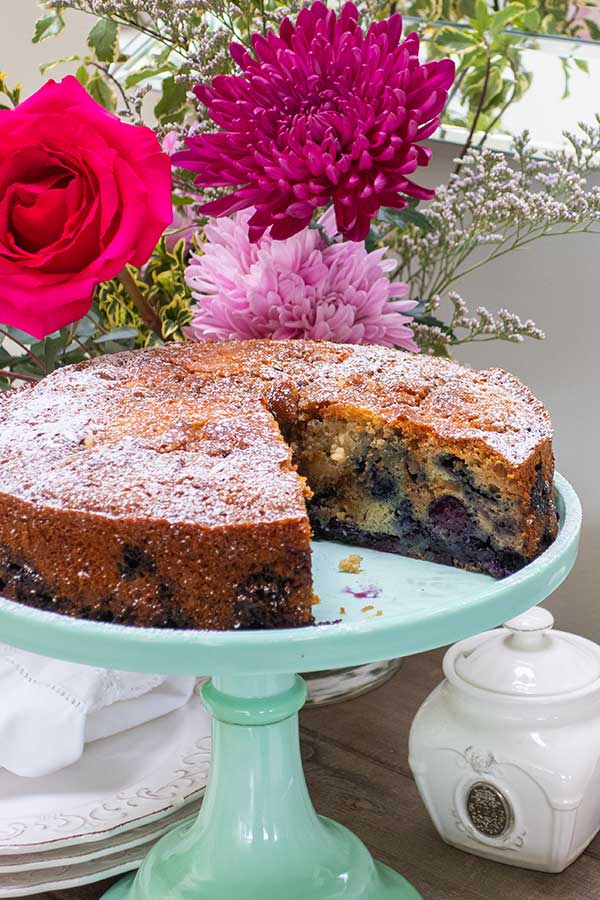 healthy ingredients in brown butter blueberry cake,
The key ingredients to make this snacking cake healthier are protein and fibre-packed almond flour, healthy millet flour, eggs, buttermilk, and honey for added sweetness.
the walnut topping,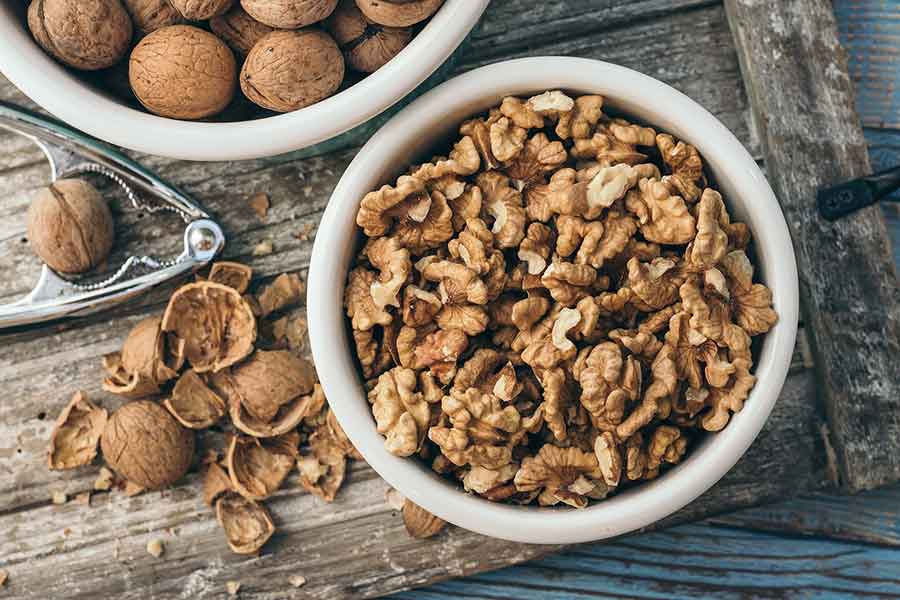 The gluten-free snacking cake is finished with the most delicious crunchy brown butter walnut topping. The topping is the key to separating this blueberry cake apart from most. Walnuts are rich in omega 3's, protein and fiber, adding healthiness to this recipe.
Why is brown butter so good?
Brown butter is an excellent way to achieve more flavour. The brown butter adds a rich caramelized flavour that regular butter can't, making baked goods more delicious.
Things to know about blueberries in baking!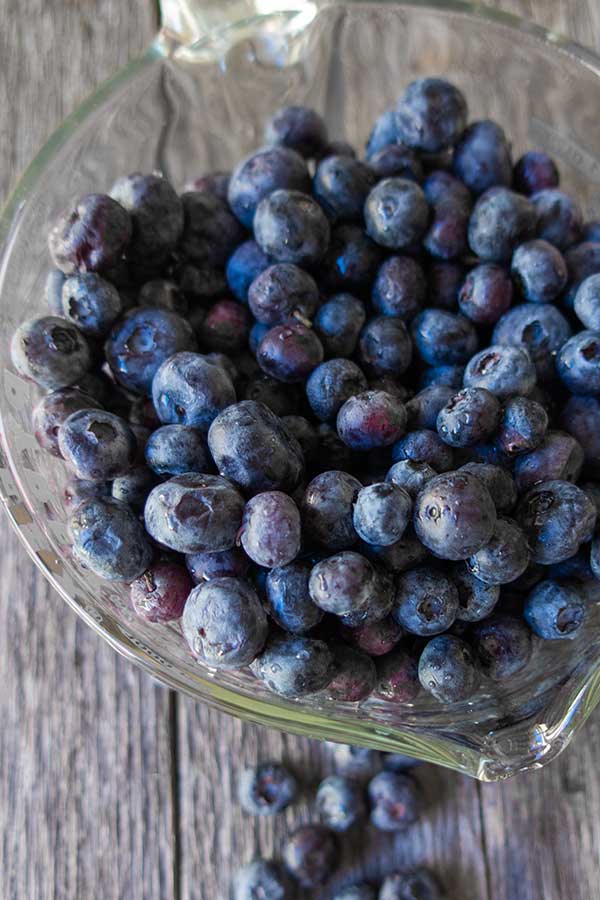 How do you prevent fresh blueberries from sinking to the bottom of the cake?
This is one of the most asked questions when baking with blueberries. To prevent the berries from sinking, toss the blueberries with some of the measured flour before folding them into the batter.
What is better frozen or fresh blueberries in baking?
Fresh blueberries will give you a better texture and fresh flavour in coffee cakes and muffins because they will not be fully cooked. On the other hand, frozen blueberries are good for pies, tarts and jams. But you can use either with some tweaks.
How do you prevent frozen blueberries from sinking to the bottom?
Frozen blueberries act differently in cakes. To avoid the soggy bottoms in cakes or muffins, spoon a third of the batter into the cake or muffin pan first. Then fold in floured blueberries in the remaining batter and spoon on top of the batter that is without the blueberries.
Should you thaw frozen blueberries before baking?
For baking, you don't need to thaw frozen blueberries. However, it is best to thaw the blueberries first when preparing anything with a short cooking time, like pancakes.
4 steps to make brown butter blueberry cake
brown the butter and make the topping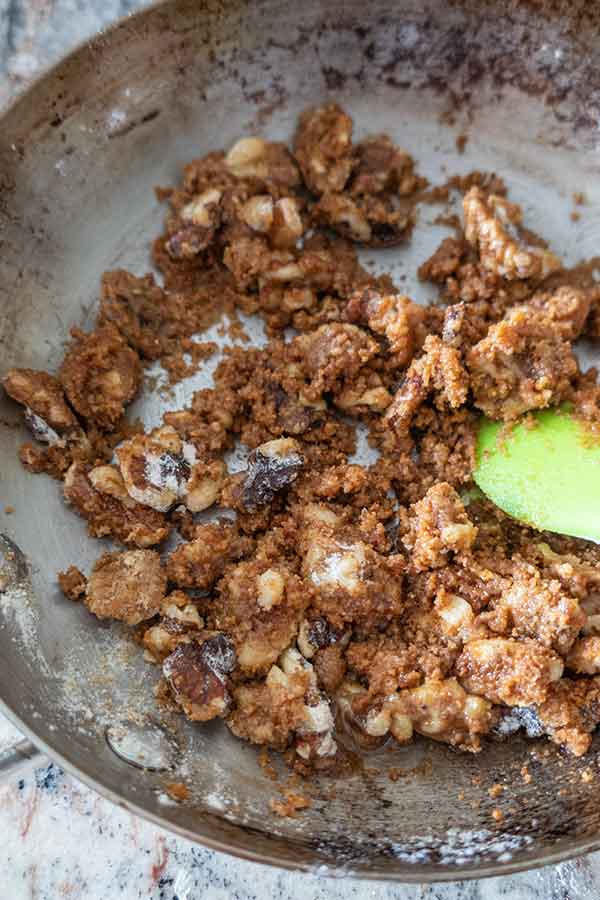 pour the batter with some of the blueberries into the pan, then top with the remaining blueberries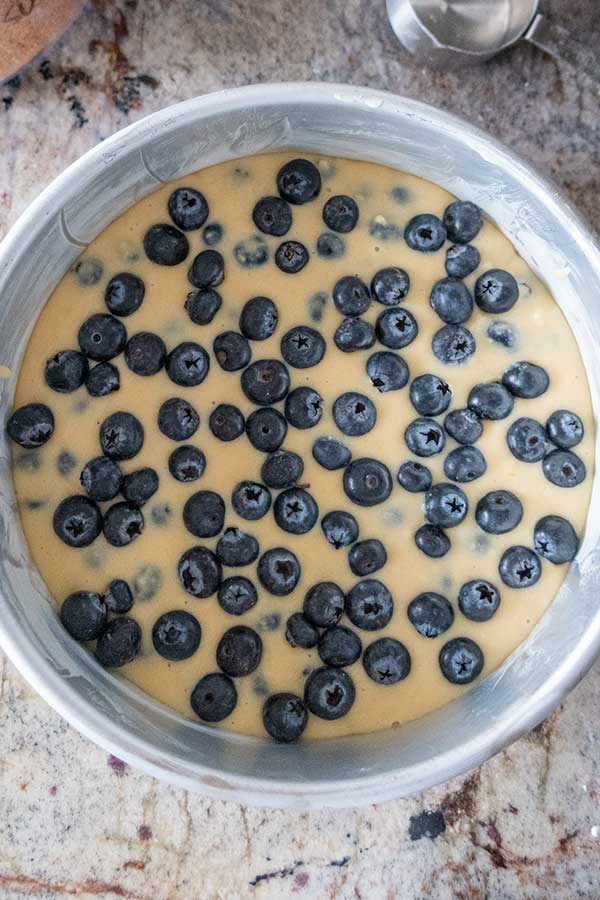 add the walnut topping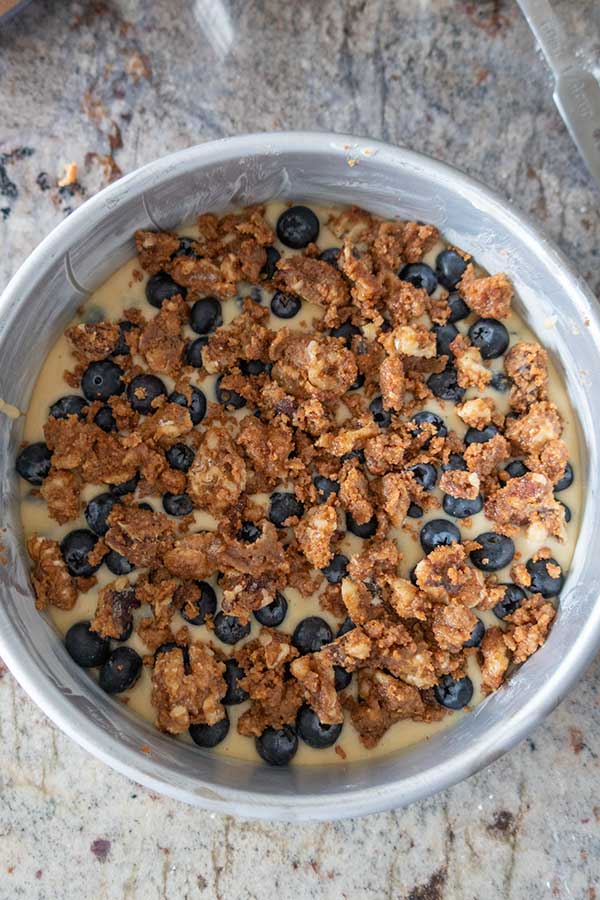 bake the brown butter blueberry cake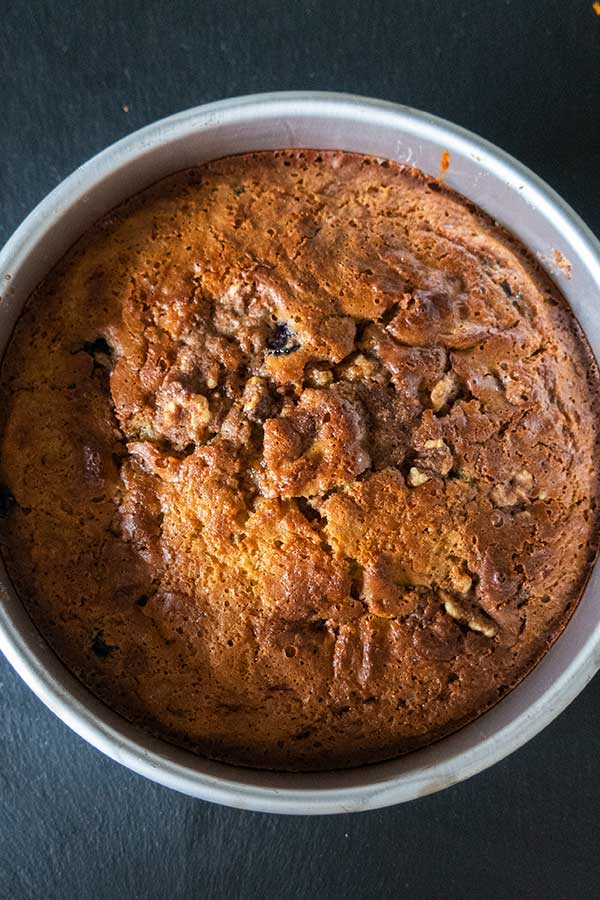 This snacking blueberry cake is delicious just as is. But, if you want to make it look prettier, you can sprinkle it with powdered sugar or drizzle with cream cheese icing.
cream cheese icing recipe for one cake,
2 oz. cream cheese, softened
1/4 cup GF confectioners' (powdered) sugar
1/4 tsp. pure vanilla extract or 1/2 tsp. fresh lemon juice
1 – 2 Tbsp. milk
Whisk the cream cheese and sugar in a small bowl until fluffy. Add the vanilla/lemon juice and 1 tablespoon milk, and whisk until smooth. If too thick to drizzle, add more milk,1 teaspoon at a time. If your cream cheese isn't soft, heat it in the microwave in 5-second intervals.
serving options for brown butter blueberry cake,
This gluten-free brown butter blueberry cake makes a beautiful addition to a brunch table or enjoy as a healthier snack when you crave something sweet and spectacular or need an energy boost. Enjoy!
Brown Butter Blueberry Snacking Cake – Gluten Free
Published on May 14, 2022
by
Kristina Stosek
Instructions
1.

2.

3.

Start with browning the butter. You will need the butter for the cake and the walnut topping. Melt butter in a small skillet over medium heat until solid particles turn golden brown, swirling periodically for 5 - 7 minutes. Transfer 7 tablespoons to a small bowl until ready to use

4.

5.

Add walnuts, millet flour, and salt to the same skillet with the remaining 3 tablespoons of melted butter. Stir everything together with a fork until crumbs form. Refrigerate until ready to use

6.

7.

In a large bowl, whisk the flours, baking soda, salt and xanthan gum. Toss the blueberries with 1/4 of the flour mixture

8.

In a medium bowl, whisk together eggs, buttermilk, honey, lemon zest, vanilla and remaining brown butter. Add wet ingredients to dry and stir until just combined. Fold in 1 cup of the blueberries

9.

Transfer the batter to the prepared cake pan. Scatter and press the remaining 2 cups of blueberries on top. Scatter the walnut crumb mixture over top, breaking up any large lumps. Bake until browned on top, and a toothpick comes out clean when inserted in the middle. 60 - 65 minutes. Let cool for 30 minutes

10.

To remove the cake from the pan, run a knife along the edges. Place a large plate on top of the cake pan and turn it upside down. Remove the parchment paper and place your serving plate on top and flip the cake

11.

Optional; Once the cake is fully cooled, you can sprinkle it with powdered sugar or drizzle it with cream cheese icing. *Recipe on the blog