Gluten-Free Cinnamon Roll Cake
Prep Time
15 + Minutes
Difficulty
Easy
Cook Time
30 Minutes
Serves
8
Average Rating: 4.5 | Rated By: 6 users
I am super excited over this Gluten-Free Cinnamon Roll Cake. Pillowy cake with sweet cinnamon swirls throughout and topped with a light cream cheese vanilla frosting. I say move over cinnamon rolls because this Cinnamon Roll Cake is absolutely delicious.
You may never go back to the classic cinnamon rolls after you make this gluten-free breakfast cake recipe.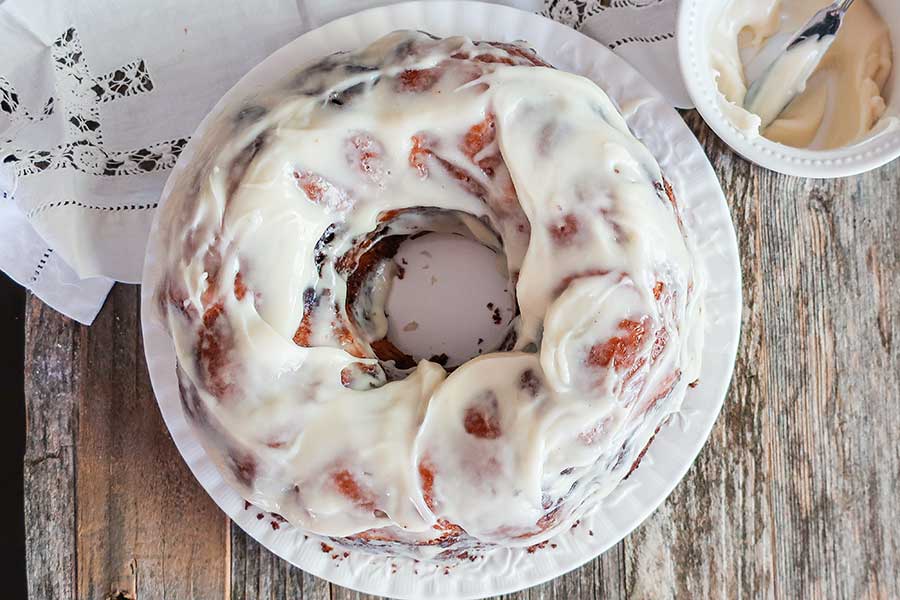 details about the Gluten-Free Cinnamon Roll Cake,
This cinnamon roll cake recipe is probably one of the easiest recipes. There is no kneading, no rolling and very little mess to clean up. The gluten-free dough is leavened with quick rise yeast.
This means you don't have to proof it first. The yeast is mixed into the dry ingredients. Once the dry ingredients are combined, whisk the wet ingredients and mix into the flour until smooth. The dough is now ready.
Something to keep in mind, for best results, the milk must be warm at about 110 F, the butter melted and still slightly warm, and the eggs are at room temperature. For the yeast dough to rise properly, it is all about the temperatures.
How to make the cinnamon swirls?
To make this cinnamon roll cake, I used a bundt pan. Not only the pan makes the cake pretty, but the cake bakes faster in a bundt pan. To make the cinnamon swirls is super easy. The dough and the sweet cinnamon mixture is divided in half and then swirled into each layer.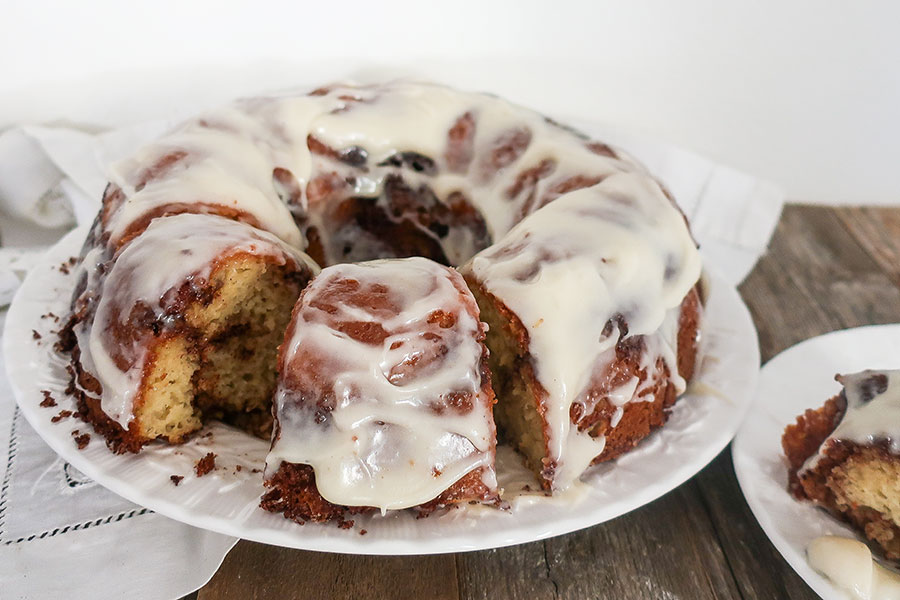 the quickest way to rise the dough,
I always use this trick, I preheat the oven at 375 F for 5 minutes and then turn it off. Loosely cover the pan with a plastic wrap and then place in the slightly warm oven.
Using this method, you will avoid cold drafts, which tend to slow down the rising, and the temperature in the oven is perfect for a yeast dough to rise.
To conclude, this Gluten-Free Cinnamon Roll Cake has become one of my favourite recipes whenever my family craves something warm and comforting. Not only this gluten-free breakfast cake is a super easy recipe to make, but there is also very little mess, and the results are outstanding.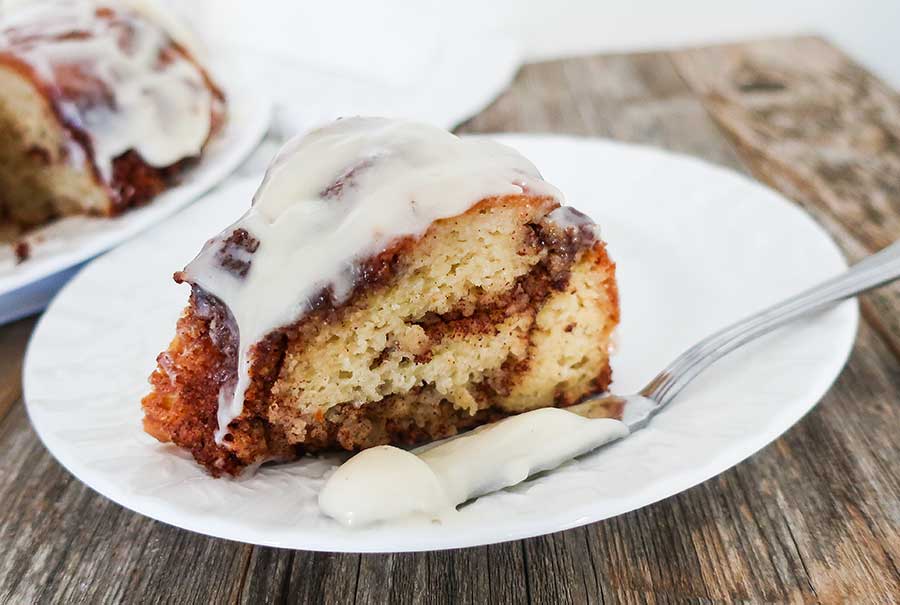 The best part, you can prepare it the night before and place it in the fridge overnight. In the morning, bring the cake to room temperature and bake.
There is nothing better than a freshly baked, made from scratch breakfast cake. Especially when it is still warm and drenched with the most delicious cream cheese vanilla frosting.
I promise you, this Gluten-Free Cinnamon Roll Cake will not disappoint. If you need more breakfast cake recipes check out our two most popular recipes. The Gluten-Free Coconut Pear Breakfast Cake or the Ricotta Gluten-Free Breakfast Cake with Blueberries.
For the latest recipes and tips, please like us on Facebook or follow us on Pinterest 
Ingredients
3 cups GF flour blend, one that includes xanthan gum. Otherwise, add 1 tsp. (This GF flour worked beautifully in this recipe)
1 packet GF quick-rise instant yeast
1 Tbsp. GF baking powder
1/2 tsp. Sea salt
1 1/2 cups warm milk (about 110 F)
1/3 cup melted unsalted butter
2 large eggs, at room temperature
2 Tbsp. Pure maple syrup, coconut or brown sugar
2 tsp. apple cider vinegar
1 tsp. Pure vanilla extract
CINNAMON SWIRL 
1/2 cup coconut or brown sugar
1 1/2 Tbsp. GF ground cinnamon
1/4 cup unsalted butter, melted
CREAM CHEESE VANILLA FROSTING
4 oz. light cream cheese, softened
2 Tbsp. unsalted butter, softened
1/2 tsp. Pure vanilla extract
*As an Amazon Associate and member of other affiliate programs, I earn from qualifying purchases. Please check out my sponsorship and disclosure policy page for more details
Instructions
In a large bowl, mix flour, yeast, baking powder, and salt
In a separate bowl, whisk milk, melted butter, eggs, sweetener, apple cider vinegar and vanilla
Add wet mixture to dry ingredients, and using a spatula, mix until smooth. The dough will be very sticky
Using a small bowl, mix the cinnamon swirl ingredients
Spread half the dough on the bottom of the bundt pan and top with half the cinnamon mixture. Using a knife, swirl the mixture into the dough, but don't mix it all in. You want to see cinnamon swirls. Repeat with remaining dough and swirl in remaining cinnamon mixture
Cover the pan with plastic wrap and place in a warm place for 60 - 90 minutes allowing the dough to rise by about 50%. Or place the pan in the fridge overnight. In the morning, bring it to room temperature before baking. (please note, place then pan in the fridge after the dough has risen)
Bake at 375 F for 30 - 35 minutes until the top is golden brown and firm to touch
Remove from the oven and cool in the pan for 10 minutes. Using a knife loosen the edges and invert onto a plate

In a small bowl, combine cream cheese, butter, powdered sugar and vanilla extract until smooth. Spread over warm cinnamon roll cake and serve. Enjoy! 
As with all gluten-free baking this cake is best eaten when fresh
Similar Recipes
Gluten-Free Honey Cinnamon Rolls
Enticingly addictive Gluten-Free Honey Cinnamon Rolls…Buttery, sticky rolls made with honey, cinnamon, nutmeg, and generously topped with cinnnamon butter and cream cheese frosting. Every bite is filled with sweet, deliciousness melting in your mouth. There is nothing not to love about these gluten-free honey cinnamon rolls. First, these are not your classic cinnamon rolls. I […] Read More
Prep Time
25 Minutes
Difficulty
Easy
Cook Time
30 Minutes
Serves
8
Pull Apart Sticky Pumpkin Spice Buns – Gluten Free
Warming Gluten-Free Pull-Apart Sticky Pumpkin Spice Bun recipe! All I can think of is warm, buttery, sticky, deliciously spiced pumpkin spice buns straight out of the oven, especially on Thanksgiving or Christmas morning. While the sticky pumpkin spice buns are baking, the aroma in the kitchen is intoxicating! OMG Holidays are about memories with the […] Read More
Prep Time
20 Minutes
Difficulty
Moderate
Cook Time
30 Minutes
Serves
12