Apple Cinnamon Monkey Bread – Gluten Free
Published on Oct 16, 2022
by
Kristina Stosek
Prep Time:

20 minutes
Cook Time:

40 minutes
Serves:

8 - 10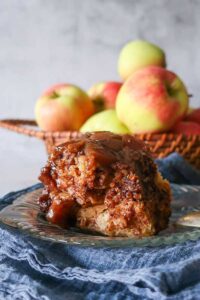 ​This post may contain affiliate links, please see our
privacy policy
for details
With apple season in full force, this Gluten-Free Apple Cinnamon Monkey Bread is an apple recipe to try this fall. The monkey bread is soft, moist, and filled with apple chunks and buttery cinnamon sauce.
It's perfect for breakfast, brunch as a snack or dessert with a dollop of vanilla ice cream.
Why is apple cinnamon monkey bread so popular?
There are many reasons to love monkey bread, but here are just a few:
1. It's delicious! Sweet, sticky, and full of flavor, monkey bread is hard to resist.
2. It's easy to make. This gluten-free monkey bread is super simple to make. Your hands never touch the batter.
3. It's perfect for a crowd. This sweet apple bread is ideal for potlucks, brunch, and other gatherings where you need to feed a large group of people.
4. It's versatile. Monkey bread can be served as a dessert or breakfast dish, with endless variations on the basic recipe.
5. It's fun to eat! Monkey bread is meant to be pulled apart with your hands, so it's a great food to share with others.
you can never have enough apple recipes
There are countless ways to enjoy apples, but one of our favorites is in this Apple Cinnamon Monkey Bread! It's a fun and easy twist on the classic monkey bread recipe, and it's gluten-free to boot.
Here are our two most popular apple recipes. The Very Best Gluten-Free Apple Fritter Bread and the Dutch Apple Quick Bread recipe.
Apple cinnamon monkey bread recipe overview:
When it comes to Monkey Bread, there are a few things you need to keep in mind. First, make sure that your bundt pan is greased well. This will help the bread not to stick and make it easier to remove from the dish when it's done baking.
Second, be sure to use a suitable gluten-free flour blend. There are many brands out there, but some work better than others. The two no-fail gluten-free flour blends that I have used are the King Arthur, Measure for Measure, and Bob's Red Mill 1 to 1 Measure.
Third, if you want to add some extra flavor to your Monkey Bread, try adding other spices like cardamom or nutmeg.
How to serve gluten-free sweet monkey bread?
When it comes time to serve this apple cinnamon monkey bread, it is best served warm or at room temperature.
Once it's ready, cut the bread into generous slices or let everyone pull apart the gooey pieces themselves.
Serve as is. Or, to make it luxuriously delicious, add a dollop of vanilla ice cream, warm cream cheese or whipped cream.
To reheat the bread, loosely wrap it in foil paper and re-heat in the oven
Things you will need to make monkey bread:
bundt pan
cookie scoop or ice cream scoop
medium saucepan
cling wrap and foil paper
apples
cinnamon
coconut sugar
butter
monkey bread batter
How is gluten free monkey bread made?
This gluten-free monkey bread recipe is a sticky quick bread batter using quick-rise instant dry yeast.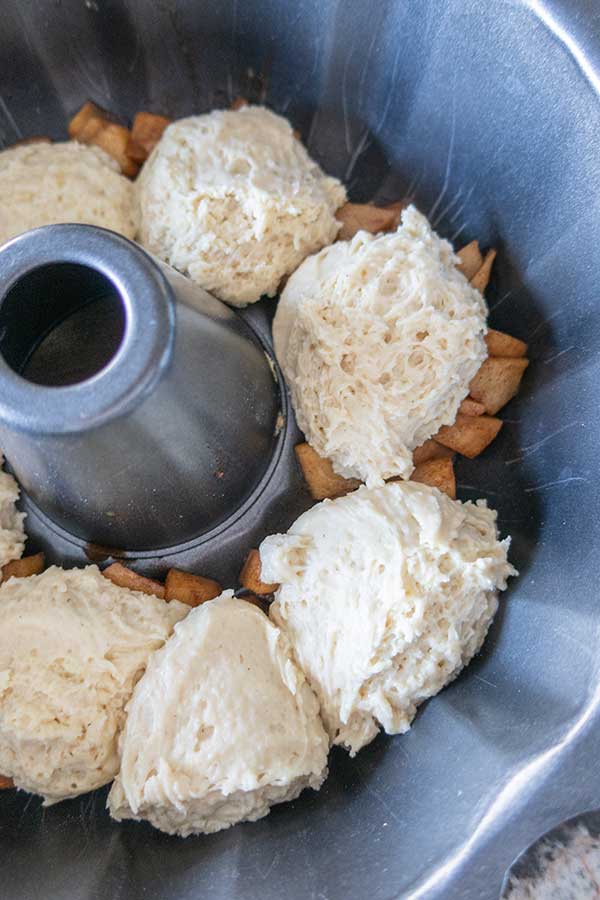 Using a cookie scoop, the dough is formed into small balls, then layered with cinnamon apples, a drizzle of butter and cinnamon sugar.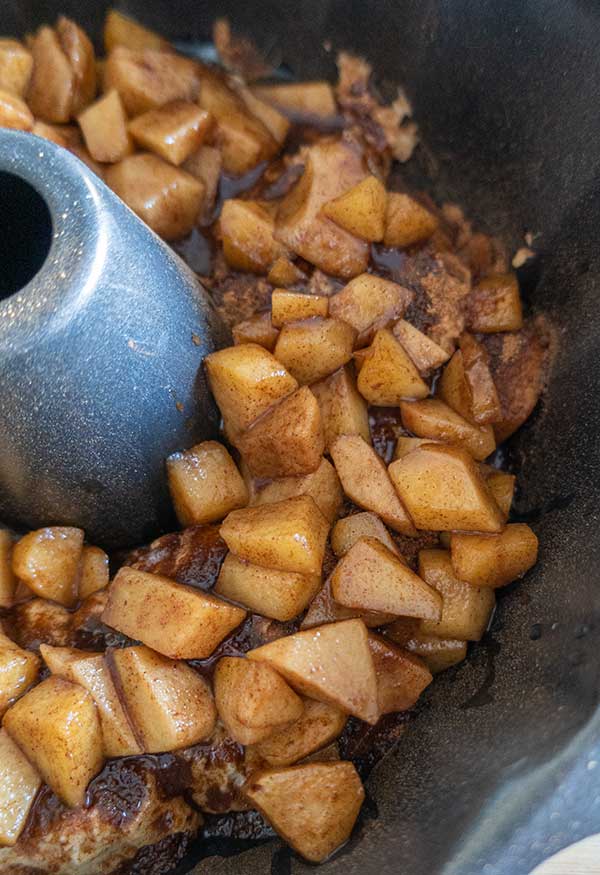 The monkey bread is baked in a bundt pan, then inverted onto a platter exposing tender cinnamon apple topping.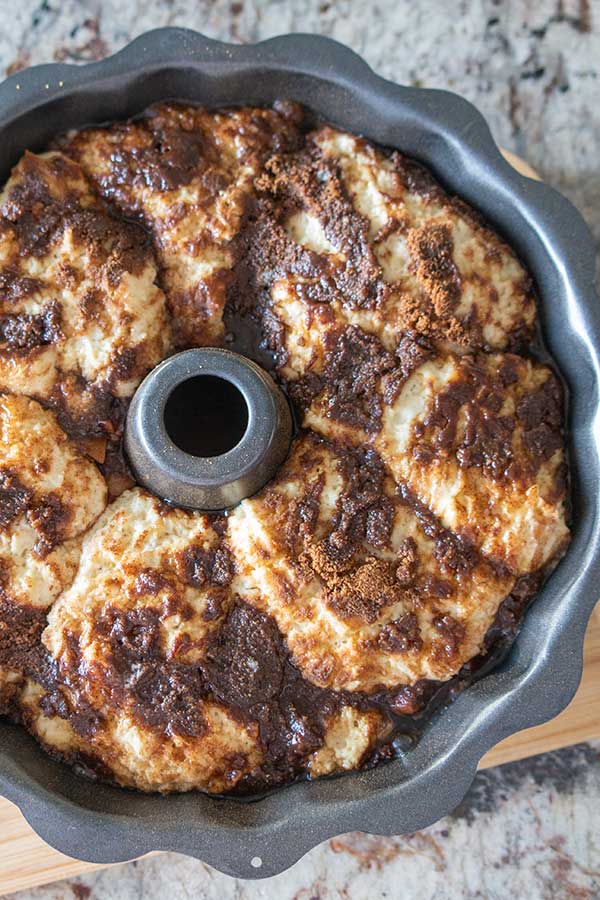 The result is a soft, slightly sweet bread with cinnamon apples and plenty of goey cinnamon butter.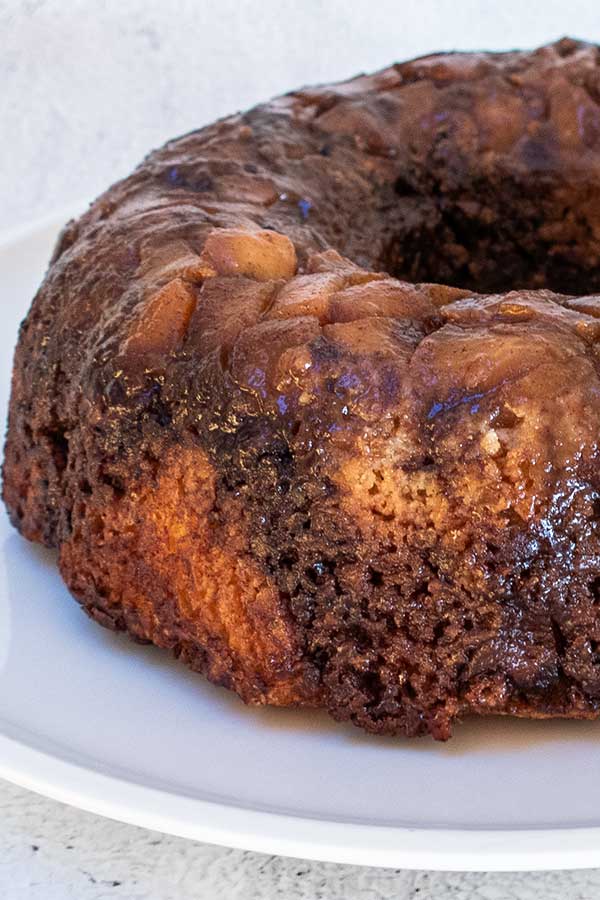 best apples for baking
There are a few different schools of thought on what type of apple is best when it comes to monkey bread. Granny Smith apples are a good option for those who like their monkey bread on the tart side. However, Golden Delicious or Braeburn apples are a better bet for sweeter monkey bread.
When using fresh apples, ensure they're peeled and cored and uniformly sliced into small cubes so they'll cook evenly in the monkey bread.
sides to apple cinnamon monkey bread
There are many delicious sides to apple cinnamon monkey bread. One of our favorites is a dollop of whipped cream or ice cream. And, if you're feeling adventurous, add a side of smoky, crispy bacon. This combination is perfect for breakfast or brunch.
There is something about apples and bacon together. YUM! Have you tried the Garlic Cheese Monkey Bread Recipe?
summary
This monkey bread is the perfect breakfast or brunch dish! It's made with gluten-free flour, so it's suitable for those with gluten sensitivities or celiac disease. The apples make it extra tasty, and the bread is moist and goey with cinnamon butter throughout.
Let's Connect!
Be sure to FOLLOW US on FACEBOOK and PINTEREST.
Many thanks!
Kristina xx
Apple Cinnamon Monkey Bread – Gluten Free
Published on Oct 16, 2022
by
Kristina Stosek
Instructions
1.

2.

in a medium saucepan, melt the butter over medium heat. Add apples and cinnamon and stir to coat the apples with the butter. Cook for 1 minute. Cover the saucepan and remove from the heat. Cool. *the apples can be made in advance and stored at room temperature until ready to use

3.

4.

In a mixing bowl of an electric mixer, mix over low-speed flour, yeast baking powder, and salt

5.

In a medium glass bowl, heat the milk. Whisk in olive oil, maple syrup, and vinegar. Add eggs and whisk again.

6.

Pour milk mixture into dry ingredients and, using a dough hook, beat on medium speed until smooth, scraping the bottom and sides as needed. About 2 minutes. You can also do this by hand

7.

Cover the bowl with plastic wrap and rest in a warm place for 30 minutes before using

8.

9.

Spray a 10-12 cup Bundt pan with cooking spray or brush with melted butter

10.

Scatter 1/3 of the apple mixture over the bottom of the bundt pan. 

11.

Using a cookie scoop, drop dollops of batter over the apples. You will use a little less than half the batter. They should be barely touching *see photos on the post. The dough will be sticky - that's normal! This is why using a cookie scoop makes this monkey bread recipe so easy.

12.

Drizzle 1/4 cup of melted butter over the batter, then sprinkle with 1/2 cup of cinnamon sugar, and top with the remaining apples

13.

Add the remaining batter using the cookie scoop method, drizzle with remaining melted butter and top with remaining cinnamon sugar

14.

Cover the pan with plastic wrap and rise for about 1 hour in a warm place

15.

Preheat oven to 350 F and bake for 30 minutes. Then loosely cover with foil paper facing shiny side up and continue baking 10 more minutes.

16.

Cool for 10 minutes, then invert onto a large serving plate. Enjoy warm or at room temperature