Gluten-Free One Bowl Chai Spiced Apple Walnut Muffins
Prep Time
10 Minutes
Difficulty
Easy
Cook Time
40 Minutes
Serves
12
Average Rating: 5 | Rated By: 11 users
Wholesome Gluten-Free One Bowl Chai Spiced Apple Walnut Muffins. Super easy to put together using only one bowl and pantry staple ingredients. I am using fresh apples, walnuts, olive oil for moistness, maple syrup, chai spices, eggs, sour cream and all-purpose gluten-free flour.
Chai Spiced Apple Walnut Muffins made using only one gluten-free flour blend!
Seriously, I used only one flour to keep things simple. This is a perfect gluten-free muffin for breakfast or energizing afternoon snack using healthy walnuts.
How to make one bowl muffin recipe?
First, you will need one large mixing bowl. When it comes to one bowl muffin recipes, there are specific steps to follow for the best results. First, start with wet ingredients. In this recipe, this means maple syrup, olive oil and eggs.
Using an electric mixer whip up these ingredients until fluffy. Now you add the sour cream, vanilla and apples and briefly mix. This is it for the wet ingredients.
Time to add remaining ingredients, and please add them in the order as listed, then stir with a spatula until combined, do not overmix or the muffin will become dense and dry. That's it!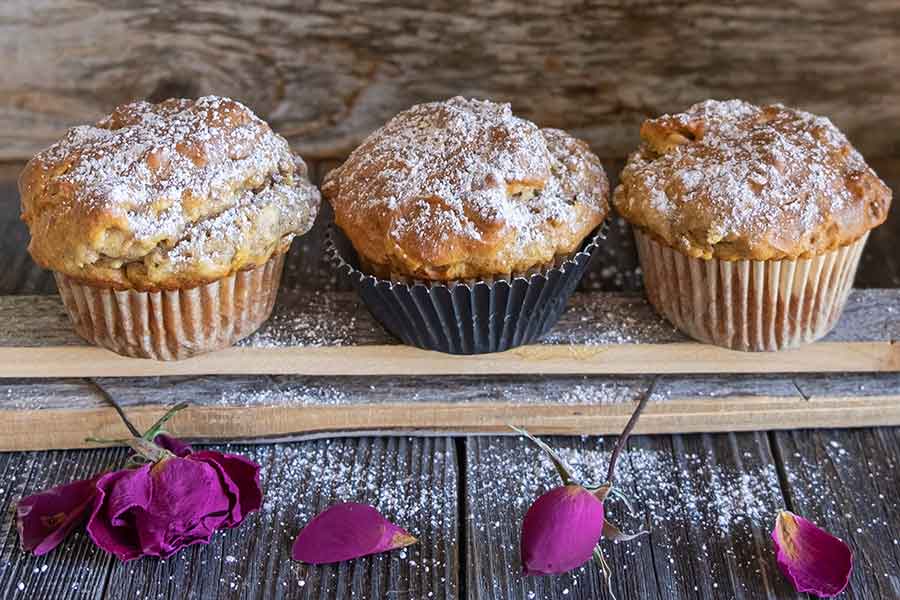 Fill the muffin cups super full and bake. This apple walnut muffin takes longer to bake because I am using lower temperature…but worth the wait, as I said, the easiest muffin recipe.
Once the muffins cool, I sprinkled them with cardamom sugar, but this is optional. I love cardamom it is a unique spice making these apple walnut muffins extraordinary. Enjoy!
Are spices rich in antioxidants?
Studies have shown that spices such as ginger, cinnamon, nutmeg, and cardamom are excellent sources of antioxidants with their high content of phenolic compounds. 
Antioxidants can protect lipids and oils in food against oxidative degradation, which can lead to cell dysfunction. These powerful nutrients have been linked to the prevention of heart disease and diabetes, improving immune function and lowering the risk of infection and even some cancers.
Spices such as the ones used in this apple walnut muffin recipe are prevalent in Indian cuisine. They add bright colours to foods and astonishing flavours. One particularly popular dish is the Indian butter chicken. For more recipes that include spices, check out our complete list of gluten-free Indian recipes. 
Let's Connect!
Be sure to FOLLOW US on FACEBOOK and PINTEREST.
Many thanks!
Kristina xx
Ingredients
2 large eggs
1/2 cup extra virgin olive oil
2/3 cup pure maple syrup
1/2 cup sour cream
1 tsp. Pure vanilla extract
1 3/4 cups roughly grated apples, skin on (about 2 medium apples)
1 2/3 cups all-purpose gluten-free flour blend (one that includes xanthan gum. Otherwise add 1/2 tsp. I used measure for measure)
1 tsp. GF ground cinnamon
1/2 tsp. GF ground nutmeg
1/2 tsp. GF ground cardamom
1/2 tsp. GF ground ginger (you can substitute 1 Tbsp. for fresh minced ginger, and mix with wet ingredients)
1 tsp. Baking soda
1/2 tsp. Sea salt
1 1/2 cups roughly chopped walnuts
Cardamom sugar; 2 Tbsp. Powdered sugar mixed with 1/4 tsp. Cardamom and 1/4 tsp. cinnamom
 (optional)
*As an Amazon Associate and member of other affiliate programs, I earn from qualifying purchases. Please check out my sponsorship and disclosure policy page for more details
Instructions
Preheat oven to 350 F. Line a muffin pan with parchment paper liners
In a large mixing bowl, using an electric mixer, mix eggs, olive oil and maple syrup until light and fluffy
Add sour cream, vanilla and apples and mix to combine
Add flour, spices, baking soda, salt and walnuts. Mix until just blended, do not over mix.
Fill muffin cups evenly. They should be super full using all the batter for the 12 muffins Bake for 35 - 40 minutes, the muffin should pass the toothpick test
Cool in the pan for 5 minutes, then transfer to a cooling rack and sprinkle with cardamom sugar
Similar Recipes
Best Gluten Free Banana Apple Muffins
For an exceptional treat, these Gluten-Free Banana Apple Muffins with their moist, light and tender texture brimming with apples and sweetened with bananas are not to be missed. Is there anything more tantalizing than sweet muffins spiced with cinnamon? Most sweet snacks are full of sugar and butter, but this dairy-free muffin is packed with […] Read More
Prep Time
15 Minutes
Difficulty
Easy
Cook Time
35 Minutes
Best Gluten Free Blueberry Apple Muffins
This plant-based recipe is the Best Gluten-Free Blueberry Apple Muffin because it checks all the boxes. The muffin is healthy, plant-based, made with heart-healthy olive oil and superfoods such as blueberries and apples. How does the blueberry apple muffin taste? This gluten-free muffin has a tender, moist crumb and bursts with blueberries, apples, and a […] Read More
Prep Time
15 Minutes
Difficulty
Easy
Cook Time
35 Minutes
Chai-Spiced Cranberry Zucchini Muffins – Gluten-Free
Most flavourful Chai-Spiced Cranberry Zucchini Muffins. I can't tell you how delicious these gluten-free muffins are. They are moist and light, flavoured with chai spices, and the cranberries add a little tart flavour, making them so good! If you are looking for a way to include healthy zucchini in your diet, adding this squash to […] Read More
Prep Time
15 Minutes
Difficulty
Easy
Cook Time
35 Minutes
Serves
12