Lemon Blueberry Muffins – Gluten Free
Published on Aug 31, 2022
by
Kristina Stosek
Prep Time:

10 minutes
Cook Time:

35 minutes
Serves:

12 large muffins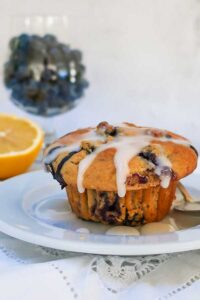 ​This post may contain affiliate links, please see our
privacy policy
for details
These Baker's Lemon Blueberry Muffins have a tender, buttery crumb scented with fresh lemons and studded with bursting blueberries in every bite. This gluten-free muffin recipe is perfect for breakfast or as an anytime snack.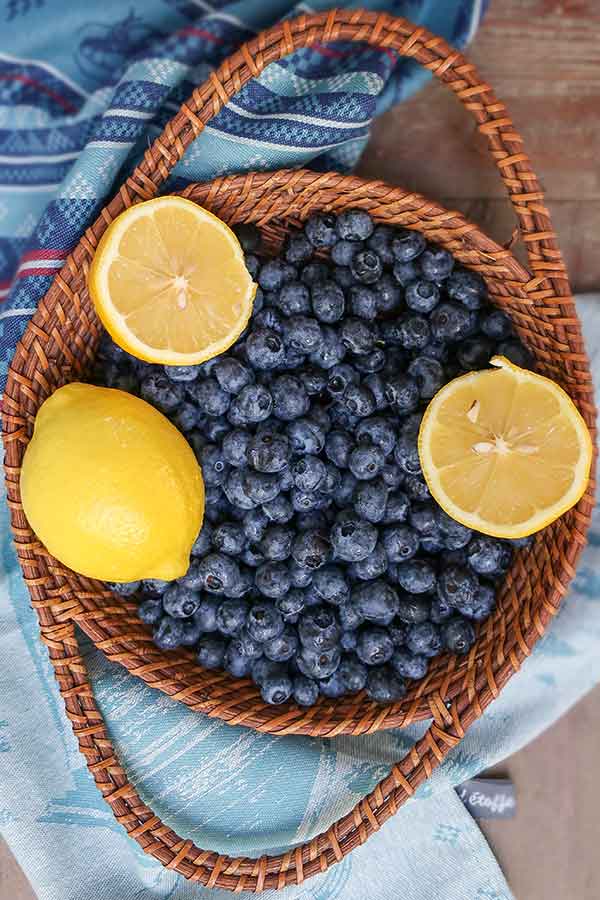 The lemon flavor brightens the taste of the blueberries, while the almond flour adds nutritional value.
These lemon blueberry muffins are great for anyone who wants something sweet with healthiness.
What do lemon blueberry muffins taste like?
They are light, buttery, and bursting with flavor. The lemon adds a gentle citrusy touch, and the blueberries add satisfying sweetness. They taste amazing!
I recommend these lemon blueberry muffins to anyone looking for a delicious, gluten-free breakfast option!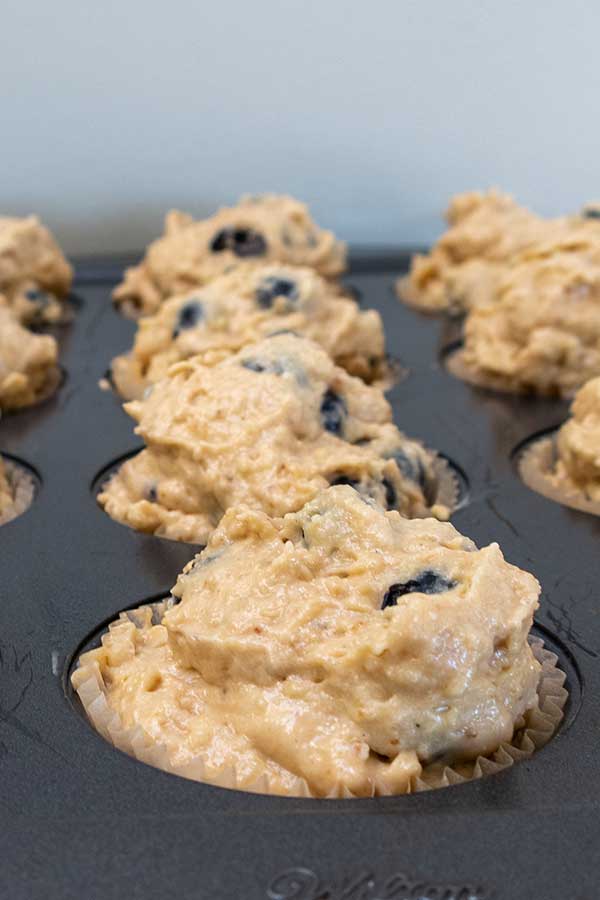 How is this gluten-free muffin batter different?
I want to point out that this muffin batter is made differently from a classic muffin recipe. And this is why the muffin tastes so good!
First, in a classic muffin recipe, the butter is whipped with the sugar and then added to the dry ingredients. In this recipe, the butter is added to the dry ingredients and sugar mixture as if you were making pastry.
Then, all the wet ingredients, such as eggs, milk, and yogurt, are cold, not at room temperature. Again same as if you were making pastry.
By changing up the butter and the temperature of wet ingredients, the gluten-free muffin came out with the most delicious tender, buttery crumb.
FAQs about gluten-free muffin batter
Knowing which gluten-free flour and fruit to use can be challenging when making gluten-free muffins, as each ingredient can change the texture and flavour of the muffin.
tips for making best gluten free muffins
For the best results when making gluten-free muffins, choose the right gluten-free flour blend that includes xanthan gum. How do you know which one to choose?
Many options are available on the market, but which blend is the best for a muffin? From my experience, I found that a rice-based blend works the best in gluten-free muffin recipes.
When buying a gluten-free flour blend, be sure to read the ingredients carefully before purchasing the flour. Some blends include dairy and may not be suitable for someone who is lactose intolerant.
Another ingredient to watch out for is chickpea flour. Chickpeas are made up of oligosaccharides. These are sugars causing longer and more severe bouts of bloating or uneasiness for some.
Something that we may not think about is the oven temperature. Be sure that your oven is calibrated correctly. Gluten-free muffins will not rise properly if the oven temperature is too low.
If you are unsure if your oven has the correct temperature, I suggest using an oven thermometer to check the temperature before baking.
And remember that gluten-free muffins will not rise as much as their wheat-based counterparts.
The reason is that the elastic and strong gluten bonds in wheat muffins trap the gas bubbles in the batter, allowing the muffin to rise.
Without high-quality gluten, the gas wouldn't be captured in batter, and the muffin would lack volume.
Gluten-free muffin batter also calls for a larger quantity of leavening, like baking powder and/or baking soda, to help add volume and lighten the texture.

lemon icing that takes this muffin to another level
These lemon blueberry muffins are delicious as is. However, the lemon icing adds that extra zesty flavour, making them insanely delicious. You will not be disappointed!
Why add yogurt to a gluten-free muffin batter?
Adding yogurt will make the muffins moister and help baking powder and soda with rising, creating an extra light muffin.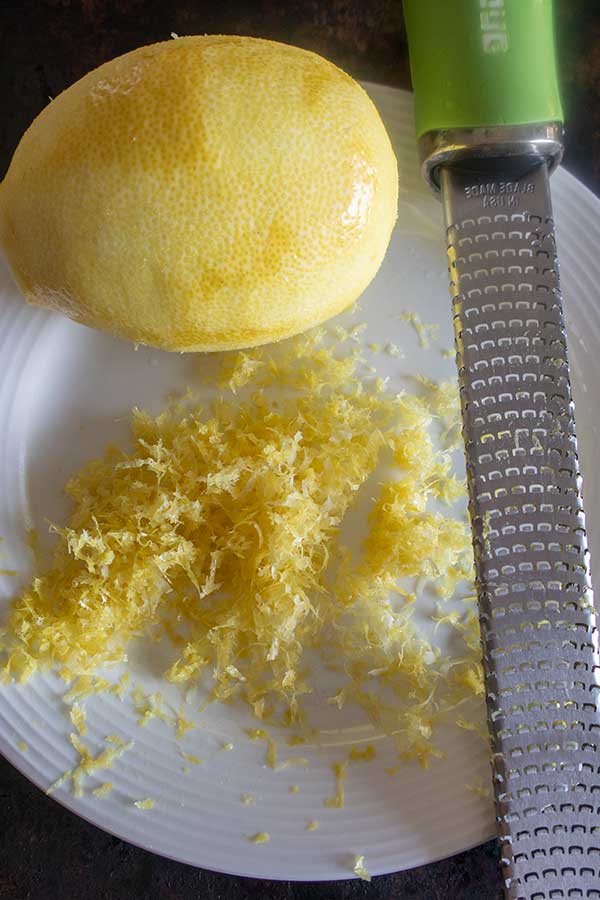 Is lemon zest healthy?
Lemon zest can be a healthy addition to your diet because it contains bioactive compounds. In addition, it contains antioxidants such as D-limonene and vitamin C, which support your immune system.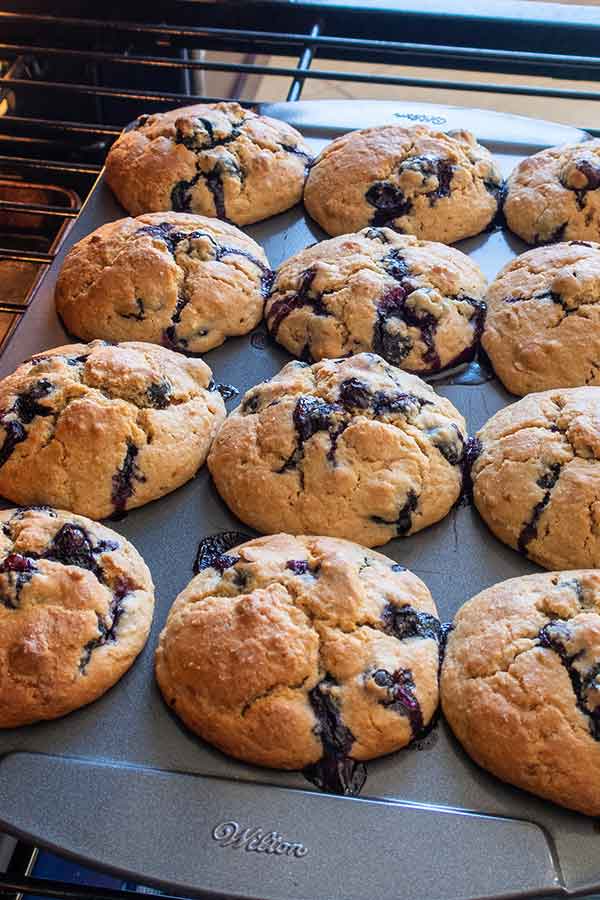 How to keep blueberries from sinking to the bottom?
One of the common problems when adding berries to muffins is that they sink to the bottom, resulting in a muffin with sogging bottom filled with berries.
To avoid the blueberries from sinking, toss them with a couple of tablespoons of flour, lightly covering the berries. Then gently stir them into the batter.
The light flour coating helps the fruit stick to the muffin batter better, stopping them from sinking.
Why is butter so important in gluten-free muffin batter?
Gluten-free muffins are often considered a sweet treat for breakfast unless you are looking for a healthy breakfast muffin option like the Gluten-Free Dairy-Free Strawberry Pecan Muffins or the Gluten-Free Chia Muffin With Blueberries.
Adding butter makes the muffins become extra moist and have a heavenly butter flavour. You know what I am talking about…the melt in your mouth, buttery muffin that we all love so much!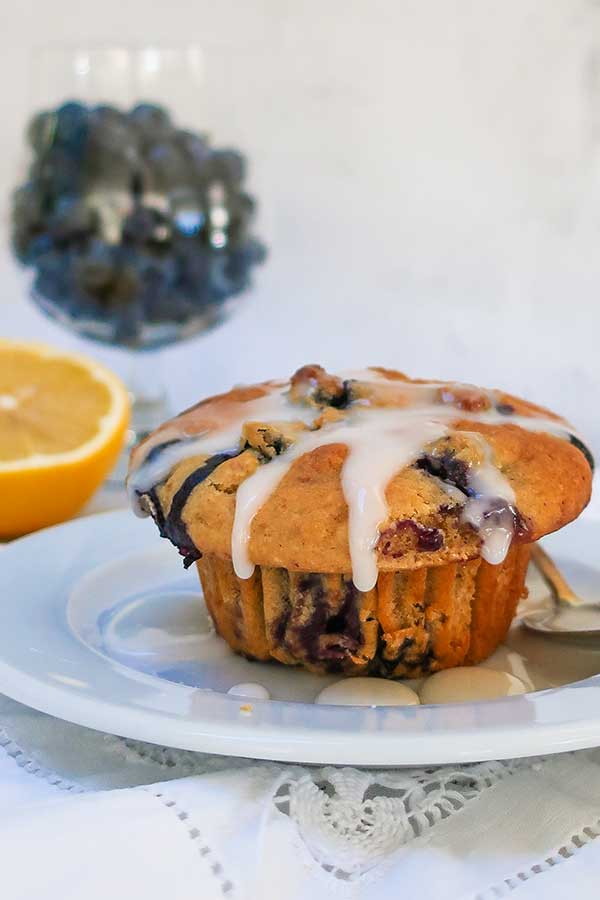 How many cups of blueberries is a good amount in muffin batter?
When it comes to blueberry muffins, most recipes call for 1 1/2 to 2 cups. Since I wanted bursting blueberries in every bite, I added 2 1/2 cups of fresh blueberries.
The thing to keep in mind is to have enough batter to bind them together. The more blueberries, the juicier and sweeter the muffin is. However, they likely won't rise as much if you have many.
What other fruit can I substitute for blueberries?
You can substitute many fruits in lemon blueberry muffins. Some popular choices are strawberries, raspberries, blackberries, apples, pineapples, and bananas.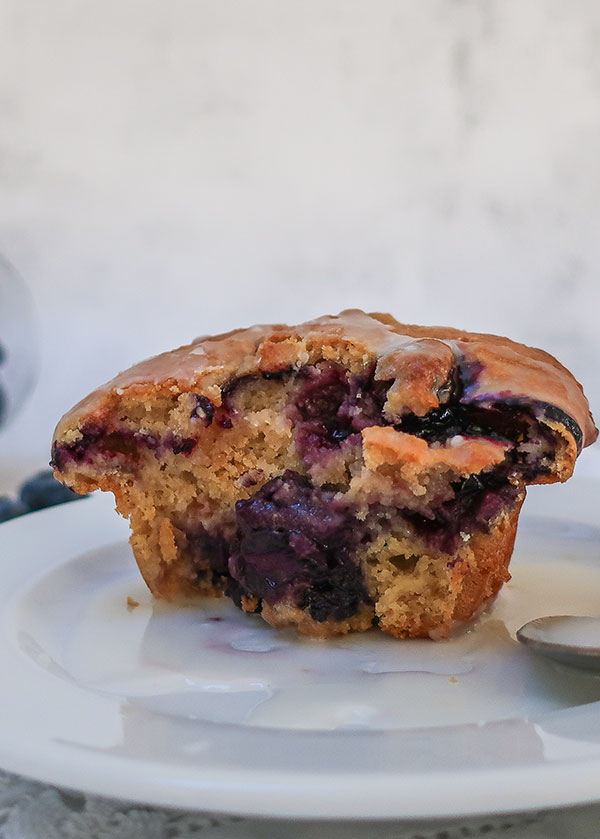 Why do kids love blueberry muffins?
Kids can't help but love blueberry muffins. They are sweet, moist, buttery and have a tender crumb. And most kids like blueberries.
So here we are, delicious gluten-free lemon blueberry muffins that won't disappoint. They are perfect for breakfast, brunch or a snack.
We love how easy they are to make and how versatile they are. The lemon flavoring is subtle but flavorful, and the blueberries add a good amount of sweetness. Enjoy!
Let's Connect!
Be sure to FOLLOW US on FACEBOOK and PINTEREST.
Many thanks!
Kristina xx
Lemon Blueberry Muffins – Gluten Free
Published on Aug 31, 2022
by
Kristina Stosek
Instructions
1.

2.

Whisk together flours, sugar, baking powder, baking soda, salt, and lemon zest in a large bowl. Set aside 2 tablespoons of flour mixture for blueberries

3.

Add the butter, and using a stand mixer with the paddle attachment, work it into the dry ingredients until you get a mixture resembling coarse breadcrumbs. You can also use a hand mixer with the double beaters attachment

4.

In a separate bowl, whisk together the milk, yogurt, lemon juice and eggs and add them to the butter-flour mixture. Using the paddle attachment, mix them until you get a smooth batter

5.

Toss the blueberries with the two tablespoons of flour and gently stir them into the batter

6.

Scoop the batter into the muffin pan, dividing equally between 12 muffins. The batter is thick enough so that you can make jumbo muffins *see the image in the blog

7.

Bake at 400 F for 10 minutes, then reduce the oven temperature to 375 F and continue baking for 25 minutes or until golden brown on top and the muffins pass the toothpick test

8.

Rest in the muffin pan for 10 minutes, then transfer onto a wire rack to cool completely. 

9.

10.

Whisk together the sugar and lemon juice in a bowl until smooth. The icing will be fairly runny. You can adjust the consistency by adding more powdered sugar to your preference

11.

Once the muffins have cooled, drizzle them with icing, and sprinkle with extra lemon zest