Very Best Gluten-Free Apple Fritter Bread
Published on Sep 01, 2021
by
Kristina Stosek
Prep Time:

10 minutes
Cook Time:

60 minutes
Serves:

1 loaf
​This post may contain affiliate links, please see our
privacy policy
for details
This Gluten Free Apple Fritter Bread recipe is our pride and joy! The soft, quick bread is filled with sweet cinnamon apples and drizzled with a light glaze — making this our best gluten free apple bread recipe!
If you go apple picking at a farm or go to your local farmers market this fall, try this apple fritter bread recipe. This sweet bread is the ultimate cool weather treat.
best month for apple picking
September is the month to try new gluten free apple recipes. Freshly picked apples are the best for baking. Especially pies, cakes, muffins and sweet bread. Nothing beats an apple that has just been picked from the apple orchard. The flavour, texture and aroma of crispy fresh apples are the best!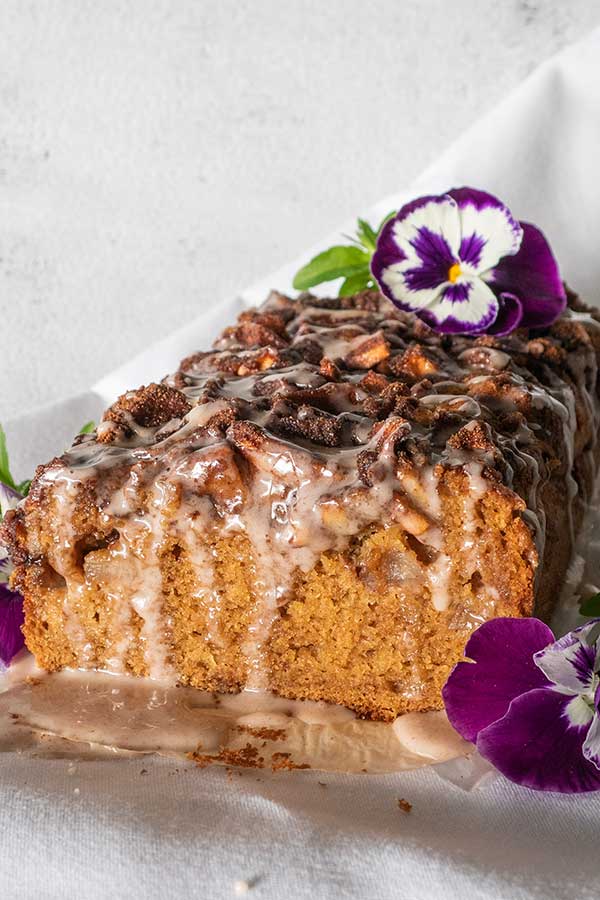 I've wanted to make this gluten-free apple fritter bread recipe for a very long time. I've made crust-free apple pie and breakfast apple cakes, but this apple fritter bread is the best recipe yet!
Apples make everything taste better, and add delicious flavourful juices to baking and savoury dishes.
an easy recipe for gluten-free apple fritter bread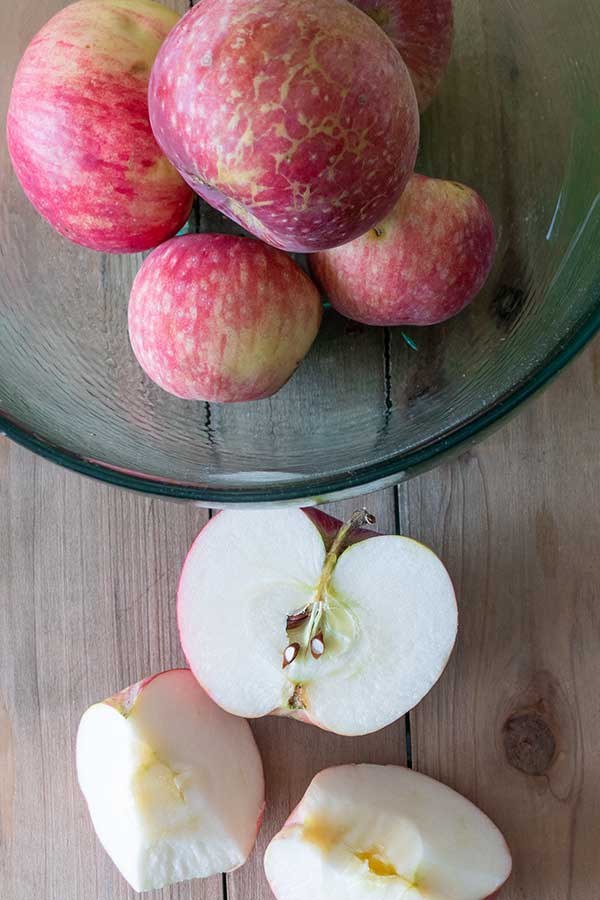 start with the right apples
I like to use Honeycrisp apples because of their perfect sweetness. You can peel the apples or not; it all depends on you. I peeled mine because I prefer them without the texture of the peel on the apples.
Once you core the apples, chop them roughly. The pieces should not be too small.
the gluten-free apple fritter batter
I wanted to stick to a quick-bread recipe. This means only one flour. So, I used a gluten-free flour blend that is mainly rice-based, such as Bob's Red Mill. I tried other blends, however, this blend worked the best!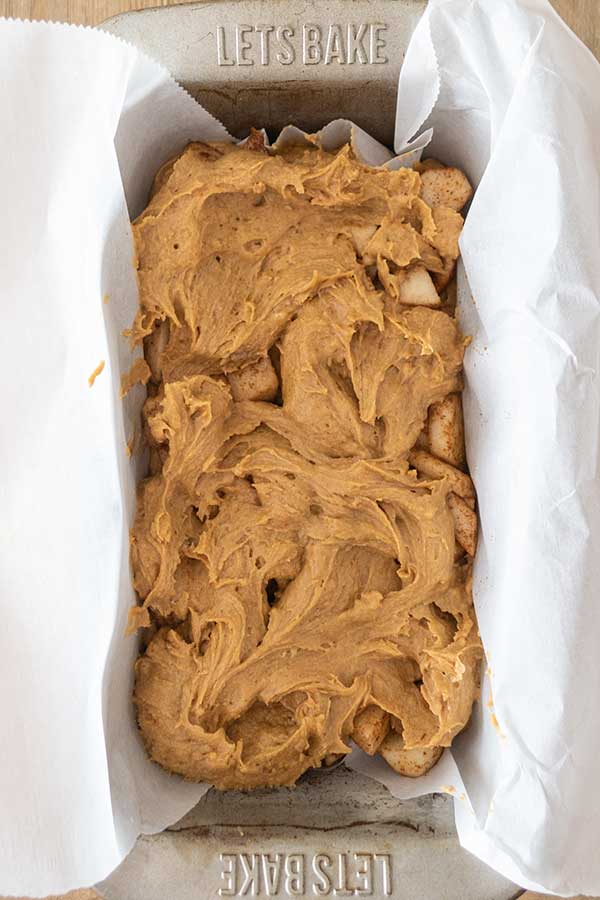 To make the batter is super simple. First, cream butter with sugar. I used coconut sugar because it is slightly healthier than brown or granulated sugar. But let's be honest, sugar is sugar, so always use it sparingly.
Next, beat in eggs and vanilla. I used one and a half teaspoons of vanilla in this batter, which is half a teaspoon more than I would generally use. The reason is, the extra vanilla flavour goes exceptionally well with apples.
Once the wet mixture is ready, stir in flour mixed with baking powder and some milk. The gluten-free quick-bread batter is now ready.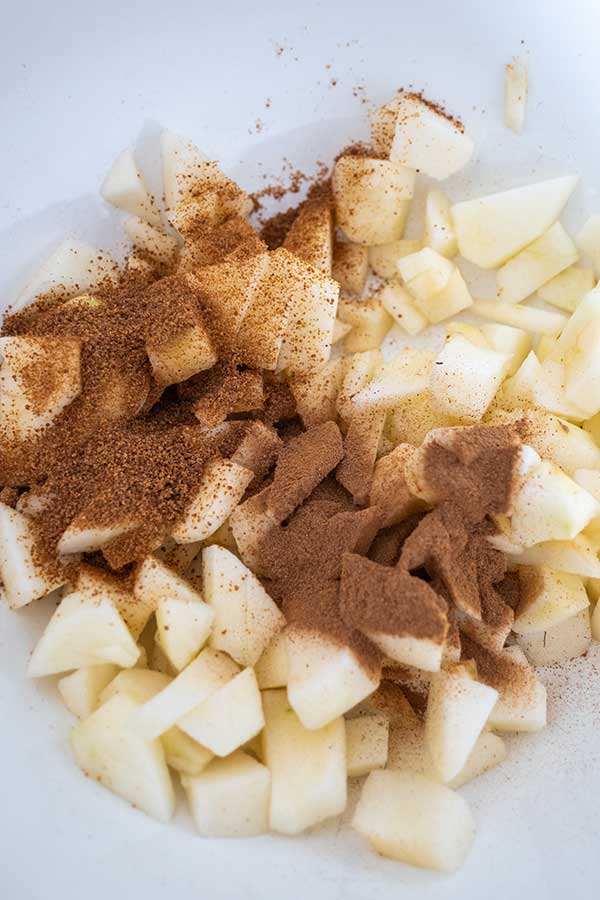 To add that great sweet cinnamon flavour to the apples, I mixed coconut sugar with cinnamon and used half of it to blend in with the apples. Sometimes I add a pinch of cardamom. That's because I love the flavour, and the spice adds a new dimension to gluten-free baking.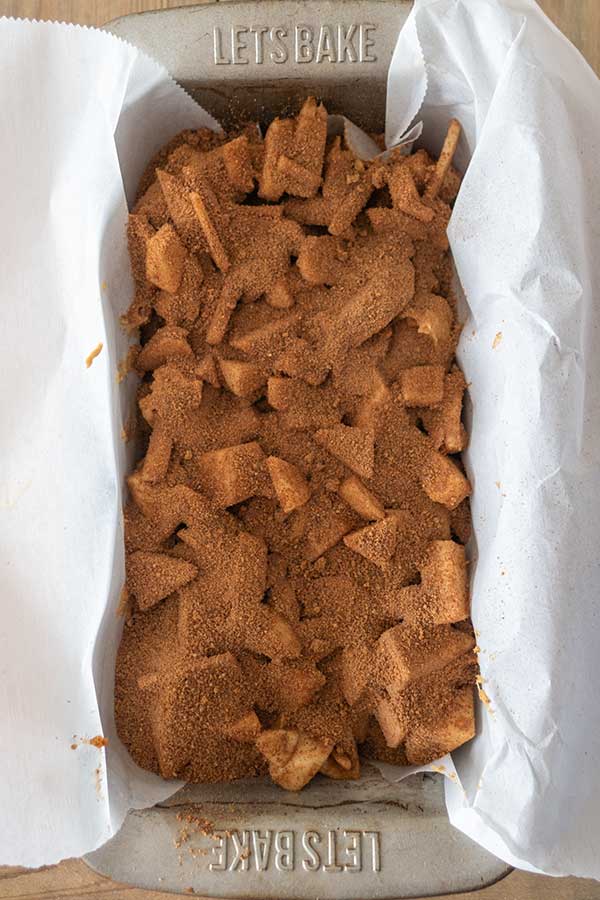 The apples are then layered between the batter and on top. To finish off, I added an extra sprinkle of cinnamon sugar over the top.
be patient when baking apple fritter bread
This apple fritter bread recipe takes one hour to bake, a little longer than most quick-breads. The reason for this is the apples. I wanted to make sure that the batter encasing the apples is fully baked.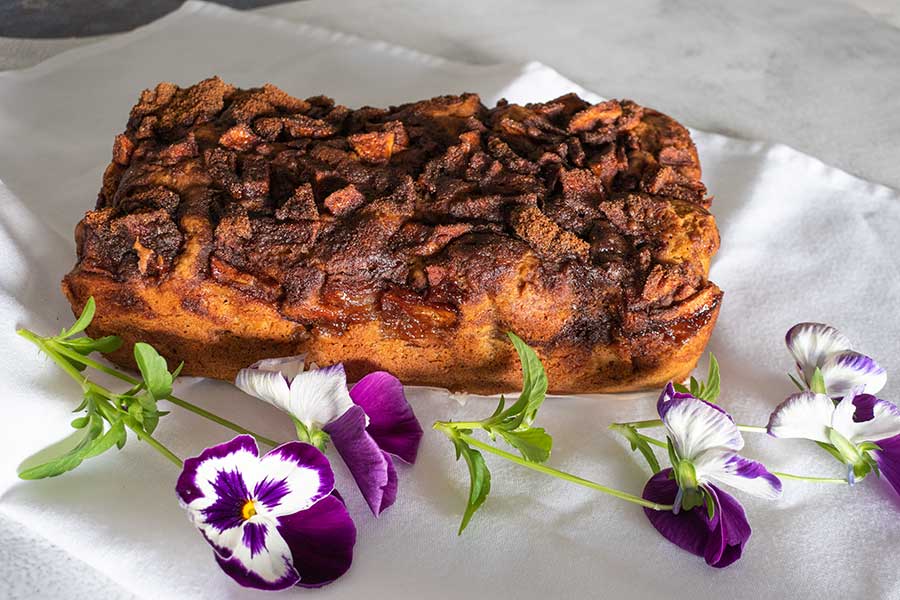 the cinnamon glaze — although optional, I highly recommend it!
Oh my, this simplest of glazes adds the final touch to this gluten-free sweet bread. But, of course, I wanted more than just white sugar glaze, so I added a pinch of cinnamon. This made all the difference to the outcome of the apple fritter bread.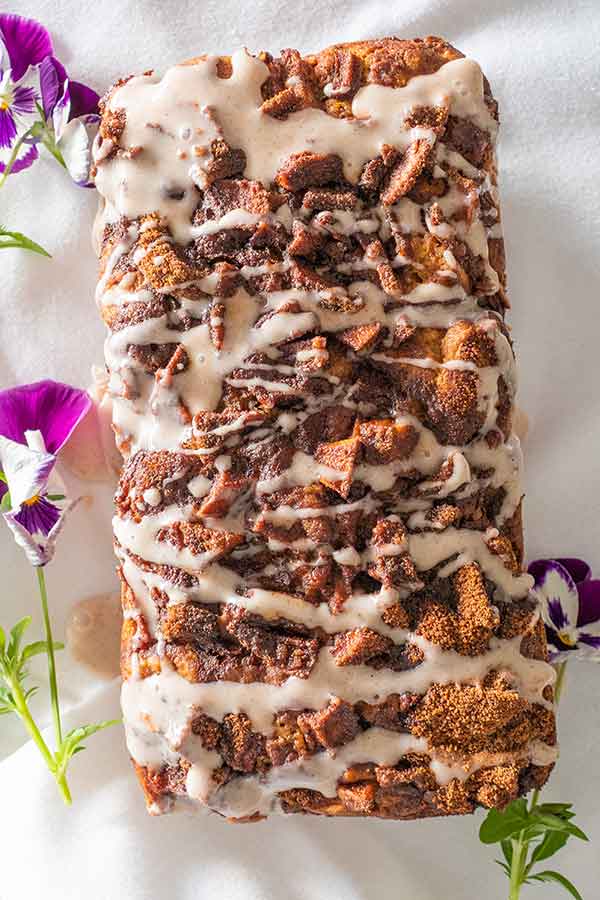 The lightly scented cinnamon glaze soaked into the bread-making everything beyond delicious. Truly spectacular apple treat!
Yes or no to this apple fritter bread?
If this sweet bread doesn't persuade you based on the deliciousness and easiness of this recipe, then think healthy apples!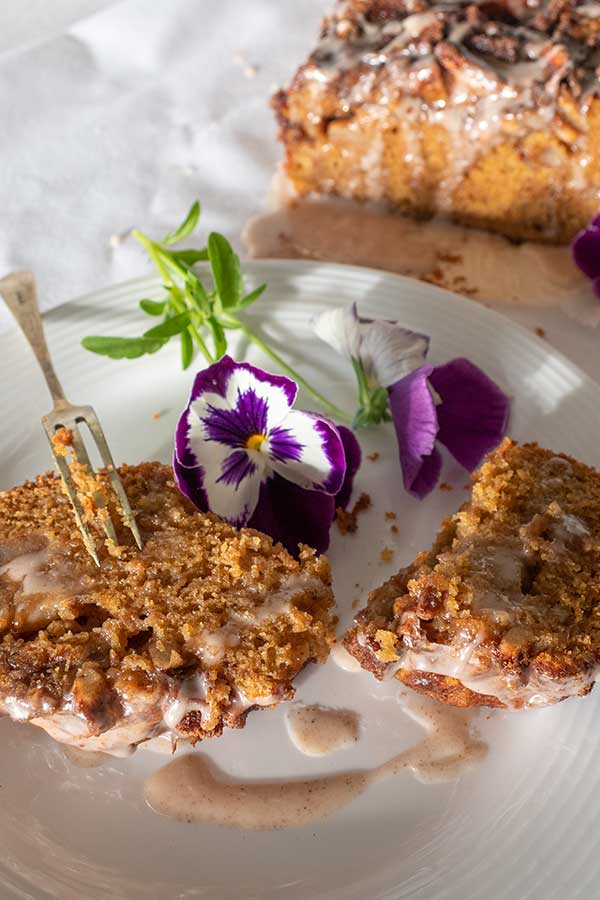 Apples come with loads of health benefits; as per EVERY DAY HEALTH, apples can lower high cholesterol and lower blood pressure.
In addition, they are high in dietary fiber; therefore, they can aid digestion, can support a healthy immune system, are diabetes-friendly fruit and are packed with antioxidants.
So it's true, an apple a day may keep the doctor away.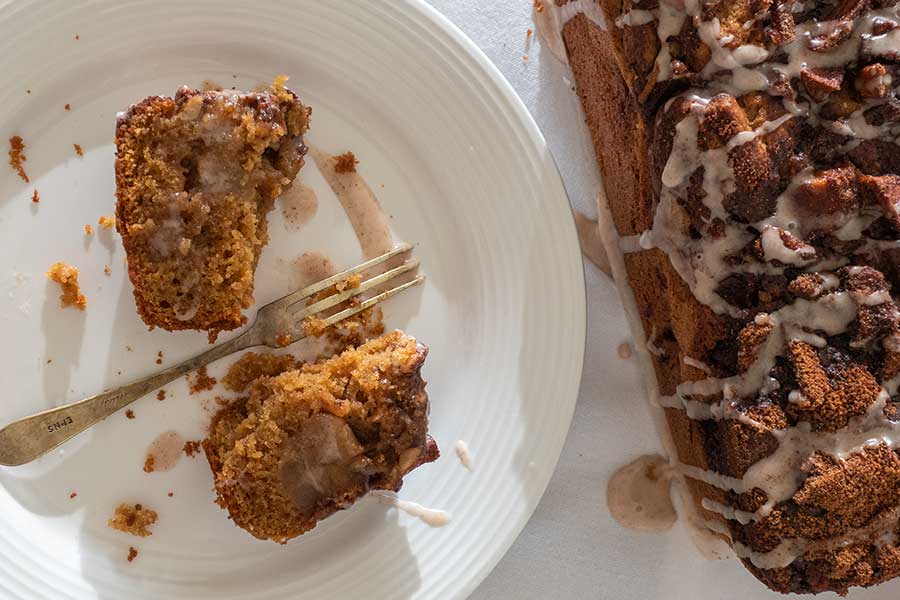 This gluten-free apple bread is the best apple fall breakfast, a snack or after-dinner dessert. We all need at least one great gluten-free apple recipe this fall season. Enjoy!
Let's Connect!
Be sure to FOLLOW US on FACEBOOK and PINTEREST.
Many thanks!
Kristina xx
Very Best Gluten-Free Apple Fritter Bread
Published on Sep 01, 2021
by
Kristina Stosek
Instructions
1.

Preheat oven to 350 F and line a standard loaf pan (8.5 x 4.5-inch) with parchment paper or spray the pan with cooking oil

2.

Whisk together flour with baking powder

3.

In a medium bowl, using an electric mixer, cream together butter with 2/3 cups of sugar. Beat in eggs and vanilla.

4.

Add flour mixture and milk to the egg mixture and using a spatula mix until just combined.

5.

Mix the remaining 1/3 of a cup of sugar with cinnamon. And toss the chopped apples with 1/2 the cinnamon sugar

6.

Spread 1/2 of the batter into the loaf pan. Scatter 1/2 of the apples over the batter, then dollop the remaining batter over the apples and top with the remaining apples. Press the apples slightly into the batter and sprinkle with remaining cinnamon sugar.

7.

Bake for 45 minutes, then cover the bread with foil paper and continue baking 15 more minutes. Cool in the pan for 10 minutes before transferring the bread onto a wire rack to cool.

8.

In a small bowl, combine the glaze ingredients until smooth. Drizzle over cooled bread. Enjoy!
Leave a Comment
Kristina
thank you Nancy, I am so happy to hear that!
This apple bread is a winner! I've made it several times and my family and extended family love it! A definite keeper. Thank you!
Kristina
DEEEEEEEELICIOUS! I've missed Apple fritters for 14 years until now! Sooooo good
Kristina
Mary, thank you for letting us know, it is always nice to hear!
Made this for breakfast this morning. My non-gluten free family loved it. I definitely will be making this again.
Kristina
I am glad you enjoyed it! thank you
this was soooo good! Thank you