Gluten-Free Ricotta Blueberry Breakfast Cake
Prep Time
10 Minutes
Difficulty
Easy
Cook Time
45 Minutes
Serves
9-inch cake
Average Rating: 5 | Rated By: 13 users
I am starting the day on a sweet note with this Gluten-Free Ricotta Blueberry Breakfast Cake. Moist, light, this gluten-free breakfast cake is lightly sweetened with coconut sugar and healthy blueberries.
For extra flavour, the breakfast cake is hinted with fresh lemon juice and vanilla. Each bite is filled with sweet blueberries adding extra sweetness and keeping the cake super moist.
The gluten-free breakfast cake is simple, not too sweet and packed with antioxidant-rich blueberries. This is not one of those gluten-free breakfast cakes that look perfect, because it has a bit of the rustic, warm, comfort food feel.
Enjoy this delicious gluten-free ricotta cake with blueberries for breakfast, brunch, snack or dessert. To make it extra special, add a dollop of vanilla bean ice cream.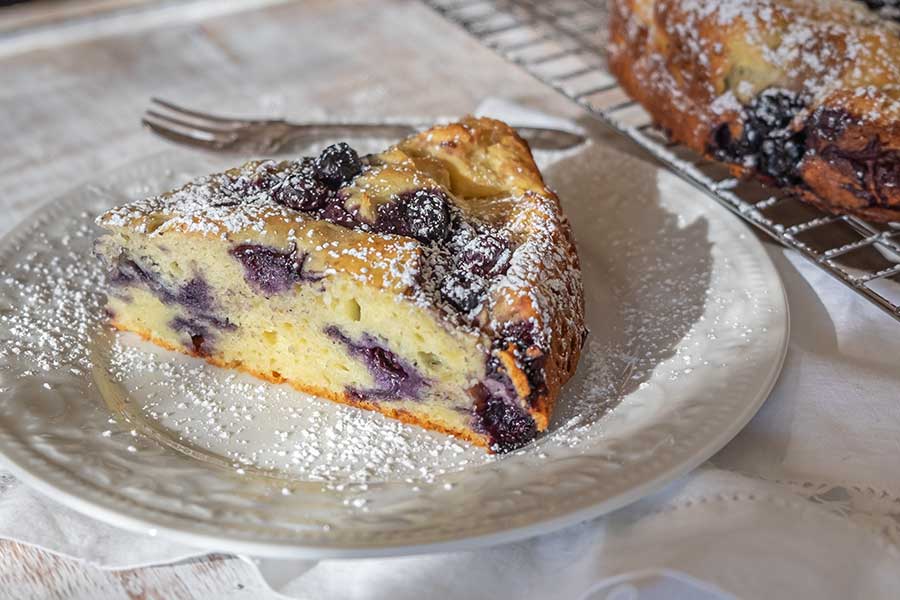 Is coconut sugar healthier than white sugar?
First, coconut sugar can be easily substituted in baking for white or brown sugar. Coconut sugar comes from the coconut palm tree and is made by heating the sap of the coconut flower until most of the liquid has evaporated. This means it is hardly processed.
In terms of calories, coconut sugar has 45 calories per tablespoon vs 48 calories for white sugar.
According to the Food and Nutrition Research Institute, compared to white sugar, coconut sugar contains higher levels of minerals like calcium, zinc, iron and potassium and also has traces of antioxidants.
The significant difference between coconut sugar and white sugar is that coconut sugar has a much lower glycemic index than white sugar. This means that coconut sugar won't make your blood sugar spike as white sugar does.
When it comes to baking such as this gluten-free breakfast cake with coconut sugar, the ratio is typically 1 for 1. You can find coconut sugar in most supermarkets, but I found Amazon has the best selection of different brands of coconut sugar.
For baking, my favourite is fine grain coconut sugar. Check out our gluten-free desserts made with coconut sugar
Ingredients
1 cup good quality ricotta cheese, at room temperature
3 large eggs, at room temperature
1/3 cup unsalted butter, softened
2 tablespoons fresh lemon juice plus 1 tablespoon lemon zest
1 tsp. Pure vanilla extract
1/2 cup fine grain coconut sugar
1/4 cup tapioca flour/starch
1 1/2 tsp. GF aluminum-free baking powder
1/4 tsp. Baking soda
1 1/2 cups fresh or frozen blueberries, divided
Optional topping; powdered sugar
*As an Amazon Associate and member of other affiliate programs, I earn from qualifying purchases. Please check out my sponsorship and disclosure policy page for more details
Instructions
Preheat oven to 350 F and grease a 9-inch round baking pan
Using an electric mixer at medium-high speed whisk together ricotta, eggs, butter, lemon zest, lemon juice and vanilla until smooth
In a large bowl, add flour, coconut sugar, tapioca flour, baking powder, baking soda and salt
Add wet mixture to dry ingredients and using a spatula mix well. The dough will be thick. Add 1 cup of blueberries and give it a gentle stir
Transfer batter into prepared baking pan and using a wet spatula evenly spread the batter. Scatter with remaining blueberries over the top pressing the blueberries gently into the batter
Bake for 45 minutes. Cool in the pan completely
Once the cake has cooled, lightly dust with powdered sugar if you wish
Similar Recipes
Gluten Free Apple Blueberry Crumb Cake
Gluten-Free Apple Blueberry Crumb Cake – a moist cake with a delicious layer of spiced apples and blueberries, and a crunchy topping are what makes this stay at home cake exceptional. A crumb cake is one of the easiest desserts to make. Typically the cake is made of two layers. In this recipe, there are […] Read More
Prep Time
15 Minutes
Difficulty
Easy
Cook Time
60 Minutes
Serves
12 pc
Gluten-Free Apple Sponge Cake With Almond Topping
This gluten-free apple sponge cake has layers of thinly sliced apples finished with the most delicious almond topping. The fresh sweet-tart apples make this sponge cake super moist and not overly sweet.  this apple recipe is all about the almond topping, Add the crunchy almond topping to the mix, and you will find every slice […] Read More
Prep Time
15 Minutes
Difficulty
Easy
Cook Time
35 Minutes
Serves
8