gluten-free healthy breakfast sheet cake
Published on Jan 06, 2021
by
Kristina Stosek
Prep Time:

15 minutes
Cook Time:

45 minutes
Serves:

12 pc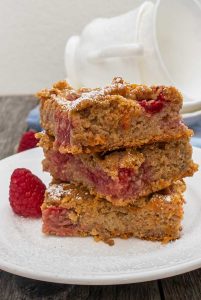 ​This post may contain affiliate links, please see our
privacy policy
for details
A gluten-free, super healthy breakfast sheet cake. This irresistibly tasty breakfast cake is soft, moist and has a springy texture. The recipe is made with wholesome ingredients and is sweetened only with bananas, apples, carrots, orange juice and berries.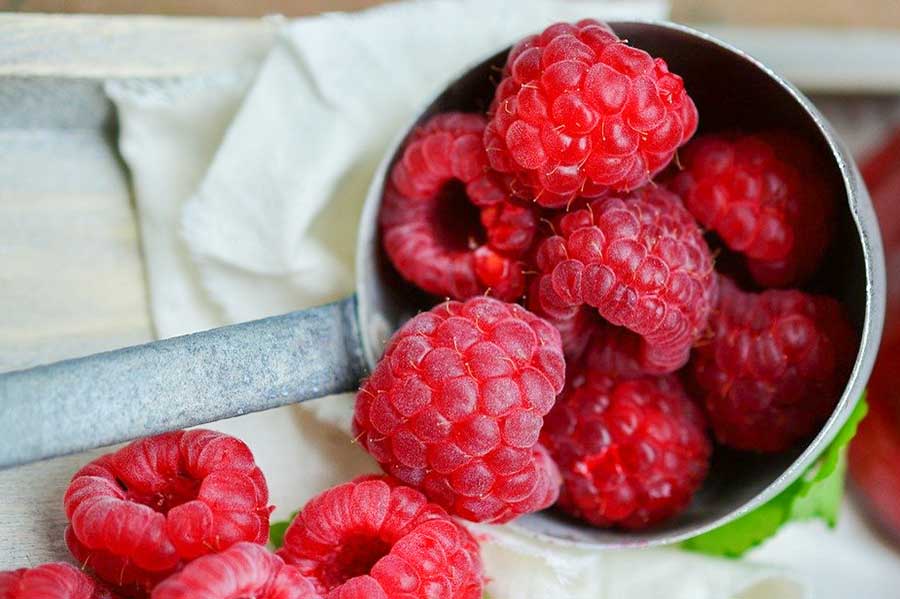 This gluten-free healthy cake is studded with fresh raspberries and is egg-free, dairy-free and xanthan gum free, and oozes with nothing but goodness.
This month is all about healthiness, simplicity and deliciousness. This gluten-free sheet cake is probably one of the easiest breakfast cake recipes you can make. It is healthy and addictively delicious!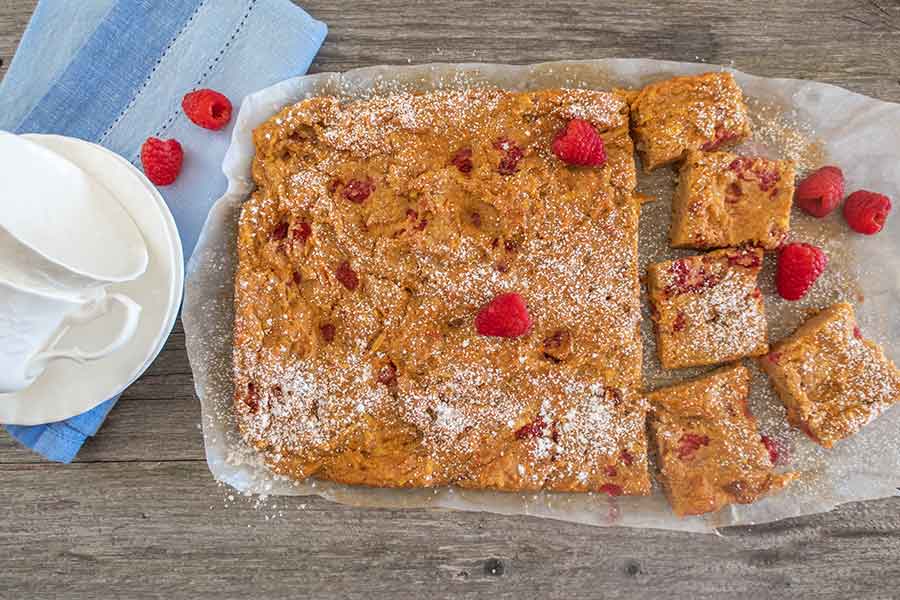 How is sheet cake made?
To start, mix the fresh fruit, carrots, fresh orange juice, olive oil and vanilla. The heart-healthy extra virgin olive oil replaces butter that is typically used in many breakfast cake recipes.
Another ingredient that I added is cinnamon. Some studies have shown that cinnamon has the ability to lower blood sugar. This is especially important for someone that has diabetes.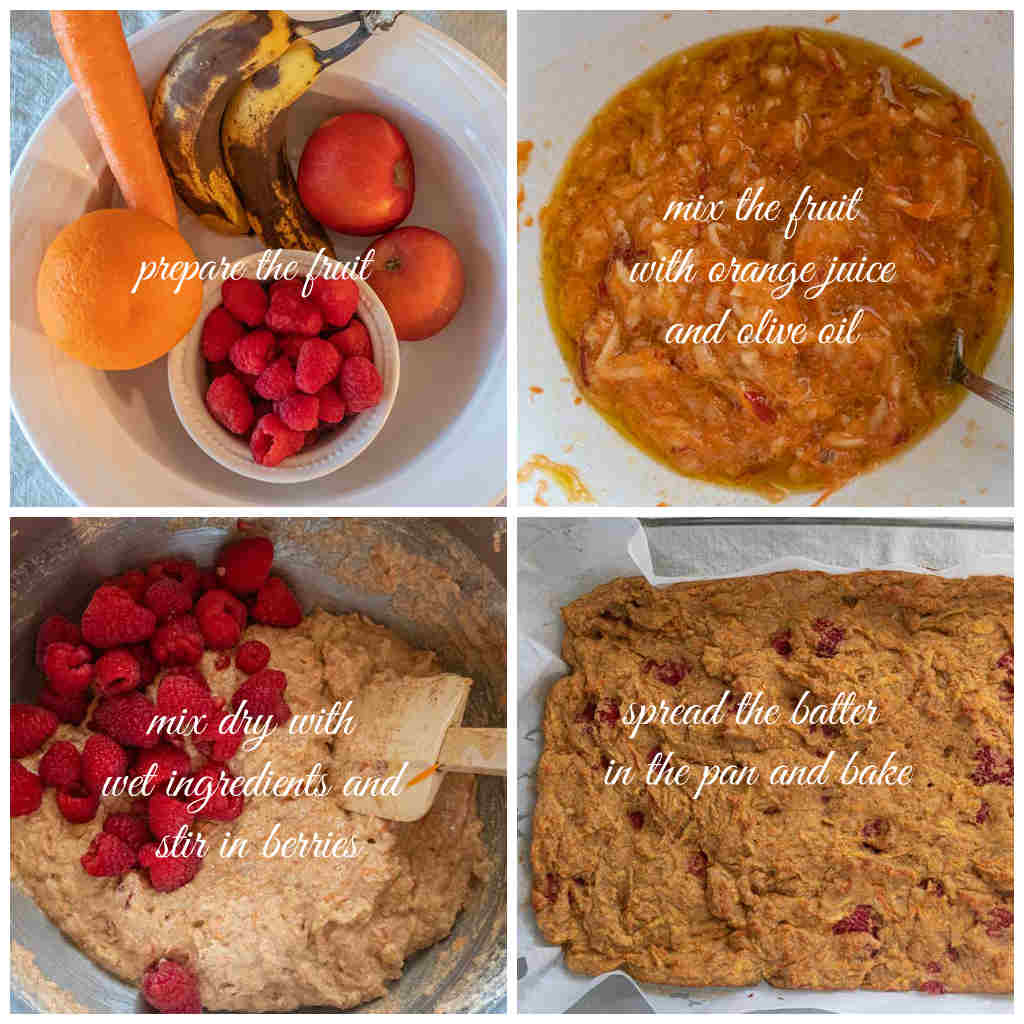 To add protein to this vegan breakfast cake without adding eggs, I added almond flour. Almond flour is rich in protein and also keeps the cake extra moist.
To replace xanthan gum, I used fibre-rich flaxseed. Xanthan gum is used to bind gluten-free flour together and helps to keep cakes light and bouncy.
Flaxseed is a much healthier replacement, especially if you are sensitive to xanthan gum.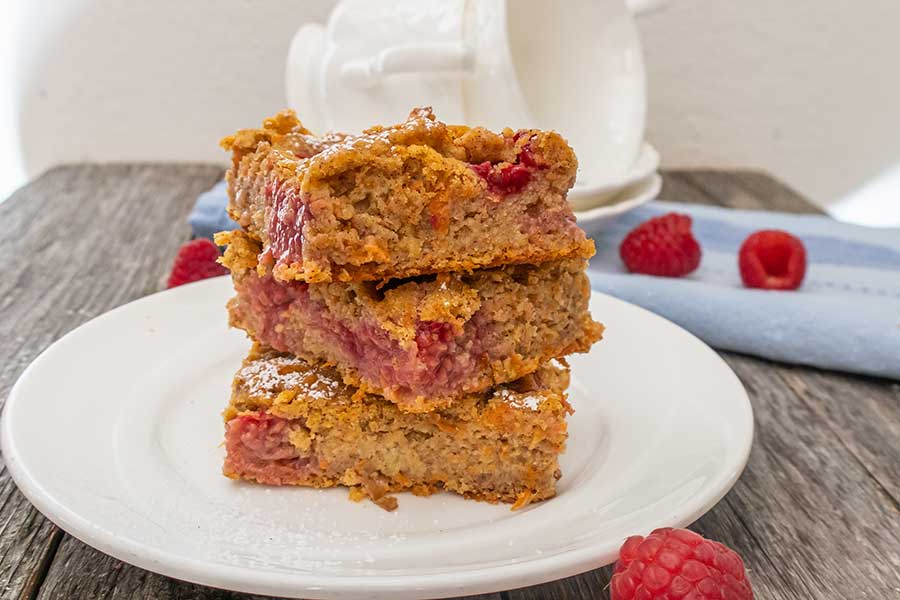 What is a sheet cake?
A sheet cake is a single layer cake typically baked in a large, rectangular pan or a rimmed baking sheet. The sheet cake is often topped with buttery sugar ladened frosting.
This gluten-free breakfast cake is so flavourful and moist that it does not need anything else. If you want to make it look pretty, you can sprinkle it lightly with cinnamon sugar.
Or, if you're going to add frosting, try our lighter version of cream cheese frosting.
This gluten-free breakfast cake is an excellent replacement for sugary, buttery muffins, but the best part, it is sooo good…you will love it!
gluten-free healthy breakfast sheet cake
Published on Jan 06, 2021
by
Kristina Stosek
Instructions
1.

Preheat oven to 350 F and line an 8 x 12-inch sheet cake pan with parchment paper. You can also use an 8 x 12-inch cake pan or 9 x 11-inch size

2.

Using a fork, whisk together bananas, apples, carrots, orange juice, olive oil and vanilla 

3.

In a separate bowl, whisk the dry ingredients.

4.

Add wet mixture into dry ingredients and stir until thoroughly mixed

5.

6.

Transfer batter into prepared pan, and using a spatula, evenly spread out

7.

Bake for 45 minutes or until a toothpick inserted in the middle comes out clean

8.

Cool for 15 minutes in the pan, then transfer onto a cooling rack to fully cool
Leave a Comment
Kristina
Would butter work as well as olive oil? It's the one dairy that doesn't bother me.
Kristina
the cherries are a great idea, thank you for sharing
I used fresh cherries in this recipe and the cake turned out sooo good. Thank you for such an easy recipe!
Kristina
thank you, I am glad you enjoyed it
this cake is sooo good, and super moist not crumbly and heavy like most healthy gluten-free cakes, thank you!