gluten-free healthy breakfast sheet cake
Prep Time
15 Minutes
Difficulty
Easy
Cook Time
45 Minutes
Serves
12 pc
Average Rating: 5 | Rated By: 7 users
A gluten-free, super healthy breakfast sheet cake. This irresistibly tasty breakfast cake is soft, moist and has a springy texture. The recipe is made with wholesome ingredients and is sweetened only with bananas, apples, carrots, orange juice and berries.
This gluten-free healthy cake is studded with fresh raspberries and is egg-free, dairy-free and xanthan gum free, and oozes with nothing but goodness.
This month is all about healthiness, simplicity and deliciousness. This gluten-free sheet cake is probably one of the easiest breakfast cake recipes you can make. It is healthy and addictively delicious!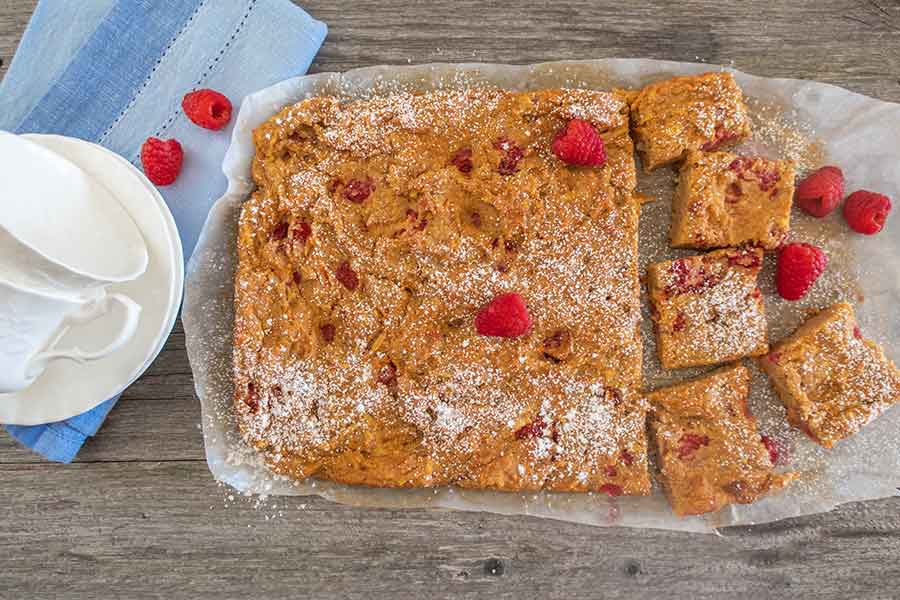 How is sheet cake made?
To start, mix the fresh fruit, carrots, fresh orange juice, olive oil and vanilla. The heart-healthy extra virgin olive oil replaces butter that is typically used in many breakfast cake recipes.
Another ingredient that I added is cinnamon. Some studies have shown that cinnamon has the ability to lower blood sugar. This is especially important for someone that has diabetes.
To add protein to this vegan breakfast cake without adding eggs, I added almond flour. Almond flour is rich in protein and also keeps the cake extra moist.
To replace xanthan gum, I used fibre-rich flaxseed. Xanthan gum is used to bind gluten-free flour together and helps to keep cakes light and bouncy.
Flaxseed is a much healthier replacement, especially if you are sensitive to xanthan gum.
What is a sheet cake?
A sheet cake is a single layer cake typically baked in a large, rectangular pan or a rimmed baking sheet. The sheet cake is often topped with buttery sugar ladened frosting.
This gluten-free breakfast cake is so flavourful and moist that it does not need anything else. If you want to make it look pretty, you can sprinkle it lightly with cinnamon sugar.
Or, if you're going to add frosting, try our lighter version of cream cheese frosting.
This gluten-free breakfast cake is an excellent replacement for sugary, buttery muffins, but the best part, it is sooo good…you will love it!
Ingredients
2 super ripe bananas, mashed with a fork
3/4 cup grated apples, skin on (about 2 small apples)
1 cup grated carrots (about 1 medium carrot)
3/4 cup freshly squeezed orange juice (about 2 oranges)
1/3 cup extra virgin olive oil
1 tsp. Pure vanilla extract
1/3 cup rice flour
1 Tbsp. GF baking powder
1 Tbsp. GF ground cinnamon
1/4 tsp. Sea salt
1 cup fresh firm raspberries or berries of choice
*As an Amazon Associate and member of other affiliate programs, I earn from qualifying purchases. Please check out my sponsorship and disclosure policy page for more details
Instructions
Preheat oven to 350 F and line an 8 x 12-inch sheet cake pan with parchment paper. You can also use an 8 x 12-inch cake pan or 9 x 11-inch size
Using a fork, whisk together bananas, apples, carrots, orange juice, olive oil and vanilla 
In a separate bowl, whisk the dry ingredients.
Add wet mixture into dry ingredients and stir until thoroughly mixed
Gently stir in berries
Transfer batter into prepared pan, and using a spatula, evenly spread out
Bake for 45 minutes or until a toothpick inserted in the middle comes out clean
Cool for 15 minutes in the pan, then transfer onto a cooling rack to fully cool
Similar Recipes
Gluten-Free Breakfast Apple Yogurt Cake
Gluten-Free Breakfast Apple Yogurt Cake topped with soft, healthy apples lightly flavoured with cinnamon and maple syrup. I promise you, this rustic apple cake will melt in your mouth. The gluten-free cake is made with three layers. The first layer is apples, then a delicious moist healthy cake which is finished with a layer of […] Read More
Prep Time
20 Minutes
Difficulty
Easy
Cook Time
45 Minutes
Serves
10-inch round cake
Gluten-Free Coconut Pear Breakfast Cake (Dairy-Free)
Gluten-Free Coconut Pear Breakfast Cake — don't you love a cake that can be used for breakfast, brunch, snack or a dessert? This stunning breakfast cake is one of those cake recipes that you will love for any time of the day. The deliciously moist gluten-free coconut cake is topped with pecans and pears, then […] Read More
Prep Time
15 Minutes
Difficulty
Easy
Cook Time
40 Minutes
Serves
12
Gluten-Free Ricotta Blueberry Breakfast Cake
I am starting the day on a sweet note with this Gluten-Free Ricotta Blueberry Breakfast Cake. Moist, light, this gluten-free breakfast cake is lightly sweetened with coconut sugar and healthy blueberries. For extra flavour, the breakfast cake is hinted with fresh lemon juice and vanilla. Each bite is filled with sweet blueberries adding extra sweetness […] Read More
Prep Time
10 Minutes
Difficulty
Easy
Cook Time
45 Minutes
Serves
9-inch cake