Royal Cream Cheese Frosting
Prep Time
5 Minutes
Difficulty
Easy
Serves
2 cups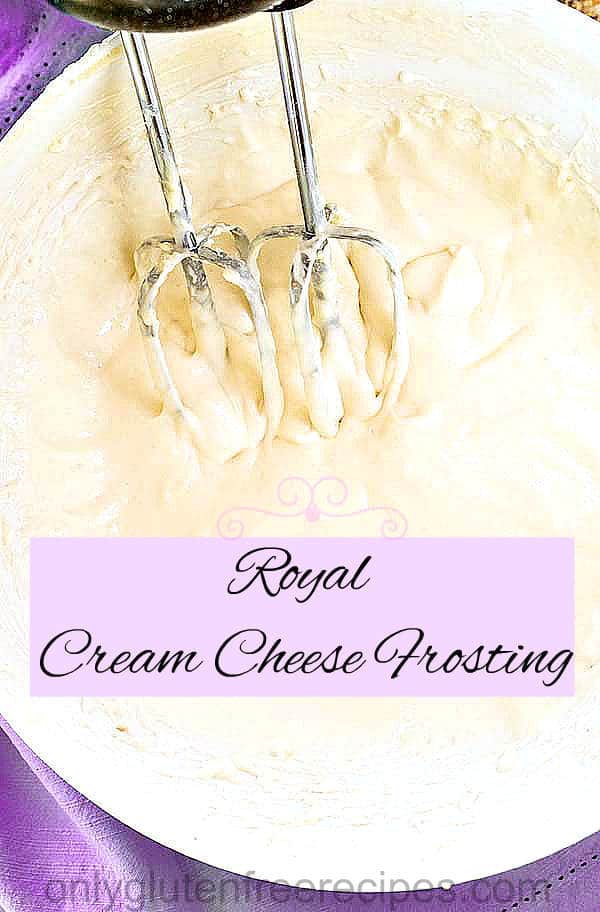 Be the first to rate this recipe.
Who doesn't love a deliciously creamy frosting, especially when it is cream cheese frosting! I love this creamy frosting because it is light, has only half the sugar and a zesty flavour. The frosting has a fresh taste and will compliment your favourite gluten-free desserts. 
This cream cheese frosting is made with light cream cheese, sour cream, butter, fresh lemon juice, vanilla and powdered sugar. Super easy to whip up for last minute creamy frosting for a carrot cake, muffin or cupcake, making them undeniably delicious!
For a chocolate version, substitute half a cup of pure cocoa powder for the lemon juice. For best results, all the ingredients should be at room temperature. Enjoy!
If you don't have time to bake, spread the frosting over gluten-free cinnamon raisin bagel, the combination is intoxicating. Enjoy!
Ingredients
8 oz. light cream cheese, at room temperature
1/2 cup light sour cream, at room temperature
2 Tbsp. Unsalted butter, at room temperature
2 Tbsp. Fresh lemon juice
1 tsp. Pure vanilla extract
1 cup GF powdered sugar (icing sugar)
*As an Amazon Associate and member of other affiliate programs, I earn from qualifying purchases. Please check out my sponsorship and disclosure policy page for more details
Instructions
In a large bowl, beat together cream cheese, sour cream and butter with an electric mixer
Add lemon juice and vanilla and mix to combine
Add sugar 1/4 cup at a time and mix until smooth and creamy. Taste and if you like the frosting sweeter add a little more sugar. Refrigerate until ready to use. Bring to room temperature when you are ready to frost
Similar Recipes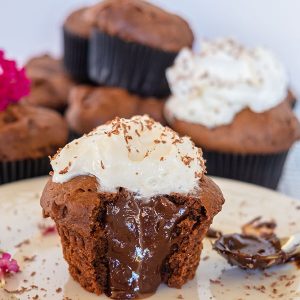 Chocolate Filled Cupcakes (Gluten-Free, Egg-Free)
Absolutely the best Gluten-Free Chocolate Filled Cupcakes, it is not very often I will make this statement. Chocolaty, moist, and filled with freshly made chocolate sauce. A chocolate cupcake for chocolate lovers! I believe you can't have too much chocolate, especially when the chocolate is freshly made. And let's be honest, everyone should have a […] Read More
Prep Time
20 Minutes
Difficulty
Intermediate
Cook Time
25 Minutes
Serves
12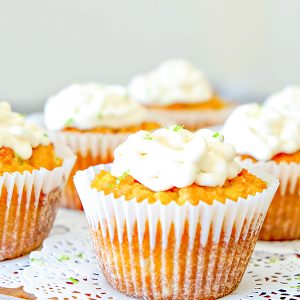 Gluten Free Coconut Key Lime Cupcakes
You would never know that these are gluten free coconut key lime cupcakes. They have a dreamy consistency that will melt in your mouth and are very addictive. The cupcakes can be made with or without the icing because both versions are fabulous and effortlessly scrumptious Read More
Prep Time
15 Minutes
Difficulty
Easy
Cook Time
20 - 25 Minutes
Gluten Free Cupcakes with Mocha Frosting
This Gluten Free Cupcake with Mocha Frosting recipe is one of the easiest cupcake recipes ever!. Moist and super delicious, and the frosting is heavenly! Just imagine moist and tender cupcakes topped with light and fluffy mocha frosting. Making gluten-free cupcakes doesn't get any easier than this! Read More
Prep Time
15 Minutes
Difficulty
Easy
Cook Time
20 Minutes
Serves
12