Very Best Gluten-Free Carrot Cake Muffins
Prep Time
15 Minutes
Difficulty
Easy
Cook Time
25 Minutes
Serves
12
Average Rating: 4.5 | Rated By: 8 users
We are starting this week with insanely delicious Gluten-Free Carrot Cake Muffins. I can honestly say this is the best gluten-free carrot cake muffin recipe I have made. These muffins are light, soft, moist, with plenty of fresh carrots throughout. The cinnamon, nutmeg, and vanilla are classic carrot cake flavours, which give us a warm and cozy feeling when eating carrot muffins.
To complete the muffins is the royal cream cheese frosting! You will find that this gluten-free muffin recipe is a keeper!
Veggies should be the foundation of any healthy eating plan. Why not include them in gluten-free carrot cake muffins?
With healthiness in mind, I also wanted to keep these gluten-free muffins healthy. For the fats, I used heart-healthy olive oil, a combination of honey and coconut sugar to add sweetness and plenty of freshly grated carrots…a full cup and a half!
This recipe does not use one flour for all blend. To give the muffin the best texture possible, I used a combination of three flours; rice, almond and arrowroot flour. You can substitute certified gluten-free oat flour for the rice flour, and if you are intolerant to nuts, you can replace 1/3 cup of cassava flour for the 1/2 cup almond flour.
However, you will need to add one extra egg to the recipe. Cassava flour is very absorbent, it is similar to coconut flour. Check out our gluten-free cassava bread recipe, which is grain and nut flour-free.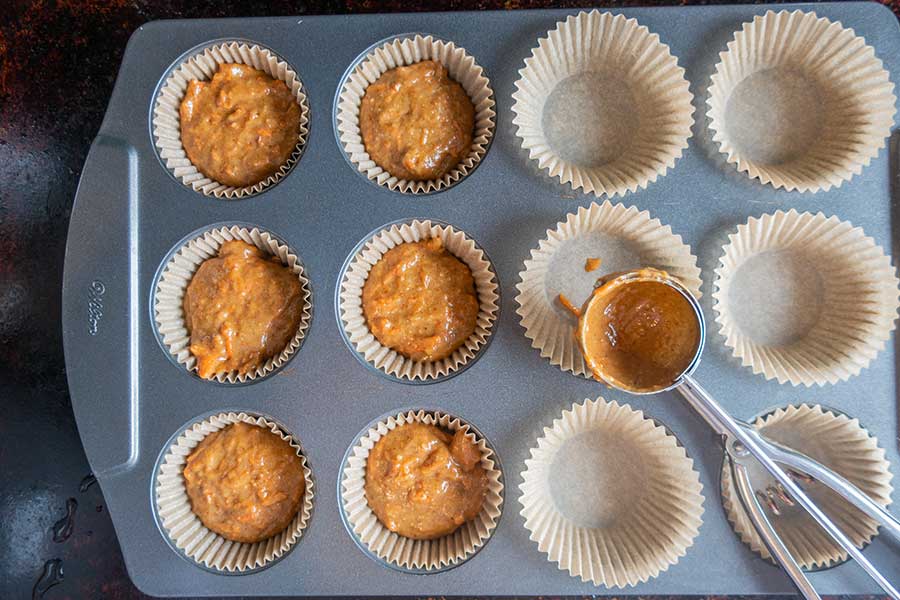 the very best cream cheese frosting,
When I think of carrot cake muffin, I think cream cheese frosting 🙂 you must have a cream cheese frosting! If you haven't checked out our royal cream cheese frosting recipe, now is the time.
The cream cheese frosting makes this into the very best muffin…ever! However, the muffins are just as delicious without it, especially for breakfast with a cup of hot coffee 🙂
What I love about these gluten-free carrot cake muffins is that kids love them too! And what an excellent way to add healthy, nutritious carrots to their diet without them even knowing it. Especially for the picky eaters 🙂
Why is this the very best gluten-free carrot cake muffin?
The answer is simple, take a bite, and you be the judge. The delicately flavoured muffin with cinnamon, nutmeg and vanilla will melt in your mouth. Stopping at just one may be difficult. And the kids love carrot cake muffins, another hearty snack to add to their lunch box or yours!
Love carrots? Why not make this delicious Gluten-Free Thai Carrot Soup or Maple Ginger Roasted Carrots?
Ingredients
1 cup rice flour or oat flour (to make oat flour process whole oats in a food processor)
1/2 cup almond flour
1/4 cup arrowroot flour
1 1/2 tsp. GF baking powder
1 tsp. Baking soda
1 tsp. Xanthan gum
1 1/2 tsp. GF ground cinnamon
1/4 tsp. GF ground nutmeg
3/4 cup coconut sugar
3 large eggs
1/2 cup extra virgin olive oil
1/2 cup milk or dairy-free milk
2 Tbsp. Honey or pure maple syrup
2 tsp. Pure vanilla extract
2 medium carrots, grated (should be 1 1/2 cups)
1 cup chopped walnuts (optional)
*As an Amazon Associate and member of other affiliate programs, I earn from qualifying purchases. Please check out my sponsorship and disclosure policy page for more details
Instructions
Preheat oven to 350º F. Line a muffin pan with parchment paper liners
In a large mixing bowl, use a whisk to combine flours, baking powder, baking soda, xanthan gum, cinnamon, nutmeg and coconut sugar.
In a separate bowl, whisk together eggs, olive oil, milk, honey and vanilla.
Add the wet into the dry ingredients and stir until a smooth batter forms. Stir in carrots and walnuts if using
Scoop the batter into the prepared muffin pan and bake for 25 - 27 minutes until the muffins are firm to touch
Remove muffins from the pan and place to cool on a rack.
Similar Recipes
Best Gluten Free Blueberry Apple Muffins
This plant-based recipe is the Best Gluten-Free Blueberry Apple Muffin because it checks all the boxes. The muffin is healthy, plant-based, made with heart-healthy olive oil and superfoods such as blueberries and apples. How does the blueberry apple muffin taste? This gluten-free muffin has a tender, moist crumb and bursts with blueberries, apples, and a […] Read More
Prep Time
15 Minutes
Difficulty
Easy
Cook Time
35 Minutes
Chai-Spiced Cranberry Zucchini Muffins – Gluten-Free
Most flavourful Chai-Spiced Cranberry Zucchini Muffins. I can't tell you how delicious these gluten-free muffins are. They are moist and light, flavoured with chai spices, and the cranberries add a little tart flavour, making them so good! If you are looking for a way to include healthy zucchini in your diet, adding this squash to […] Read More
Prep Time
15 Minutes
Difficulty
Easy
Cook Time
35 Minutes
Serves
12